Computers and artificial intelligence are taking over jobs and industries, so accounting automation is no longer a luxury but a necessity for companies that want to gain a competitive advantage. Using the right tools, you can streamline your bookkeeping practices, save the company's resources, and manage your business better.
This article digs deeper into accounting automation: how it works, its benefits, and the best software to automate accounting tasks. So, let's dive in.
What Is Accounting Automation?
Accounting automation removes tedious bookkeeping and accounting tasks, like data entry, bank reconciliation, invoicing, reporting, and more. Accounting software automates those processes and ensures your financial information is accessible to all stakeholders.
Using the right tool, you can scale the features to work for a small, medium, or large-sized business. Accounting automation tools also help freelancers streamline their relationships with clients.
What do you need accounting automation for?
Organize and categorize data
Update your storage records accurately
Create and manage invoices & bills
Calculate billable & nonbillable hours
Manage payroll
Track mileage
Calculate expenses and deductions
Calculate taxes
Prepare budgets and forecast profitability reports
Reconcile bank statements
Prepare financial statements for audit
How Does Accounting Automation Work?
Accounting system automation isn't meant to replace accountants but to make their lives easier. It eliminates repetitive work so accountants can focus on fixing mistakes and improving the drawbacks.
Reliable accounting automation software integrates with other business tools to update data and make it more accessible automatically. It works on the flaws of manual bookkeeping to make the process faster and errorless. Besides, accounting solutions ensure your data is secure and safe thanks to built-in compliance with security standards and practices.
What are the Benefits of Accounting Automation?
Manual accounting is time-consuming, complex and prone to errors, isn't it? Here are some accounting software benefits you can enjoy once you deploy accounting software.
High Speed and Accuracy
Accounting software saves time and effort and makes accounting operations more efficient. It scans accounting data and instantly detects inconsistencies, so your workflow has no traffic jams.
Quick Data Extraction and Recovery
Accounting software speeds up bookkeeping processes like data extraction and entry. Moreover, it helps you filter and categorize data to make it more organized.
Cloud Access
A cloud-based accounting system allows different departments to access accounting data in real-time. You can exchange data between teams, departments, or within the same department to facilitate the bookkeeping process. Thus, you can manage your accounting anytime and from any device.
Real-Time Sync Across Platforms
Once you add a piece of data to your automation tool, it is synchronized across different platforms and devices. So your employees can access the latest version of your accounting data without loss and alteration. This is a big benefit for remote teams.
Better Employee Productivity
Even the most qualified employees feel bored when working on repetitive tasks. An accounting tool eliminates monotony so employees can be more productive and creative. Financial automation software brings your employees time to make better decisions and develop practices to improve the workflow.
Enhanced Security
Automated bookkeeping and accounting eliminate the risk of losing or compromising your data. Once your data is on the cloud, any hardware or software malfunction can affect your data or cause loss. Moreover, your encrypted data will only be accessible through a secure login so it won't fall into the wrong hands.
Reduced Costs
Accounting software tools have a high return on investment. Compared to the amount of money you spend on the accounting tool, you'll save thousands of dollars if your data gets compromised. You'll also spend money on increased work hours, correcting data, and redoing work.
In-Depth Analytics and Data Insights
Accounting software provides data insights to help you make informed decisions and detect pain points. Financial managers can use detailed reports and dashboards to forecast sales, analyze expenses, and view data from different perspectives.
Preventing Cash-Flow Crisis
Accounting system automation shows you how money moves in and out of your business so that you can avoid a cash-flow crisis. Accurate reports and forecasts let you make on-the-go changes to your financial strategy to keep your income/expense balance healthy.
Record Management for Tax Audit
Maintaining accurate records for bank reconciliation, compliance, and auditing is one of the main benefits of accounting automation. It helps you manage tax audits and ensures your accounting and bookkeeping processes align with industry regulations.
What Accounting Tasks Can Be Automated?
A certified accountant usually deals with multitasking and juggles between small- and big-scale tasks. Why waste time and effort if you can automate routine work? Here are some accounting tasks you should leave for your accounting software.
Accounts Payable and Receivable (AP/AR)
With an accounting automation tool, you can track your accounts payable & receivable. This includes preparing invoices, extracting data, sending reminders, processing payments, and depositing money into the company's bank account.
Payroll
Accounting software processes payroll efficiently by calculating billable hours, tax deductions, and rates. Thus, you can quickly calculate the employees' salaries and transfer money directly to their bank accounts.
Procurement
This process involves a lot of documentation that can lead to a mess when handling it manually. An accounting system helps you prepare estimates & quotes, contracts, invoices, and purchase orders by extracting and auto-filling necessary details.
Bookkeeping, Taxes, and Monthly Financial Closing
Tax management requires particular attention to detail—a couple of minor mistakes might affect the company's legal situation. To keep your business safe, accounting software helps detect and delete duplicate entries, identify errors, transfer data across apps, update tax reductions, and identify missed or unknown payments.
Cash Flow Reporting and Forecasting
Accounting system automation helps you get more predictive about cash flow trends to make the right strategic decisions, like allocating resources and expanding production lines. You can analyze this data using automated reports accessible across the company.
What to Look for in an Accounting Software?
With many accounting tools on the market, choosing the best one for your business can be challenging. As a manager or business owner, here are some criteria that you should consider before choosing financial automation software.
Automation
Accounting automation is the main feature and benefit of accounting software. So, managers should assess the tool's ability to automate such accounting tasks as bookkeeping reports and invoices. Real-time updates and minimized manual intervention are a must.
Essential Accounting Modules
Accounting tools differ when it comes to financial, bookkeeping, and accounting capabilities. As a result, managers should assess the tool's ability to deliver these benefits, including
time & mileage tracking
expense tracking
automated financial reports
invoicing
mobile app
Some accounting platforms provide these features as built-in, while others offer them as separate modules.
Cloud Access and Capabilities
Cloud-based accounting lets remote accountants access and update data wherever they are, and all the changes will immediately appear in entries for other employees. Plus, you can upgrade your software anytime with a click, while hardware maintenance might be challenging.
User Roles & Permissions
With accounting software, you can relax about your data privacy. Setting user roles and permissions to access specific data ensures that sensitive information stays locked.
Business Intelligence
Automated accounting reports help you monitor your business health. You can track late and on-time payments and identify which company departments earn and spend the most. As a result, you can improve your resource management and make cash flow forecasts.
Good Reputation
It's important to choose a reputable accounting solution for your business. Be sure to read reviews, assess the pros and cons of each tool, and consider the vendor's customer support options.
Scalability
When picking an accounting program, consider the company's future needs. As your business grows, you might need features like customized invoices, advanced reporting, or more integrations.
5 Best Accounting Automation Software for Small Businesses
As a small business, you need a reliable tool to help you manage bookkeeping and financial tasks without hiring additional employees. Which accounting software might be perfect for your small business? We'll review the most popular options.
QuickBooks Online
FreshBooks
Xero
Zoho Books
Kashoo
Is QuickBooks Online the Best Accounting Automation Tool?
QuickBooks Online is an excellent small business accounting software integrating with several payment gateways. It tracks sales, taxes, expenses, and accounts payable & receivable. Moreover, it has a clean interface and doesn't take much time until your team is used to it.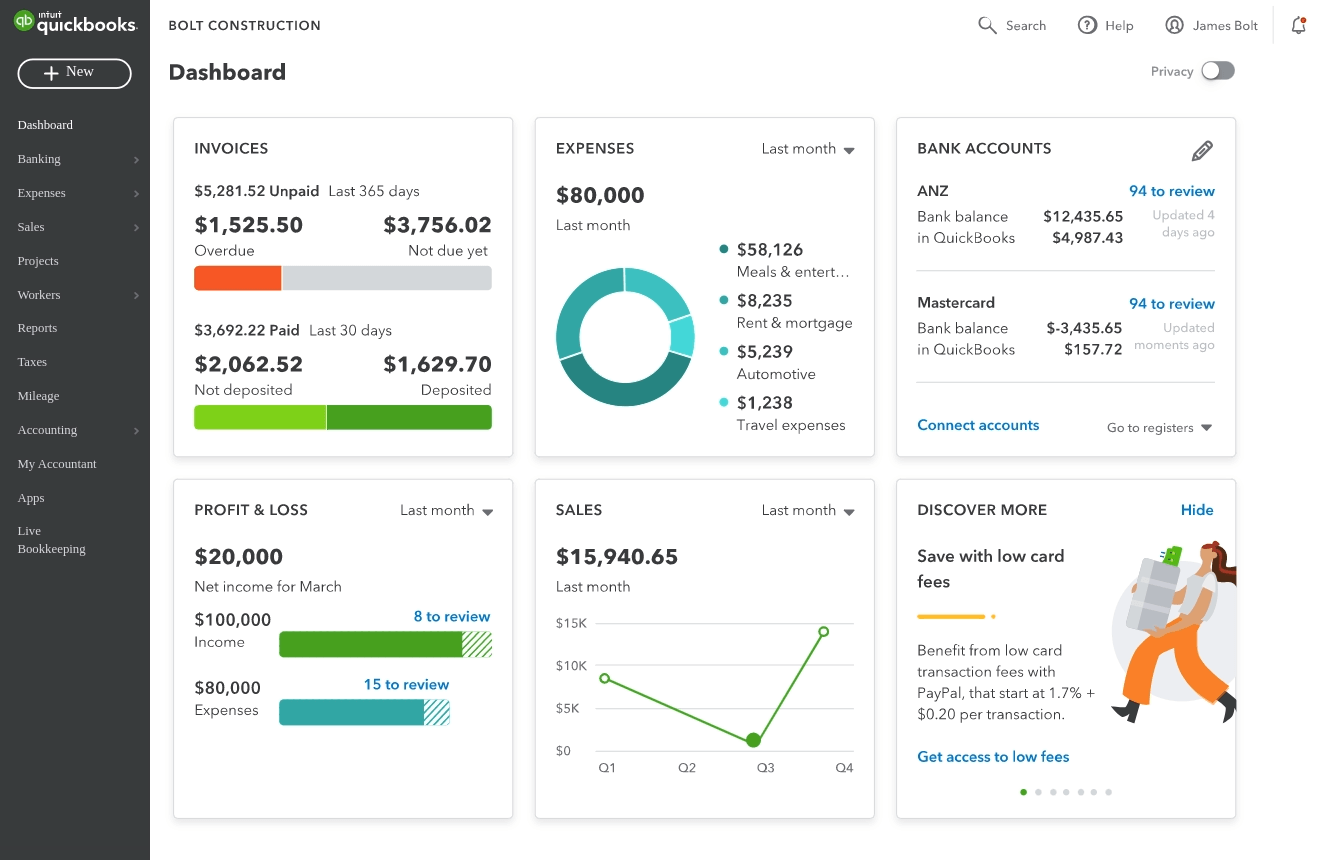 Source: QuickBooks Online
What Is QuickBooks Online Good for?
Integration with many third-party applications
Customizable accounting reports
Advanced payroll features
Handy automation
What Are the Disadvantages of QuickBooks Online?
Limited number of users, transactions, and file storage
System crashes can jeopardize your data
How to Automate Accounting with FreshBooks?
FreshBooks is an all-in-one financial, bookkeeping, and accounting software for small businesses and freelancers. It streamlines accounting workflow with automation and helps you look professional with customization options.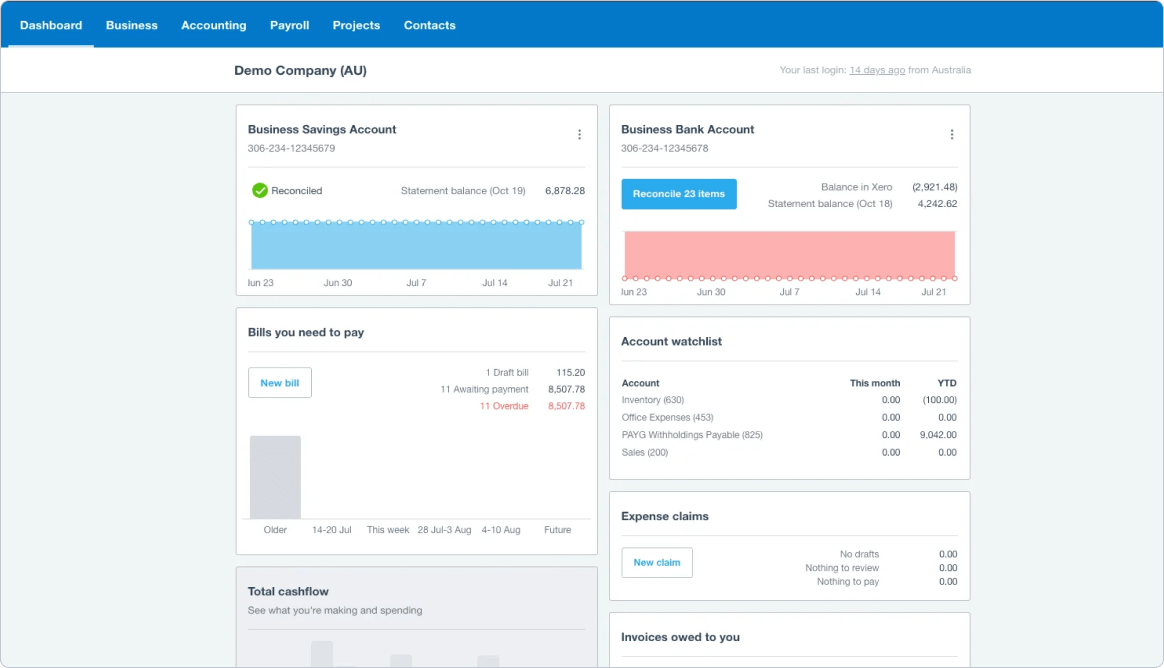 Source: FreshBooks
What Is the Advantage of FreshBooks?
Solid support and backup
Recurring payments
Customizable invoices
Time & mileage tracking
What Are the Cons of FreshBooks?
Bank reconciliation is available only on premium plans
Limited number of users and clients on lower plans
Can Xero Be Automated?
Xero is an excellent app if you want to connect your financial reports to your bank account, as it offers seamless banking reconciliation features. Using this app, you can track inventory, create purchase orders, and connect them to bills. You can also link it to Gusto if you need payroll services.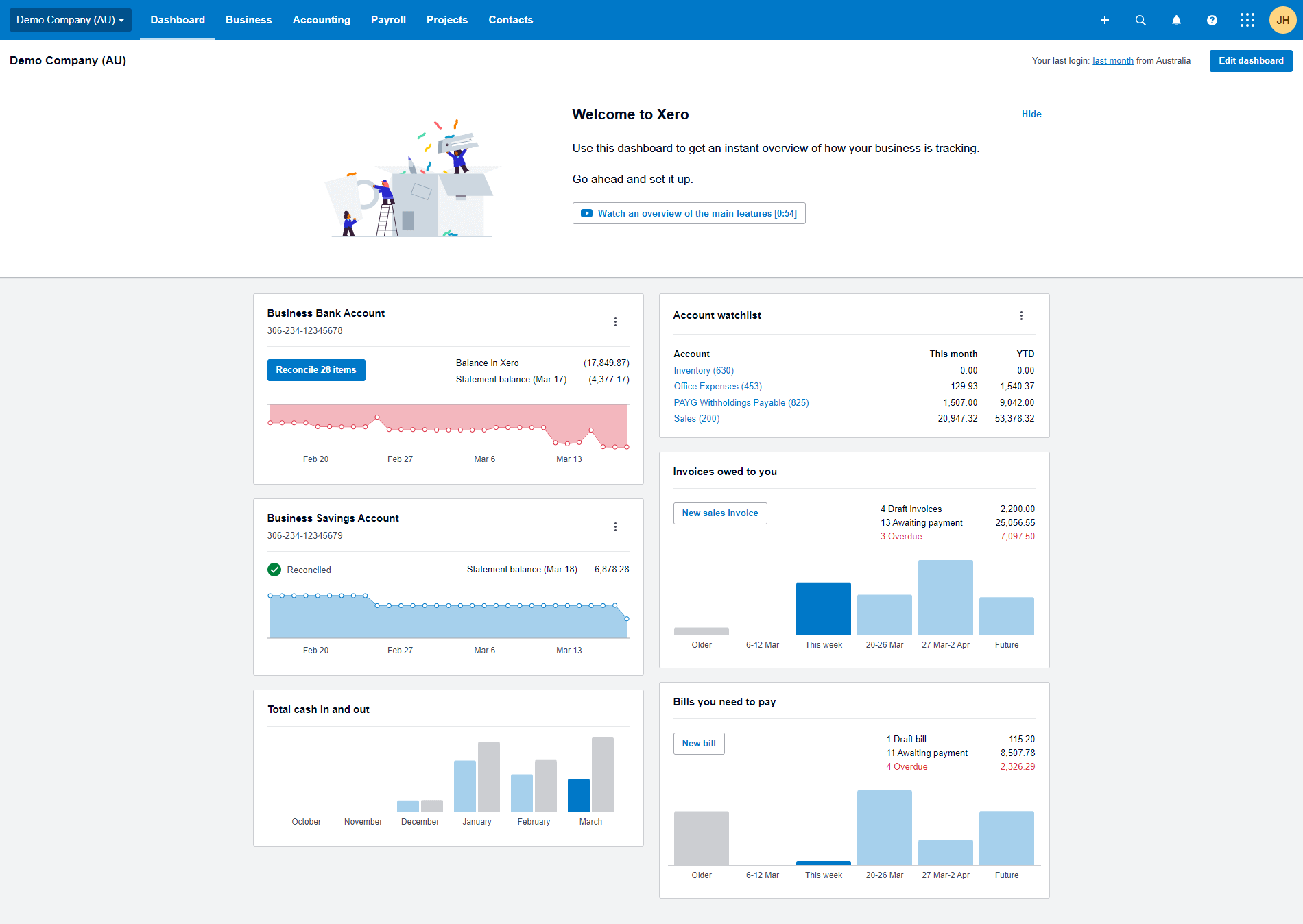 Source: Xero
What Are the Benefits of Xero?
Good cost per value
Real-time bank reconciliation and feeds
Built-in payroll
Unlimited users
What Are the Disadvantages of Xero?
Procurement and inventory tasks are pretty basic
Learning curve
Limited phone support
How Do You Automate Zoho Books?
Zoho Books is a comprehensive solution for automating all your financial and bookkeeping operations. It offers industry-standard invoicing and time-tracking services for accurate entries.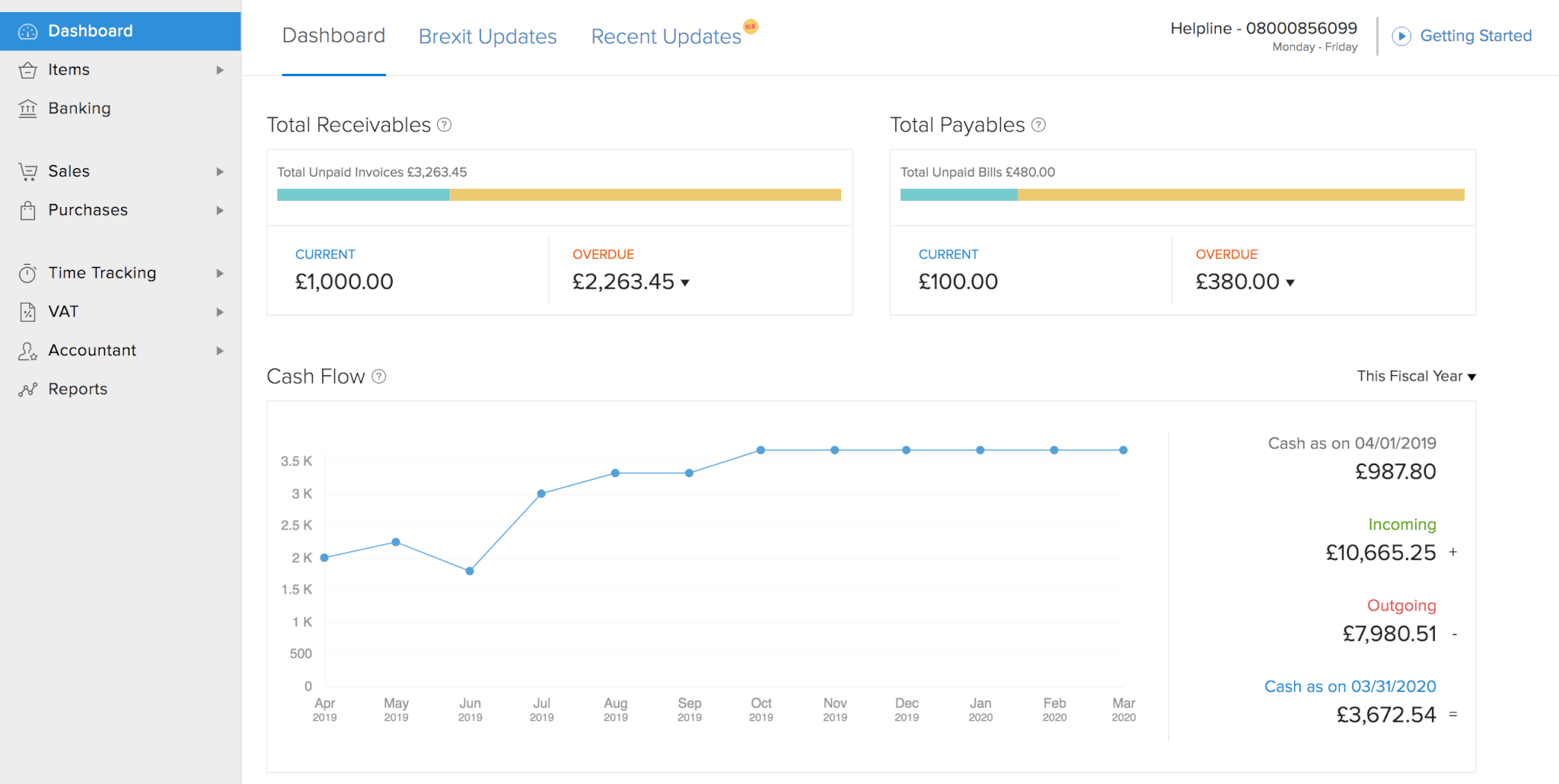 Source: Zoho Books
Why Is Zoho Books Good?
Comprehensive free plan
Intuitive design
Built-in time-tracking
Recurring payments
Functional mobile app
What Are the Disadvantages of Zoho Books?
No fixed asset tracking
Basic analytics
Project management and inventory management are only available on premium plans
Is Kashoo Good for Automated Accounting?
Kashoo is a simple and efficient tool for non-tech-savvy accountants. It offers automatic reconciliation, income & expense tracking at an affordable price.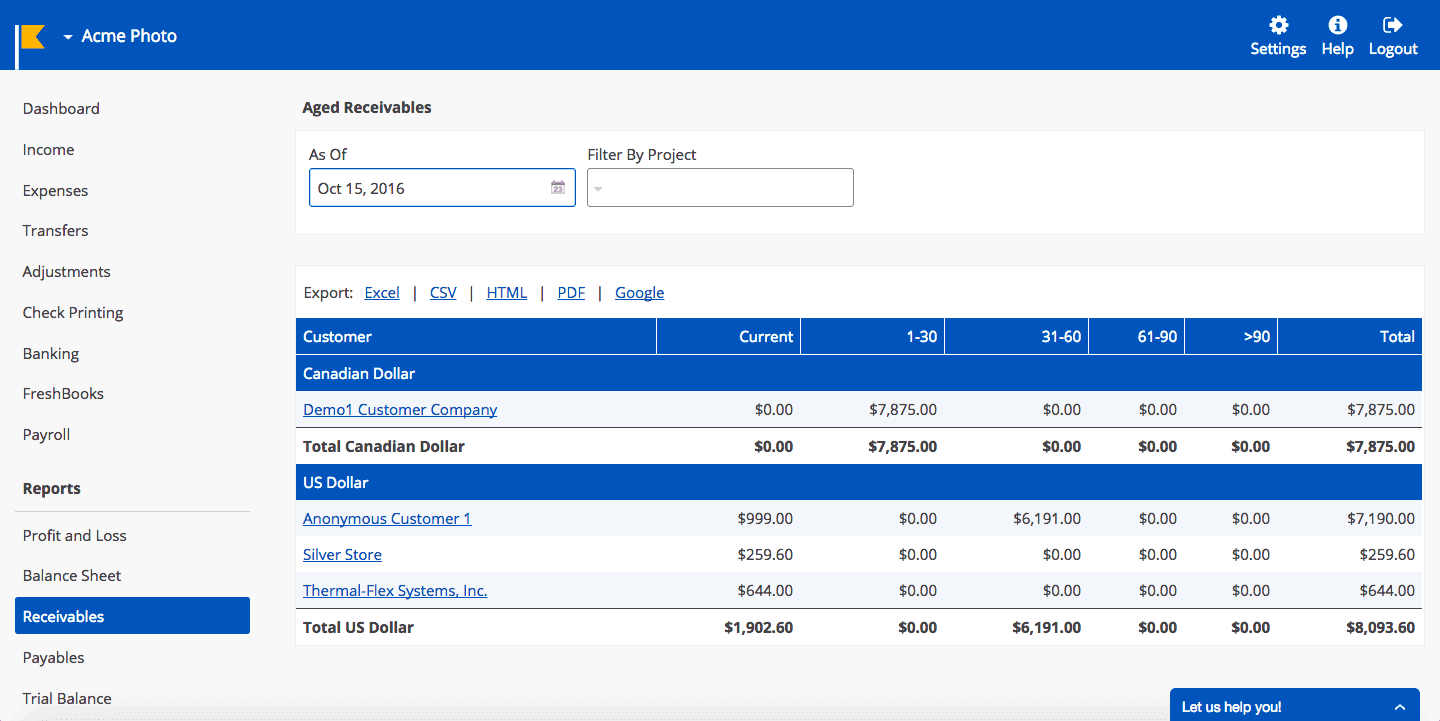 Source: Kashoo
What Are the Pros of Kashoo?
Unlimited users and contacts
Automatic contact creation
Automatic bank reconciliation
Affordable pricing
What Are the Drawbacks of Kashoo?
No built-in time-tracking
Searching for transactions can be tricky
Support isn't always satisfactory
Cover Up
Choosing the best accounting automation tool can make or break your business in a competitive market. Understanding the importance of accounting automation allows you to pick the right tool for your current and future business operations. And with many options on the market, researching is paramount to guarantee that you can run your business successfully.