Who can be interested in a FreshBooks review: a freelancer, an SMB or SME owner? The answer is quite simple: any of those businesses can reap the benefits of using FreshBooks accounting software. If you are familiar with juggling numerous clients, invoices, transactions, and other tasks, A cloud accounting system like FreshBooks can eliminate and automate the routine and improve the financial management aspect of your business. Let's find out the features, pros and cons, and pricing details in this FreshBooks review.
What Is FreshBooks?
FreshBooks is cloud-based accounting software that caters to small businesses. The invoicing software serves various industries like
legal services and business consulting
marketing
trades and home services
information technology (IT)
In a nutshell, FreshBooks takes invoicing & billing out of your accounts' hands and puts it on autopilot. Within its web-based design, you can find a bunch of options to set up automated invoicing and get paid 2x faster with online payment options.
Plus, FreshBooks cloud accounting lets you boost team productivity with collaborative project tools and time tracking. The platform can also integrate with MailChimp, Paypal, Basecamp, and Zenpayroll.
Whatever FreshBooks plan you choose, you always experience great customer support. The accounting solution is one of the best small business accounting software because it highly values its customer service. The support team answers phone calls right away while emails get responded to within a few hours. You can also get support via
Support form
In-software Help
Help Center
Webinars
Press Center
Blog
Social media

FreshBooks logo. Source: FreshBooks
Is FreshBooks Easy to Use?
You start off with a 30-day free trial, built to give business owners a feel for the platform. This way, they decide if FreshBooks accounting is right for them. As soon as a free trial finishes, you can pick from one of four main FreshBooks plans based on the size and complexity of your business.
The product includes a support page for a setup with video webinars. FreshBooks support team runs them regularly to explain the basics of using the accounting software and its bookkeeping functions. Webinars may include live chat throughout the 30-60 minutes session. FreshBooks accounting software offers three types of webinars:
101: Getting Started with FreshBooks to learn how to get your account up and running
202: Getting the Most out of your FreshBooks Account to get the most out of your account
Reports to get a walkthrough of the Sales Tax Summary, Profit & Loss, Invoice Details & Expense Reports
On the main dashboard, you can track invoices, revenue streams, profits and loss, spending. You can also set up FreshBooks for Android or iOS with access to the accounting system's basics.
FreshBooks Review: Functionality
FreshBooks comes with an impressive set of features no matter what pricing plan you adopt. Even the lowest-paid tier sparkles with the functionality for unlimited and customizable invoices, the capacity to accept online payments, and ACG bank transfers as well. Let's take a look at the core FreshBooks features.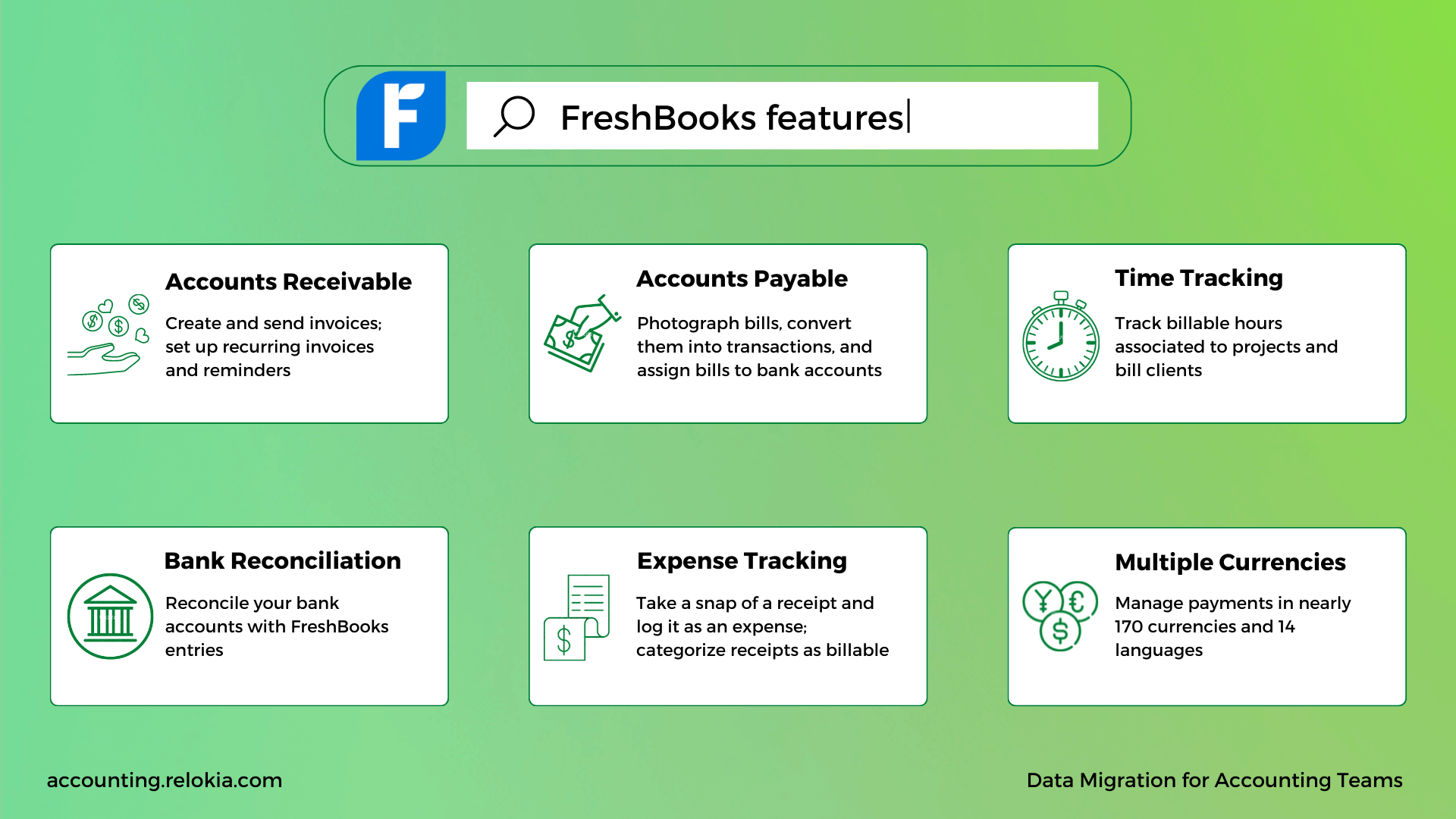 Accounts Receivable
Account receivables serve as FreshBooks invoices to refer to the number of money clients owe to a company. You can customize this type of invoices by:
Adding a logo
Including a personal message
Adding items like sales tax items, inventory, expenses, and labor
On top of that, you can also email and print accounts receivables. Or create a recurring invoice if you bill a client for the same amount regularly. Plus, you can check a filtered list of accounts receivables to send your customers a friendly reminder.
Accounts Payable
Account payable includes bill and vendor management features available in Premium and Select plans. You can enter transactions manually by uploading a picture of the bill. Later assign them to a bank account for further reconciliation. Plus, you can set up Profit & Loss and Cash Flow Statements. However, you need to grant FreshBooks access to your bank account to assign expenses.
Time tracking
FreshBooks lets you invite employees, contributors, and clients to projects. This way you can share notes and files and set up deadlines. As a result, this allows you to track their time and monitor how much they spend on a project. FreshBooks also allows you to bill clients based on hours tracked on their projects.
Bank reconciliation
In addition to double-entry accounting, FreshBooks includes bank reconciliation. This way, you can reconcile all your bank accounts in the invoicing software.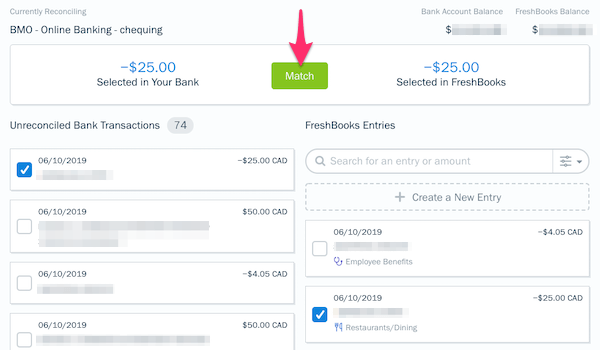 Bank reconciliation in FreshBooks. Source: FreshBooks
FreshBooks Proposals
FreshBooks Proposals lets you display your work with the space built for attachments, images, and writing. Every section includes Timeline, Notes, Overview, Terms, Scope of Work, and Pricing. To approve proposals or convert them into invoices, you require an e-Signature.
Expense tracking
Within FreshBooks, it is possible to photograph receipts and log them as expenses. Later you can link them to bank account transactions or credit cards. Categorize them as billable to add them to invoices. Moreover, you can attach them to projects or clients to manage your budget.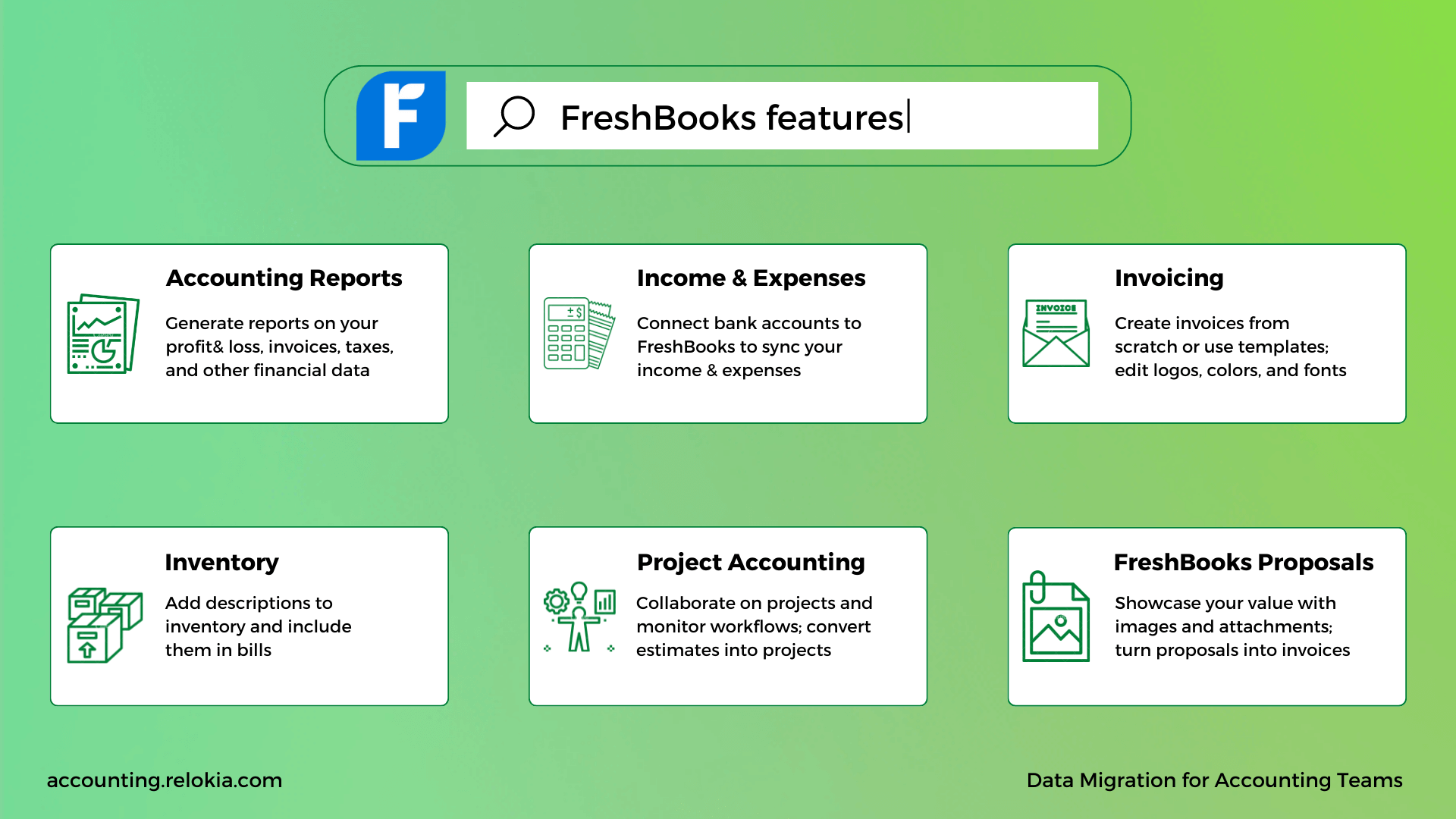 Reports and Expense Reports
Within a FreshBooks account, you get eight types of reports and three extra accounting reports. You can access them via a report tab. You have all numbers in one place: from the money you've earned to the paid taxes.
Income and Expenses
You can connect your bank accounts and credit cards to your Freshbooks account so you don't need to enter your income and expenses manually. Every day FreshBooks updates you with the most recent spending to keep you up-to-date. Categorization of expenses simplifies the process of filing them for you and your accounts. So when it comes to taxes, you have everything ready.
Project accounting
FreshBooks includes project management features tied directly to its invoicing. This way you manage timelines and better monitor project workflows. Create an estimate and add such items as:
Labor
Inventory
Sales taxes
Once approved, convert an estimate to a project. As well, you can compare actual costs to estimated costs to improve budget planning.
Tax and finance reporting
Apart from accounting reports, you also get tax and finance reports in FreshBooks. They are useful in helping you prepare for tax time and understand your business. This collected information should help you uncover valuable financial data about your business.
Invoicing
The accounting system includes two basic customizable invoice temples. You can change the header, colors, font, or logo. Moreover, you can add notes and terms to invoices. Users of Plus and Premium plans can send reminders, set recurring invoices, or charge late fees.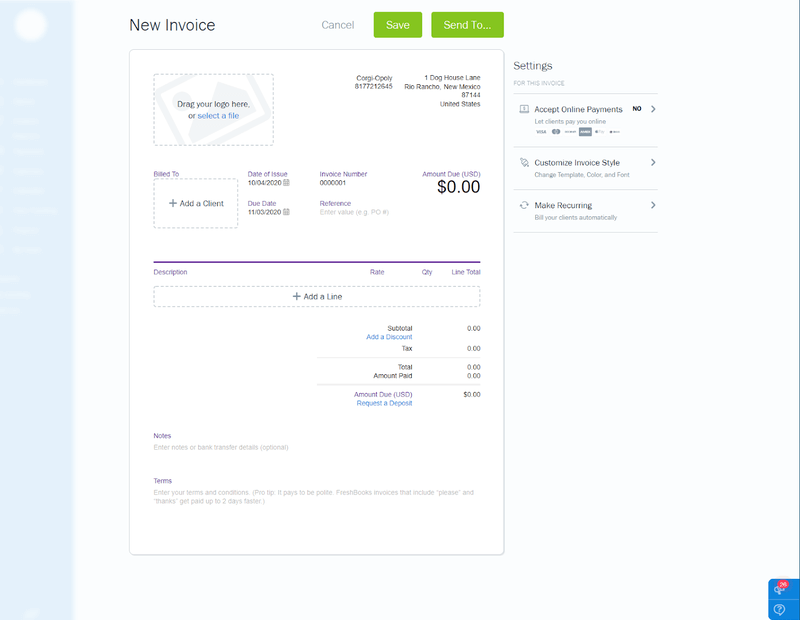 Creating an invoice in FreshBooks. Source: FreshBooks
Inventory
FreshBooks only lets you set up inventory descriptions that you can later add to bills. Yet, there's no way you can track the number of items on hand, the cots of sold inventory, or the value of the available stock. If you look for inventory management, consider a FreshBooks alternative.
Multiple currencies
FreshBooks accounting is compatible with nearly fourteen languages and 170 currencies. This way, the platform is perfect for international business and invoicing.
Customer service
FreshBooks offers customer support via email or phone. You can also browse its huge self-help center that has how-to articles and answers to the most common questions.
What Is the Price of FreshBooks?
FreshBooks pricing starts at $15 per month for a basic plan and goes up to $50 per month for an advanced package. If you need a specific set of features, FreshBooks provides a Select (Custom) plan to tailor to your business needs. If you commit to a yearly plan, FreshBooks offers a 10-percent discount on the month-to-month cost. Currently, three of FreshBook plans offer a 60% discount for six months.
If you just start with cloud accounting, you can take advantage of a 30-day free trial. No contracts or credit cards are required. You can even get free email/phone support. If you aren't ready to subscribe after the free trial, FreshBooks still store your data in case you decide to upgrade later.
Here's how the monthly FreshBooks cost breaks down:
Lite: $15 per month (up to 5 billable clients)
Plus: $25 per month (up to 50 billable clients)
Premium: $50 per month (unlimited billable clients)
Select: Custom pricing, contact sales (unlimited billable clients)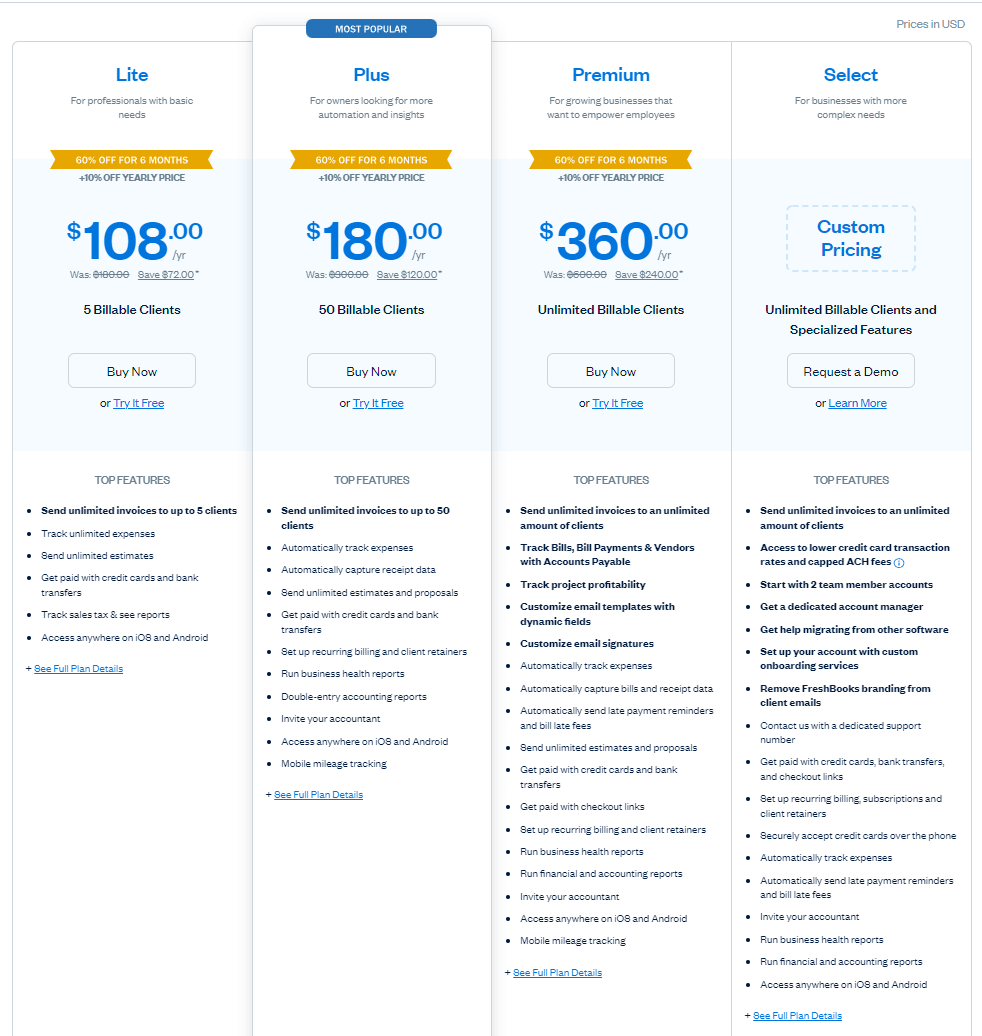 FreshBooks Pricing. Source: FreshBooks
With the Lite plan, you can connect the accounting system to your bank account, accept invoice payments online, or track time. You have no limits on the number of invoices and estimates you can send. And you also get access to the FreshBooks mobile apps for iOS & Android.
For an extra cost, the Plus plan lets charge late fees and send proposals, payment reminders, and recurring invoices. You also get double-entry accounting reports for your general ledger, chart of accounts, and trial balance. In addition, you can invite your accountant to collaborate on the platform without paying an additional user fee.
The Premium tier is all about customization: you can tailor email templates and signatures. Track bills, bill payments, and vendors with project profitability and Accounts Payable. You also get more reporting and client-tracking capabilities.
As for the Select plan, it is perfect for businesses that have more than 500 clients or bill at least $150, 000 every year. You also get a dedicated account manager in addition to all FreshBooks features from the previous plans.
Pros and Cons of FreshBooks
A big advantage of FreshBooks is its ease of use. And it's statted in every FreshBooks review. It takes minimal steps to set up an account on the platform. But is that all that FreshBooks has to offer? Let's dive in.
What Are the Advantages of FreshBooks?
Well-rated customer support: FreshBooks customer service is high-rated on every online review site. The customer support team usually answers the email within 90 minutes while they pick up a phone within 3 rings. Customer support representatives are available weekdays from 8 am-8 pm ET.
Good invoicing functionality: FreshBooks offers many different invoice templates. These templates are customizable. You can also create recurring invoices. Invoice discounts are easy to add. Finally, you can see how your invoices have been used online. This feature is available on both desktop and mobile apps.
Time tracking and mileage tracking: All Freshbooks plans provide mileage tracking and free time tracking features, which also work inside the mobile app. They're useful for entrepreneurs who run a small business and don't want to spend extra money on separate add-ons.
What Are the Disadvantages of FreshBooks?
Not tailored for larger businesses: Inventory tracking and vendor management are missing from this software application. Plus, there are no batch-involving shortcuts.
Extra cost per month to add an additional team member: It includes only one customer account to access the accounts in any plan except the Select plan (which offers two customer accounts). Additional customer accounts cost $10 per user each month: While these limitations might not make a difference for a solo entrepreneur or a small business owner, they could make it more expensive for growing businesses to scale out.
No quarterly tax estimates: Freshbooks offers quarterly tax reports. However, it doesn't estimate quarterly tax payments. However, it integrates with applications such as TaxFyle, which provides users upfront quotes for their personal or business tax payments.
FreshBooks Review of Add-ons and Customization Capabilities
Moving forward with the FreshBooks review, the platform offers over 100 supported integrations to cover almost any business need. The list includes such popular apps as Zoom, G Suite, HubSpot, Dropbox, Slack, Fundbox, Shopify, Squarespace, and Mailchimp. Stripe and PayPal are among the available payment gateway.
As for add-ons, FreshBooks includes three options depending on your plan:
Advanced Payments ($20/mo): Save and charge your client's credit cards.
Team Members ($10/person/mo): Get additional team members on the board if the available number of users isn't enough.
Gusto Payroll (See Gusto Pricing): Payroll offered through Gusto to help you to keep track of payroll expenses.
Is FreshBooks Secure?
Cloud accounting might be incredibly secure, yet data breaches do occur. As for FreshBooks, the accounting software offers such security means:
256-bit SSL Security: FreshBooks uses this encryption type to secure your accounting data
Firewalls: The platform strengthens its data security with Cisco-powered firewalls
Physical Security: The accounting software uses the state-of-the-art Rackspace servers to offer "biometric access controls", redundant power feeds and generators, constant surveillance, robust fire suppression. Plus, it provides monitored climate control.
Intrusion Detection: FreshBooks accounting includes this system to overview unusual behavior and communicates with AlterLogic
Vulnerability Detection: It has Alert Logic to scan servers for vulnerabilities
Do I Need an Accountant if I Use FreshBooks?
There are many accounting software systems out there that are easy enough for non-accountants to use. FreshBooks is one such system that provides an interface for users who do not know how to account for themselves. It offers easy access to financial information and allows users to create invoices and pay bills.
In case you need assisted bookkeeping, you can integrate Bench, an online bookkeeping service. It helps users with tax preparation, bookkeeping, and tax advisory. Every client gets a dedicated virtual bookkeeper who controls all bookkeeping tasks.
Recap: Should You Choose FreshBooks as Your Accounting System?
Overall, FreshBooks is a great option for small, service-based businesses looking for strong invoicing. Its powerful customer service and project management make it worthy of consideration for your business.
The platform is a great value starting at just $15 per month, and it's perfect for companies that want to quickly set up an accounting system. However, it isn't advanced enough to cater needs of large businesses and product-based companies due to the lack of inventory and income tracking.
If you think about importing your accounting data to FreshBooks, consider our services. Our Migration Wizard will migrate your financial information fast, smoothly, and effectively.