Comparing Zoho Books vs FreshBooks is a must as almost 67% of accountants prefer cloud-based computing over locally installed accounting software. Cloud software also reduces labor costs by nearly 50%, making it an excellent decision for small and medium-based companies.
But choosing between different accounting tools can be a bit confusing. So, in this article, you get to read about the features of each app to find your ideal fit.
What Is Zoho Books?
Zoho Books is an online accounting system that manages financial and accounting business operations. It is a product of Zoho Corporation, developed in 2011. Zoho accounting software makes accounting data accessible and shareable across departments and automates business flows for accuracy and productivity.
It is easy to use and offers many features. For example, you can sell products directly from your website or create invoices and manage your customers' payments. The interface is intuitive and straightforward.
What Is FreshBooks?
FreshBooks is a cloud-based accounting and invoicing software developed in 2004. It first started as a simple invoicing system specifically designed to meet the needs of freelancers and small-sized companies. Later on, the app included more financial and accounting operations, storing all valuable data for future access.
Right now, it stands out with excellent customer service and advanced invoicing functionality. And its user base covers over 160 countries.
Both apps have similarities as they're scalable to suit different business needs. Keep on reading FreshBooks vs Zoho Books review to learn more.
Zoho Books Review: Best Features
Zoho Books is a comprehensive accounting system that provides various learning tools to help you manage your business. Here are some of the features that make it one of the best accounting tools on the market.
Impressive User Interface
Zoho Books is an easy-to-understand cloud accounting software and feels like an extension of other tools like Zoho Projects. Once you open the app, the relevant data appears in an organized way to facilitate your job as an accountant or accounting manager.
The Home view features links to all the software's essential features. You can access them all from the dropdown menu. Besides, you get the option to customize this menu based on your needs.
Zoho uses appealing visualization to make data more accessible. For example, users can view leads on charts to:
1) calculate the leads to customer ratio
2) read several reports to analyze the business's financial status
The app requires a lot of customization to get you started, but it features several tutorials to help you learn how to use Zoho. Moreover, it offers the Sandbox feature to test custom features before setting them up.
Plus, you get access to several FAQs and forums. And you can also contact the support team via chat, email, and phone.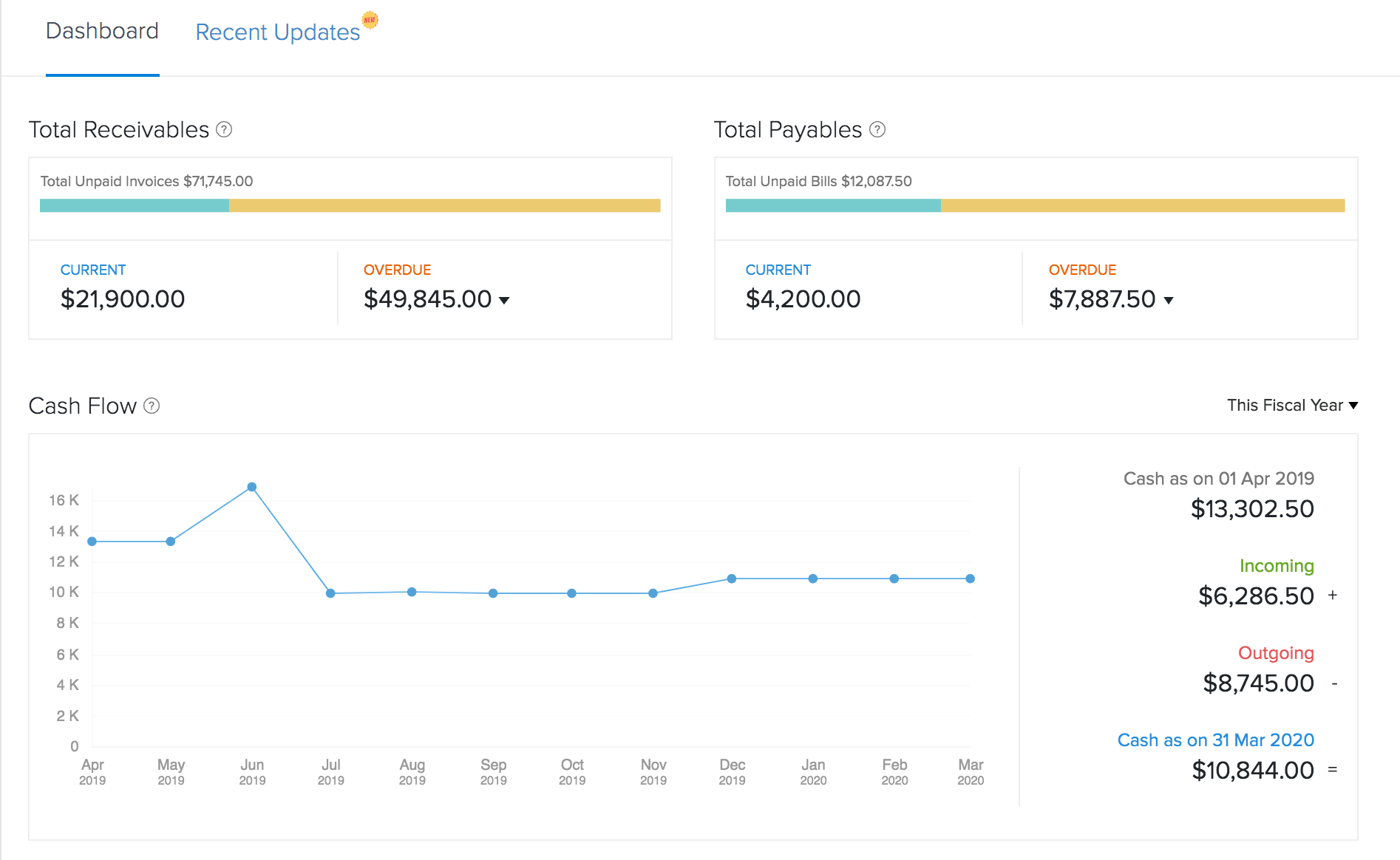 Source: Zoho Books
Easy Excellent Accessibility
Zoho Books is available in Android and iOS versions and web-based one. Moreover, the mobile versions are full of features and resemble the original cloud-based version, so it's an excellent tool to manage your business remotely.
Lead Management
Improve your company's financial status and turn leads into clients with lead management. This feature shows lead capture, segmentation, nurturing, interaction, and pipeline tracking.
It is specifically beneficial to more prominent companies that generate many leads per month. On the top, you get SalesSignal to:
monitor social network and email interactions with potential clients
send real-time notifications to the app
Moreover, Zoho has the built-on Zia AI to suggest the best time to follow up on leads. However, these features might not benefit a small business with no dedicated social media marketer but rather an established company.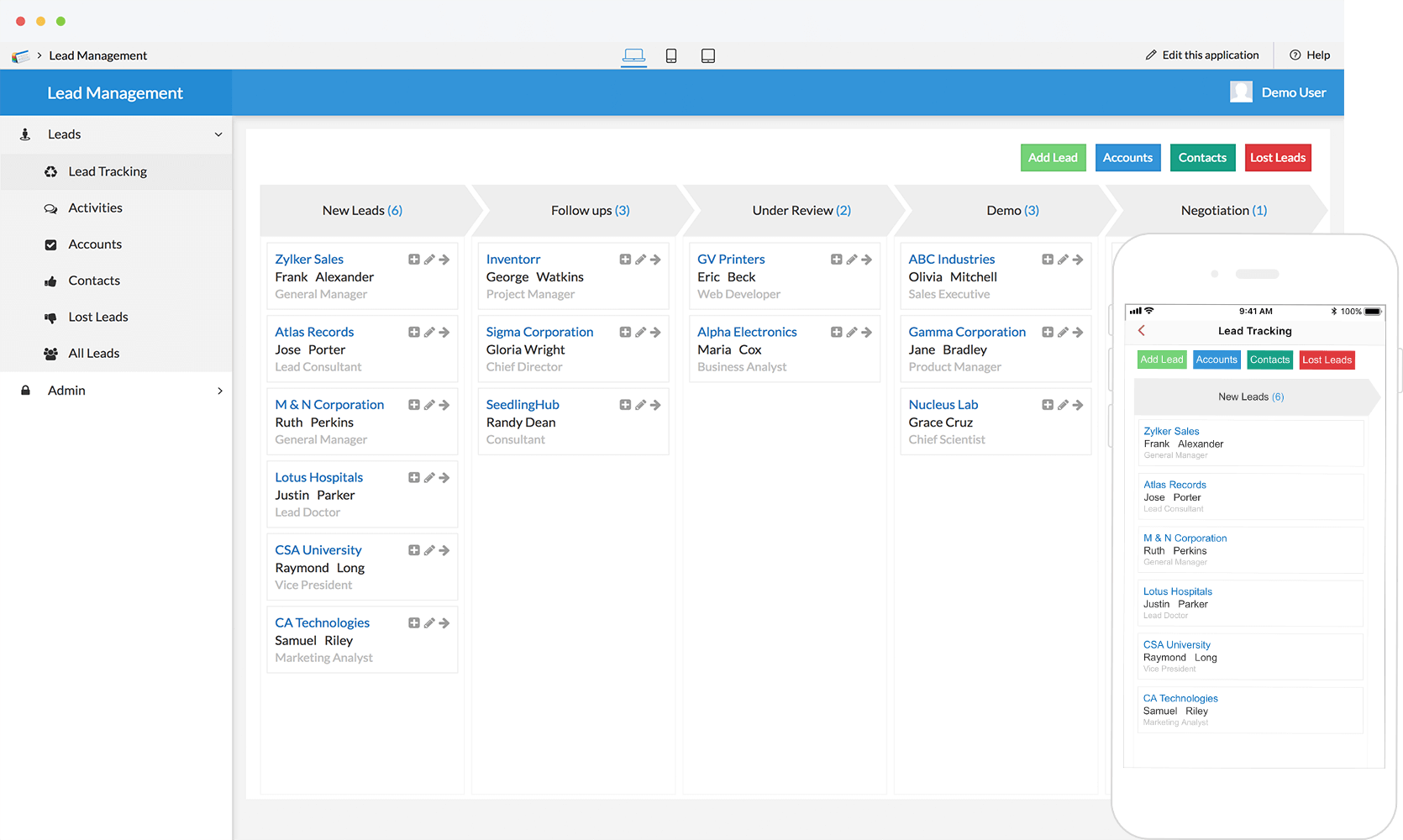 Source: Zoho Books
Practical Integrations
One of the perks of using Zoho Books is an option to integrate seamlessly with other SaaS solutions. The Zoho Marketplace offers several B2B solutions to facilitate work.
You can either integrate Zoho Books with other Zoho CRM products or combine it with third-party apps like Microsoft Office, Evernote, MailChimp, and ClickDesk.
As Zoho Books payroll features are limited, SurePayroll is a great plus. This integration requires a separate extra fee, but data seamlessly move from one app to another.
Once integrated with Zoho Projects, define your projects and choose billing system details. In addition, you can create timesheets and see all billable hours to estimate your profitability.
Invoice Customization
Compared to other accounting software tools, Zoho Books is hugely customizable. It has a long list of sub-categories compared to other small business accounting software. However, getting to know all these functions and features takes time, and eventually, most of them might not be relevant to your business.
Detailed Records
Get detailed records and invoices with Zoho Books. Once you enter the primary contact details, all the data related to tax payments, payroll payments, payables, and other reporting tags appear. Moreover, you can create thorough profiles for your contacts for more accuracy with Zoho Books.
There's a timeline of all receivables and payables to help you manage communication with clients. You can also export and import this data through your mail. Or set up recurring expenses easily to save money and effort.
Zoho Books provides standard fields like purchase descriptions, selling prices, and purchase rates for inventory records. However, it also provides a unit for measuring for better inventory tracking.
The invoices tab features extra fields for the opening stock, reorder point, and other features that help you adjust inventory levels most flexibly.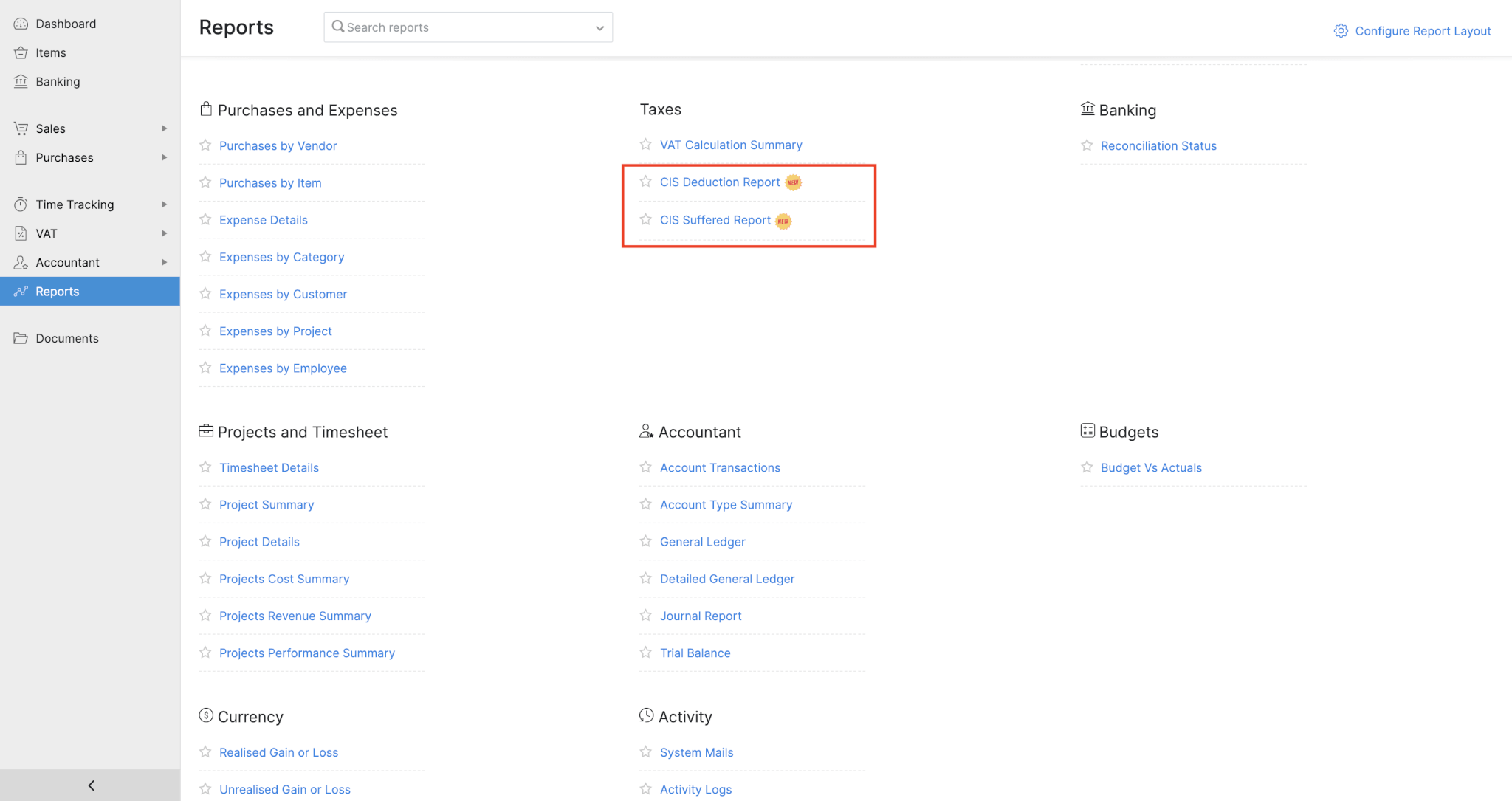 Source: Zoho Books
Document Management
Zoho Books accepts scanned receipts and other documents. If the client emails them to the app's inbox, it automatically classifies documents according to date, merchant name, and expense category. Vendors have access to this data to track invoices and payments.
The only problem is that the subscription grants you access to 50 scans per month. However, you can always purchase more to cover your business needs.
Reviewing FreshBooks Top Features
FreshBooks is more than a simple invoicing app for small businesses, as it's currently a comprehensive double-entry accounting software with several impressive features. Here are some of them.
Smart User Interface
Setting up your FreshBooks account is easy and allows you to add customized fields to create your company's profile. After that, the app prompts you to watch some training videos, and you can add team members. In addition, Zoho Books also provides email and phone support if you need more guidance.
All navigation links are easily accessible from the dashboard. And you can display the company's financial status via five charts:
unbilled time
outstanding revenue
spending
revenue streams
total profit
However, these charts aren't interactive.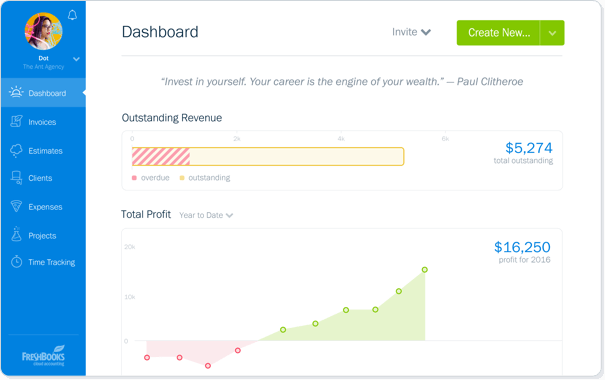 Source: FreshBooks
Mobile Accessibility
FreshBooks comes in two versions: Android and iOS apps. In short, they are easy to use and offer a similar experience to cloud-based software. The mobile dashboard is intuitive and shows the outstanding revenue, total profit, and spending icons for easy access.
The other details appear at the bottom and can take you to different working areas of the app. However, there are some features that you can't access from the mobile app, like editing projects and reports.
Nevertheless, FreshBooks mobile apps include a unique feature while away from the office. The app tracks your mileage to record trips as personal or business expenses, and you can always add trip information manually.
Creating Invoices
Use built-in invoice templates to help you save time and effort while communicating with your clients. FreshBooks also supports creating proposals and estimates to offer you more flexibility in managing financial relationships with vendors and clients. In addition, clients can electronically sign proposals.
The invoices tab shows you everything you need to know about:
overdue invoices
recurring invoices
outstanding invoices
The correct amount gets assigned if you've already set up the sales tax. You can also add a discount, request a deposit, and even set up a payment schedule.
Although FreshBooks doesn't directly integrate with a sales tax service, it handles taxes efficiently. You also receive a Sales Tax Summary report to keep track of your transactions.
FreshBooks offers Context-Sensitive Settings, which remind you of the other options, so you can better customize your invoices and other records. For example, it reminds you to email an invoice or tells you that you can edit an invoice after saving it.
Contact Details
Get detailed records of all your contacts with some personal information and a representation of their business cards. Besides, you can access charts next to their names to see details about:
expenses
unbilled time
draft invoices
All you need to do is to check this information at a glance, and you can evaluable a contact's financial situation without having to dig into the details. In addition, the client's homepage offers more data the more you do business with them.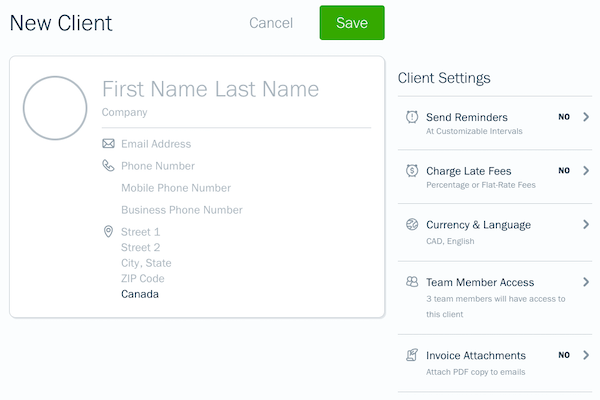 Source: FreshBooks
Connect to Banks and Payment Gateways
Connect your FreshBooks account to banks and other financial institutions and several payment gateways. Once you enter your bank account's credentials, the app imports your account transactions and allows you to make payments and receive money directly. However, this feature depends mainly on the bank's security protocols.
FreshBooks automatically tries to categorize your expenses, whether they're for professional services, supplies, or personal expenses. However, you need to correct the software in some instances for accurate expenses and taxes calculation.
Connecting the app with payment gateways, on the other hand, is pretty intuitive. You can accept payments through:
Stripe
PayPal
different debit and credit cards
bank transfers
Moreover, customers can make payments through FreshBooks' payment function, which costs 2.9% plus 30 cents per transaction.
Project Management
There is no need to integrate a third-party integration; FreshBooks offers simple project management tools to improve productivity and functionality for small businesses. For example, you can:
set the billing system flat rate or hourly per project
assign team members
create roles for each member with access restrictions
assign a project to a client
View all the project tracking and billing details on the project's homepage. You can't change the billing rate you bill the employees for different projects, but you can set up various expenses. Moreover, you can add and edit project entries and chat with team members.
Built-In Time Tracking
This feature makes FreshBooks more like a project management tool and not just an accounting tool. At the bottom of every project's homepage, you can see details assigned to the project, including time entries.
This way, you can calculate:
the total hours logged per project
the billed and unbilled hours
The details in a chart let you estimate the profitability of every project. In general, FreshBooks' project management features cover the needs of a freelancer or a small-sized company. And you can connect it to other project management tools like Asana.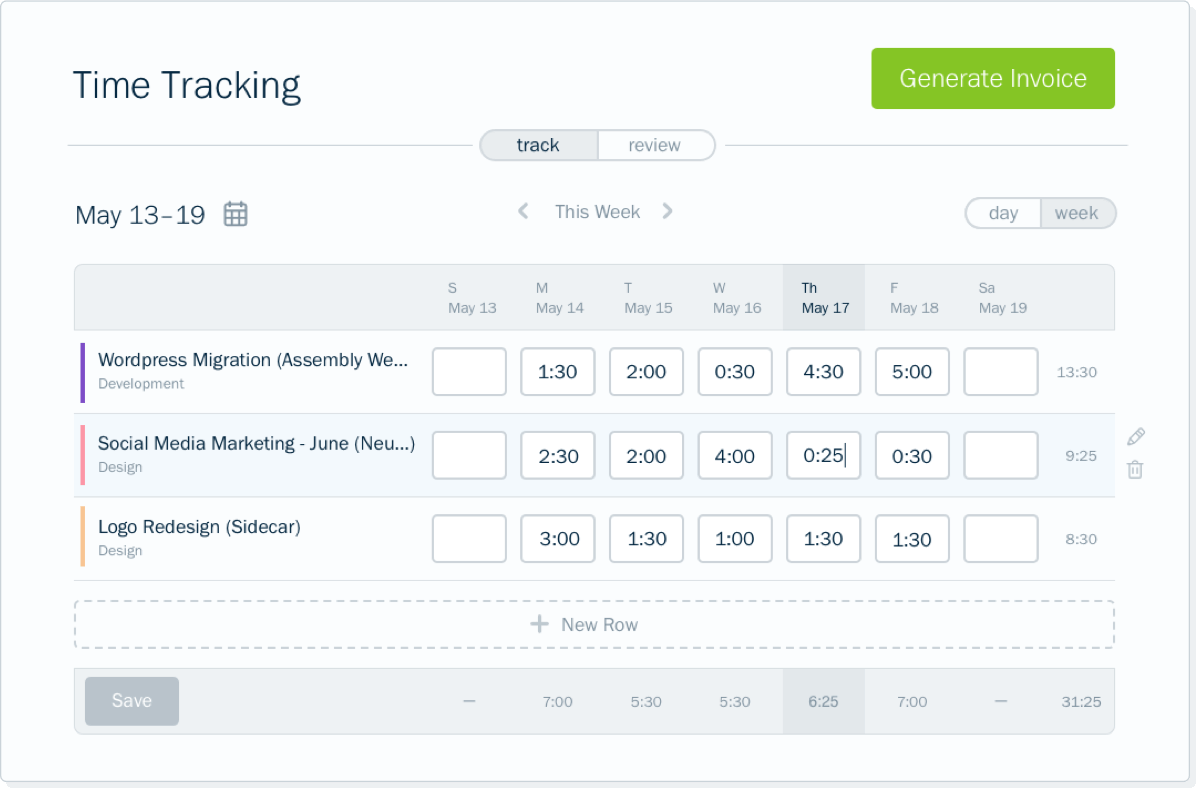 Source: FreshBooks
Zoho Books vs FreshBooks: Pricing Recap
The price is one of the main influencing factors you consider while picking the right accounting system. And the same factor plays out when it comes to Zoho vs FreshBooks. Here's how the pricing plans of each app work.
How Much Does Zoho Books Cost?
The accounting system's pricing is rather simple. It offers four packages with a 14-day trial period. If you pick any of them now, you get 70% off for three months.
The first is the Zoho Books Free Plan, which allows one user plus the accountant to use the app. This plan includes most of the basic features and works for companies with revenues of less than $50,000 per year. However, it lacks features like additional expenses, connecting to bank accounts, timesheets and billing, and reporting tags.
The Standard Plan costs $20 per month and $15 per month if you pay annually. This plan allows three users to access the account and offers some customizability like recurring expenses, tracking invoices and payments, billing, and custom views. Here you can create 5000 invoices annually.
The Professional Plan costs $50 per month and $40 per year if you pay annually. It works for five users and offers extra features like purchase orders and approvals, automatic exchange rates and currency adjustments, and project profitability and journal templates.
The Premium Plan costs $70 per month and $60 if you pay annually. It is the most flexible and customizable plan to create your domain, have custom buttons, and have a vendor portal. This pricing plan works for up to ten users.
How Much Do You Pay for FreshBooks?
FreshBooks offers a 30-day free trial period and has four pricing plans with a 70% discount if you pay per three months. You also get a discount if you pay annually.
The Lite Plan costs $4.5 per month, designed for five clients. Using this plan, you can track expenses, send estimates, track sales tax, and access different reports.
The Plus Plan is the most popular one and costs $7.50 per month and works for up to 50 clients. With this package, you can set up recurring bills, run business health reports, and invite your company's accountant to evaluate business transactions.
The Premium Plan costs $15 per month and has no limit on the number of clients. Moreover, it allows you to send customized emails, get paid with bank transfers and credit cards, and automatically send reminders for late payments. The Plus and Premium plans also offer mobile mileage tracking.
If you have specific business needs, you can contact FreshBooks for a Custom Plan. These plans include exclusive features like dedicated support, removing FreshBooks' brand from client emails, and lowering credit card transaction fees.
Which Platform is Better: Zoho Books vs FreshBooks
It's safe to say that Zoho Books and FreshBooks share several similarities, like facilitating collaboration between team members and integrating with several apps. But each app has its pros and cons.
What Are Zoho Books Advantages?
Zoho Books has more learning and help resources
The inventory tracking tool is remarkable
It has a built-in sales tax tool
More custom fields for better customization
Zoho cost is more suitable for small businesses
Seamless integration with a payroll app
What Are Zoho Books Disadvantages?
No custom dashboard
The interface is a little bit more complicated
Time tracking is tied to projects
What Are FreshBooks Benefits?
A longer free-trial period
Double-entry accounting
Supports proposals and estimates
It offers a payment history feature
Automatically organizes files and expenses
The mobile app provides mileage tracking
A simple dashboard with different customizable options
What Are FreshBooks Drawbacks?
Establishing bank connections might not always work
Little invoice customization
Budgeting options are limited
Who uses Zoho Books?
There are currently 3005 companies using Zoho Books, most located in the US. Of course, Zoho Books has other successful competitors like Xero, QuickBooks, and Bench. Yet, it excels in satisfying the needs of small and medium-sized businesses, thanks to its simple user interface and affordable plans.
Zoho Books is suitable primarily for companies that work in:
Information Technology and Service
Computer Software
Marketing and Advertising
Names like AgileEngine, LLC and Avalara Inc depend on Zoho Books as their reliable accounting software.
Who Uses FreshBooks?
FreshBooks is currently used by more than 30 million people in 160 countries. It's quite common among freelancers, and 2353 companies are regular app users.
Most of FreshBooks' clients are located in the US, and most of them work in the Computer Software and Information Technology Services sectors. Organizations like USAA, Zeno Group, Inc., and PandaDoc rely on FreshBooks.
How to Migrate Data to Zoho Books Online or FreshBooks?
Migrating your accounting and financial data from any app to Zoho Books or FreshBooks has never been easier. Both accounting systems include pre-built options to import data in CSV.
For instance, FreshBooks lets you migrate clients, expenses, taxes, items, and vendors in CSV. Its Help Center contains a detailed guide on preparing the CSV files, which data it should include, etc. As for Zoho Books, it supports customer and vendor import in CSV. Moreover, it lets you map custom fields while transferring data.
If you are in need of the Full data migration, consider a third-party app. Accounting and Invoicing Data Migration can handle this task at best. It has a built-in tool to enter your current app and the app you want to migrate your data. Сontact data migration experts for further details.
Which App to Choose: Zoho Books vs FreshBooks?
Zoho Books and FreshBooks are two reliable accounting solutions, but each works for a specific purpose. Zoho Books wins when it comes to customizability. It also easily integrates with Zoho Projects for a comprehensive project and accounting management experience.
FreshBooks can work for you if you need a scalable solution that you can keep on using as your business grows. It's easier to understand and offers most of the basic features, although it lacks some of the flexibility that Zoho Books provides.