The market keeps diving into an accelerating rush leaving little time for detailed business management. It is especially relevant for financial management since it requires time and deep concentration. Therefore, we've made this QuickBooks Online vs Odoo Accounting review to figure out which can help here better. Both tools are state-of-art accounting software and have much to offer, so this is going to be captivating.
What Is QuickBooks Online Used For?
QuickBooks Online steadily remains the top choice among small business owners regardless of its relatively expensive price. This online accounting system offers powerful reporting, customizable invoices, multi-currency support, and numerous integrations. Apart from that, the app provides a couple of features that are missing in its desktop version like scheduled invoices, automatic sales receipts, and split transactions.
What Is Odoo Accounting Software?
Odoo comes as a suite of over 40 modules, so you can make your own feature selection to purchase. Odoo Accounting is one of those modules and has the same structure as its parent package, so most functions are available as separate apps.
Odoo is not simply an accounting and billing tool, it's enterprise resource planning (ERP) software. On top of that, it is open-source software, so it offers enhanced flexibility and customization.
How to Use Features in QuickBooks Online?
Dashboard delivers you a quick overview of financial information in charts and diagrams. The tabs like Bank Accounts, Profit and Loss, Expenses, Invoices, and Sales are all clickable and manageable. From here, you can configure settings, create transactions, add accounts and users, manage payroll, run reports, and the list goes on and on.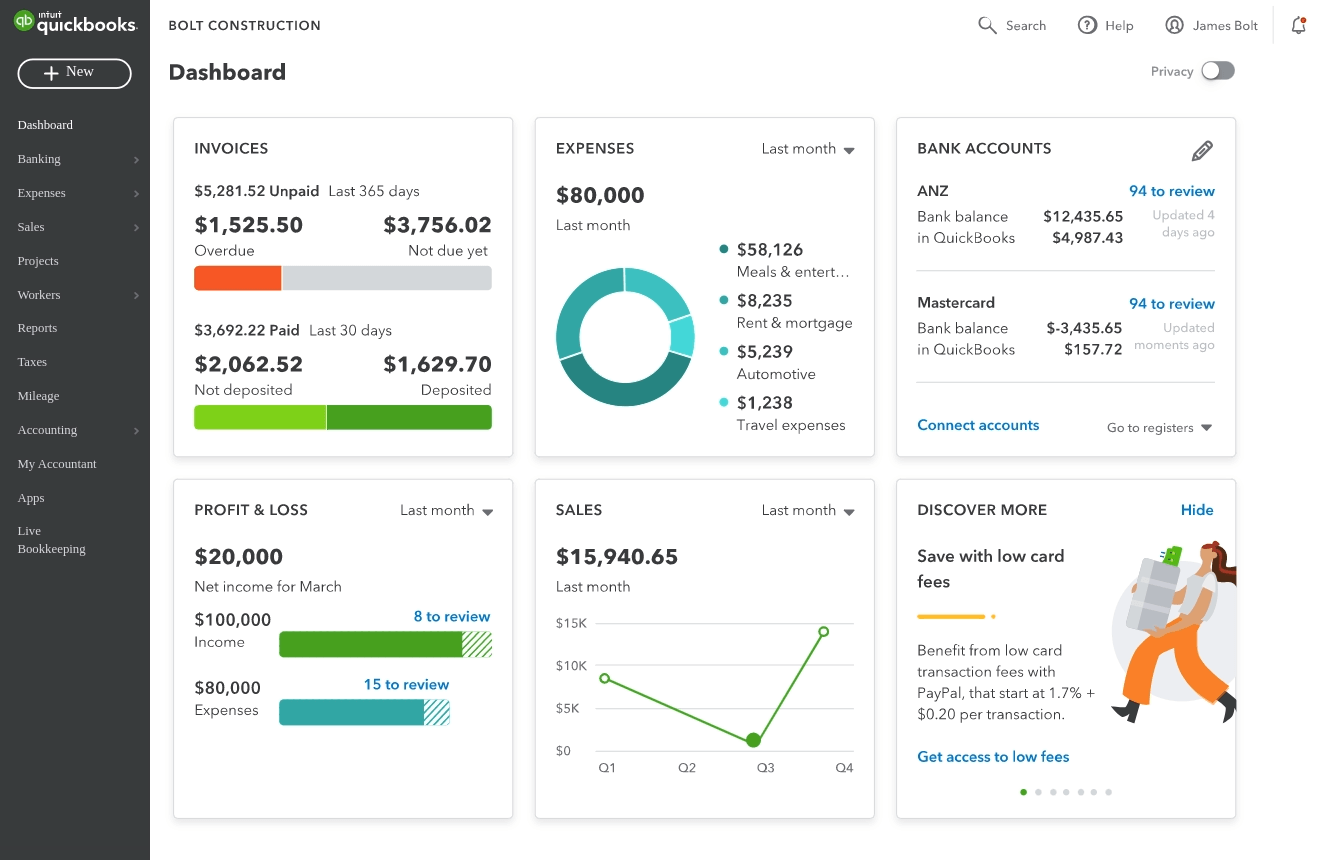 Source: QuickBooks Online
General Accounting. It provides an extensive kit to manage accounting and invoicing, relationships with clients, add bank accounts, track cash flow, create and manage statements, as well as handle tasks and projects. On top of that, QuickBooks Online offers a variety of add-ons, integrations, and a robust mobile app to speed up work.
Accounts Receivable. Streamline your receivables with a bunch of tracking tools. Track overdue invoices and set reminders, schedule invoices, and send recurring invoices. You can input the billable hours from Google Calendar to invoices and automate billing customers on a weekly or monthly basis. To keep you updated, the app sends notifications when an invoice was viewed and paid.
Invoicing. Generate and customize invoices with logos, change the layout and add payment options. If you enable the online payment method, add a Pay Now button and simplify the process. With the Progress Invoicing feature, you can break down estimates into several invoices based on your project milestones. Also, QuickBooks allows you to receive and view invoices from your mobile.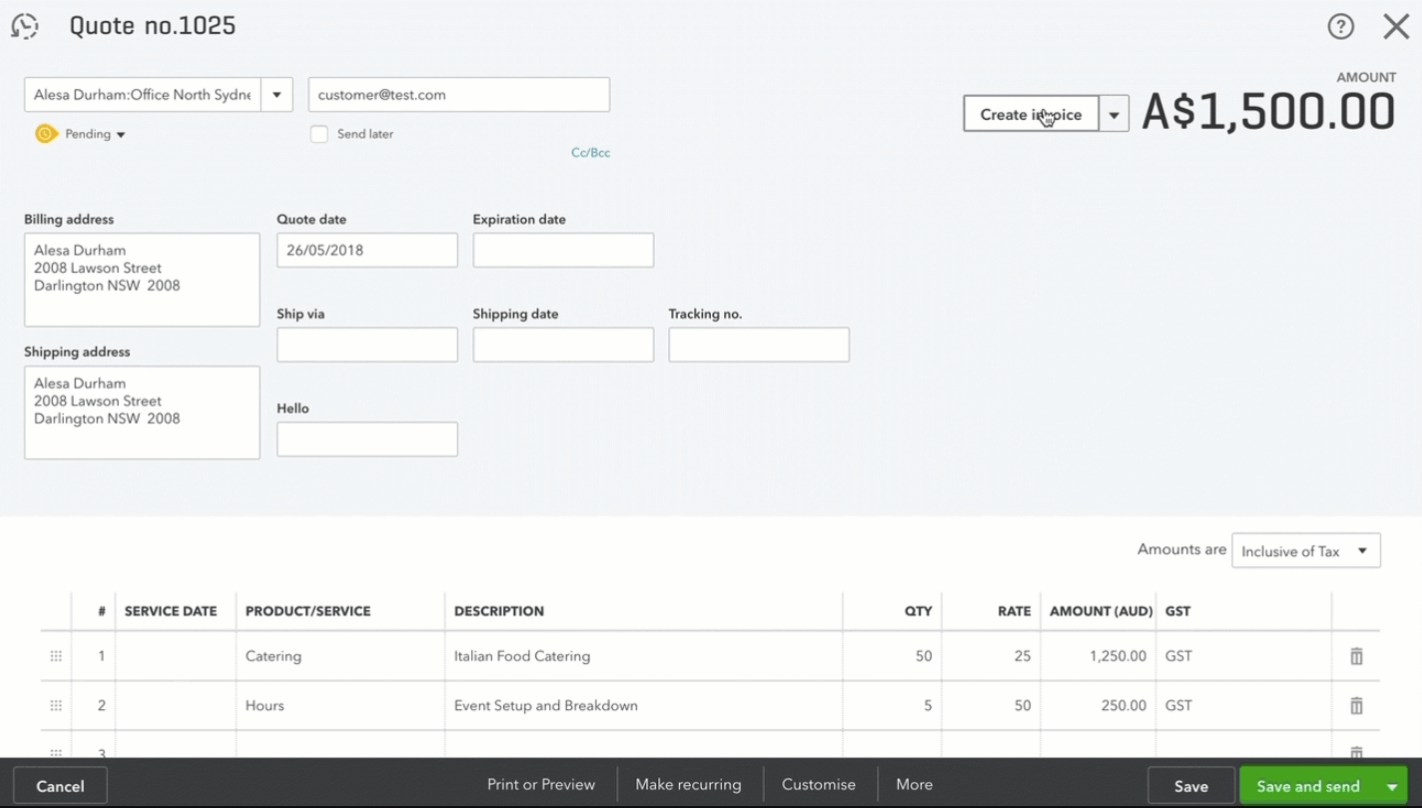 Source: QuickBooks Online
Bank reconciliation. Once you connect a bank account to QuickBooks, the app will automatically download and categorize the transactions and sync your opening balance. To reconcile your bank feeds, match transactions from your statement with the app's records by putting checkmarks. You can also make on-the-go edits like changing the payee.
Customer service. QuickBooks support includes a live chat, email, phone calls, a knowledge base, and video tutorials. Besides, you can post questions on the community forum and get solutions from other users.
User access. You can add and configure user access to certain tasks related to sales, purchases, and vendors. Besides, you can add either billable users counting to your user limits or non-billable users that have access to time-tracking, reports, or taking payments only.
Reporting. QuickBooks offers dozens of reports to monitor your payables and receivables based on multiple filters. You can choose the cash or accrual accounting method, pick what rows/columns to display in the report or change the header/footer. Plus, you can create custom reports by choosing the topic and arranging columns and fields as you prefer.
Time and mileage tracking. The time tracking add-on calculates the billable hours consumed by projects or tasks. You can change preferences to allow/disallow employees and contractors to edit such details as service fields and billable activities. The built-in mileage tracker automatically defines your location and classifies your trips as business or personal. It shows you the breakdown of miles and calculates potential tax deductions.
Accounts payable. View the dashboard to check your outstanding bills in one glance. You can pay several vendors in one go with your debit or credit card or via bank transfer. QuickBooks automatically records and tracks the bills paid by check or deposit. You can schedule bills in advance or enter paid bills as expenses.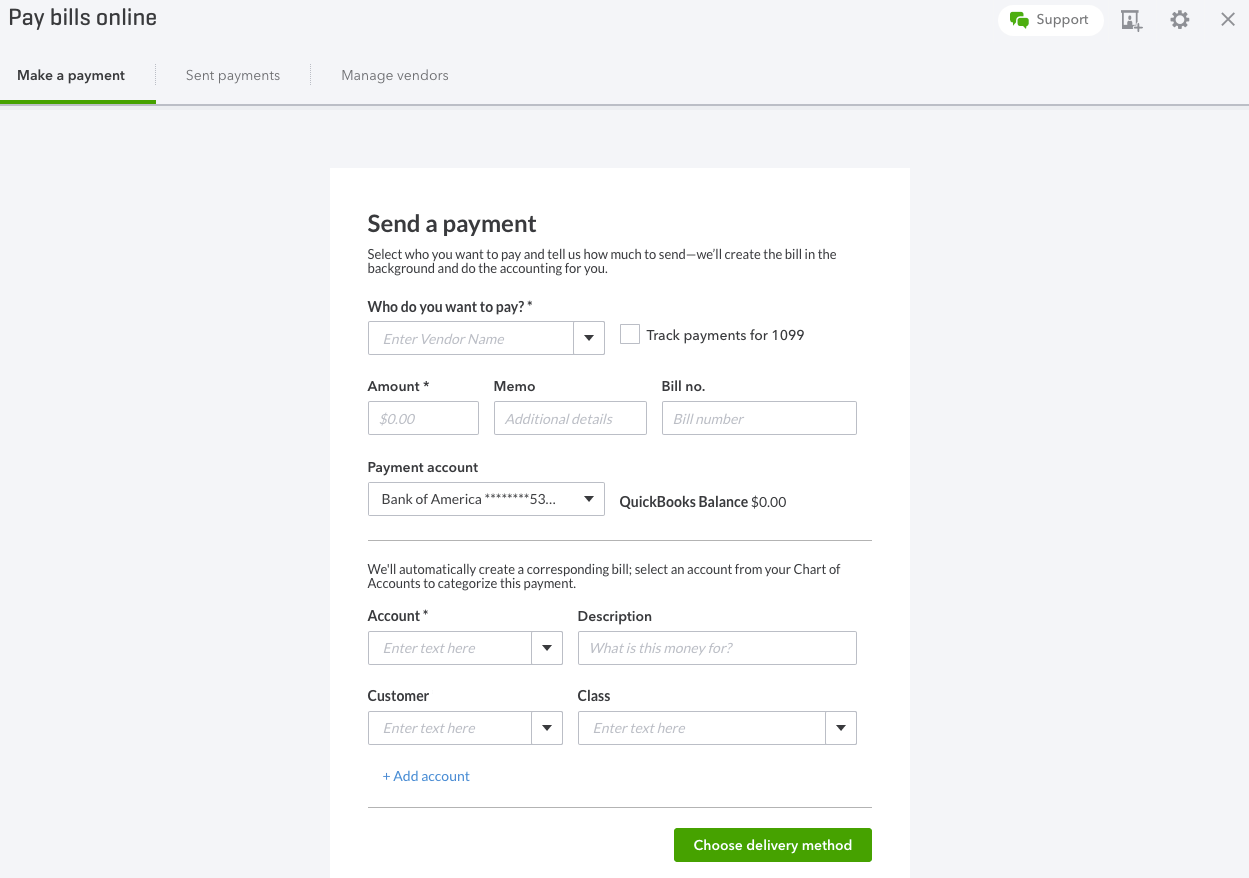 Source: QuickBooks Online
Security. As a VeriSign SecuredTM product and a licensee of the TRUSTe Privacy Program, QuickBooks Online provides advanced security measures like 24/7 service performance monitoring, firewalls, 128-bit SSL encryption, and regular backups.
Integrations. QuickBooks marketplace offers over 650 apps including add-ons and third-party integrations. You can get apps to track time, manage taxes, run payroll, and integrate with HubSpot and Salesforce to enhance your customer management.
Mobile app. Invoice clients, receive payments, reconcile bank transactions, and run profit & loss reports from your mobile device. You can check your customer list and all of their activities, and call or email them directly from the app.
What Are the Features of Odoo Accounting?
Dashboard shows you stats related to your invoices, vendor bills, bank accounts, and cash flow. You can add new entries in each of these areas and use additional tabs to do further actions.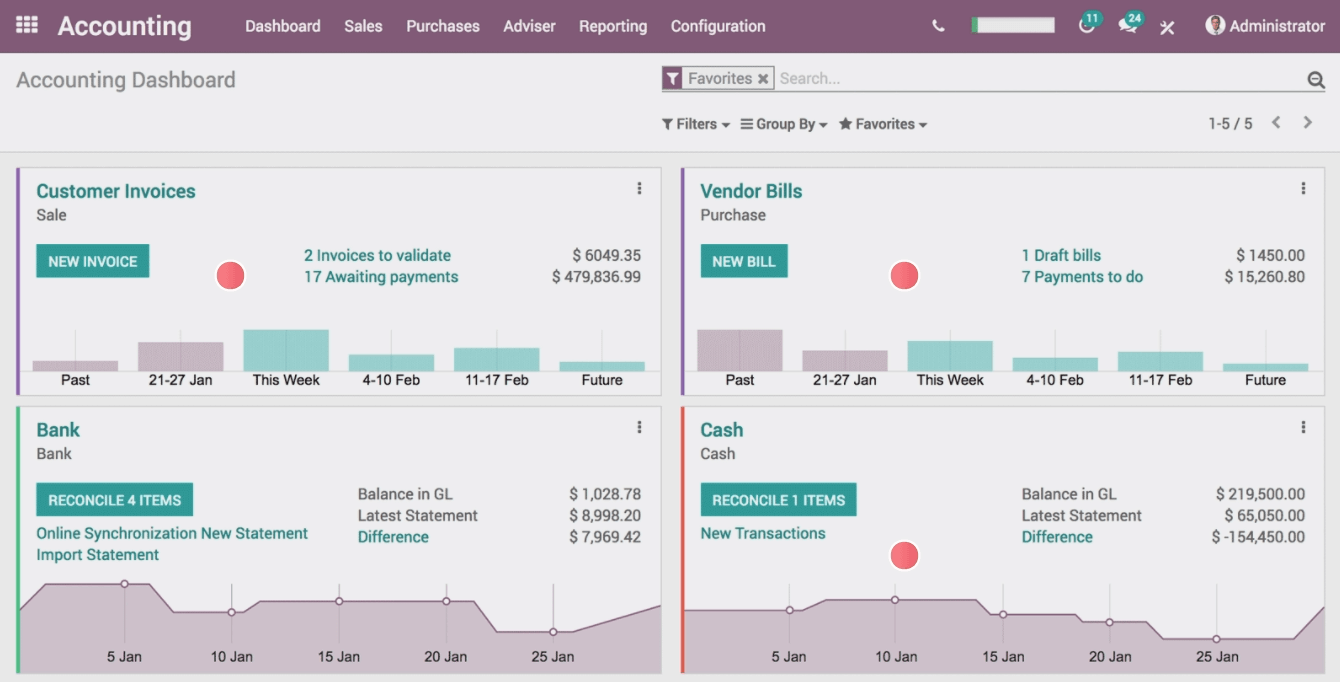 Source: Odoo
General Accounting. Odoo Accounting covers all areas of financial management like accounts payable and receivable, invoices, purchase orders, payroll, fixed assets, and more. Also, it supports multiple currencies, cash flow forecasting, and payment reconciliation.
Accounts Receivable. To get paid on time, you can send follow-up reminders on overdue invoices by email or SMS. You can issue credit notes, full or partial refunds, and send recurring invoices based on a specific time interval and set stop date. In addition, Oddo handles your deferred revenues by regular checking and creating draft entries on your account.
Invoicing. Odoo automates invoicing by generating drafts based on the information from sales orders and contracts. Alternatively, you can create invoices directly from the dashboard and add products and customer details.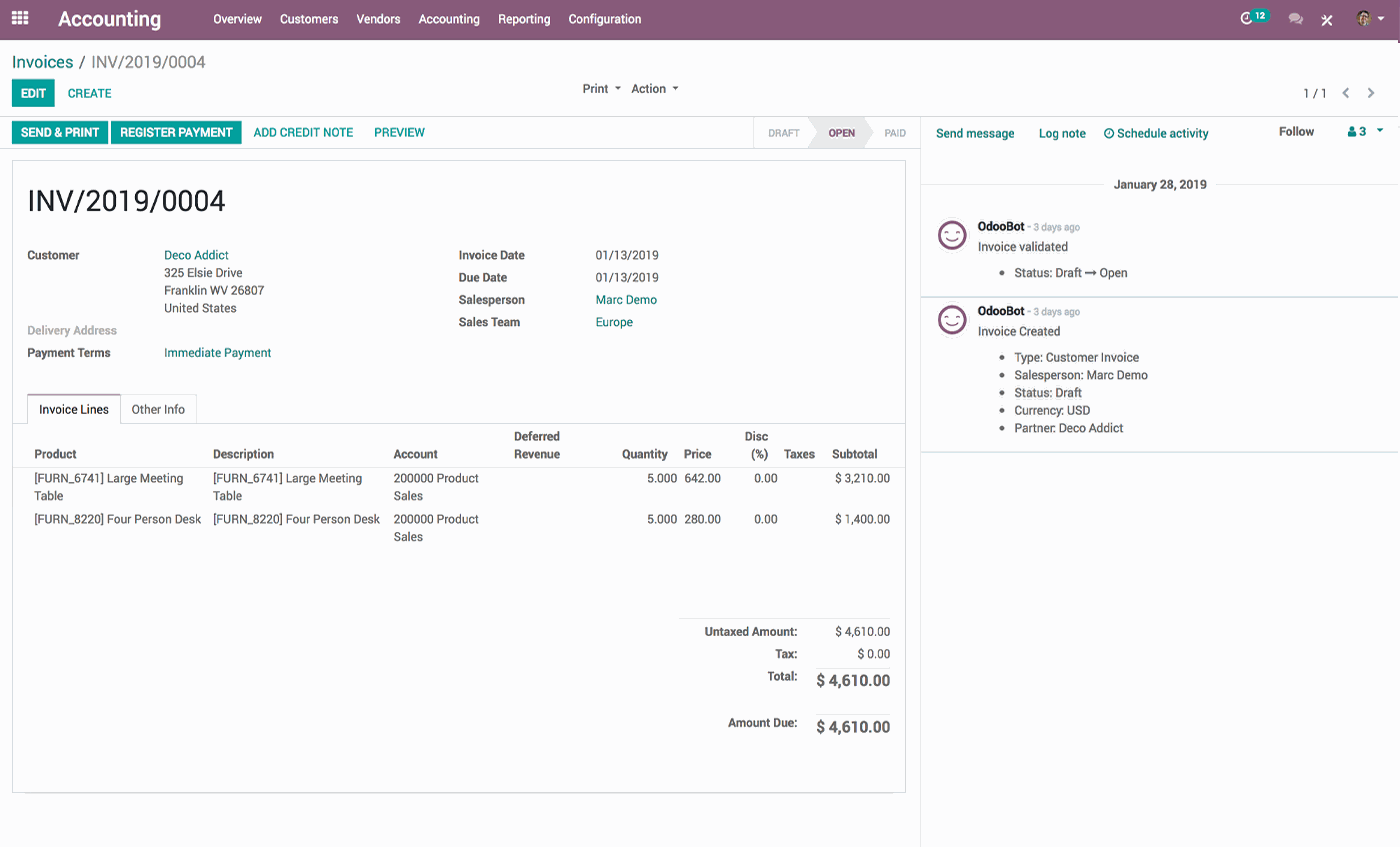 Source: Odoo
Bank reconciliation. Once you synchronize Odoo with your bank, all transactions move to your database straight away. You can reconcile your bank statements automatically, manually, or by validating the app's suggested matches. Each reconciliation model works based on the pre-set conditions like journal type, amount nature, partners, and transaction type.
Customer service. Odoo provides 24/7 support by chat, email, and phone. For self-help, you can check the knowledge base, video tutorials, FAQs, and user forum.
User access. You can add unlimited users to the Odoo system and manage their access to particular accounting tasks. There are two permission levels that you can configure like access rights and editing and visibility rules.
Reporting. Create generic and dynamic reports on your balance sheet, profit & loss, cash flow, aged payables & receivables, and more. You can add notes, drill down into more details, and compare values with other periods (you can choose up to 12 previous periods). Activating the developer mode enables you to generate custom financial reports.
Time and mileage tracking. The timesheet feature includes online and offline calculations of time spent on different activities and reports on billable hours, billable amounts, uninvoiced amounts, and more. Mileage tracking comes as an option in vehicle management. You can track distance, monitor fuel consumption, and forecast maintenance. Employees can submit expenses like fuel logs and other costs, so they appear in your accounting reports.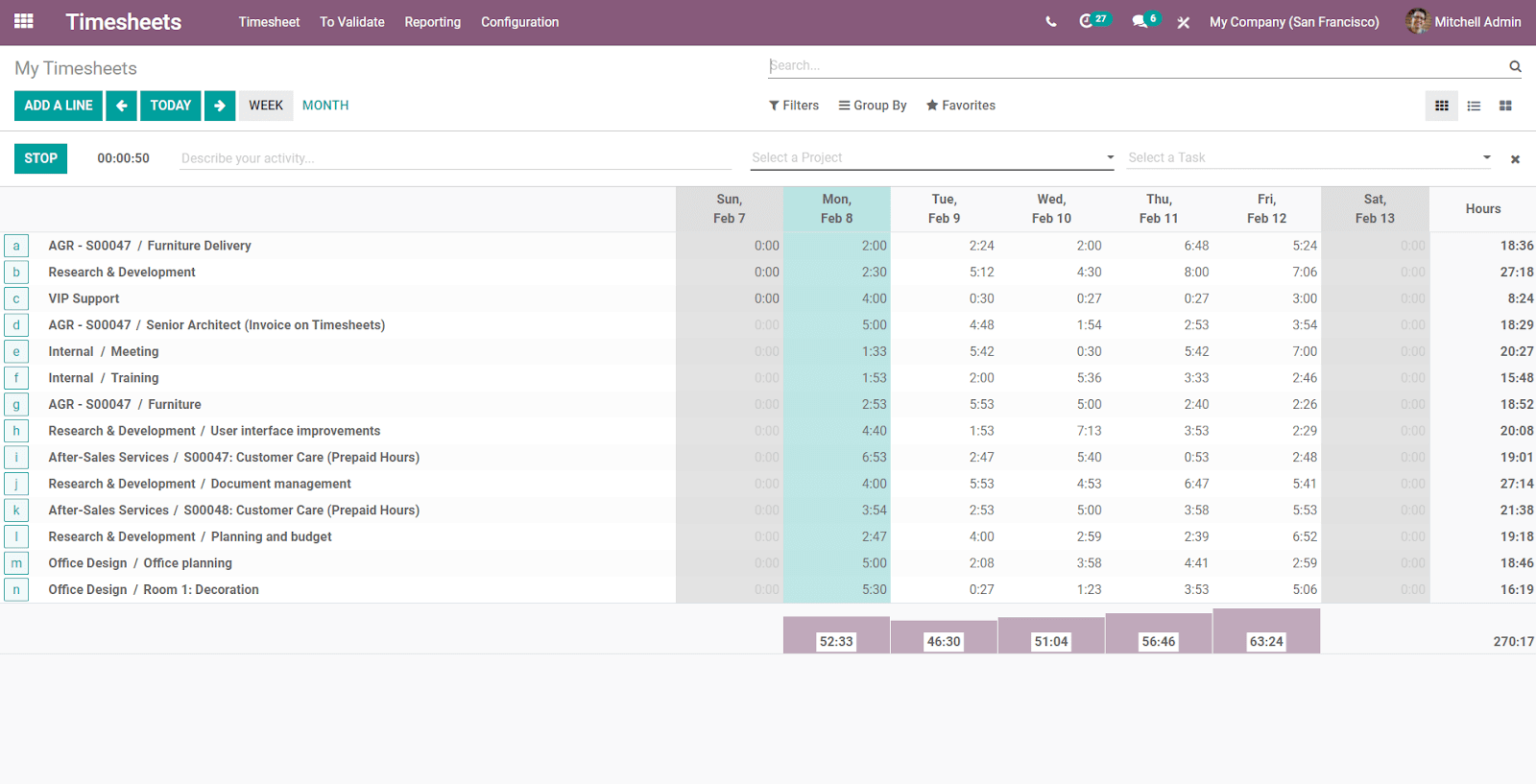 Source: Odoo
Accounts payable. With Odoo apps, you can track and manage your payables like vendor bills, incoming products, purchase orders & receipts, and monitor your fixed assets. Once you receive a product from a vendor, the system automatically fills in the quantities in your vendor bill. You can pay bills in bulk and forecast bills to pay with the Aged Payables Report.
Security. Oddo runs 14 backups every 3 months and replicates data in at least 3 data centers. The platform follows the latest OWASP standards and provides security audits by independent companies.
Integrations. Odoo offers over 40 applications to accommodate business needs across various industries. Plus, it provides an API for developers and the Odoo Studio app to build custom applications for users with no coding knowledge.
QuickBooks Online vs Odoo Accounting: Exploring the Pricing
How Much Does QuickBooks Online Cost?
QuickBooks Online offers three pricing plans and a 30-day free trial for each. No matter what plan you choose, you get unlimited invoices, accountant access, reports and dashboards, and free iPhone and Android apps.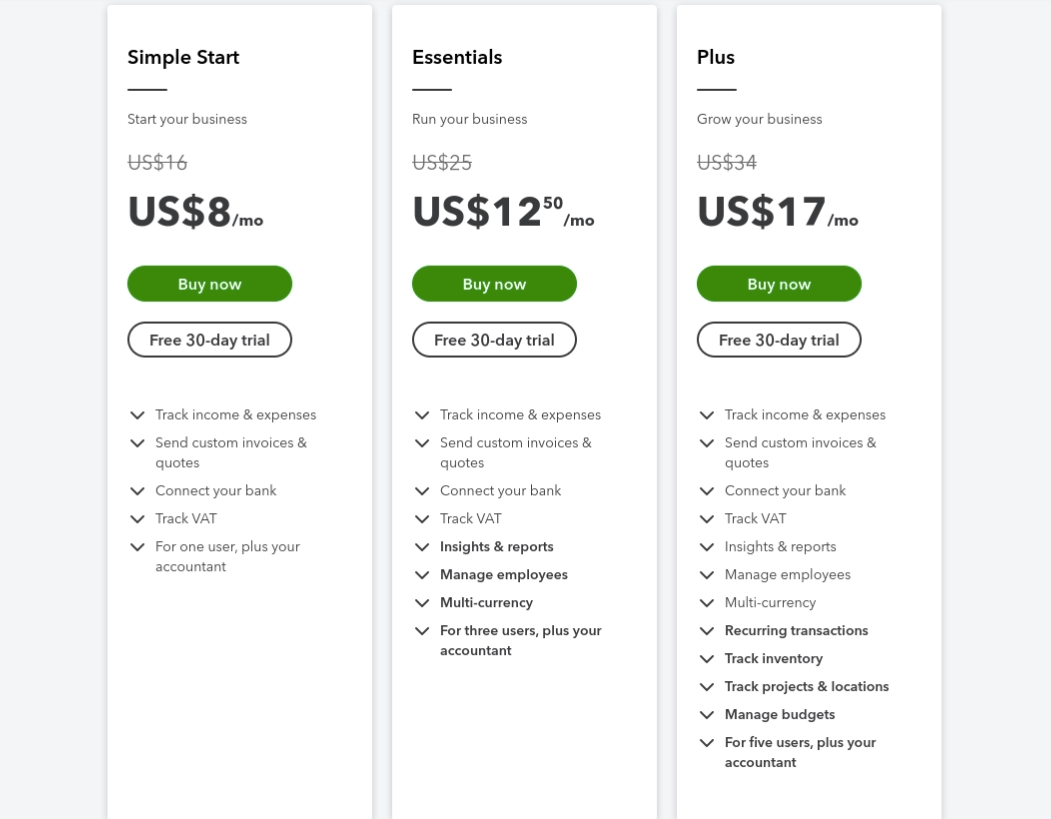 Source: QuickBooks Online
Simple Start plan costs $25 and is available for only one user and an accountant. The features include connecting a bank account, tracking income & expenses and VAT, and sending custom invoices and quotes.
Essentials plan costs twice as much and amplifies the feature list with employee management, insights & reports, and multi-currency support. The user limit is increased to 3 users.
Plus plan allows adding 5 users and includes recurring transactions, inventory tracking, project & location tracking, and budget management.
Advanced plan offers automations, enhanced reporting, batch invoices & expenses, tax tracking, task management, and many more advanced features.
Besides the free trials, you can get a test-drive account for the Plus and a demo of the Advanced plan.
How Much Does Odoo Accounting Cost?
Odoo pricing has an extraordinary structure, so it may be confusing at first glance. It doesn't offer traditional pricing plans but you can choose between two options: free and paid.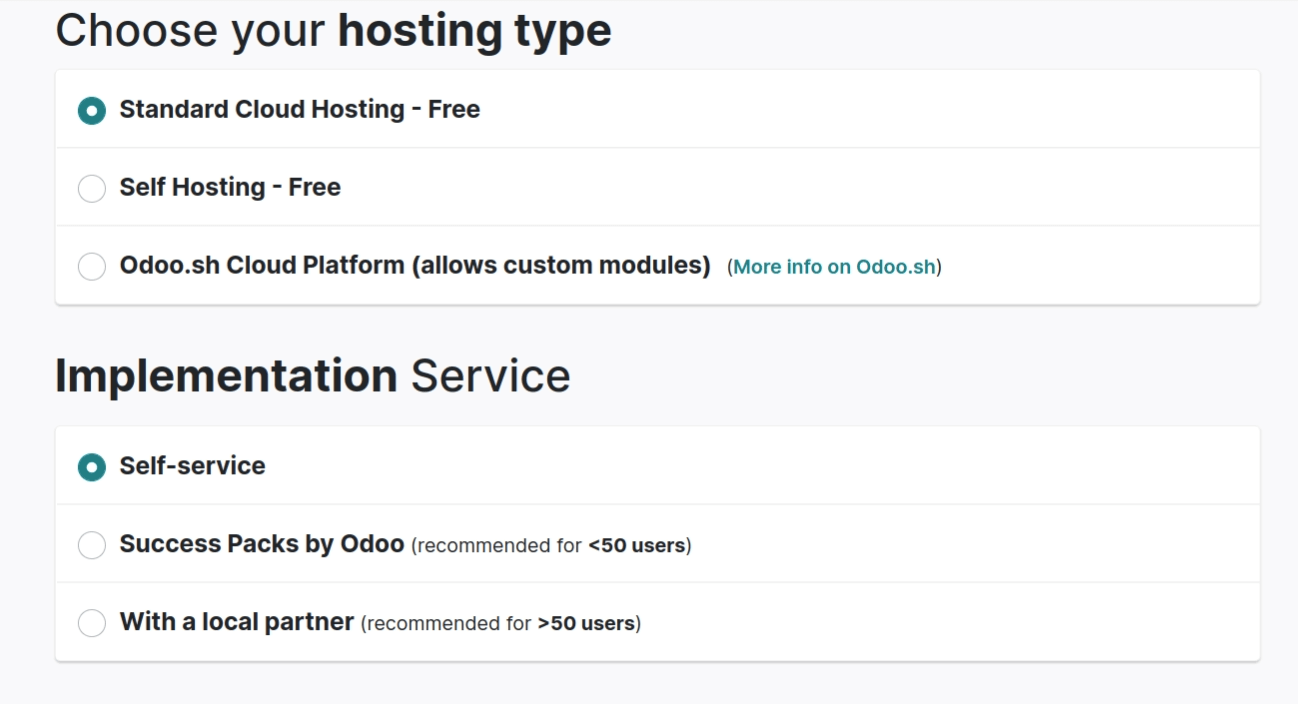 Source: Odoo
The Free plan is cloud-based and enables you to choose one Odoo application. Although, you can have free customer support on this plan.
The Paid plan gives you access to more than one application and costs $35/month per user. Additionally, you'll need to pay for extra apps with the common price range of $15-30.
Apart from the 15-day free trial, Odoo offers discounts that vary depending on the user number. Also, you can a discount if you select the annual subscription.
Odoo Accounting vs QuickBooks Online: Compare Pros & Cons
Why Should You Chooose QuickBooks Online? [Pros]
Flexibility. The system is easily adaptable to business needs due to its tier-based pricing and integration with highly-rated apps.
Automation. With QuickBooks Online, you can automate such repeating tasks as recurring invoices, overdue payment reminders, payroll, recurring bills, and financial reporting.
Easily shared with an accountant. You can share access to the system with your accountant and employees via email for free.
Inventory management. The Plus and Advanced plans bring extensive stock management like tracking item quantity, setting default sales prices, adding item details, creating bundles, and more.
Why Should You Consider QuickBooks Online Alternatives? [Cons]
Expensive monthly price. Compared to its alternatives, QuickBooks Online's monthly subscription is quite pricey. Furthermore, many features are offered as add-ons, so if you put the price together, it might not fit into your budget.
Limited users. Each plan has an account user limit, so you need to upgrade to get more users.
Occasionally complex. If you have never dealt with QuickBooks, your learning curve may be steep. The app's design is modern and polished but some functions are hidden in tabs and menus.
Evaluate Benefits of Odoo Accounting
Open-source software. This aspect makes Odoo Accounting customizable and easily tailored to specific business needs.
Scalability. As an enterprise resource planning (ERP) software, Odoo caters to multiple business areas and fits companies of all sizes.
Flexibility. You can create your personal feature package and customize it with API extensions.
Ease of use. Odoo is simple to learn and offers intuitive navigation.
What Are the Disadvantages of Odoo Accounting?
Few built-in features. To collect a fair accounting toolkit, you need to purchase a bunch of separate Odoo modules.
Challenging installation. The on-premise version is quite complex to install and set up.
Limited customer service. Odoo doesn't offer support on its free plans, so you need to fix issues yourself or get support for an additional fee.
What Businesses Use QuickBooks Online?
In the Accounting category, QuickBooks Online's market share makes 5.42% while its desktop version reaches 73.13%. Anyway, businesses move to the online side, so the stats can change dramatically in the future. Besides accounting, the top industries using QuickBooks Online include computer software, construction, and IT services. The average company size using the app ranges from 50 to 200 employees.
What Companies Use Odoo Accounting?
Since Odoo comes as an all-in-one business management software, the statistics are scattered over its different applications. If take Odoo Accounting solely, its common users are companies with 10-50 employees and 1-10 million of revenue. It is mostly used in such industries as computer software, IT service, and accounting.
How to Move Accounting Data to QuickBooks Online or Odoo?
Before bringing your new software into action, you first need to care about an accurate data import. This step affects your accounting workflows directly, so you should take the time and choose the best way to carry it out.
Most apps offer their native migration tools, though often they're not adjusted to each and every platform. Another way is importing data manually using a CSV file. However, this method is rather time and effort-consuming, so you shouldn't be ready for some heavy legwork. Instead, you can use the automated Accounting and Invoicing Data Migration service to move data quickly and securely. Plus, keep all relations between records. Run a free Demo Migration to see how it goes.
Quick Books Online vs Odoo: What Accounting Software to Choose?
This Odoo Accounting vs Quick Books Online review shows that both tools are flexible and can accommodate either basic or specific accounting needs of small businesses. Still, they differ and can't suit each company equally. QuickBooks Online brings more built-in tools than Odoo, but it focuses exclusively on accounting. Odoo's structure can better fit overall company needs apart from financial management. So the best solution for you is the one that you need more. Additionally, you can check other QuickBooks alternatives to widen your choice.
Frequently Asked Questions
Odoo is open-source software that is available as a free cloud-based solution or paid on-premise application. QuickBooks is accounting software that is available in the online or desktop versions.
Odoo Accounting is a top ERP software that allows users to manage invoicing, bookkeeping, and bank accounts.
Odoo offers a free plan that gives access to one Odoo application. Also, you can use a 15-day free trial.
With Odoo apps, you can track and manage your payables and receivables, track outstanding items, send invoice reminders, and reconcile bank statements.
Yes, you can create employee profiles and manage their full-time, part-time, salaried, and hourly payroll.
It's one of Odoo's modules to manage accounting processes and increase business efficiency.
Odoo Invoicing is a standalone app to manage invoices. It is forever free and offers unlimited users.
Odoo competitors include Oracle NetSuite, Microsoft Dynamics GP, QuickBooks Desktop and Online, and others.
Want to migrate to QuickBooks Online or Odoo Accounting?
Let's migrate your data automatedly
Setup a free Demo