Having a dilemma choice between QuickBooks Online vs FreeAgent? You are definitely not alone in asking the questions like: What accounting or billing software is a friend for small business? And which is a bestie for enterprises?
This accounting system comparison will help you find reasonable answers and choose the right cloud-based accounting tool.
Let's start with some statistics: 82% of small businesses use an accounting solution, while 52% of big enterprises rely on cloud accounting to manage their tasks. These include bookkeeping, payroll, taxes, compliance, and audit. Plus, the cloud accounting software market is supposed to reach $416.23 million in 2024.
So what it all boils down to? The market offer is vast, and it is becoming tricky to find the right tool for running your finances. That's why you should check up on the proven accounting tools in this QuickBooks vs FreeAgent review before digging deeper into the search.
What Is QuickBooks Online?
QuickBooks Online is an accounting software package that belongs to a comprehensive set of tools developed by Intuit. This American-based company specializes in financial and accounting software and solutions.
This isn't the company's first attempt to develop an enterprise-level financial solution, and it was released in 1983.
What Is FreeAgent?
FreeAgent is cloud-based accounting software launched and developed by NatWest Group in Edinburgh, Scotland.
The first version was released in 2007, and in 2012 the company expanded to the US market. In 2016, the company is listed on the London Stock Exchange as a public company.
This comparison highlights the features, pros, and cons of FreeAgent vs QuickBooks Online to help you make a well-searched choice. So, let's start.
QuickBooks Online Features Overview
QuickBooks Online is a cloud-based accounting system that works for small and large businesses in various industries. The current version of QuickBooks was released in 2017 and has been an industry favorite. Here are some of the tool's outstanding features.
Straightforward Setup
When you first use QuickBooks, you can import your accounting and financial data or add them manually.
The app supports exporting data in CSV or Excel formats, and you can import your customer and vendor files, a list of all your products and services, and all the necessary financial data that allows you to create detailed accounting reports. Or you can migrate your data to this accounting software automatedly using our Migration Wizard.
However, for a user with no previous accounting experience, importing different accountant data types can be challenging and time-consuming. Most small business accountants prefer to add data manually, especially when there isn't much data to deal with.
Mobile Accessibility
QuickBooks Online is available in two mobile versions for Android and iOS devices. They don't provide all the features of the web-based app, but they get the job done when you're on the go. For example, you can see all contact records to call or email a customer or a vendor quickly, and transaction details appear as they do on the web-based app.
Moreover, QuickBooks Online added a feature from QuickBooks Self-Employed, which allows you to track your mileage through the mobile app for an easy deduction.
You can enter the starting and ending addresses, and the app will calculate the distance, or you can enter the miles driven manually. Moreover, if you turn on the tracking feature, the app automatically detects your location and calculates the mileage.
Customizable Preferences
As a user, you can customize everything from the Settings. For example, you can change sales forms and layouts from the Sales tab by creating default terms for all invoices and including or excluding different fields. Likewise, you can customize your bills and purchase orders from the Expenses tab.
The Advanced tab offers more options to set up your company's preferred accounting method and currency. In addition, there are several automation tools that you can use, like creating invoices for unbilled activities.
You can also activate project management tools, including project tracking, time tracking, and classes according to transactions' nature or geographical locations.
Streamlined User Experience
Even if you're not an experienced accountant, taking a look at the dashboard will allow access to all the essential accounting data.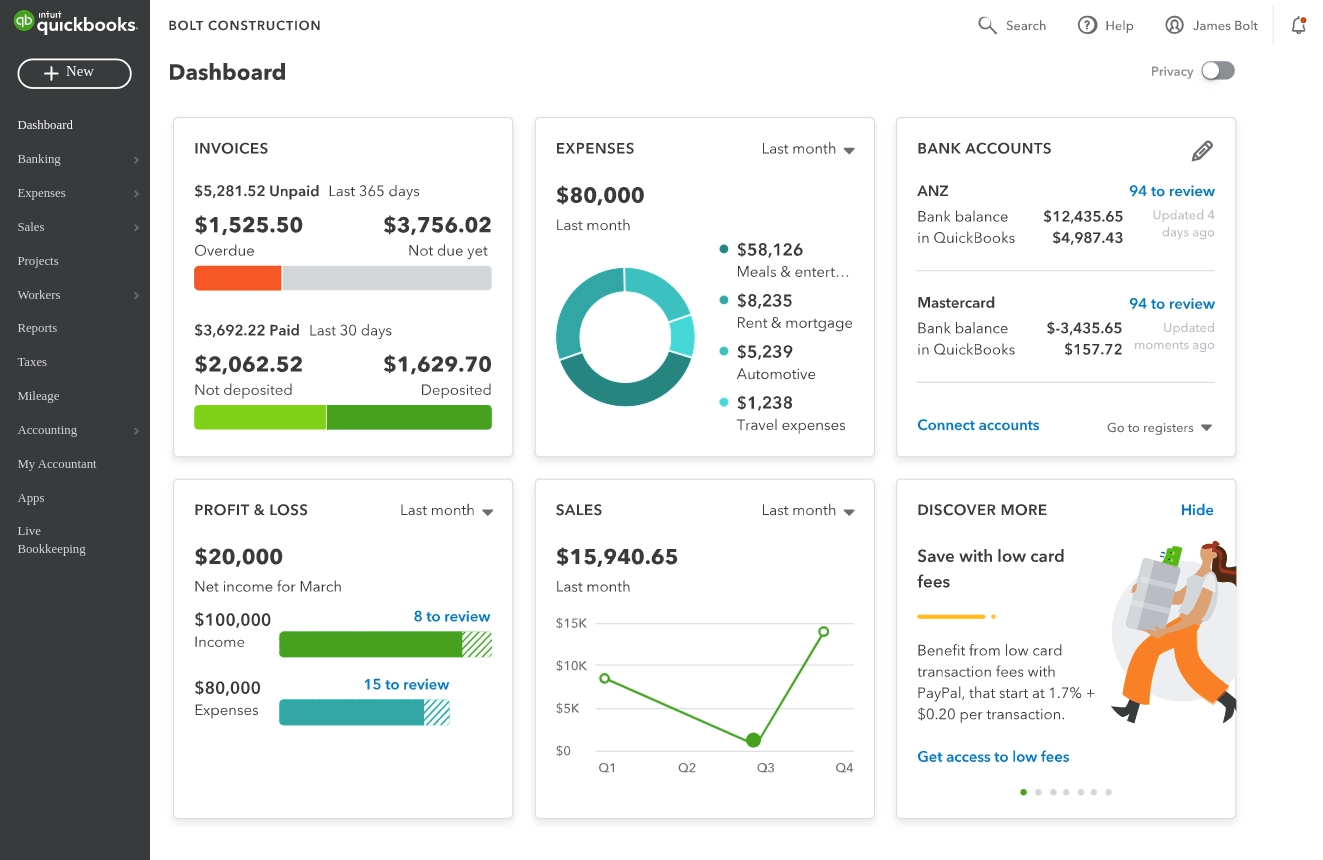 Source: QuickBooks Online
When you access your account, you get to see a page labeled Get Things Done, and it shows the workflow in the form of graphical charts. This page is beneficial for beginners.
The Business overview shows more data and tools about your sales total, expenses total, profits, losses, and account balances. There's also a link that shows a 12-month cash flow graph.
Sales and Expenses
QuickBooks's navigation system doesn't cause any confusion because once you press any link, other links open, and they further divide the tool into a series of sub-tools.
You can check the accounts receivable status through a multi-colored bar at the top of the screen. You can also check all your open and overdue invoices, unbilled activities, and paid invoices within the last month.
QuickBooks allows you to filter all current transactions from the customers' lists and any related activities like receiving payment or sending a reminder for overdue payment. You can also export this information to Excel and print it.
If you have a small business, the QuickBooks Sales tab will be an excellent tool because it gathers all your customers, products, and services in the same section, and shows the data in interactive lists. The Expenses tab works similarly with data relating to purchase orders and bills.
Account Reconciliation Process
Intuit QuickBooks Online supports the standard account reconciliation process and makes it time-efficient by importing your bank statements and individual transactions. By comparing your monthly statement to the data you see online, you can detect any differences and take the needed action accordingly.
The app offers this feature in two different ways. First, you can start reconciling as you go, verifying any transaction and adding it whenever it happens. You can also ask QuickBooks to find an online matching transaction or record the transaction as a transfer.
But that's not all, as you can specify transaction categories. QuickBooks suggests automatic categories, or you can make your custom categories by adding attachments or assigning rules to transactions.
Help and Support
QuickBooks is designed for users who might not have an accounting background or bookkeeping experience. So, it offers different online help files, and you're either directed to a page created by the company's employees or to the Q&A section created by users.
However, some users choose to pay an extra fee to receive personal support from one of QuickBooks' certified ProAdvisors to handle the app and use it efficiently. Despite being a practical solution, it adds to the overall cost of the tool.
Extensive Data Records
QuickBooks retains all the data about your customers, vendors, purchases, and expenses, so you don't have to access them twice. The app also offers several customer record templates, and you can customize the fields based on your needs.
Unlike other apps, QuickBooks allows you to create and send sales forms in six languages, making it an excellent choice for international companies. In addition, it places the record on the customer's homepage, where all the related data will be available to facilitate your job of tracking transactions.
In the same way, the app offers vendor records, and both records show links to actions you can take, like sending an invoice or a reminder. There are also several templates for inventory for easier tracking.
Calculate Project Profitability
This is a new feature added to QuickBooks Online. When you add data about different projects, you'll eventually see a profit percentage for each one. Such detailed information will help you make better business decisions.
Each project has a homepage, and you can assign different items like invoices, payments, estimates, expenses, bills, and time. By taking a glance at this data and the listed transactions, you can easily understand the status of each project.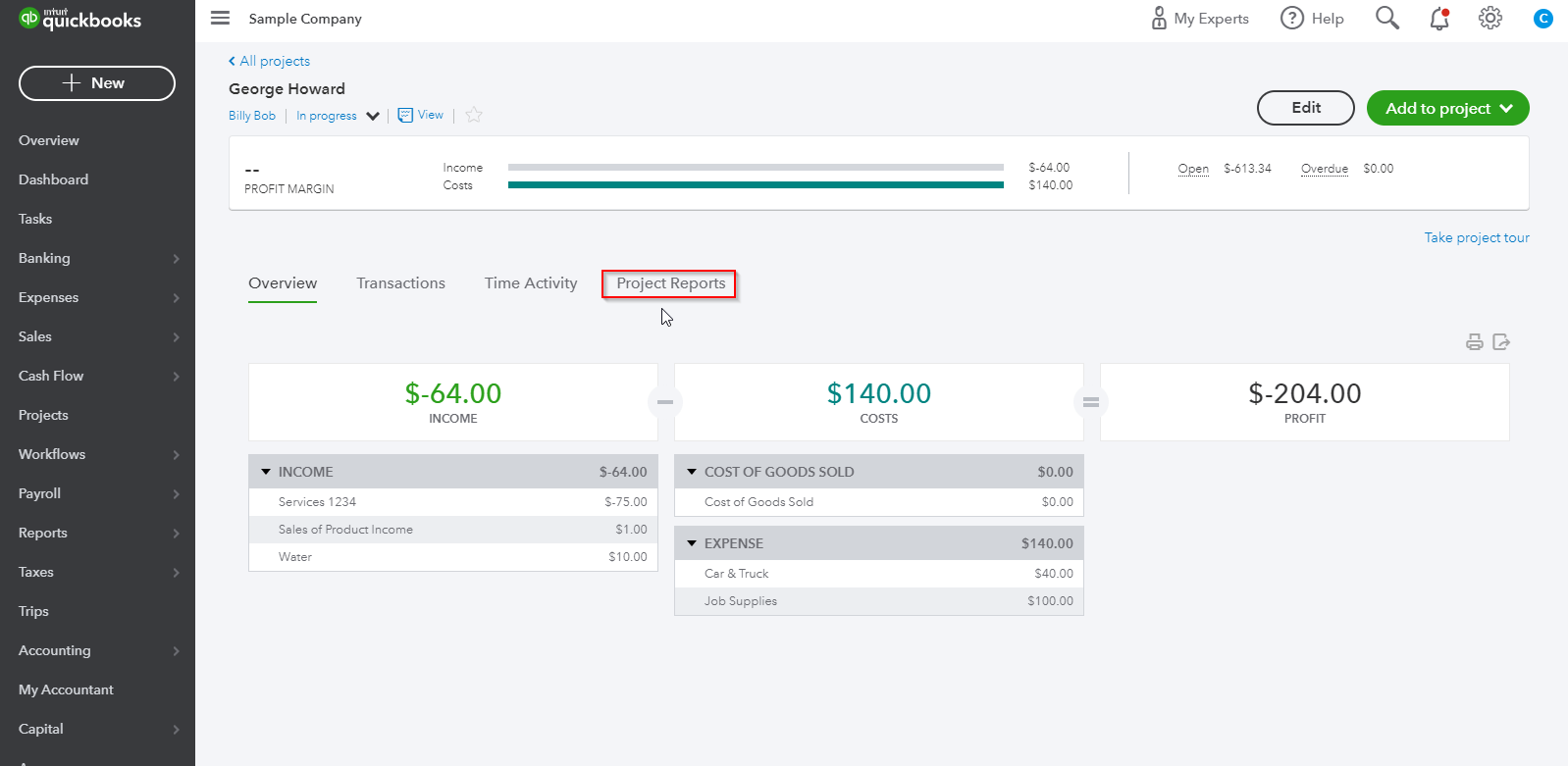 Source: QuickBooks Online
Customizable Reports
Intuit QuickBooks Online offers multiple customizable reports for all transactions. In addition, there are also management reports for more complex and comprehensive views of your company's financial status.
Although they're not as detailed, all these reports are accessible from the mobile app. In addition, QuickBooks uses graphics and colors to make reports more intuitive and attractive.
Payroll and Other Add-Ons
While most accounting solutions don't offer a built-in Payroll function, QuickBooks does. In addition, it provides Sage 50cloud Accounting and Wave as built-in payroll solutions, with three tiers for your business needs.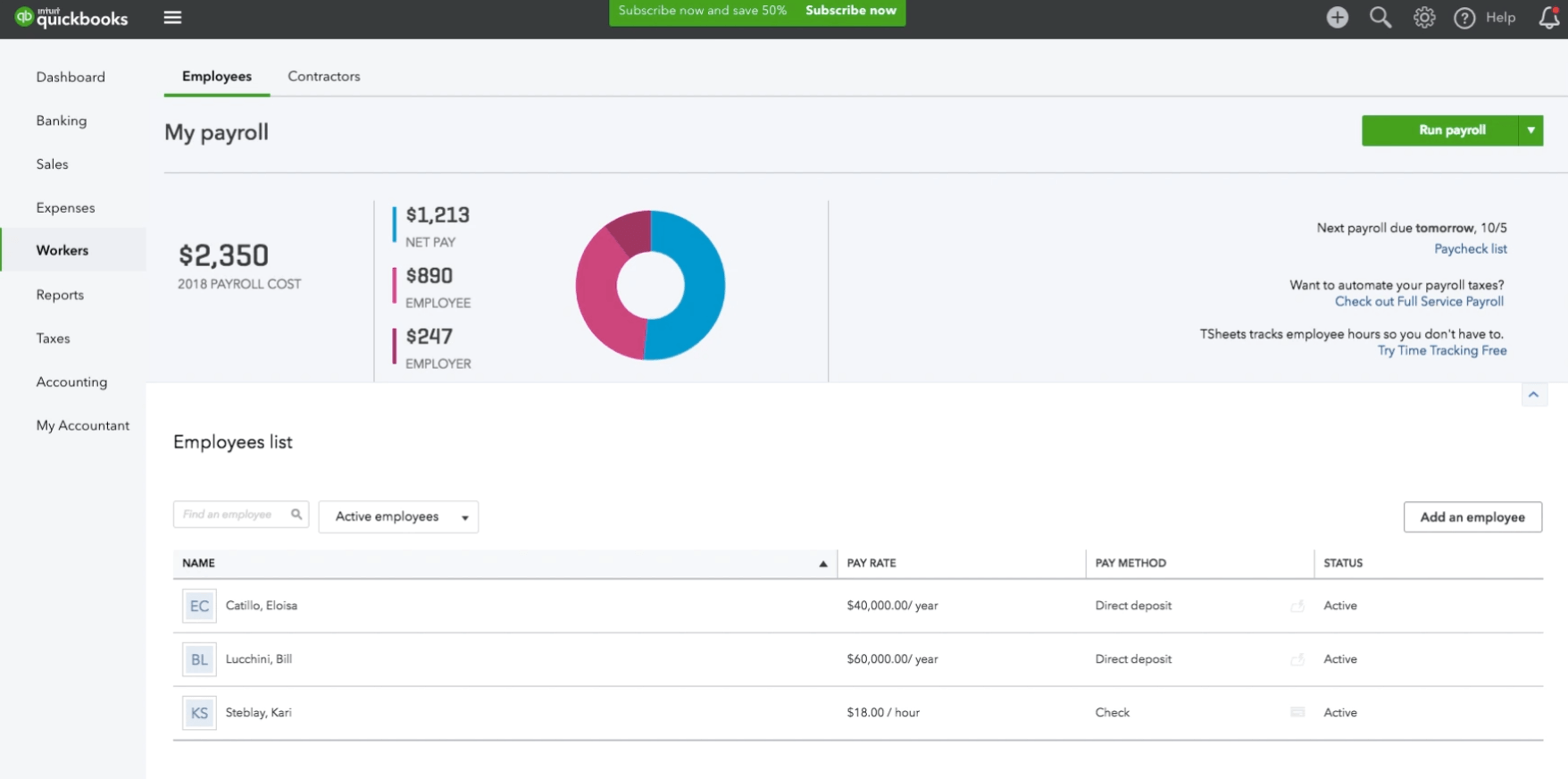 Source: QuickBooks Online
This feature also allows you to prepare and pay your taxes automatically. First, you have to set up your Efile & Pay function, and after that, you'll be able to manage your taxes using QuickBooks.
FreeAgent Features Overview
FreeAgent focuses on simplicity, while QuickBooks allows you to dig into the details. As a result, it's an excellent solution for small companies, that releases new features nearly on a monthly basis. Here are some of the app's most impressive features.
User-Friendly Interface
For those with no previous accounting experience or not much technical expertise, FreeAgent will be an excellent choice. It simplifies the accounting process because it's based on the double-entry accounting system and allows you to create and store data in six different languages.
Unlike other accounting platforms that take time to learn, FreeAgent focuses on small businesses and users who want to do accounting tasks without having the needed knowledge. As a result, the dashboard is intuitive, and all the necessary data is visible in an attractive and easy-to-understand way to eliminate confusion.
Novice users will find that FreeAgent resembles the navigation layout of the Windows operating system. All the features are accessible through tabs that display the essential information. You can also adjust data to display it over a particular timeline.
Mobile Accessibility
In addition to the cloud-based version, FreeAgent is also available in two versions for Android and iOS devices. Using the mobile app, you can do different things like track meeting times and manage online payments to suppliers with no delay.
However, one of the most impressive features is mileage tracking. This feature allows you to deduct mileage traveled to meet clients and vendors from your expenses.
FreeAgent also offers built-in time tracking through mobile and web-based apps. This feature allows you to create timesheets for projects and tasks.
Creating and Managing Invoices
Small businesses usually lack a dedicated accounting department, so creating the necessary invoices to keep track of business might be a little challenging. But with FreeAgent, you'll have access to eight different templates, so you can choose the best one that relates to your business and industry.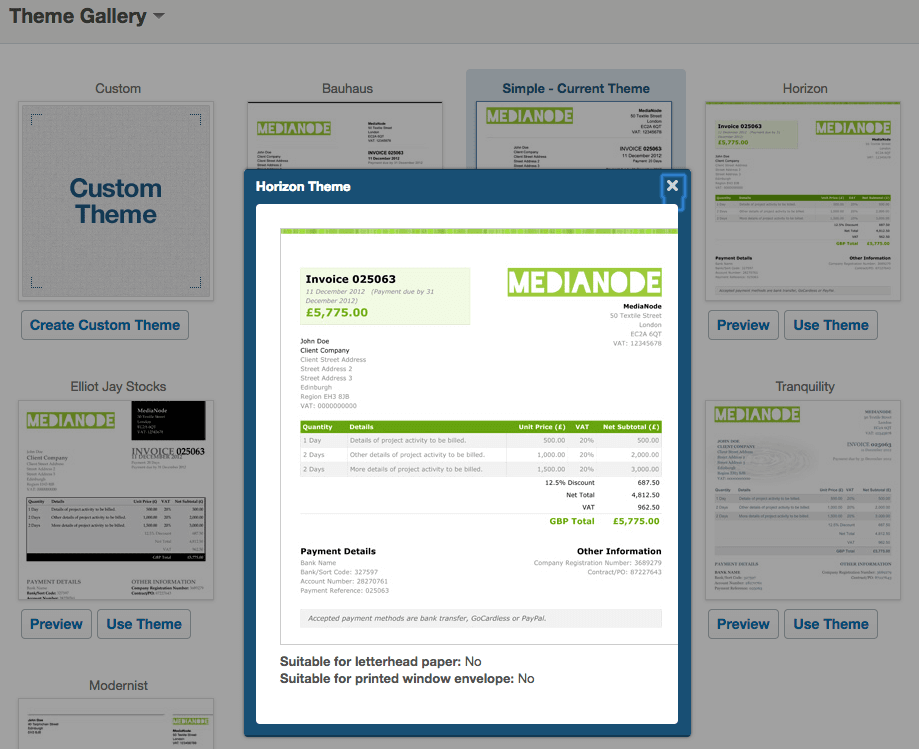 Source: FreeAgent
Moreover, all these templates are customizable, so you can add any fields that you find necessary. For example, you can add your company's logo or change colors to be more visually appealing. You can also create reminders for recurring invoices.
Creating Estimates and Proposals
Things can be a little challenging when you run a small or new business, especially when you're trying to win a new customer. FreeAgent allows you to create professional estimates and proposals to improve your business image.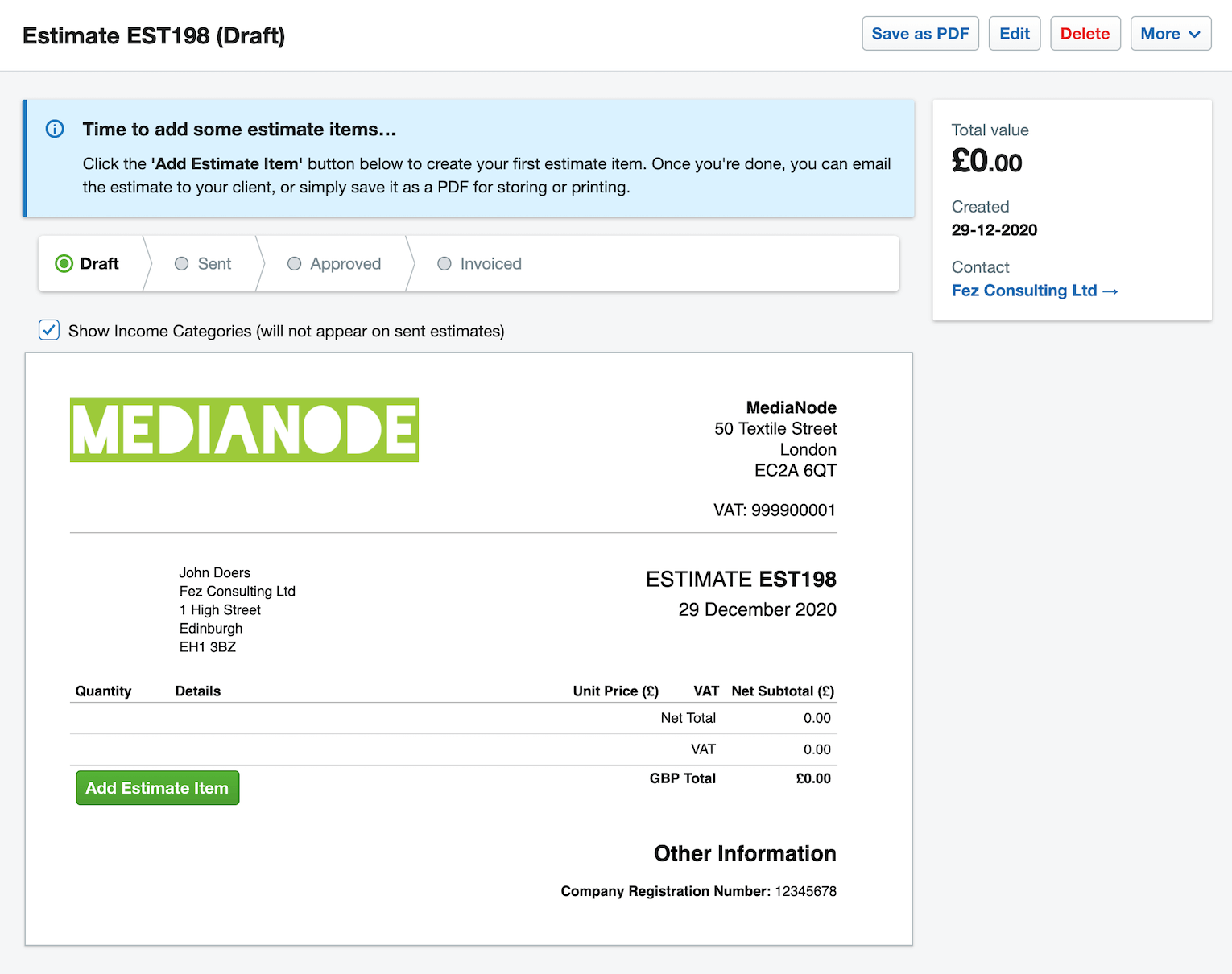 Source: FreeAgent
Generating estimates and proposals is easy because the app offers several built-in templates. Moreover, you can create them in multiple currencies and receive a notification when a client accepts or rejects your estimate or proposal.
Tax Management
A lot of accounting solutions don't offer special features for tax management. This is mainly because their scope targets more established companies, where there's usually an accountant to take care of taxes.
Because freelancers and small businesses mainly use FreeAgent, it features a Schedule C to report income or loss. If you are operating a C or S operation, using FreeAgent will help you prepare tax reports to calculate the total tax.
You can set multiple sales tax levels, and the app will apply it, but it doesn't calculate the estimated tax automatically, although it makes the process easier for your accountant. Moreover, it offers VAT support if you're operating a business in the UK, and it can offer a tax timeline.
Instant Payments
You can make instant payments to your employers and suppliers with FreeAgent because it easily integrates with several payment systems. In addition, you can connect the payment system with your invoicing system to send timely payments whenever you need.
FreeAgent accepts payments from several international banks and credit card providers. In addition, it's currently compatible with several instant payment platforms like PayPal and GoCardless.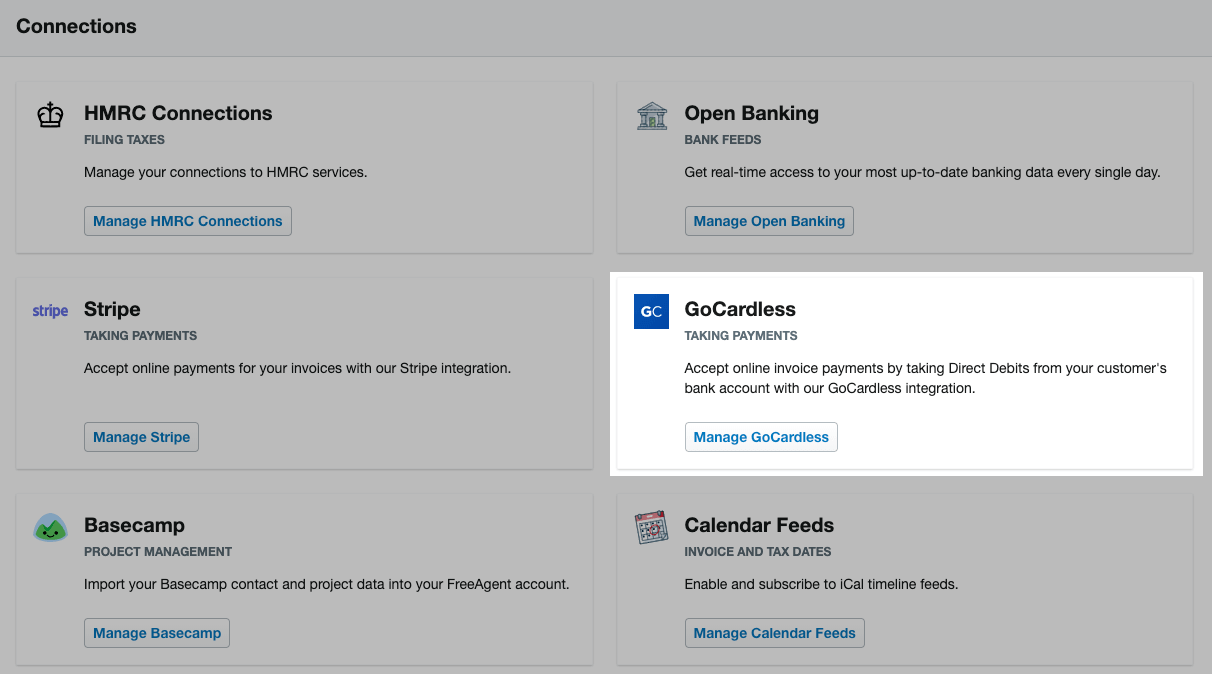 Source: FreeAgent
Billing System
FreeAgent keeps your account payable up to date by tracking your bills. The company's billing system can be customized by attaching them to projects or invoices. In addition, you can add descriptions and tags to make the billing system easier to understand. You can also set a reminder for recurring bills.
Expense Tracking
FreeAgent facilitates the process of expense tracking for a small business owner or a freelancer. It allows you to automatically import bank statements or enter values manually to create an accurate expenses record.
You can take a screenshot of the receipts, and FreeAgent will be able to detect the receipt's date and amount. The app also tracks expenses and mileage for more accurate records.
However, FreeAgent doesn't offer account reconciliation simply because it's designed to cover the needs of a small business. You have to enter descriptions and eventually attach them to projects manually. Nevertheless, it makes the process of bookkeeping and account reconciliation easier once you hire a professional accountant to do it.
Inventory Tracking
FreeAgent offers simple inventory tracking. You manually enter an inventory record by setting the amount available. When you buy or sell, the amount changes. However, this isn't reflected in invoices.
QuickBooks Online vs FreeAgent: Pricing
An important question arises: What is the difference between FreeAgent vs QuickBooks regarding cost? Which one is suitable for my company's size and budget? Here's how the two compare.
QuickBooks Online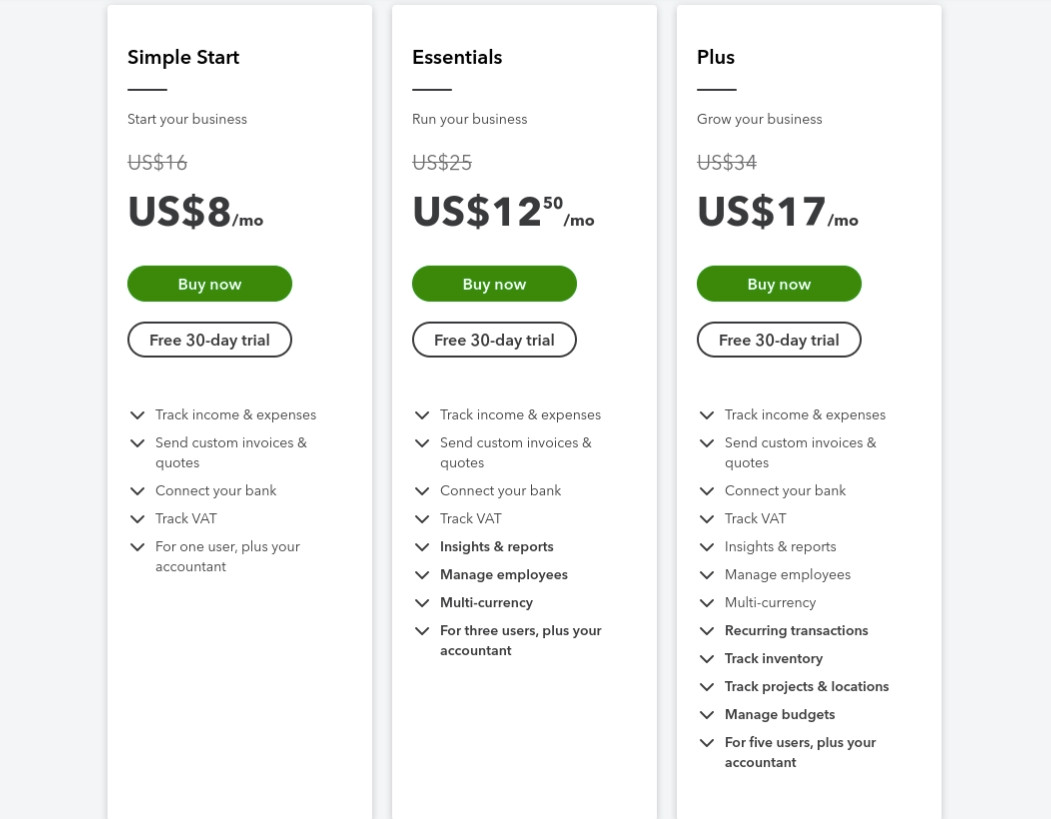 Source: QuickBooks Online
There are three pricing plans.
The first one is the Simple Start, and it costs $8 per month. It allows you to track taxes, income and expenses, send custom invoices, and connect to your bank. This plan works for one user plus the accountant.
The second one is the Essentials Plan, it's suitable for running and establishing your business, and it costs $12.50 per month and works for three users plus the accountant. In addition to the basic features, it offers multiple currencies, tracking employees, and special reports and business insights.
For growing businesses, the Plus Plan costs $17 per month. It works for five users plus the accountant, and it offers the ability to track inventory, track recurring transactions, and manage budgets.
All plans come with a 30-day trial period, and they all offer unlimited invoices and free support. You can get a discount when you pay annually.
FreeAgent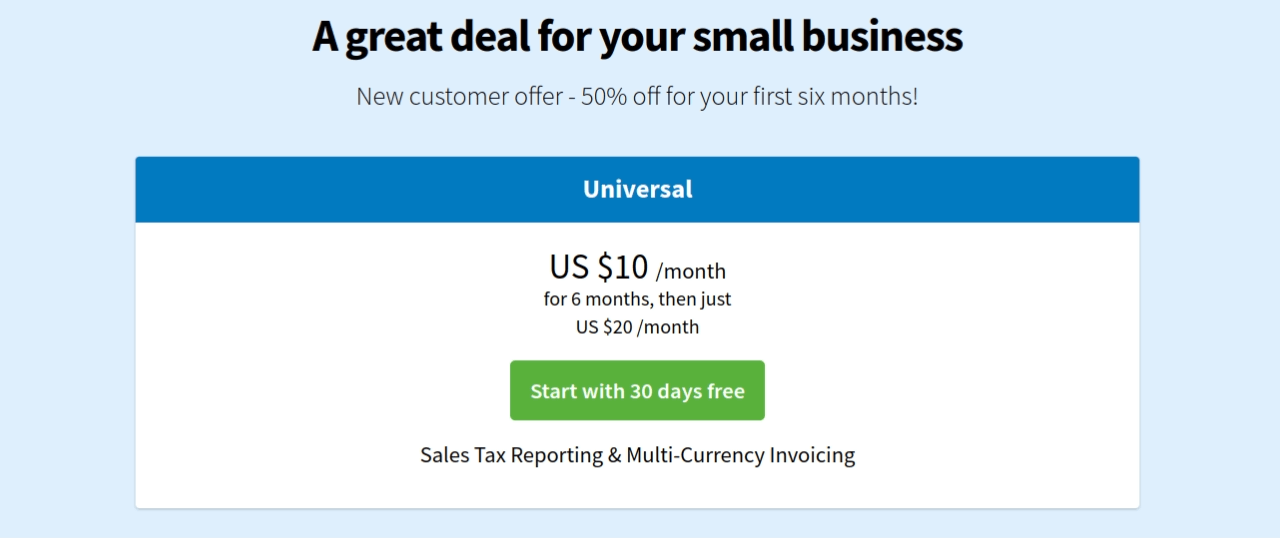 Source: FreeAgent
FreeAgent has a simple pricing plan for freelancers and small businesses. It costs $20 per month to access the full version, but you can currently get a 50% discount for the first six months.
This means that you can pay $10 per month with no limits on currencies, reports, invoices, or projects. In addition, you don't need a credit card to start your free trial, which lasts for 30 days.
Which Platform Is Better: QuickBooks Online vs FreeAgent
Choosing an accounting and invoicing system depends on the size of your company and industry. Here are the pros and cons of QuickBooks Online and FreeAgent so that you can compare them well.
QuickBooks Online Pros
Enhanced accounting functions
Account reconciliation feature
Improved dashboard with more details
In-depth records and transaction forms
Customizable reports
Handy automation features
Payroll support
Project profitability calculation
QuickBooks Online Cons
QuickBooks can be more difficult to learn
It's more expensive, especially for a small business
Payment processing isn't as straightforward
FreeAgent Pros
Simple user interface and navigation system
Straightforward tasks and tabs
Fast and valuable support
Easy to create invoices, estimates, and proposals
Self-assessment reports to estimate profits and losses
Built-in time tracking
More affordable, especially for a small business
FreeAgent Cons
Tasks can be too simple for a growing business
Not fully integrated with some essential add-ons
Inventory tracking and tax estimate features aren't detailed
Who Uses QuickBooks Online?
QuickBooks Online currently owns 5.37% of the accounting software market share, with more than 13,000 companies relying on it. Most of these companies work in the Accounting and Computer Software industries. The US represents the most significant market, followed by Canada and the UK.
This accounting solution is sufficient for small and medium-sized companies and, with some add-ons, will work for a larger company. Names like The City of Coalinga, Aberdeen Group, and Subscribe rely on this app.
Who uses FreeAgent?
FreeAgent is a popular financial management tool, and it currently occupies about 1% of the market share, with more than 700 companies registered as official users. However, it's also an excellent choice for freelancers, sole traders, and nonprofit organizations, with more than 100,000 satisfied clients.
Most of FreeAgent's clients work in Computer Software, Information Technology Services, and Design, and they're mainly located in the UK, followed by the US. In addition, names like Baldwins Accountants, Laurus Group, and Heelan Associates LTD use it to manage their finances.
The quest to find the right accounting software depends mainly on the nature of your business and what you expect the accounting solution to do. QuickBooks Online comes from a family of comprehensive solutions that automate your accounting functions. It's easy enough for small businesses but is scalable to suit the needs of a large firm with more complicated accounting tasks.
FreeAgent is probably the best accounting software for small businesses, freelancers, and sole traders. It offers basic accounting features for a reasonable price, and it's compliant with the UK VAT.
How to Migrate Data to QuickBooks Online or FreeAgent?
If you're currently working with accounting software that doesn't fully cover your business needs, you can easily switch to QuickBooks Online or FreeAgent with the help of Relokia.
Relokia offers specialized data migration services in a seamless process that guarantees that all your data will be safe and ready for use. Once you contact the company, an expert will walk you through the migration services available so that you can choose the most appropriate one.
Frequently Asked Questions
Both are cloud-based accounting solutions, but QuickBooks is more in-depth, suiting the needs of a growing business.
QuickBooks Online is more expensive than FreeAgent because it offers more features.
QuickBooks' latest version offers many unique built-in features, but different alternatives can work for you. For example, Zoho Books is a better choice if your main focus is invoicing, and Xero is a similar invoicing software, but it's easier to use.
You can try QuickBooks Online for 30 days without paying for a subscription.
The desktop version of QuickBooks will be discontinued on February 1, 2023, but the online version will still be available.
QuickBooks Online is an excellent choice for small businesses, and it's scalable, so you can upgrade as your business grows.
Want to migrate to QuickBooks Online or FreeAgent?
Let's migrate your data automatedly
Setup a free Demo