Should you choose FreeAgent accounting software for running your finances? Let's try to find it out in this FreeAgent review. What is a must-check list? It includes a review of
critical features of this accounting software
tools it brings to small business owners, freelancers, accountants, and bookkeepers
pricing plans FreeAgent offers
potential benefits and drawbacks this app has
At the end of this software overview, you'll get more information and decide whether the FreeAgent accounting tool is a suitable option for your company.
What is FreeAgent?
FreeAgent is a cloud accounting system that allows you to manage your finances from anywhere. This is a great tool for small businesses as it allows them to manage their daily tasks efficiently. FreeAgent also helps you to create invoices and send them out to customers, and even monitors cash flow.
Who is using FreeAgent? Over 100.000 customers of FreeAgent are SMBs, contractors, and freelancers. They typically work in professional services, retails and hospitality, service businesses, creative and technology, and landlords. The features like payroll, filling RTI, performing self-assessment, and conducting other bookkeeping tasks attract them most.
FreeAgent customer support includes dedicated phone or email support, live chat with a "Ruby the bot" to suggest several fixes from their knowledge base. Also, you may book a 20-minute call to get personalized support. (To get it, simply click the "Help" button.)
FreeAgent has a library containing short tutorial videos. You can learn everything: from how to connect your bank account, track expenses, to how to manage projects. If you haven't got much experience with running accounting software, you can watch regular webinars.
How Does FreeAgent Work?
FreeAgent allows setting nine various user roles for controlling access to customer and business data. Plus, you can configure lock periods to your account. The accounting tool applies double-entry accounting along with journal entry support. That is crucial for users and accountants.
In addition, FreeAgent has a well-organized and intuitive interface. Thus, you do not need to spend a lot of time learning. At the same time, you can access everything necessary using your front page that contains drop-down tabs. That allows accessing settings and company details like the logo - all that from a relevant settings tab. Besides, you can add new users simply and configure to send clients' invoices through email automatically.
With FreeAgent, you can customize tabs to enhance finding all required data in a few clicks and see different reports, graphs, or tables.
What Features Does FreeAgent Support?
FreeAgent provides customers with a rich-featured list of tools for bookkeepers and accountants. Here is a brief overview of them:
Estimates
This accounting tool allows creating and sending estimates easily and tracking whether such estimates are approved or rejected. Also, you can convert estimates to invoices in a few seconds or sort them into the categories: approved, rejected, sent.
Invoices
FreeAgent can provide users with eight invoice templates. Although their designs are quite appealing, there is a need to improve customization options.
How to generate an invoice in FreeAgent? FreeAgent provides two approaches to creating an invoice manually. The first requires using the "Quick links" button located on the "overview" page. Meanwhile, the second involves clicking the "add new" button located on the "invoicing" page.
How to manage recurring invoices? You can make a recurring invoice using the "invoicing" page. Besides, you can establish the frequency, along with the start date of the recurring invoice. For that, you should use the form located in the "invoice details" section.
How to mark an invoice as paid? You should use the "invoice field" for typing the invoice reference number, a relevant contact name, or the total amount. That enables FreeAgent to search for the required invoice for allocating to such payment. Then, you have to choose a certain invoice from the list. The last step is to create the manual transaction, which allows marking the invoice as paid.
Accounts payable
FreeAgent allows creating and managing bills and adding bills to your projects. You can use this accounting software for setting recurring bills and adding attachments to all bills.
Expenses
Use live bank feed or import bank statements for tracking your expenses or adding these expenses manually. Fortunately, FreeAgent allows attaching expenses to projects smoothly and then sending the bills to customers. But bank reconciliation is absent today. FreeAgent also supports expense claims, which helps handle various out-of-pocket expenses you need to reimburse.
Inventory/Stock
If your organization buys and sells different goods, FreeAgent will help manage stock and inventory efficiently.
Time tracking
Thanks to FreeAgent's built-in timer, you can track billable and non-billable times. Another option is to add hours manually. FreeAgent allows creating daily and weekly timeslips and attaching them to projects too.
Project management
FreeAgent offers efficient project management features and fundamental job-costing. For example, your accountants may add tasks and billing rates, define a default currency, and set the budget. They can also determine start and end dates or even add useful notes when creating the project. Besides, you can attach expenses and provide projects with billable or non-billable time. In turn, that allows invoicing such costs to clients easily. Finally, FreeAgent enables you to see the entire project profitability.
Business reporting
The report templates offered by FreeAgent are a bit limited. There are only three options: high level, breakdown, and detailed. Although most of them are customizable by the date range. Also, you can export reports to a CSV or PDF file.
Financial statements
In terms of financial statements, FreeAgent provides only two reports called "profit & loss" and "balance sheet." As in the case of business reports, you will not obtain many customization options related to financial statements. Although you can customize most of the period, there are no filter options available.
Sales tax
FreeAgent supports creating different sales tax rates, and sales tax reports. For instance, the US plan establishes no limit regarding sales tax rates. Meanwhile, the Universal plan can support just two sales tax rates.
Multi-currency and multi-language support
The accounting software supports 115 currencies and 28 languages.
Documents attachment
With FreeAgent, your accountants can attach files to all transactions, bills, and expenses. Such an approach helps track receipts with proof of purchase notes. FreeAgent enables a thumbnail preview of all attached documents without the need to download them.
FreeAgent Pricing Review
FreeAgent has a bunch of pricing tiers for different types of small businesses and a free 30-day trial. No credit card needed and you can cancel the subscription at any time. Let's get a quick look at those plans.
Limited company plan comes at
Monthly subscription: £14.50/mo + VAT for the first 6 months and £29.00/mo + VAT since the seventh month and on
Annual subscription: £145/year + VAT for your first 12 months, £290/year + VAT after your first year with a FreeAgent
Freemium tier works for those who have a business current account with NatWest, Royal Bank of Scotland, Ulster Bank NI for as long as you retain your bank account - or have a business account with Mettle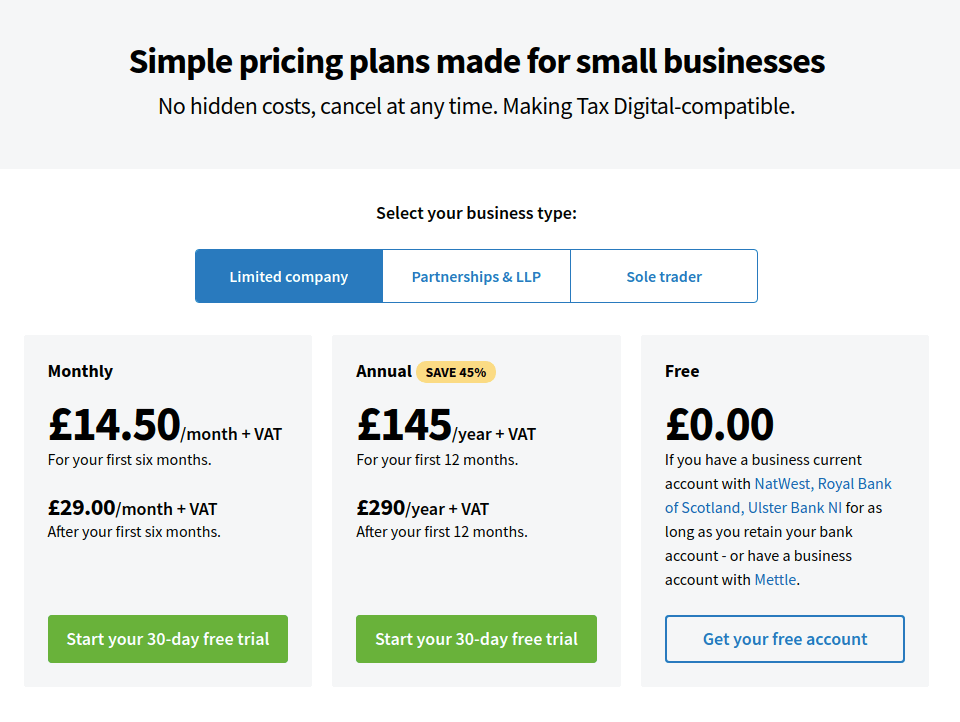 Source: FreeAgent Pricing
Partnerships & LLP plan will cost you
Monthly subscription: £12.24/mo + VAT for the first 6 months and £24.00/mo + VAT since the seventh month and on
Annual subscription: £120/year + VAT for your first 12 months, £240/year + VAT after your first year with a FreeAgent
Freemium works for those who have a business current account with NatWest, Royal Bank of Scotland, Ulster Bank NI for as long as you retain your bank account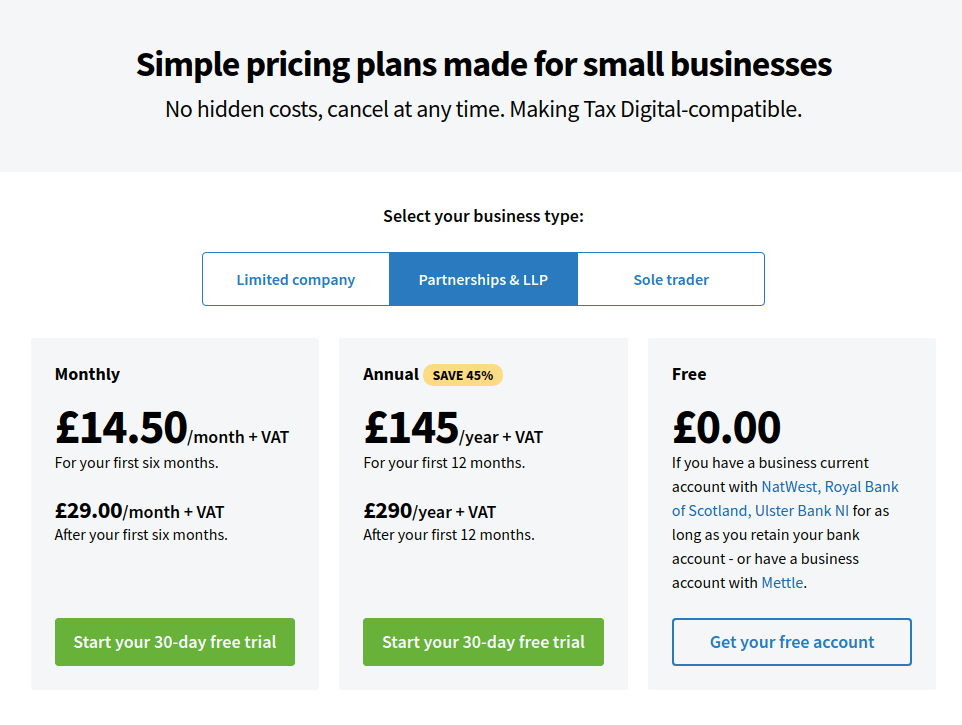 Source: FreeAgent Pricing
Sole Trader plan has the following tiers:
Monthly subscription: £9.50/mo + VAT for the first 6 months and £19.00/mo + VAT since the seventh month and on
Annual subscription: £95/year + VAT for your first 12 months, £190/year + VAT after your first year with a FreeAgent
Free works for businesses that have a business account with NatWest, Royal Bank of Scotland, Ulster Bank NI for as long as you retain your bank account - or have a business account with Mettle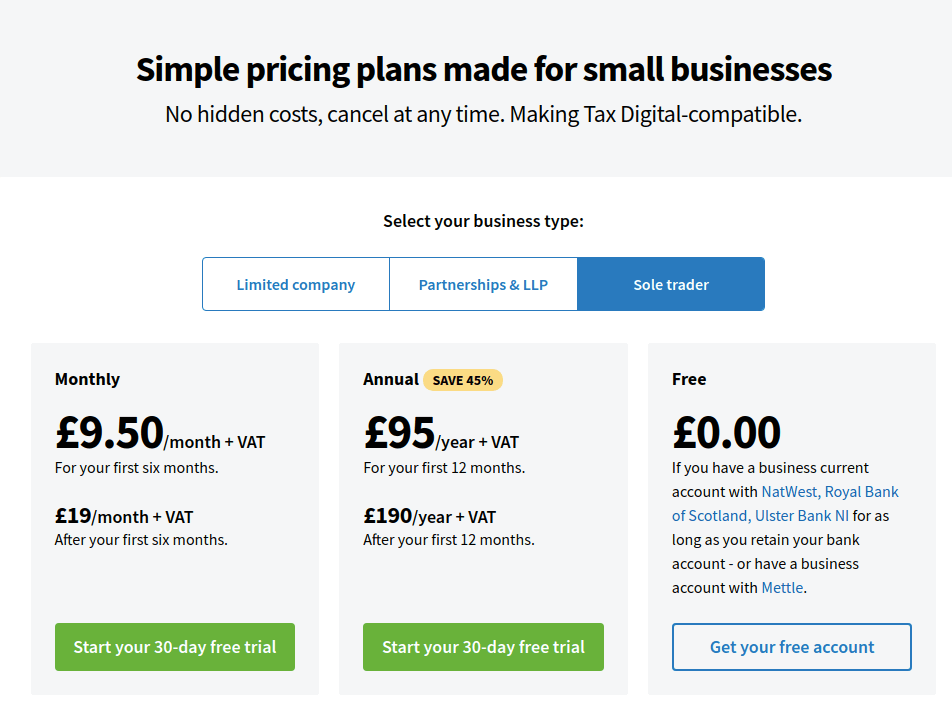 Source: FreeAgent Pricing
For the U.S. version, there's only one price tag - $24/mo. If you choose an annual subscription FreeAgenf provides the introductory offer of $12/month during the first 6 months. Also, there's a 30-day trial.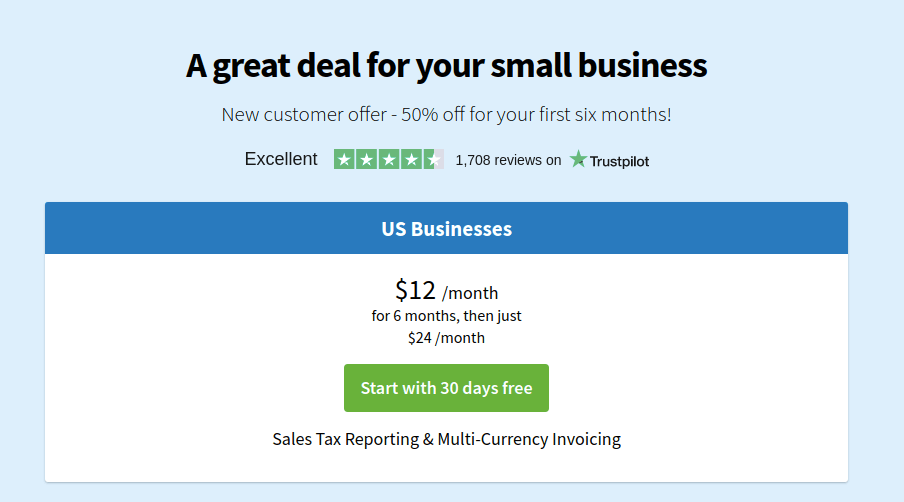 Source: FreeAgent Pricing
Global pricing of FreeAgent suggests $10/mo for the first 6 months, and then $20/mo. The free trial is 30 days too.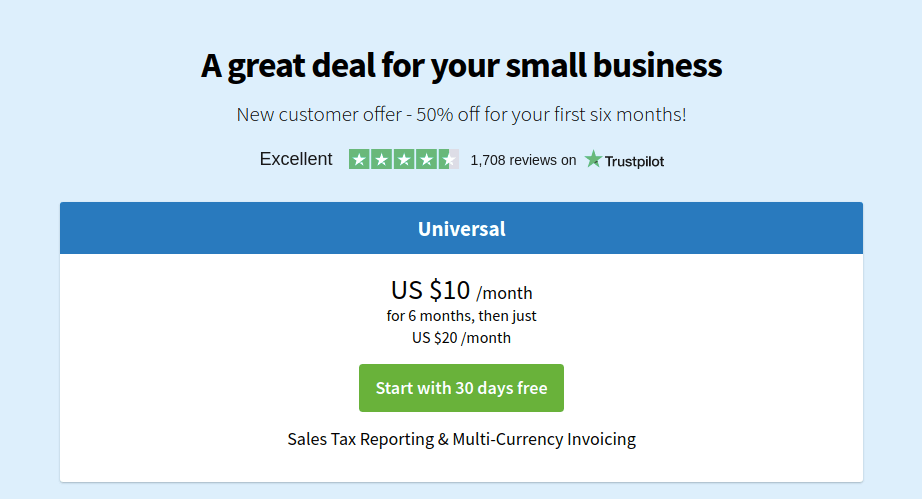 Source: FreeAgent Pricing
The accounting software supports an unlimited number of users, customers, projects, and transactions.
FreeAgent Advantages & Disadvantages
Every software, app, or tool has strong and weak sides. Let's check what are the strengths and drawbacks of FreeAgent.
Pros of FreeAgent
check_circle
easy-to-navigate platform with comprehensive dashboards
check_circle
expense tracking can be attached to the projects
check_circle
invoicing and contact management
check_circle
enhances tracking business tax and completing a tax return
check_circle
well-covered answers of the support sections
check_circle
international invoicing
Cons of FreeAgent
cancel novice users struggle with learning how to pay bills and reconcile an account
cancel adding customers for invoicing is often chunky, especially if you got a large number of customers
cancel limited reporting features
cancel format of date fields
cancel no proper inventory - user goes to Price List & Stock screen from the settings menu
cancel no cash-basis accounting
FreeAgent Review of Integrations
FreeAgent facilitates management of the complicated expense operations that small businesses face. But comparing FreeAgent vs FreshBooks, the first one provides about 30 integrations with market-leading partners. That integration can't be labeled as sufficient for SMBs.
Should You Choose FreeAgent for Your Business?
FreeAgent is accounting software made for freelancers and SMBs. This tool is not perfect as lacks some valuable bookkeeping features. Also, several support features are unavailable during the 30-day trial. The accounting platform works well for novice business owners who have no accounting experience. Ultimately, FreeAgent offers friendly pricing and the appropriate customer support.
If you're considering importing your data to FreeAgent, we can help you out. Use out Migration Wizard to move your records and manage your accounting data effectively.
Frequently Asked Questions
This bookkeeping software is secure and can't your information unless you provide the required access. It also supports two-factor authentication The bank feeds within FreeAgent are strictly one-way. For example, when setting up the feed, your company traditionally provides the bank permission for sending transactional information to FreeAgent.
FreeAgent has the ISO 27001, PCI-compliant, and has the Cyber Essentials Plus certification. They replicate information in real-time to a relevant geographic location for the purposes of Disaster Recovery and Business Continuity. Also, all information transferred to FreeAgent is encrypted over HTTPS with a minimum of 128-bit keys.
If you're a keen believer in DIY accounting, you may consider using accounting software to maintain your financial records. FreeAgent offers the necessary tools and guides to cope with accounting on your own. (Take a look at the
common accoutning mistakes
before making your choice.)
There's no shortage of accounting and billing systems on the market and no wonder that FreeAgent has several alternatives. Here are the three most popular ones.
Freshbooks is simple and intuitive for running SMBs easy, fast, and secure. The software enhances sending invoices, tracking time, managing expenses, and getting paid online.
Xero provides inventory, invoicing, time tracking, expenses to save your business precious time and money.
QuickBooks Online is an accounting software package that you can access and manage your books from any device anytime you choose. The accounting tool helps create access privileges so that your accountant can log in and work.