FreshBooks belongs to several outstanding accounting tools for individuals and SMBs. It's simple to use, highly functional, and affordable. Still, there's a range of other software that may accommodate your needs even better. So why wouldn't look for a FreshBooks alternative? Check our list of the best alternatives to FreshBooks and figure out whether you should continue using this tool or migrate from it.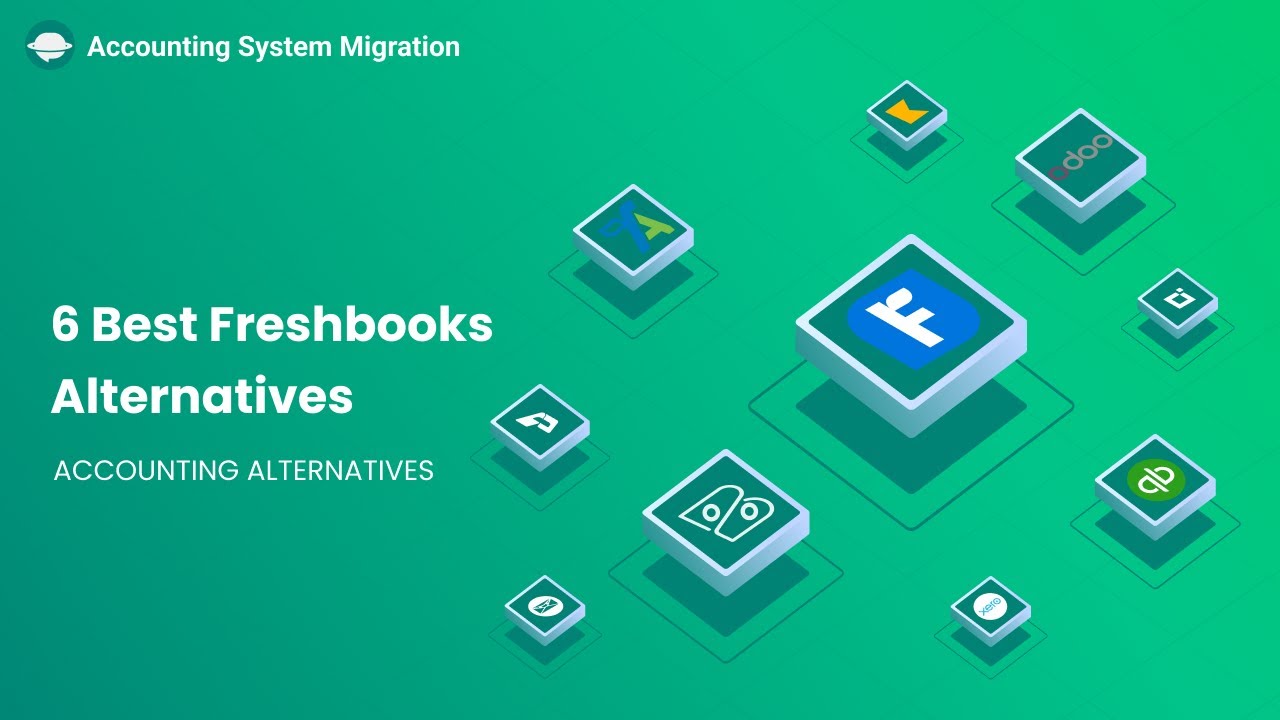 What Features To Look For In FreshBooks Alternative?
Before you start examining FreshBooks competitors, consider the features that are missing or are limited in this platform. What toolset makes accounting software perfect?
Data dashboard
Invoicing
Expense tracking
Billing
Reporting
Time tracking
Bank reconciliation
Cash flow tracking
Inventory management
These features can make your accounting seamless if your company comes from the SMBs range. Now, let's find out how FreshBooks handles this list.
What Features Does FreshBooks Offer?
FreshBooks delivers rich functionality to meet the needs of different businesses, especially the ones that are project- and service-based.
Source: FreshBooks
Invoicing. Multi-currency and multi-lingual support lets you deal with clients across the world. To create an invoice, pick a template and customize it by adding a logo and changing colors and fonts.
Accounts receivable. With FreshBooks Payments, you allow clients to perform online credit payments by clicking on a button placed in your invoice. You can also set automatic payment reminders and charge late fees.
Accounts payable. Pay vendors by creating bills from scratch or uploading a photo of a paper bill. The Profit & Loss reports include your outstanding bills and the tax amount you've paid.
Bank reconciliation. You can reconcile expenses, invoice & bill payments, other income, and credits and perform complex reconciliations like invoice refunds, journal entries, and missing expenses. You can add, delete, and retrieve transactions.
Expense tracking. Photograph receipts and record them as expenses of a certain category. You can mark them as billable and add to invoices or projects.
Project management. Invite your employees, contractors, and partners to collaborate on projects and share access to particular files. You can use a team chat, set due dates, assign cost and billable rates to a project, and more.
Inventory tracking. FreshbB the system, you assign them a role (Accountant, Employee, Contractor, etc.) that determines their access to specific features. These include dashboards, invoices, expenses, projects, and accounting activities.
What Are FreshBooks Pricing Plans?
FreshBooks offers 4 tiered pricing plans based on the number of billable clients and features. First, let's take a quick look at the packages.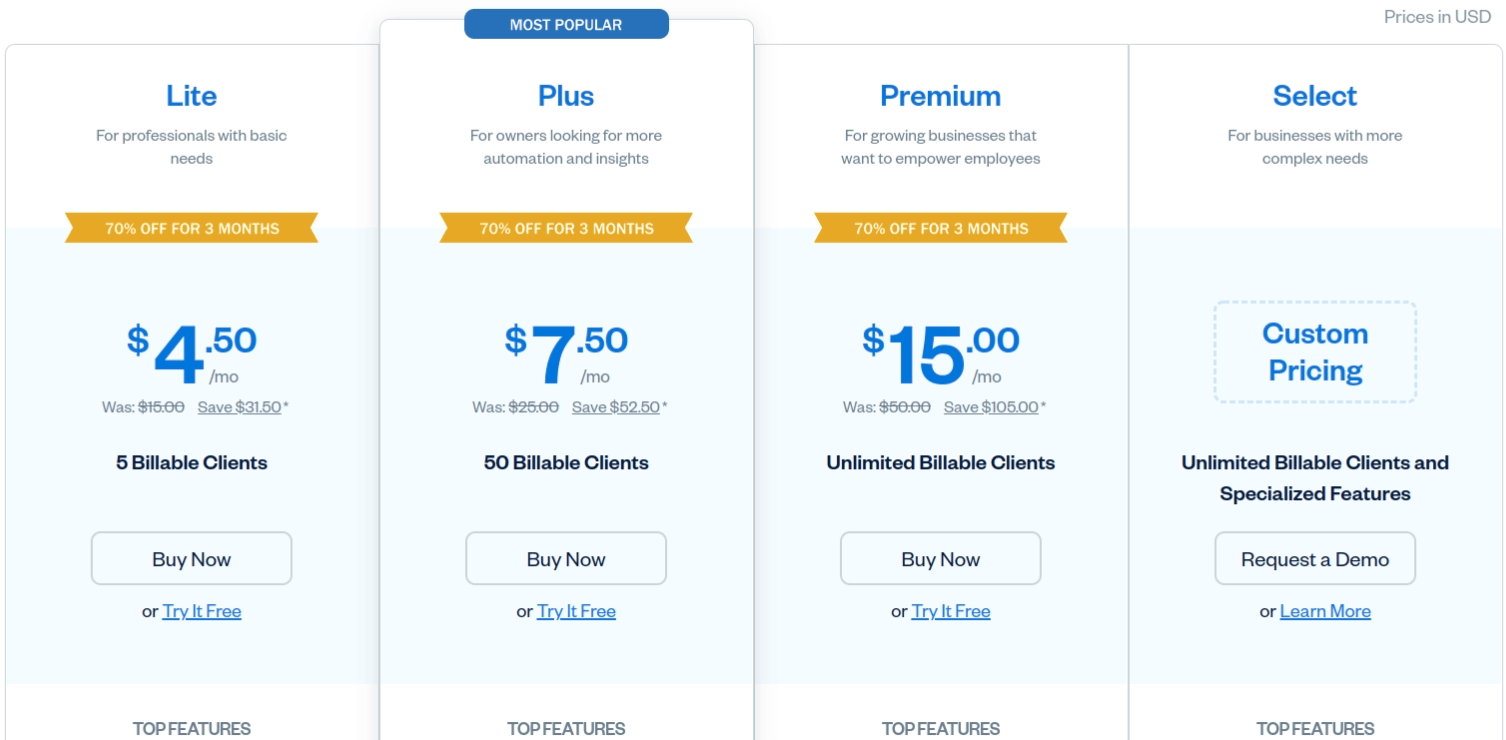 Source: FreshBooks
Lite costs $4.50/mo and allows billing up to 5 clients. This plan includes unlimited customized invoices, automated recurring invoices & late payment reminders, a self-service portal, mileage tracking, and performance dashboards.
Plus lets you bill 50 clients and offers bank reconciliation, e-signatures, automatic receipt capture, and double-entry accounting reports.
Premium allows unlimited clients and adds accounts payable, customized email templates, automated client emails, automatic bill capture, and more.
Select is designed for growing and large businesses and has a custom price.
FreshBooks: Weighing the Pros & Cons
What Are FreshBooks Benefits?
Excellent customer service. FreshBooks support has high rates on several review platforms and is free forever. The reps typically respond to a call within three rings and answer an email within 90 minutes. Plus, you can use the accounting guides and a user forum for self-service.
Collaboration tools. The app combines accounting and project management features that facilitate resource management and on-time payment delivery.
Time & mileage tracking on all plans. FreshBooks offers a free built-in time & mileage tracker, which is also included in the mobile app.
Inventory tracking. You can track items in stock and automatically calculate their value. Once you add an item to an invoice, FreshBooks reduces its available quantity.
What Are the FreshBooks' Drawbacks?
User and client number limits. In FreshBooks, you can add only one user and 5 billable clients for free. Adding more users will cost you $10 for each (except the Select plan). Such limitations can force you to upgrade to a more expensive plan.
No bank reconciliation in the Lite plan. Unlike other accounting software, such essential tools as bank reconciliation and accountant access are unavailable in FreshBooks cheapest plan.
No quarterly tax estimates. FreshBooks generates expense and sales tax reports but it doesn't make estimates of quarterly income taxes.
FreshBooks Alternatives: Features, Pricing, and Advantages
FreeAgent
Freeagent caters to the needs of project-based freelancers, sole proprietors, and small businesses. It offers simplified payment management for non-accountants and includes double-entry accounting and basic project management features.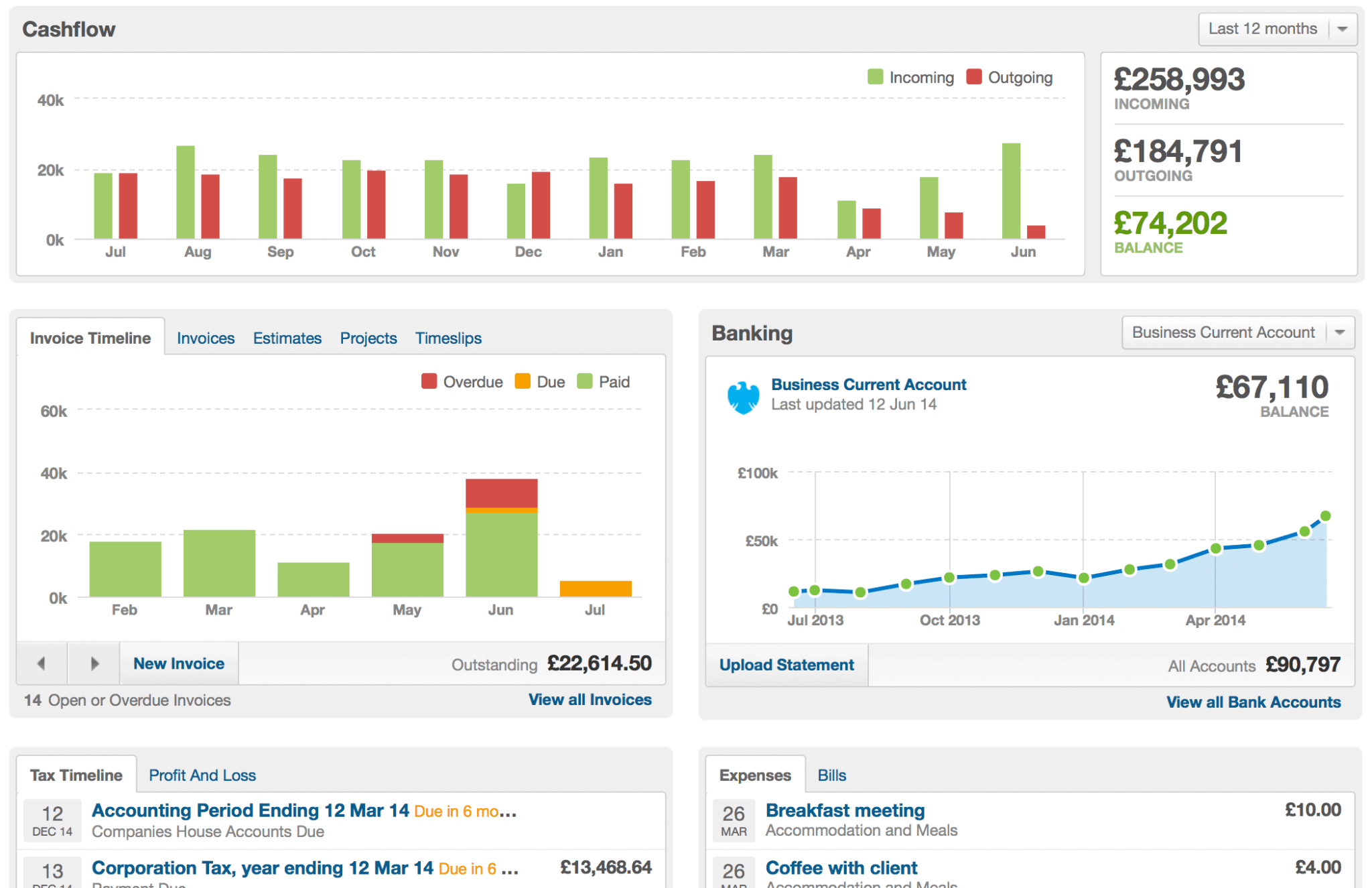 Source: FreeAgent
FreeAgent Features Overview
Dashboard includes reports and charts displaying cash flow, invoices, and business account activities. Besides viewing, you can use it to create new invoices and upload bank statements.
Invoicing. Freeagent offers eight invoice templates available in 28 languages. If you have HTML and CSS skills, you can add a custom logo and header and change the color scheme. In addition, you can set recurring invoices and payment reminders, and write off the unpaid invoices.
Billing. You can create bills with attachments, add bills to projects, and set recurring bills. Also, Freeagent lets you pay bills in bulk and create multi-currency bills.
Time tracking. Use a built-in tracker to log billable and non-billable time or add hours manually. You can make daily or weekly time breakdowns and attach them to projects.
Reporting. The app offers reports covering basic accounting data like profit & loss, balance sheets, and outstanding payments.
How Much Does FreeAgent Cost?
Freeagent has only one pricing plan, Universal, which costs $10/month. You can use a 30-days free trial to check each corner of the software.

Source: FreeAgent
Why Is FreeAgent Better than FreshBooks?
FreeAgent is unlimited when it comes to users, clients, and projects. Also, this tool has a more intuitive interface for users with little accounting experience.
Xero
Xero is designed for small businesses who want to reconcile accounts, manage sales & expenses, and track projects. This double-entry accounting system allows for creating invoices, purchase orders, and quotes. Also, you can use it to manage fixed assets - a feature that is non-common for most small accounting tools.
Source: Xero
How to Use Xero Features?
Dashboard comes with a range of charts related to cash flow, bank statements, owed invoices, and outstanding bills. In addition, you can reconcile items or create a new invoice or bill directly from the dashboard.
Invoicing. Xero provides only one ready-made invoice template, but you can create custom templates and change their design. The time-saving features include recurring invoices, automatic payment reminders, bulk invoicing, and invoice duplication.
Billing. Add multicurrency bills and apply credit or payments to them. To avoid duplication, Xero warns if your bill matches the details of an existing bill.
Time tracking. Calculate billable hours or log them manually, and then add them to invoices and projects.
Reporting. Xero provides over 50 financial reports covering cash flow, sales, expenses, and more. You can customize them by reordering the rows and columns and saving your favorite reports to run them in the future.
What Are Xero Pricing Plans?
Xero offers three pricing plans based on a monthly subscription. In addition, you can use a 30-day free trial to examine the tool and even check a demo. What's inside the packages?
Early is $12/mo and allows you to send quotes and 20 invoices, add 5 bills, reconcile bank statements, check short-term cash flow, and capture bills and receipts with Hubdoc.
Growing adds on bulk bank reconciliation, unlimited invoices & bills.
Established includes multi-currency support, expense claims, project tracking, and in-depth reports.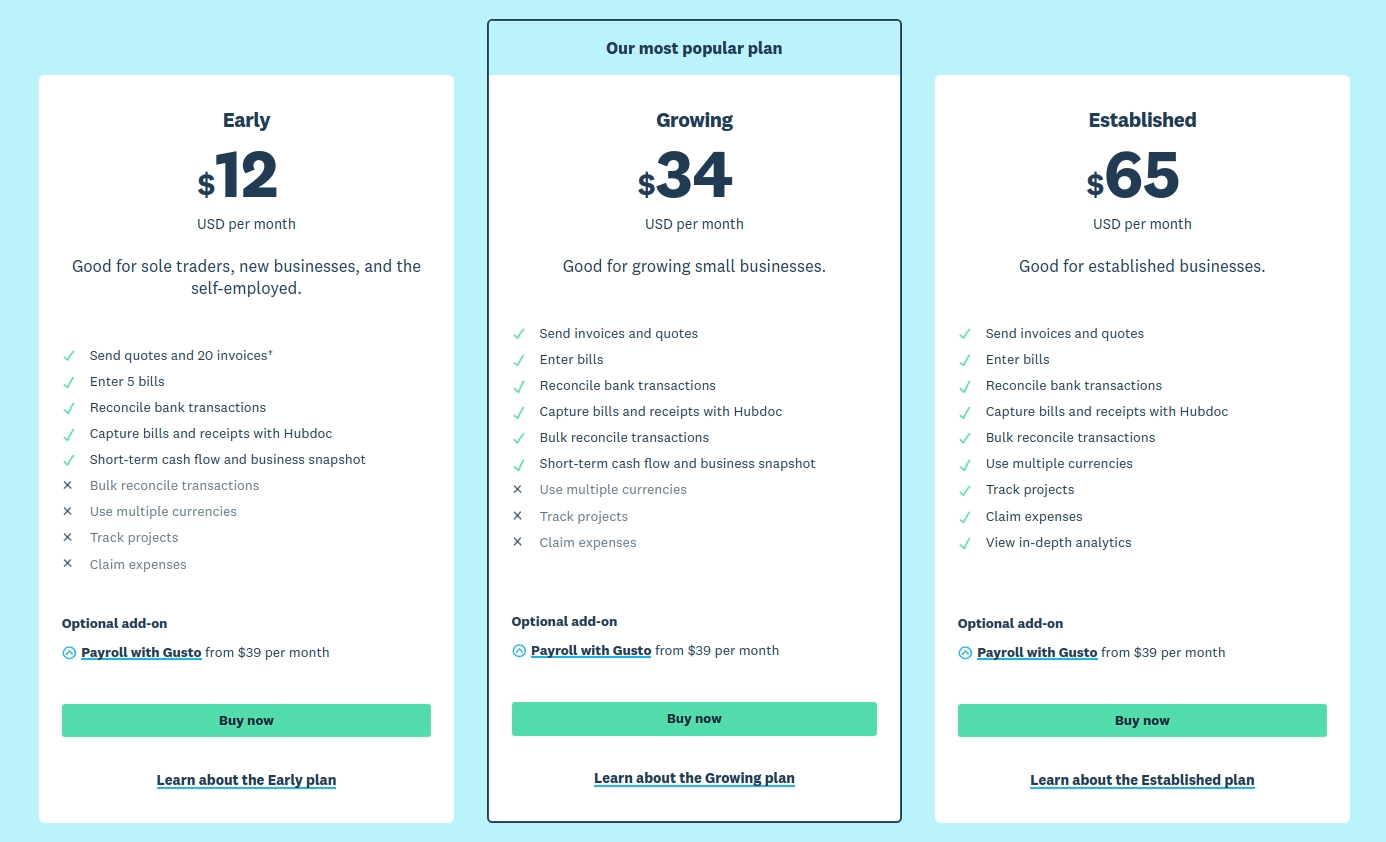 Source: Xero
Why Is Xero Better than FreshBooks?
Besides unlimited users and clients, Xero offers in-depth inventory management that allows you to import items in bulk and prefill item details in transactions. Overall, Xero provides stronger accounting features than FreshBooks, which focuses more on project management accounting.
QuickBooks Online
If you're a small business and looking for a flexible and comprehensive accounting system, QuickBooks Online is the thing. It offers robust invoicing and accounting and has a functional mobile app. However, its advanced interface may cause a steep learning curve for beginners.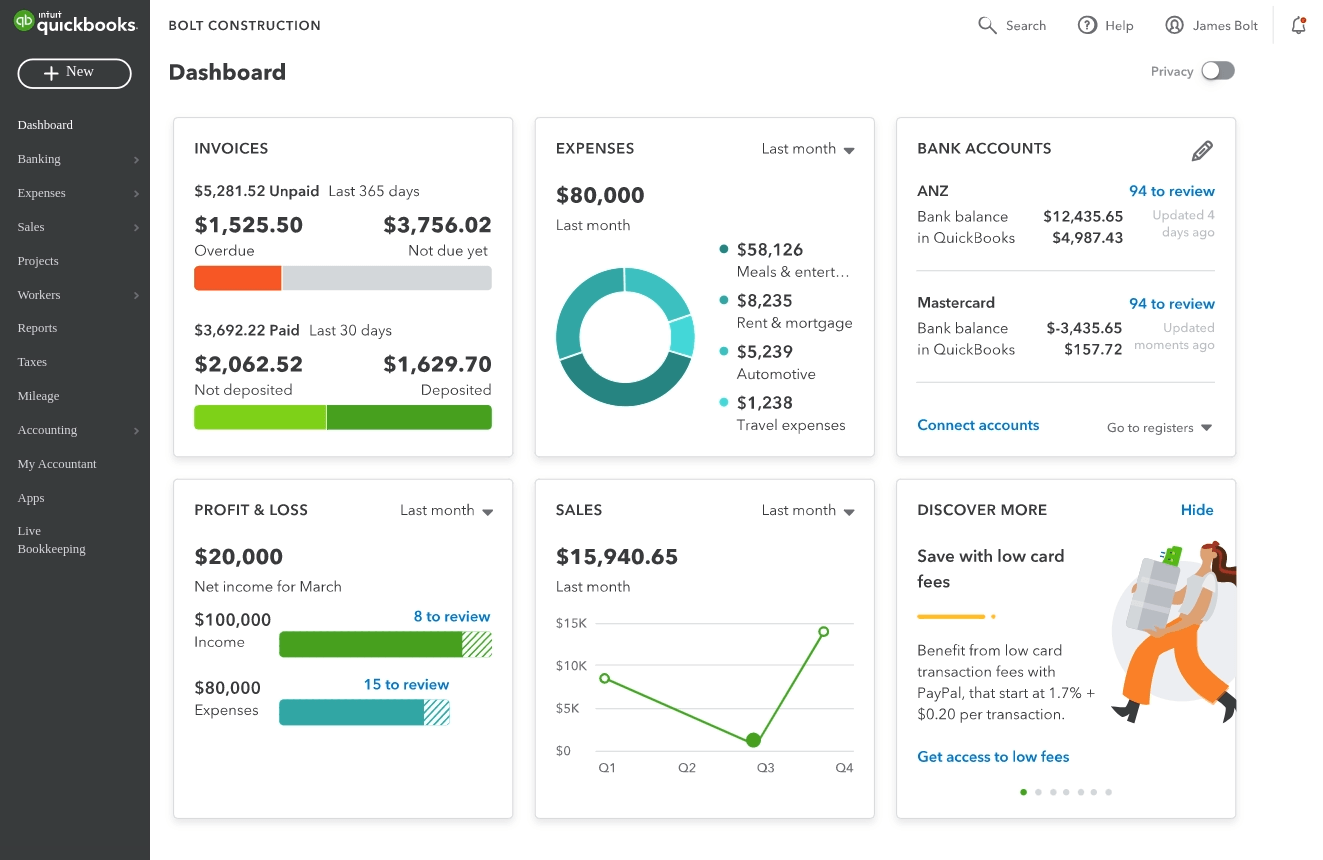 Source: QuickBooks Online
What Are QuickBooks Online Features?
Dashboard lets you view and run banking, sales & expenses, taxes, reports, and more. You can set up your bank account, create new transactions, and manage payroll.
Invoicing. Create multi-currency invoices from scratch or convert them from estimates. Set default invoice fields like Shipping, Discount, and Custom Fields and include a link to your payment system. You can track a customer's opening an invoice, get notifications when it's paid in full, and set automated payment reminders.
Billing. Enter and pay bills, track outstanding bills, and schedule automatic payments. QuickBooks Online offers two workflows to pay bills with or without purchase orders.
Time tracking includes calculating billable hours & mileage and creating schedules for employees by jobs and shifts.
Reporting. Analyze your cash flow, balance sheets, profit & loss, and filter your sales data by customer, product, location, or project. You can use the ready-made reports or create custom reports.
How Much Does QuickBooks Online Cost?
There are four pricing tiers in QuickBooks Online. Let's check them.
Simple Start costs $30 and includes 1 user, unlimited invoices & estimates, cash flow, general reports, expense & mileage tracking, tax deductions, sales tax, and over 650 integrations.
Essentials allows 3 users, enhanced reports, time tracking, and bill management.
Plus includes 5 users and adds inventory management and project profitability.
Advanced lets you add more than 5 users and offers automations, customized access, a dedicated account team, and more.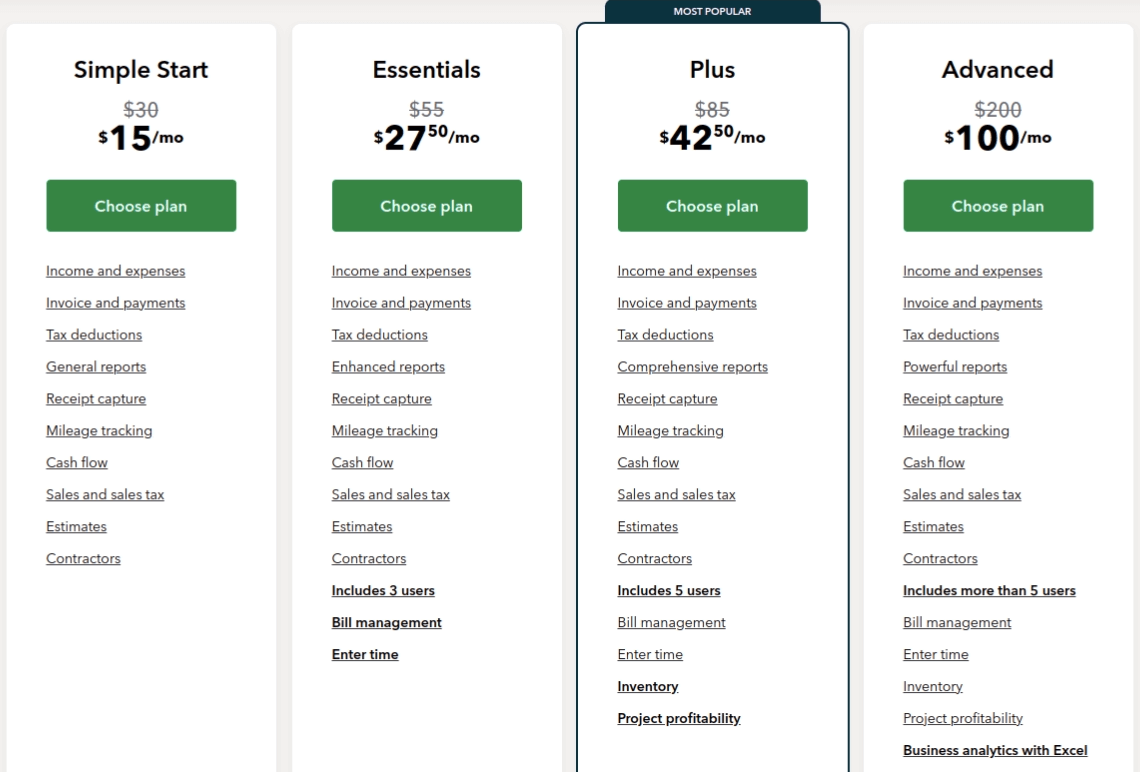 Source: QuickBooks Online
You can use a 30-day free trial of any plan, a test-drive account of Plus, and a demo of Advanced.
Why Is QuickBooks Online Better than FreshBooks?
QuickBooks Online offers more in-depth accounting than FreshBooks and is more scalable and flexible. Still, it is more expensive and complex to use.
Zoho Books
Zoho Books is a worthy FreshBooks alternative that offers a neat dashboard, rich toolset, and attractive price tags. It provides comprehensive invoicing, inventory tracking, project management, and fixed asset management. When it comes to SMBs, this cloud accounting software covers their needs in a scalable way.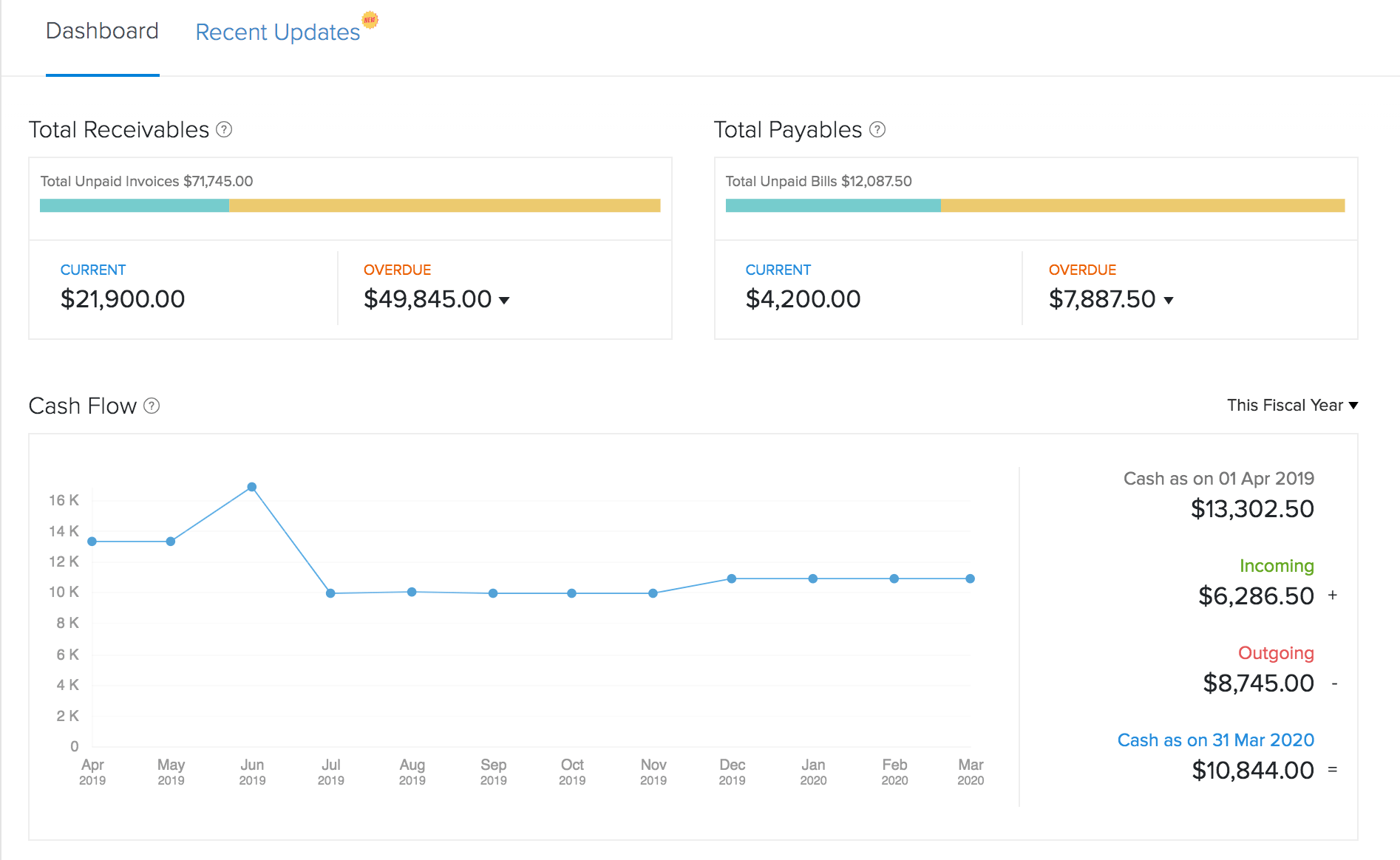 Source: Zoho Books
How to Use Zoho Books for Accounting?
Dashboard includes the graphs and charts showing total receivables & payables, cash flow, income & expenses, banking, and projects. You can change the color scheme to perceive the information better.
Invoicing. Zoho Books offers 16 invoice templates that are highly customizable. You can send invoices in 12 languages and have PDF invoices encrypted for enhanced security. Zoho supports retainer invoices, recurring invoices, and invoice auto-scheduling.
Billing. Create bills with attachments and internal notes and set recurring bills and payment reminders.
Time tracking. Log time with a built-in tracker or enter hours manually. You can create invoices from timesheets and bill your clients.
Reporting sheds light on each corner of your financial state, including receivables & payables, sales & purchases, inventory, and projects. You can schedule reports, share them with other users, and receive weekly summary reports.
What Are Zoho Books Pricing Plans?
Zoho Books offers three paid pricing plans with a 14-day free trial and one free plan. What's inside?
Free includes 1 user + 1 accountant, up to 1000 multi-lingual invoices/year, automated payment reminders, recurring invoices, bank rules & reconciliation, expense tracking, multiple bank accounts, reports, and payment gateways.
Standard costs $15/mo and allows 3 users, up to 5000 invoices, recurring expenses, fetching bank & credit feeds, user roles, project management, billing, and bulk updates.
Professional includes 5 users, recurring bills, sales & purchase approval, purchase orders, multi-currency support, and stock tracking.
Premium increases the user limit to 10 and includes a custom domain, vendor portal, validation rules, custom buttons, workflow rules, and more.
Elite allows 10 users and adds advanced inventory control.
Ultimate includes 15 users, advanced analytics, and 25 custom modules.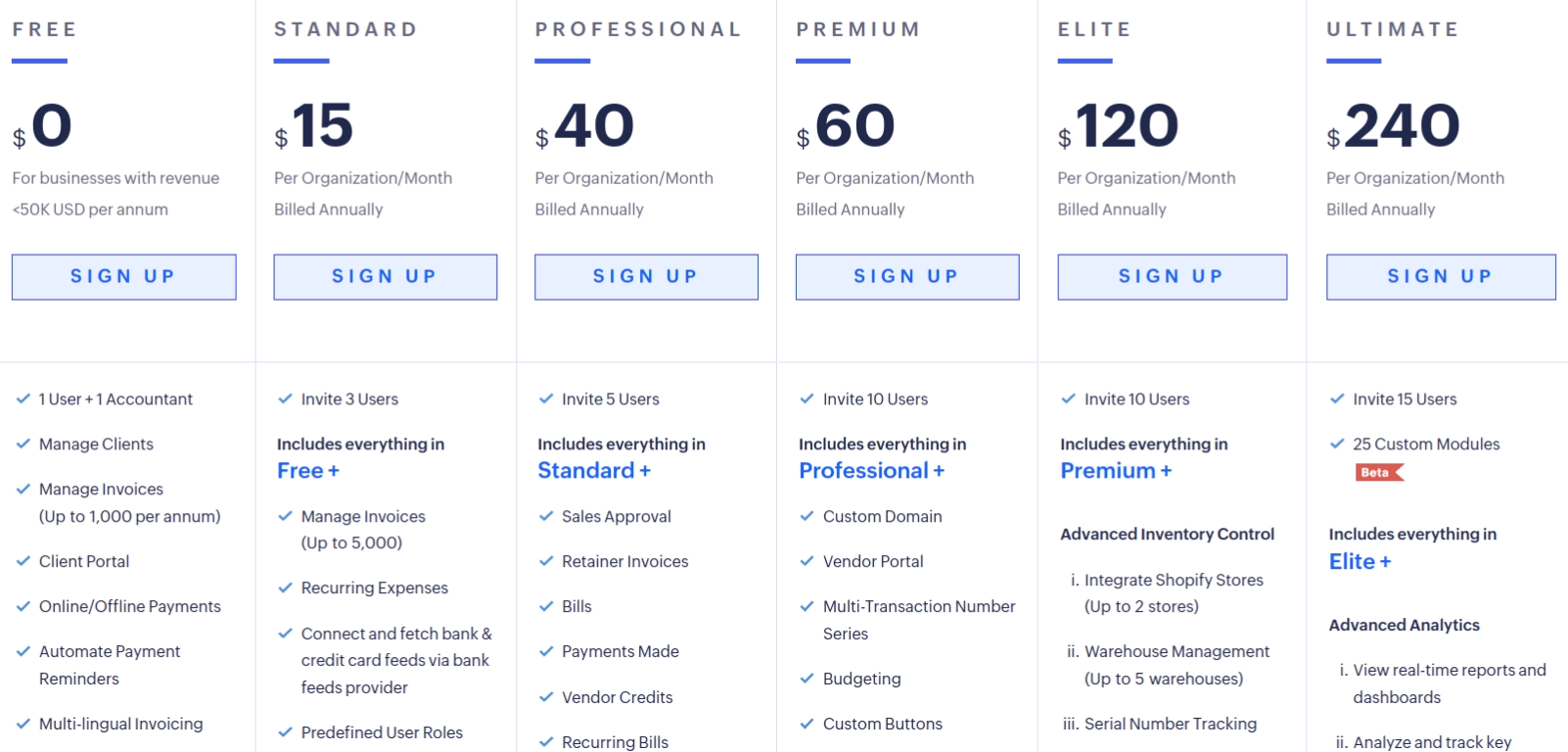 Source: Zoho Books
Why Is Zoho Books Better than FreshBooks?
Zoho Books offers a richer functionality and is more customizable than FreshBooks, plus, it supports more users. Also, you can choose between multiple pricing tiers to accommodate your needs and fit your budget.
Kashoo
Kashoo offers double-entry accounting software for small businesses that look for full expense & income management and don't need inventory and time tracking. In addition, it offers affordable pricing, unlimited users, and excellent customer service.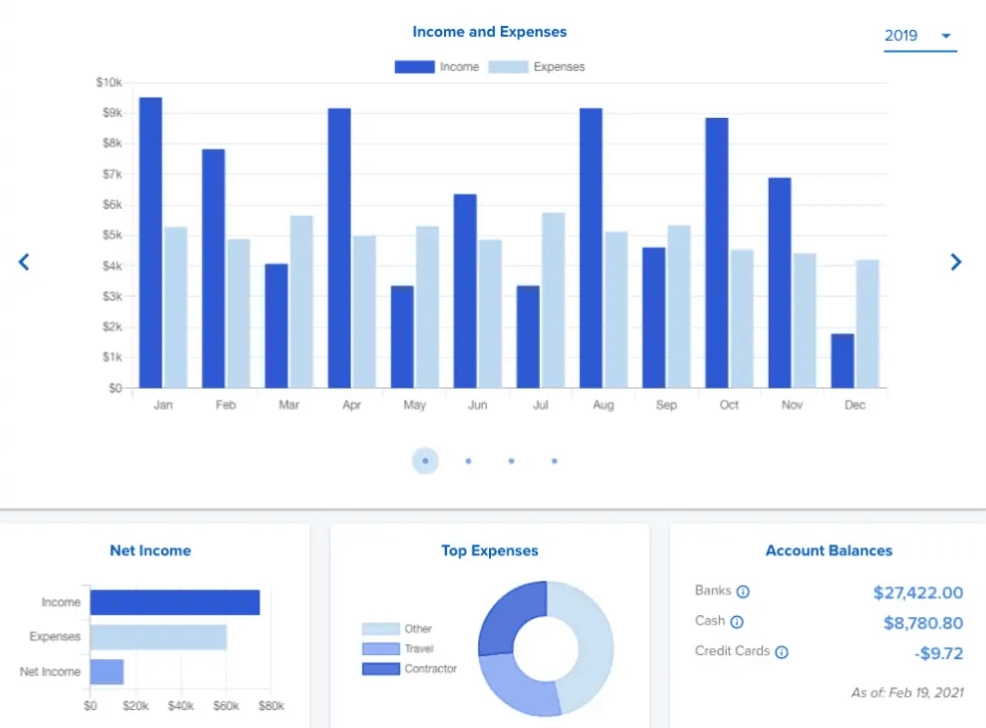 Source: Kashoo
How to Use Kashoo Features?
Home. Kashoo doesn't provide a dashboard but a home page where you can take actions related to invoicing, billing, and banking, and check client lists and reports. It also shows account totals and calculates your net income.
Invoicing. You can use one invoice template with no customization options. Still, Kashoo allows you to create recurring invoices and add sales tax rates.
Billing. You can create, edit, and duplicate bills, set recurring bills, and view unpaid bills.
Expense tracking. Import expenses manually in a preferable format or uses an automated bank feed. The app suggests transaction matches and allows you to reconcile bank accounts.
Reporting. Kashoo offers 8 reports covering basic accounting data like cash flow, income statement & balance sheet, receivables & payables, etc.
What Are Kashoo's Price Tags?
In Kashoo, you can subscribe to a free plan designed solely for invoicing or choose more extensive packages. There's also a 14-day free trial available.
TrulySmall Invoicing is free and lets you send unlimited invoices & estimates, accept CC payments and track income and clients.
TrulySmall Accounting costs $20/mo and includes a visual dashboard, income & expense tracking, bulk editing, and auto-matching & reconciliation.
Kashoo adds a customizable layout, check printing, project tracking, inventory, and payroll.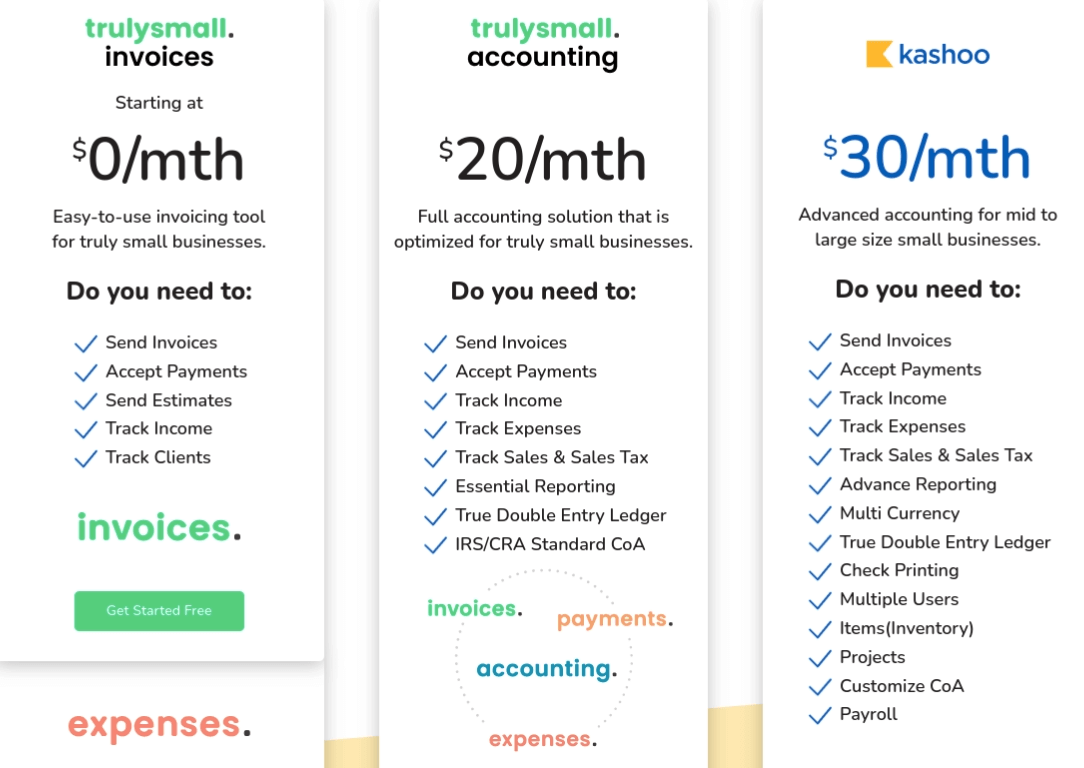 Source: Kashoo
Why Is Kashoo Better than FreshBooks?
Unlimited users and automations like creating contacts, categorizing transactions, and reconciliation make Kashoo a strong FreshBooks alternative.
Odoo Accounting
Odoo Accounting is a unique accounting tool since it's open-source ERP (enterprise resource planning) software. Odoo is highly customizable and can match your specific business needs.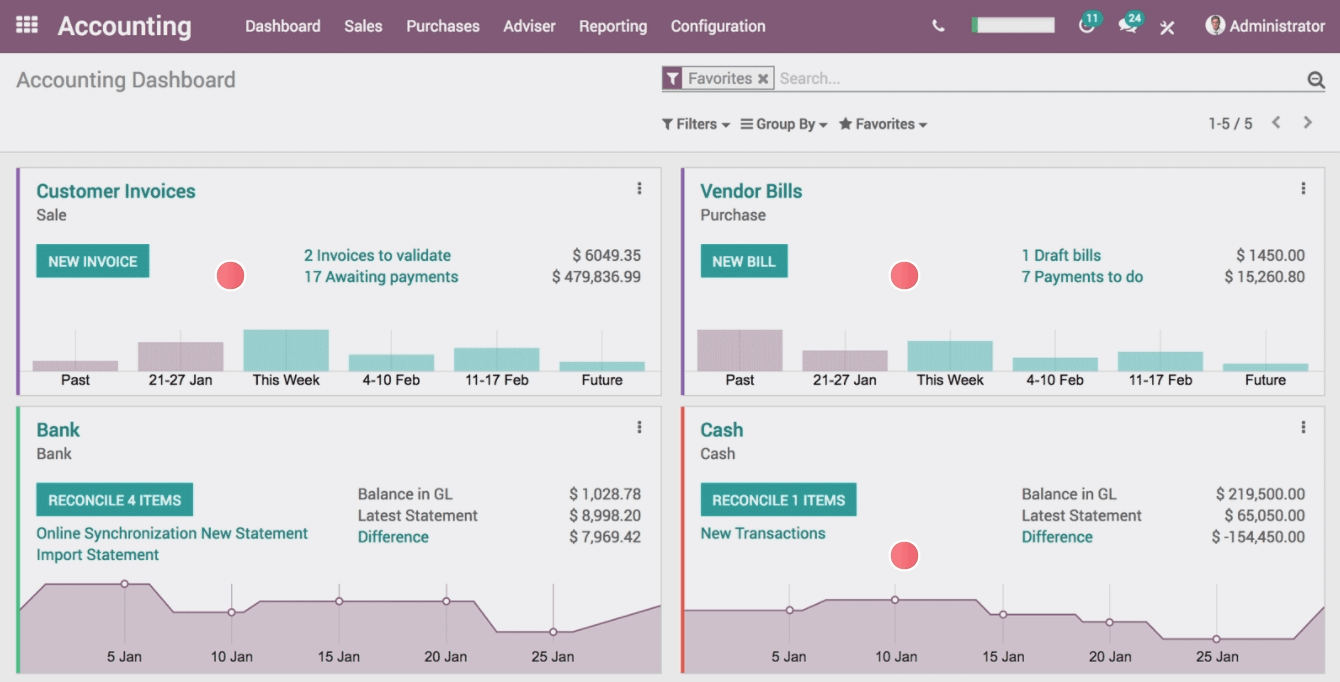 Source: Odoo Accounting
What Are Odoo Accounting Features?
Dashboard contains movable boxes and graphs with invoices, bills, bank, and cash flow data. Here, you can create an invoice or a bill, add new transactions, and configure bank accounts.
Invoicing. Odoo offers four customizable invoice templates and allows you to set invoice reminders. Unfortunately, recurring invoices are not available.
Billing. You can add bills and manually mark them as paid or link them to corresponding expenses.
Time tracking. Use a timer to calculate billable hours and mileage and include the expenses in your accounting reports.
Reporting. Generate dynamic reports on your cash flow, profit & loss, balance sheet, and aged payments. You can compare values to previous periods and generate custom reports in developer mode.
How Much Does Odoo Cost?
Odoo Accounting's pricing scheme is quite different from standard pricing plans. It offers 30 open-source apps plus thousands of user-designed add-ons. In addition, you can choose between just two plans: Free and Paid.
Free is cloud-based and allows you to choose one application that you prefer. The apps are various and range from accounting to CRM. The downside is that the free plan offers no customer support.
Paid costs $35/mo plus the price of apps that vary from $15-$30 to $72 per month.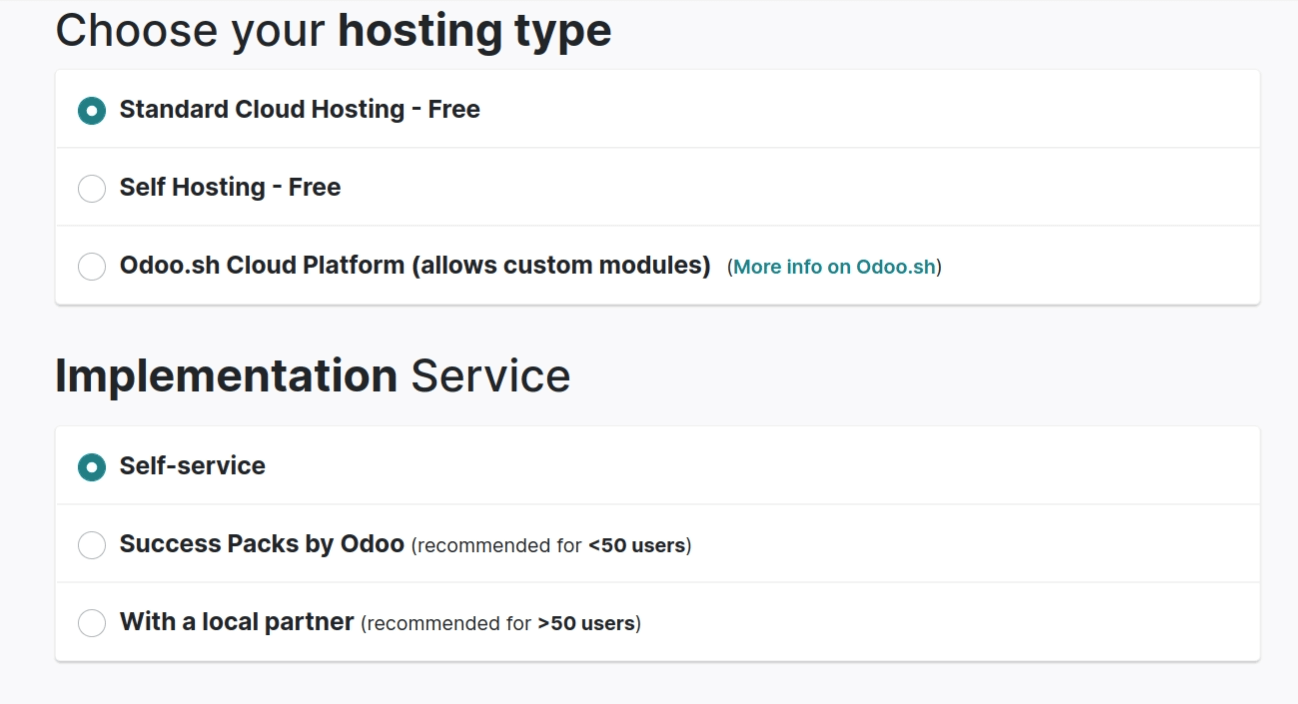 Source: Odoo Accounting
On top of that, Odoo offers an on-premise version designed for businesses with more than 50 members.
Why Is Odoo Accounting Better than FreshBooks?
Odoo's open-source nature makes it more flexible since you can fill up your accounting package with preferable tools. But, at the same time, it's a drawback as you have to look for the features by yourself, and the total price may bite.
How to Migrate Data from FreshBooks?
If any of the above FreshBooks alternatives sank into your heart, you might want to migrate your data without fuss and struggle. Automated Data Migration service can help you transfer data records without requiring CSV. You just need to click through several steps in Migration Wizard and match the data fields. When all is set up, you can run a free Demo before proceeding to the Full Data Migration.
Cover up
Despite all FreshBooks' benefits, the alternative accounting software can deliver more features fitting particular business needs. So this is where you should start off when choosing a FreshBooks alternative: your individual needs and requirements.
Zoho Books seems the winner here: it offers attractive pricing and rich feature packages. Besides, it takes first place among the most rated accounting tools for small businesses.