Having a practical accounting software tool is vital for any business. So, when it comes to cloud accounting, FreeAgent vs Xero comes first to mind.
Today cloud-based accounting is no longer a luxury; multiple tools can help you manage all accounting-related tasks, from basic invoicing to preparing tax returns. According to research, almost 41% of small-sized business owners take care of their accounting tasks without hiring professional accountants, while 20% hire an employee to do the job. So, it is essential to have an easy-to-use yet accurate online accounting system.
Still, with hundreds of accounting tools, choosing the right one can be challenging. And this is the core of our Xero vs FreeAgent review.
A Short FreeAgent Review
FreeAgent is cloud-based accounting software that works for multiple industries and company sizes, providing many features in a user-friendly interface. Even if the user has no prior accounting knowledge, it simplifies accounting.
Founded in 2007, FreeAgent's headquarter situates in Edinburgh, Scotland. Currently, the accounting system has more than 60,000 customers worldwide. As simple and basic as it seems, FreeAgent keeps accountants on top of their cash flow and automates a large part of their payment operations.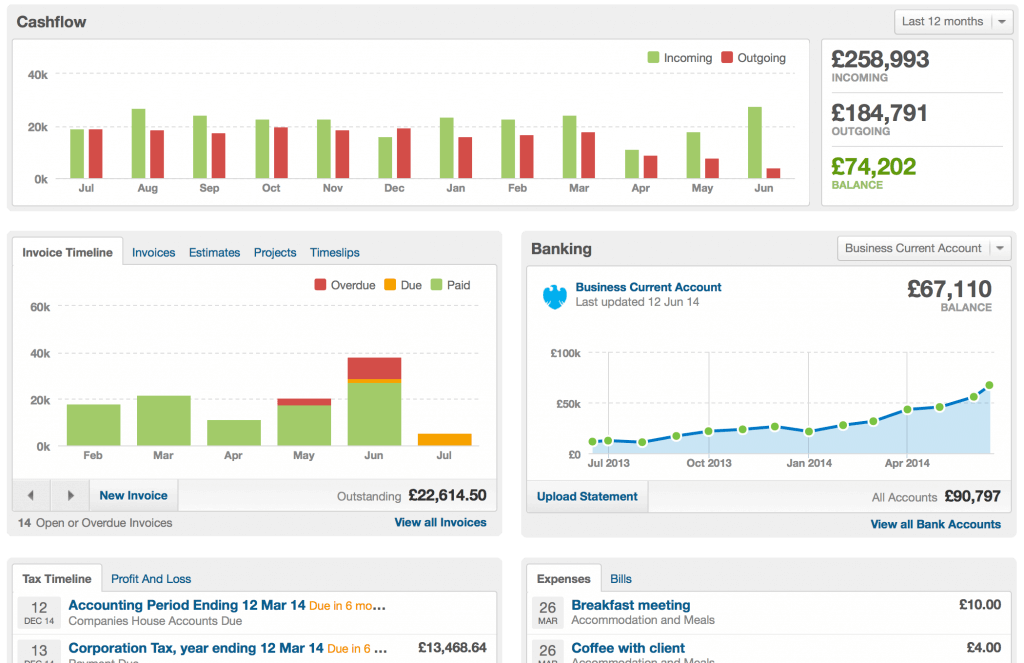 Xero Review: Basics
Xero is a SaaS solution founded in 2006 in New Zealand. It is another cloud accounting software with booking keeping and accounting functions to help manage all the aspects of the business.
Natively built for the cloud, it allows you to access the app from anywhere and at any time. With more than 2 million subscribers, Xero is suitable for any user regardless of their previous experience.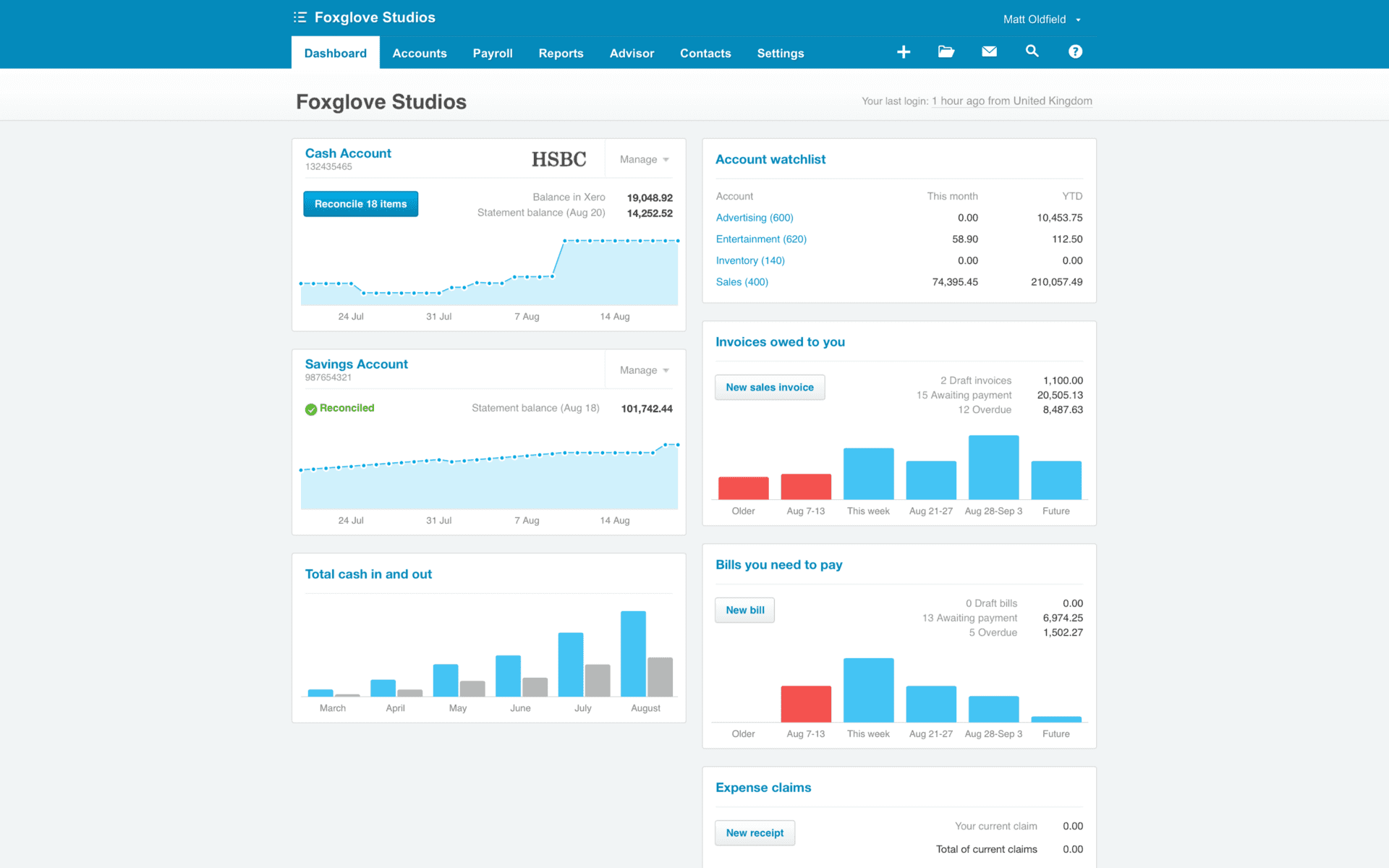 What Features Does FreeAgent Offer?
The primary purpose of FreeAgent is to make paying and getting paid more understandable to people with no prior accounting experience.
As a result, it offers a list of easy-to-access tools that provide much functionality and accuracy. Here are some of its helpful features:
User-Friendly Solution
The accounting system is based on the traditional double-entry accounting logic, with no room for confusion. As a result, it's one of the best tools to facilitate complex accounting operations for small businesses, sole traders, and freelancers.
The platform is highly intuitive with no learning curve, and the dashboard is easy to understand, even if you're a novice user. The interface navigation is straightforward; you can easily access all the charts and graphs from the dashboard. See invoices, monitor cash flow, and calculate expenses and profits with one click.
Accessibility
FreeAgent is available for Windows, Linux, Mac, and Android devices, and it's available in the English language. Users can contact the company through phone or email for any issues, and the app offers live support.
Intuitive Dashboard
FreeAgent's developers got inspired by Windows, including buttons and dropdown menus that every computer user knows. The dashboard features a modern design and displays all the essential information to help you assess your business's financial situation.
For example, there are different cash flow charts on top of the page, and you can customize the display to show transactions during the past three, six, or even twelve months.
Besides, FreeAgent displays contacts and simple project management-related tasks for fast access. So as a business owner or freelancer, you can constantly assess your business's situation at a glance.
Invoicing Management
FreeAgent offers eight different invoicing templates to facilitate creating invoices for various industries and businesses. But that's not all; as these templates are customizable, you can easily edit them to suit your needs better. For example, you can easily add your company's logo or set reminders for recurring invoices.
You can also use FreeAgent for contract management by regulating the operations between your company and various vendors and contractors. You can save your custom notes to the contract and email the details.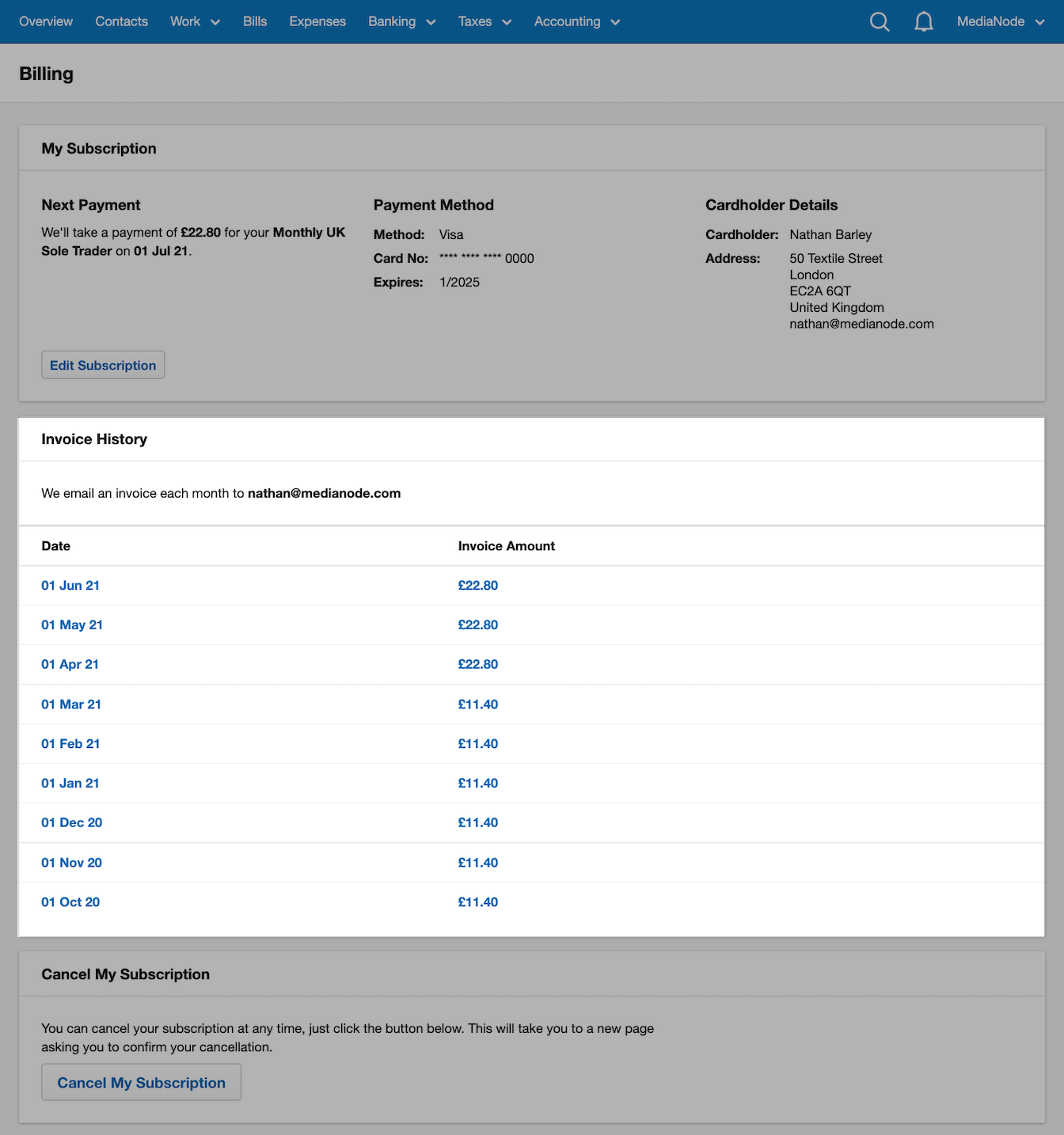 Expense Tracking
Keeping track of every expense can be a daunting task, especially for a small business owner. But FreeAgent does this job automatically:
track bank feeds and statements
enter expenses manually
Unfortunately, the app doesn't comply with the traditional statement-balance account reconciliation procedure, and in most cases, you'll have to enter descriptions for feeds manually. However, once you fill in all expenses, the system allows you to attach them to various projects. You can also bill these expenses to customers.
The advanced expense management feature is a big plus in FreeAgent. The accounting software categorizes expenses by currency and links all expenses to different projects and activities.
Accounts Payable
FreeAgent efficiently keeps records of your bills in the accounts payable tab. As a result, you can pay your suppliers and vendors on time.
The accoutning system allows the user to customize the billing system by adding descriptions and attaching them to various projects. At the same time, you can set a reminder for recurring bills to save time.
Fast Payments
FreeAgent makes the job easy and fast whether you want to pay your vendors or employees; it links to several international payment systems.
As a result, you can quickly pay anyone via GoCardless or PayPal. At the same time, FreeAgent accepts payments from major credit card providers and international banks.
Tax Management
FreeAgent features a Schedule C used to prepare tax documents. With this form, users who own a C or S corporation in the US can prepare tax reports, debit and credit reports, and eventually calculate total tax.
However, the software doesn't calculate the estimated tax, but facilitates the process. For example, you can apply multiple sales tax levels and set the currency in addition to other settings for accurate calculations. In the UK, FreeAgent offers VAT support.
FreeAgent doesn't automatically calculate the estimated taxes on its own. Instead, you can copy the total amounts manually and grant access to an accountant to do your taxes.
Inventory Tracking
FreeAgent offers a different approach to inventory tracking. Once you create an item record, you can set the amount available for this item. Besides the quantity changes when you buy or sell this item through different journal entries. However, you can't see the amount in the invoices.
Xero Functionality at Display
Xero is accessible accounting software for established businesses, freelancers, and first-time users. In addition, users with no prior accounting knowledge can find Xero easy-to-use. Here are some of the features that the accounting system offers:
Straightforward Setup
Xero offers the Express Setup feature, which allows you to have it running in absolutely no time. Since it's available in cloud hosting and open API interfaces, setting up and using your account won't take much effort. All you have to do is follow the steps on the screen and customize your account to better suit your business needs.
You can use Xero on your computer or smartphone because it's web-based and available for Android and iOS devices. As a result, it's more accessible for remote working conditions. In addition, you can import the data stored on any other accounting app to Xero as it supports different document formats.
Simple and Secure Transactions
Installing Xero means providing users with a simplified process to manage their accounting tasks. You get different built-in templates to facilitate your job, and can easily customize them to suit your business needs better.
To keep transactions and financial information safe, Xero provides a multiple-approval procedure with two-factor authentication to eliminate the possibility of financial fraud. Besides, you get to see a list of detailed actions and how they relate to every transaction to keep track of your accounting history.
Thanks to Xero, you can monitor sales and purchases with all details related to dates and manual notes. Or easily categorize purchase orders and invoices.
Track Profits and Projects
Keep track of your business tractions and projects with Xero. Monitor projects' time and costs and create customized invoices for online payments.
Besides, you can enter the project's details by assigning it to a contact and setting its budget and deadline. Moreover, every project gets its homepage, which displays all the expenses, time spent, quotes, and invoices to help you estimate the project's profitability.
Track Bank Transactions
Use Xero to evaluate your business's current financial health by connecting the app to your bank account. The app automatically receives bank feeds and allows you to track the money getting in and out of your bank account.
Xero offers real-time data sharing between you and your customers, which is a feature you don't get with other apps meant for small and medium-sized businesses.
Keep Record of Inventory
Xero effortlessly tracks your inventory to determine if you need to buy an item. This way, you don't face a shortage that might affect relationships with clients.
This feature might not be Xero's biggest strength compared to other apps, but it's suitable for less complicated transactions.
Create Financial Reports
See the effect of all your activities and how they reflect on your company's financial situation. Xero comes with some standard reports like:
balance sheets
cash flow records
income statements
The accounting software also allows you to customize reports to reflect your business's nature. Besides, you can create some precise reports to track sales per a single project or expenses per a single client. This way, you can categorize transactions and create an invoicing profile for every current client.
Moreover, Xero comes with a reliable Business Performance tool that tracks the net value per sale. It also offers Management Reports to calculate the company's ROI and highlight cash flow observations so you can make better management decisions.
Handle Sales Tax
Once you turn on the Sales Tax features, the app calculates the amount based on the customer's current location. You can also have a sales tax summary and sales tax audit reports for future reviews.
Store Bills and Receipts
Xero cancels the need to store paper receipts and bills, as you can scan or upload documents and organize them for future access. The app allows you to store them online or use your email to keep them organized.
Since 2018, Xero has acquired Hubdoc to manage financial documents efficiently. Users can import financial documents and export the data to reduce manual data entry.
Multiple Currency Payments
Unlike other apps, Xero can handle more than 160 currencies, guaranteeing that you'll always get paid and pay your clients on time. Moreover, the software gets linked to up-to-date exchange rates and does currency conversions in real-time to save time and effort.
Payroll Reports
Although the app doesn't provide payroll reports, you can integrate Gusto with Xero, so you don't feel like using two different apps. Together, they provide access to comprehensive payroll management for maximum accuracy.
FreeAgent vs Xero: Comparing Pricing
Both accounting solutions are designed for companies with no dedicated accounting teams. However, are they both worth money? Or does only one of them work for your company? Let's find out.
How Much to Pay for FreeAgent?
FreeAgent offers a 30-day free trial, and then you'll have to pay $20 per month to enjoy its full version. However, as a new subscriber, you get a 50% discount. Once you set up your account, pay for six months. After that, FreeAgent charges you every month.
The accounting software has a fantastic offer: get an annual subscription and pay only for five months. Then renew a subscription and get charged just for five months.
You don't need your credit card to enjoy the free trial, and you can cancel your subscription at any time. In addition, there's no limit to the number of users or clients you add to your account, and there are no setup fees.
How Much Does Xero Cost?
Xero has three pricing plans to suit different business models.
The Early plan costs $12 and is suitable for new businesses and freelancers. It's pretty basic as it offers bank statement reconciliation and up to 20 invoices. However, it lacks features like using multiple currencies and keeping track of projects.
The Growing plan costs $34 per month and has no limit over sending invoices and creating bills. It offers bank statement reconciliation and bulk reconciliation transactions. This plan is perfect for growing small and medium-sized companies.
The most expensive plan is the Established plan which costs $65 per month. It's suitable for established businesses and offers in-depth analytics, expenses, and project tracking.
All three plans are compatible with Gusto for payroll management. But you need to pay $39 per month to use this software in compliance with Xero.
Which Platform Is Better: FreeAgent vs Xero?
No one is perfect, and the same applies to both accounting systems. FreeAgent and Xero are two remarkable tools that have their strengths. But what about weak points?
What Are FreeAgent Pros?
Excellent and easy-to-understand dashboard
Fast navigation
Simple transactions
Create self-assessment reports for profits and losses
Built-in time tracking and the ability to create timesheets
Users can book a support call from the website to handle any issues
What Are FreeAgent Cons?
The dashboard is too simple, and the tasks are pretty basic
The app doesn't integrate with a lot of e-commerce sites or other external apps
The inventory tracking feature doesn't provide enough data
Inability to calculate estimated tax amounts
What Are Xero Benefits?
Xero can process transactions in more than 160 currencies
Provides comprehensive inventory management
In-depth analysis and views for better financial management
Improved security
Interactive quotes and smart reports
Integrated app for payroll management
What Are Xero Drawbacks?
The entry-level plan is pretty limited
Gaining access to all features is quite expensive
No live support
The business has to follow up on unpaid invoices manually
Who Uses FreeAgent?
FreeAgent is an excellent choice for freelancers, nonprofit organizations, public administrations, and small businesses. Today, it helps more than 100,000 businesses to manage their finances.
Most of FreeAgent's clients come from different industries in the UK, including pet care, film, coffee shops, contractors, accountants, and bookkeepers. Because of its hassle-free nature, FreeAgent works for traditional traders, landlords, retail and hospitality, and creative and technology providers.
Companies like Laurus Group, Laser Red, and USWeb, LLC rely on FreeAgent to manage their finances.
Who Uses Xero?
Xero currently acquires 8.9% of the accounting software market share. It serves about 14,000 clients, and most of its users work in the accounting industry. It's suitable for computer software, recruiting, and financial services.
This invoicing solution is popular in both the US and the UK, usually used by small and medium-sized companies. For example, organizations like The American Red Cross, Zendesk Inc, and Deverell Smith rely on this accounting tool.
How to Migrate Data to FreeAgent or Xero?
Migrating from one accounting tool to another might be necessary if you need special features to manage your business or grow and need more flexibility.
Both FreeAgent and Xero don't offer pre-built import options. If you got your data in CSV, import them manually to any of the platforms. Besides, Xero supports importing specific types of records via TXT. However, when you need to migrate all data at once, a third-party app is your only option.
For instance, you can use the Accounting & Invoicing Migration Services. The service offers a comprehensive set of data migration options to keep the process simple and hassle-free.
The list of supported apps is outstanding; even if your current app isn't available, you can request a Custom Data Migration. Besides, you can also ask for data filtering, re-migration, or a Delta Migration with a specific support package.
Is Xero or FreeAgent Your Ideal Solution?
FreeAgent and Xero are two reliable accounting tools, but each works for different purposes. If you're a freelancer or run a small-sized business, FreeAgent is a decent choice. The accoutning software is pretty basic, and the pricing plan is tempting for users with a tight budget.
Since it's compliant with the UK tax laws, FreeAgent can be an excellent choice for a UK-based business. Moreover, it's the best option for sole trading because it doesn't involve complicated details.
On the other hand, Xero is suitable for larger businesses and involves more specialized features for accounting and invoicing. However, its ability to process payments in 160 currencies makes it ideal for medium-sized and small businesses that run international business operations. It's also compatible with a payroll system for better financial management.
Frequently Asked Questions
Several software tools might be better than Xero if you're looking for more detailed financial and accounting functions. For example, you can consider QuickBooks or Zoho Books if you need a similar invoicing software with better reports and in-depth features.
FreeAgent is a straightforward way to manage daily expenses and payments. It also allows you to create professional invoices if you're a sole trader or a freelancer.
Xero is easier to use than Excel, and it also offers exceptional financial, accounting, and payroll features.
Xero is an excellent option for bookkeeping and automating tasks for future review.
Although it has features ideal for healthcare business management, Xero doesn't state that it's HIPAA compliant.