QuickBooks is one of the most renowned entry-level accounting software available on the market. However, several alternatives can give QuickBooks a run for its money! Keep reading for detailed reviews on four of the best QuickBooks alternatives.
Xero
You are probably not going to come across a better QuickBooks alternative than Xero. It's the ideal choice if you're looking for small business accounting software that you can use with several apps in many categories.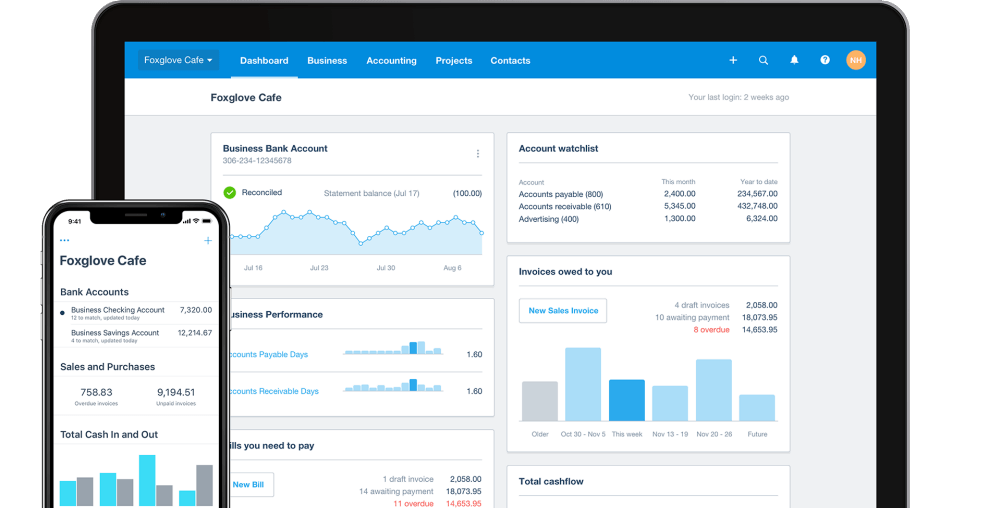 Xero Key Features
This system provides impressive accounting functionality, but its strongest suit is that it can integrate with numerous applications. Indeed, it can integrate with a staggering 700 applications. These apps are available in various categories, including e-commerce, CRM, practice management, time tracking, point-of-sale, and payroll.
Xero is perfect for freelancers, sole proprietors, and small businesses. It is also great for niche markets like IT, retail, e-commerce, and legal businesses.
Moreover, Xero provides a quick onboarding process and entails a user dashboard that offers swift access to all its features. These include double-entry accounting, updated invoicing capability, budgeting features, and project management.
In addition, Xero features a Contacts module. Here, you can manage contractors, vendors, and customers from a centralized location, along with the ability to create smart lists and groups. That makes it easier to target customers who are late paying and contact particular groups as well.
What's more, Xero provides several product support options. However, most of the support is carried out through email, and a useful user community is available too.
Zoho Books
Zoho Books is a very user-friendly solution for small-sized businesses and one of the best accounting software you can use instead of QuickBooks. It is a pioneer in cloud accounting and has reliable support, uptime, and security. Zoho Books offers a system that is well-integrated and enables you to construct a smoother workflow from accounting to sales with its many functionalities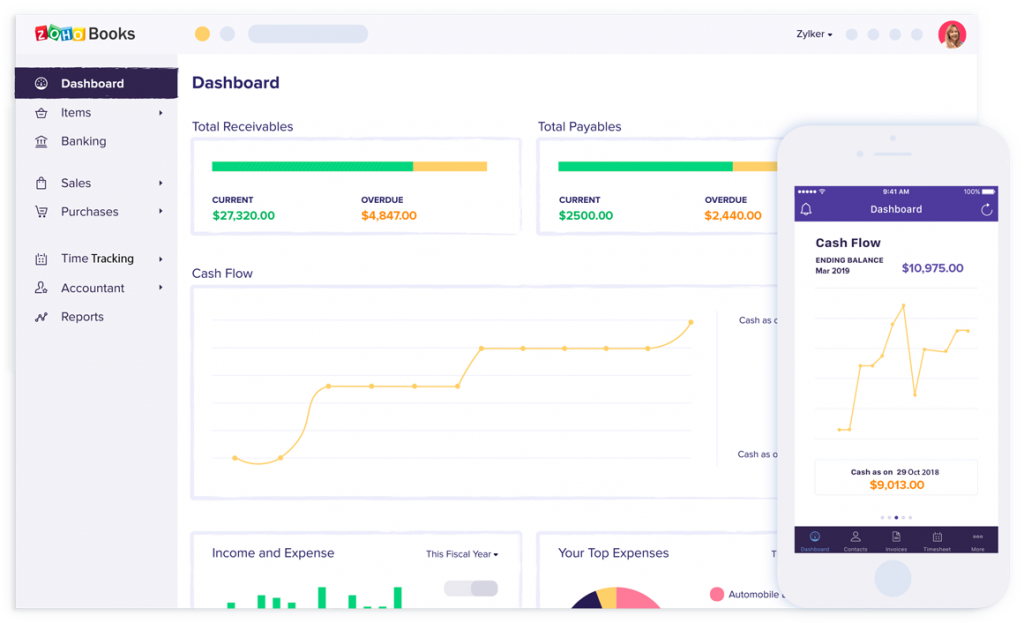 Key features
Many of its first-time users are pleased with how Zoho Books allows them to send invoices that are professionally-designed and add credibility to their operations. This software also includes various tools that merge accounting tasks under a single proverbial roof. For instance, Zoho Books features balance, loss estimates, profit sheets, and cash flow management. These happen to be regular accounting tasks, but this accounting software adds more value to them with the help of fast overviews and visual charts. You can also sign up for Zoho Books' free trial if you would like to become familiar with the features firsthand without any expense.
An additional splendid attribute of Zoho Books is that it comes equipped with collaborative client portals and contact management tools. With the help of these, you can easily run accounting tasks in sync with your client service efforts. By giving clients hassle-free access to their financial information, these tools will also let you enhance data transparency.
Wave
Wave online accounting software is the best alternative to QuickBooks if you are on a tight budget but still need an accounting application that provides dual-entry accounting capability. The best part about Wave is that it is free of cost!
Wave key features
Wave is ideally suited for sole proprietors and conveniently provides all the accounting features that you require for your small-sized business operations. That can include sales, double-entry accounting, banking, purchases, and decent reporting.
Wave has the splendid capability of invoice customization for service businesses that require superior invoicing capabilities, where you can include your logo along with additional marketing particulars. The software also provides invoice templates that you can make use of to create an invoice.
Both payroll options and online payment acceptance are readily available via Wave, although they come with a certain fee.
You will have full access to chat support, too, if you subscribe to either Wave Payroll or Wave Payments.
The biggest advantage of using Wave accounting software is that it is free (as stated above). You only have to pay if you sign up for the online payment application.
Freshbooks
Another great alternative to QuickBooks is Freshbooks and it is touted as one of the leading cloud accounting software applications. Freshbooks can turn intricate financial management into a smooth and simple experience. You can avail of their free trial plan if you want to try out its important features and see if the software aligns with your requirements.
Freshbook Key Features
This software enables businesses and companies to manage invoices and tracking and collecting payments from a single platform. This fast-tracks the cycle from order-to-collection. Furthermore, Freshbooks seamlessly integrates with payment gateways such as PayPal, Google Checkout, and credit cards, along with several other business applications. Without needing to maintain an intricate system, you get total financial control.
Freshbooks' iOS and Android mobile applications are 100 percent functional as well. One of its handy uses is taking pictures of receipts for expense management. As a result, expense liquidation becomes easier. Similarly, navigation is easy, and notifications of conflicting inputs or duplication are in place. In addition, automated task prioritization allows you to manage your time and push cash inflow right into your agenda.
Moreover, you can manage billing more easily as well, with Freshbooks. You can also track previous and current invoices and pull out any overdue or unpaid invoice swiftly from the system. In order to remind the customers of their payments in a more efficient manner, an overdue payment (automated) can also be set up. That frees you from the anxiety of following up on client payments and retain a healthy state of cash flow.
Wrapping Up
At this point, you surely have a better idea which QuickBooks alternative accounting software suits your needs. Before getting a software, be sure to thoroughly research and look into its important features to see if those are what you are looking for. Factors like the size of your company, the number of departments, and the nature of the business can heavily impact the type of QuickBooks alternative software you need.