Did you know that accounting software with powerful features can be low-cost or even free? Well, this is an important fact for small business owners who are not ready to spend a lion's share of their revenue on an accounting tool. That's why we've made this overview of the best free accounting software.
For you to better understand whether you need bookkeeping software, let's start with its definition.
What Is Accounting Software?
The main purpose of accounting software is to help businesses properly assist and improve their financial health. It speeds up processes, performs complex calculations, and streamlines accounting in every respect. What are the benefits of accounting software?
Simplified invoicing and bookkeeping
Banking & reconciliation
Automation of routine work
Online payment integrations
Accurate reporting
All these instruments put together can move your business accounting up to a new level. But is such a bouquet available in free accounting software? Positive. However, let's first clarify what a free plan means and how it differs from other pricing models.
What Are the Types of Pricing Models?
Free
Free accounting software offers no trials and upgrades. Commonly, it covers basic accounting tasks like invoicing, expense tracking, and bookkeeping. You can use free features as much time as you prefer and unsubscribe anytime. If you're a freelancer or a start-up and feel ok with ads popping up here and there, free software seems a good choice.
Freemium
This pricing model combines free and premium plans in one package. It means that you use basic features for free but can get more features by upgrading to premium plans. It is more flexible than free since you have more options. Besides, you can give the software a test drive and decide whether it's worth paying.
Free trial
This is not actually a pricing plan but an option often attached to paid plans. Accounting software with free trials allow you to use their full functionality for a relatively short period of time (7-30 days).
Paid only
To use paid accounting software, you have to make advance monthly or annual payments. Why is it paid? Because it handles more complex tasks like bank reconciliation, inventory tracking, and payroll. Usually, vendors offer several paid plans with different feature packages to make their pricing structure more flexible.
Free vs Paid: Comparison of Pros and Cons
Benefits of free
No expenses. If not take into account data migration and training, free software requires absolutely no costs.
No strings attached. Once you subscribe to a free plan, you take no responsibility for on-time payments and further upgrades. You just use the software as long as you need it and replace it with another tool anytime.
Excellent for small teams. Free accounting software is an optimal choice for business owners and accountants who look for basic features. Moreover, the variety of free tools allows you to choose the one that meets your needs ultimately.
Limitations of free
Limited features. Free software is rarely generous in terms of features, so you'll be limited to basic functions. Even if you choose freemium, one important feature may be out of this plan, so you'll need to pay for it.
Narrow suitability. Commonly, free accounting software is helpful as long as your business stays small. If you plan to grow, you'll require more advanced features offered in paid plans.
Limited privacy and security options. Before subscribing to a free plan, take time to examine the vendor's privacy policy and check what data is accessible to third parties and what are the security options.
Pros of paid
Flexibility. Paid accounting software offers more customization options related to invoicing, reporting, and business rules. Thus you can tailor the tool to your needs and get more efficient.
Advanced customer service. Often, enhanced customer support is available only on paid plans. You can make a request through email, live chat, phone, or even get a dedicated support team.
Time-efficiency. If free software wins in terms of finances, the paid software wins in terms of time. Besides the scalable functionality, it offers advanced automations, so the manual work boils down to minor tasks.
Cons of paid
Recurring costs. Investing in software means regular spending of some part of your profit. Plus, the costs will increase as your business grows and requires more advanced features.
How to Compare Accounting Software Options for Small Businesses?
Why do you need accounting software? Well, you're reading this article right now and this is the first reason. There might have been several signs that made you think about getting an accounting and billing tool. Commonly, these are
Spending much time on repetitive tasks
Using several different tools
Slow access to information
Increasing manual errors
Lack of accounting skills
If you can put a tick near at least three of these signs, be sure to read on. So, how to compare the options of accounting tools? Here's what you should focus on:
Accessibility. If your agenda is full, sitting in front of a computer all the time is impossible. Thus, you need to manage work on the go and have access to your accounting data. This is the reason to look for a cloud accounting tool with a mobile app.
Scalability. If you plan to expand, your accounting needs will constantly grow. To avoid switching the apps one after another, make sure the tool can scale these changes.
Must-have features. Check whether the tool has all the necessary features for your accounting. These might be income and expense tracking, inventory, project management, etc. Otherwise, you'll need to look for add-ons or third-party integrations.
Upgrades. When your free accounting software can no longer cope with the tasks, you'll think about the paid plans. It's convenient to use the same tool since you already got used to it and can better tailor it to your growing needs.
A Shortlist of Free Accounting Software
Now, when you know the basic principles of choosing accounting software, let's move to the overview of the best free options.
#1 Zoho Books
Zoho Books is a robust cloud accounting system that covers more than the basic needs of a small business. It streamlines processes with automation and integration with multiple payment gateways. The downside is that there's no built-in inventory management, so you have to install an add-on for it. Also, you can add only up to 5 users to the system.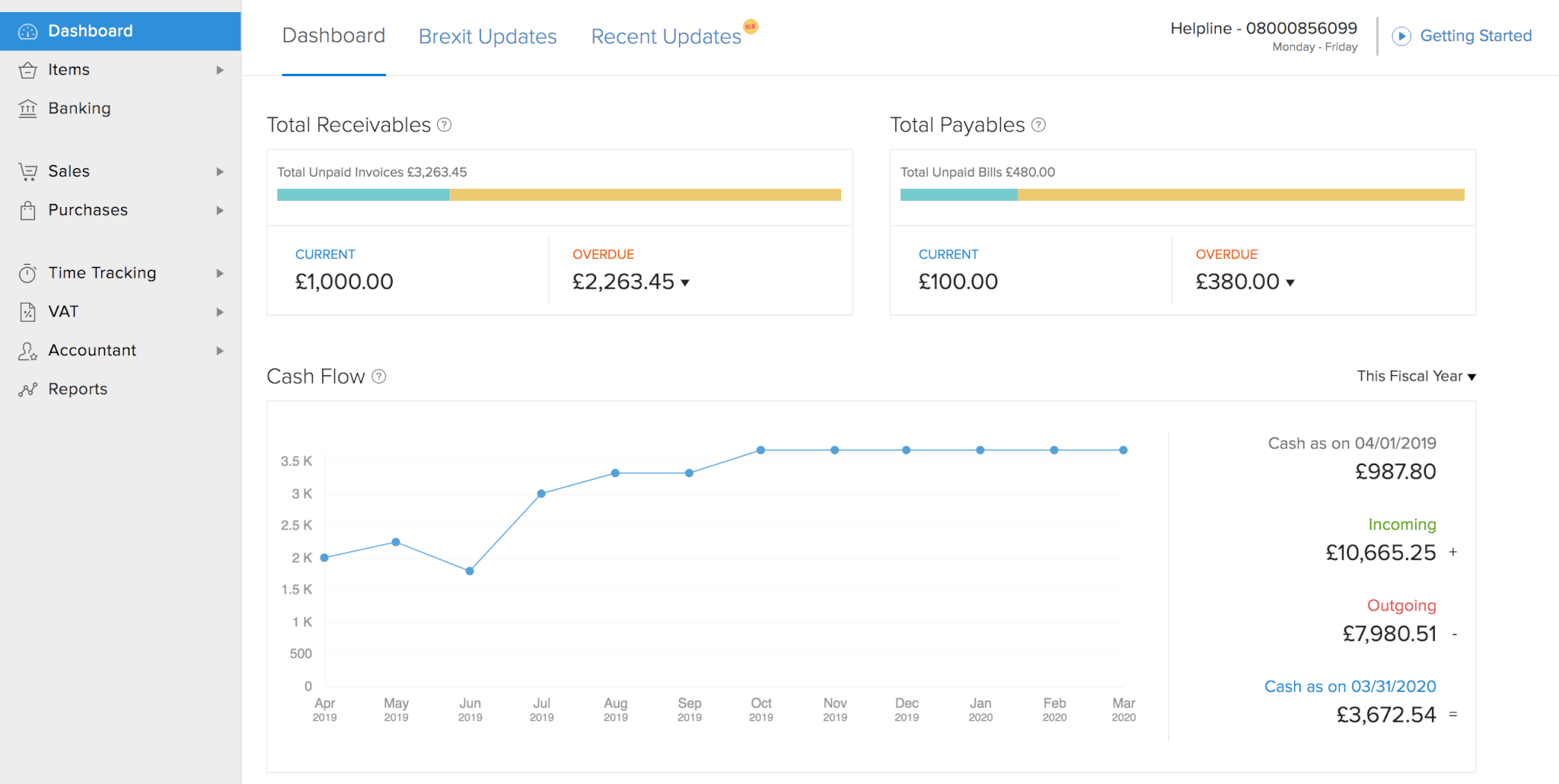 Source: Zoho Books
What can you use Zoho Books for?
Manage contacts and communicate with clients and vendors. Use a client portal to let customers track their transactions and edit contact details.
Create and send multi-currency invoices with custom logos, fonts, and several payment options. You can set automated reminders and recurring invoices.
Track and categorize expenses, send bills to customers, and set recurring expenses.
Connect and reconcile bank accounts, check cash flow predictions, balance mismatches, categorize transactions, and perform bulk actions.
Track finances in dashboards, charts, and reports. Schedule reports, share them with the team, and get reports by email. Also, you can add reporting tags and associate them with products and contacts.
Is Zoho Books easy to use?
Zoho Books offers a straightforward interface and is easy to navigate. You can quickly access all basic accounting sectors and check updates on the dashboard.
Mobile app
Zoho Books delivers a powerful mobile app compatible with a range of devices. You can use it to manage estimates and invoices, record expenses and bills, create unlimited transactions, and track billable time.
Security
Zoho provides multi-layered security including network firewalls, DDoS protection, OWASP security standards, TLS 1.2/1.3 encryption, SSO, multi-factor authentication, and more.
Who's it good for?
Zoho Books' free plan is good for small and micro businesses and freelancers. It fits such industries as IT, computer software, marketing & advertising, and construction.
#2 FreeAgent
FreeAgent is a comprehensive accounting platform with several advanced features. This software is completely unlimited in terms of users, clients, and projects. The catch is that it's free only for banking customers of Natwest/Royal Bank of Scotland (RBS).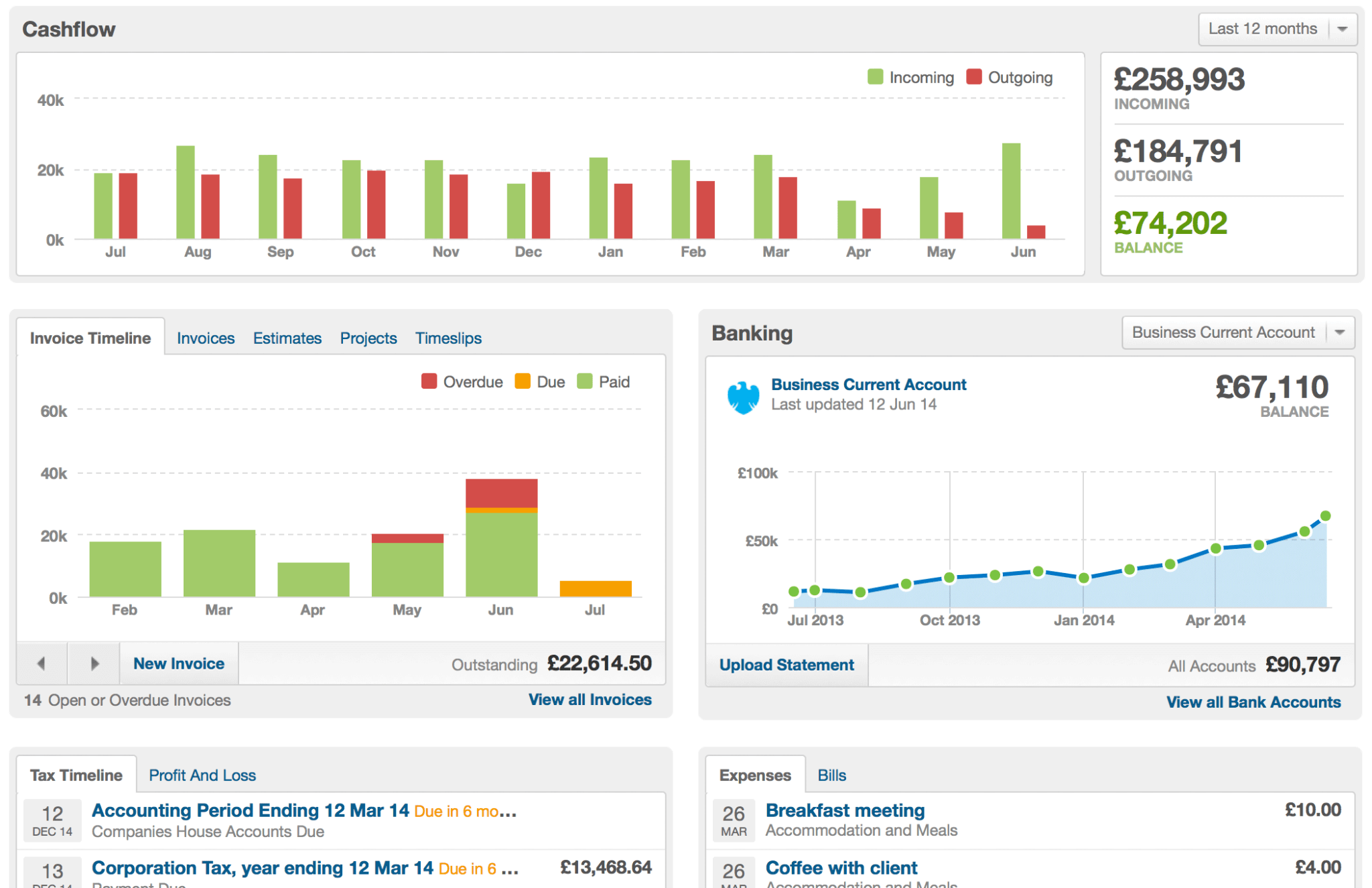 Source: FreeAgent
What can FreeAgent do?
Generate and send invoices, customize them with CSS, add several payment options, track due invoices, and set payment reminders.
Create estimates in multiple currencies and languages and convert them into invoices, projects, and tasks.
Set up encrypted bank feeds and reconcile statements with an AI-powered categorization tool.
Create timesheets with a time tracking tool.
Manage projects and track project profitability.
Is FreeAgent easy to use?
FreeAgent is an intuitive platform with a simple setup. You can use detailed FreeAgent instructions to guide you through onboarding.
Mobile app
FreeAgent offers a robust and straightforward mobile app for iOS and Android. With it, you can record expenses, reconcile transactions, create timeslips, track overdue invoices on a dashboard, and more.
Security
FreeAgent security includes ISO 27001, 27017, and 27018 certifications, GDPR compliance, TLS 1.2 encryption, DDoS mitigation, and DPA 2018.
Who's it good for?
FreeAgent is used by over 1M small businesses and also fits freelancers and contractors. It is popular in computer software, IT, internet, design, and marketing & advertising.
#3 Wave Accounting
Wave Accounting is a cloud-based free accounting software that allows unlimited users, invoicing, and banking. This software is best for one user and can also feet freelancers and small teams. Besides, you can get paid features like payroll and cash flow, if necessary.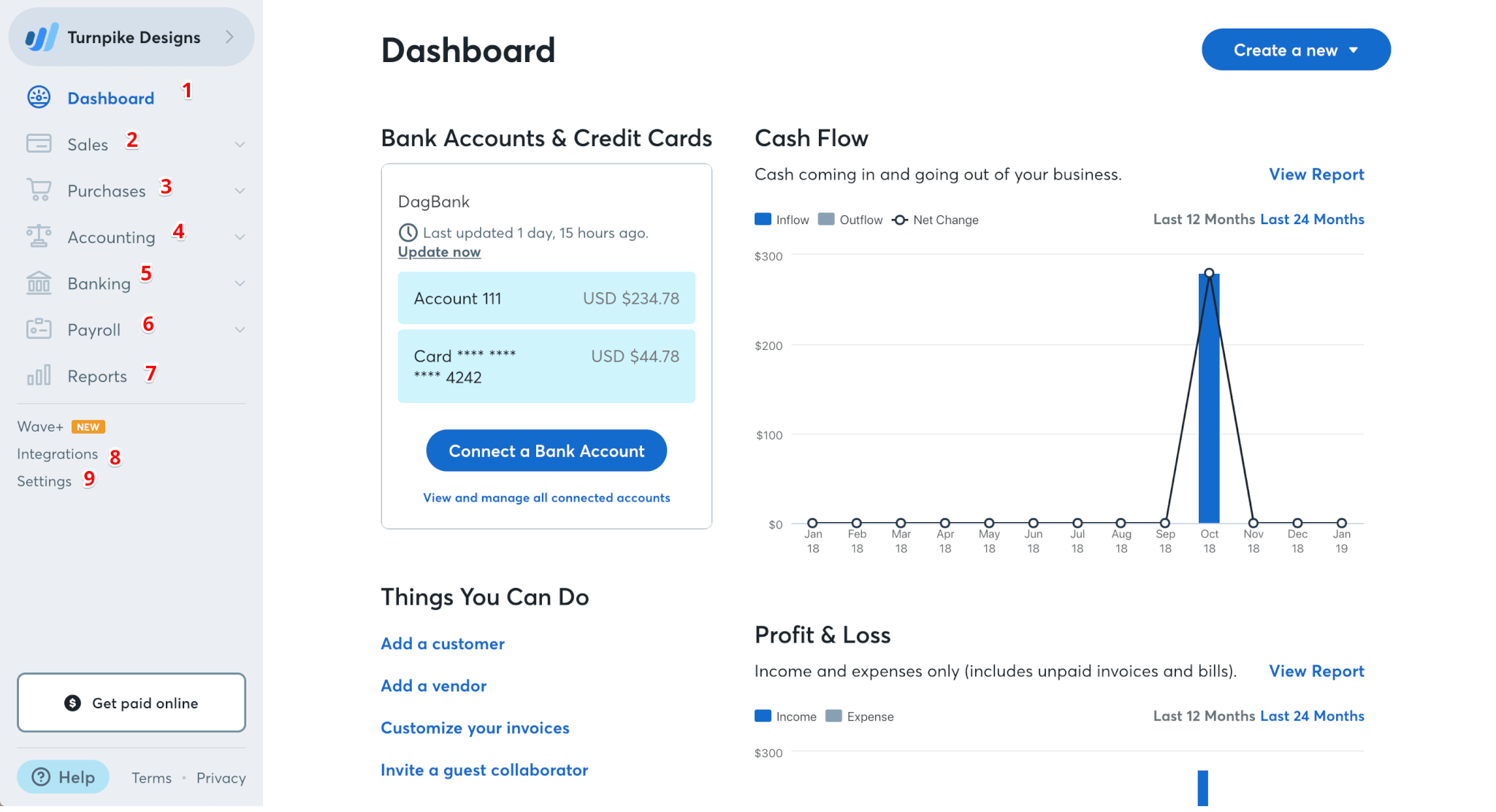 Source: Wave Accounting
What does Wave Accounting do?
Create branded invoices, set automated reminders, and enable different payment methods in your invoices.
Make unlimited bank connections and sync data automatically.
Generate reports on overdue invoices and profit & loss.
Use a dashboard to get a snapshot of your finances and do operations right away.
Is Wave Accounting easy to use?
You can get the most out of Wave Accounting without previous experience. It offers a user-friendly UI and is easy to navigate.
Mobile app
Wave offers two mobile apps - Receipts and Invoices. You can use Receipts to take photos of receipts and covert them into expense transactions. With Invoices, you can create and send invoices and reminders, track invoice statuses, and accept payments.
Security
Wave Accounting is a PCL Level 1 Service Provider and delivers 256-bit TLS encryption, 24/7 data storage monitoring, and integration with third-party anti-fraud service providers.
Who's it good for?
Wave Accounting is designed for freelancers and small businesses in accounting, computer software, IT, and nonprofit industries.
#4 ZipBooks
ZipBooks is a web-based accounting app that covers the crucial needs of your bookkeeper or accountant. The tool provides paid options to accommodate business growth and is free as long as your needs remain relatively modest.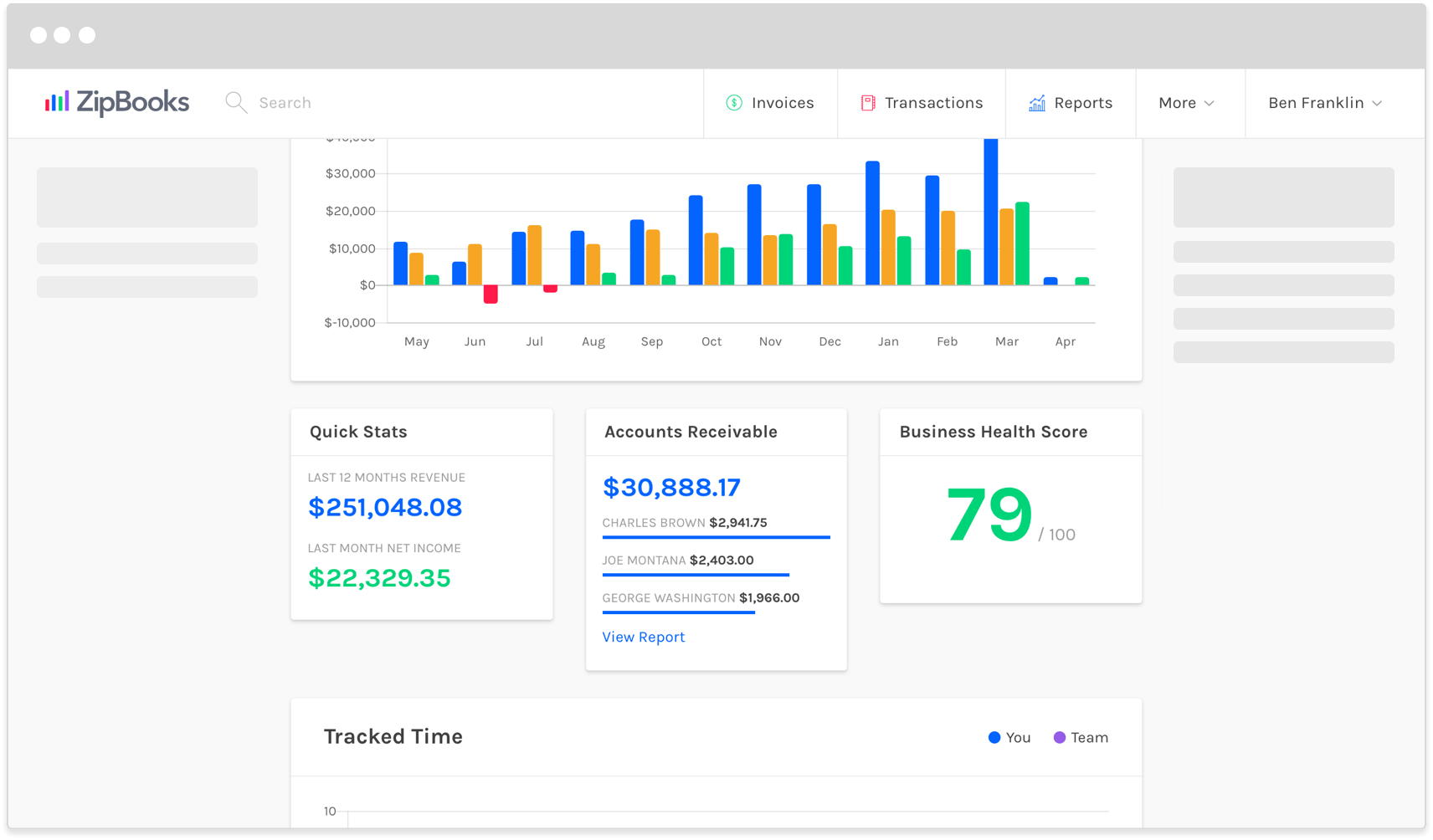 Source: ZipBooks
What can you do with ZipBooks?
Send unlimited customized invoices, set payment reminders, and get paid with credit cards or PayPal.
Set recurring billing on a monthly, quarterly, or annual basis.
Add items to inventory and save them for future use in invoices.
Reconcile bank accounts and categorize transactions.
Track billable time and associate it with projects and customers. The app can automatically fill in time entries and do calculations.
Is ZipBooks easy to use?
ZipBooks comes with easy navigation and takes little time to set up even for beginners. The toolbar gives you access to all system functions.
Mobile app
ZipBooks offers a mobile app only for iOS. With it, you can create and send invoices, mark them as paid, and track your billing and revenue from a dashboard.
Security
ZipBooks provides 256-bit TLS encryption, two-factor authentication, security testings, regular data backups, and user access control.
Who's it good for?
The common ZipBooks users are small businesses with up to 50 employees who come from the IT industry.
Free Accounting Software Alternatives to Check
#1 QuickBooks Online
QuickBooks Online is one of the top accounting systems for small businesses. It is comprehensive and highly customizable, so you can easily tailor it to your needs. This software comes with an advanced interface, so beginners might face a steep learning curve.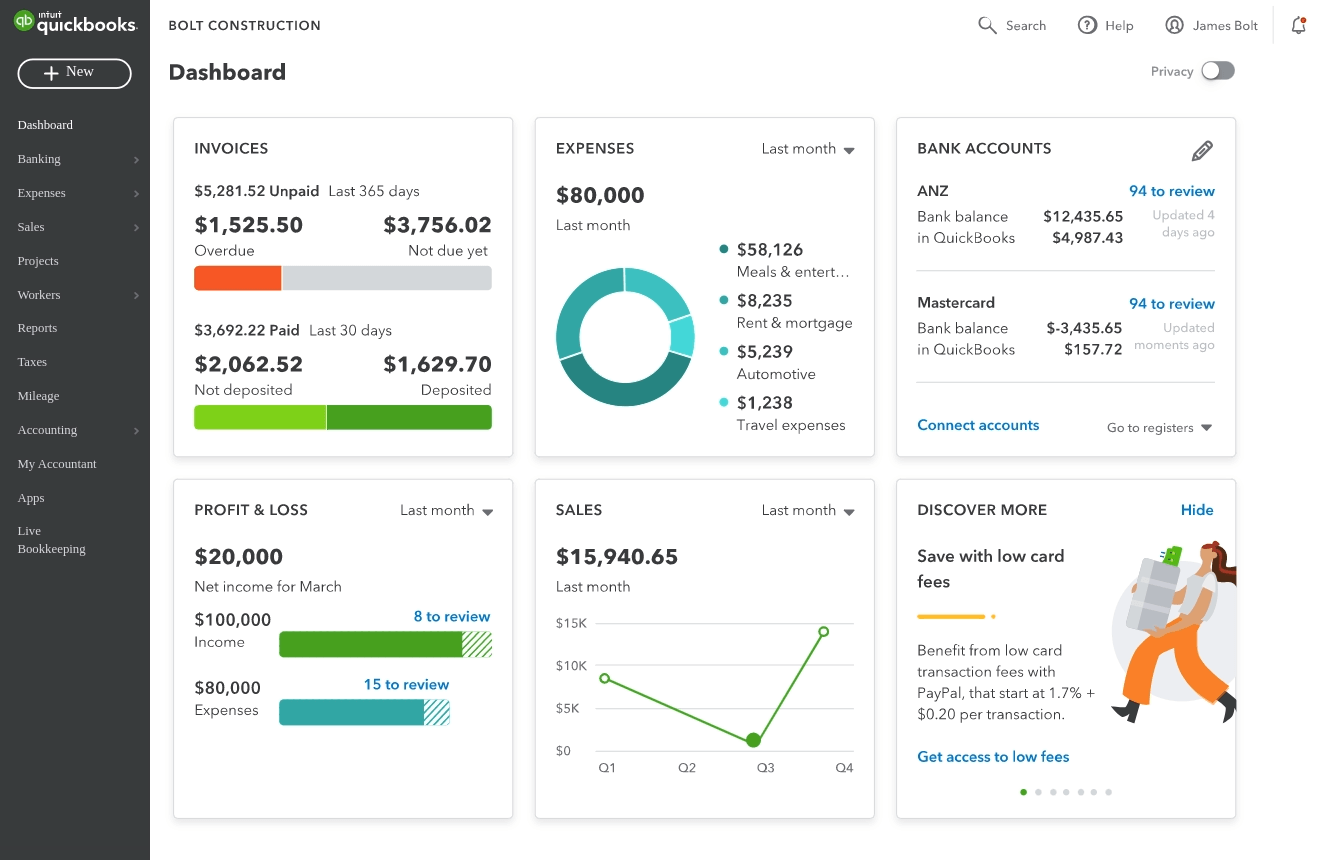 Source: QuickBooks Online
What features does QuickBooks Online have?
Full-featured invoicing
Bank reconciliation
Inventory tracking
Double-entry bookkeeping
Project management
In-depth reporting
Pricing
You can choose between four pricing tiers ranging from $30 to $100 per month. Plus is the most popular plan with a full feature package for small businesses.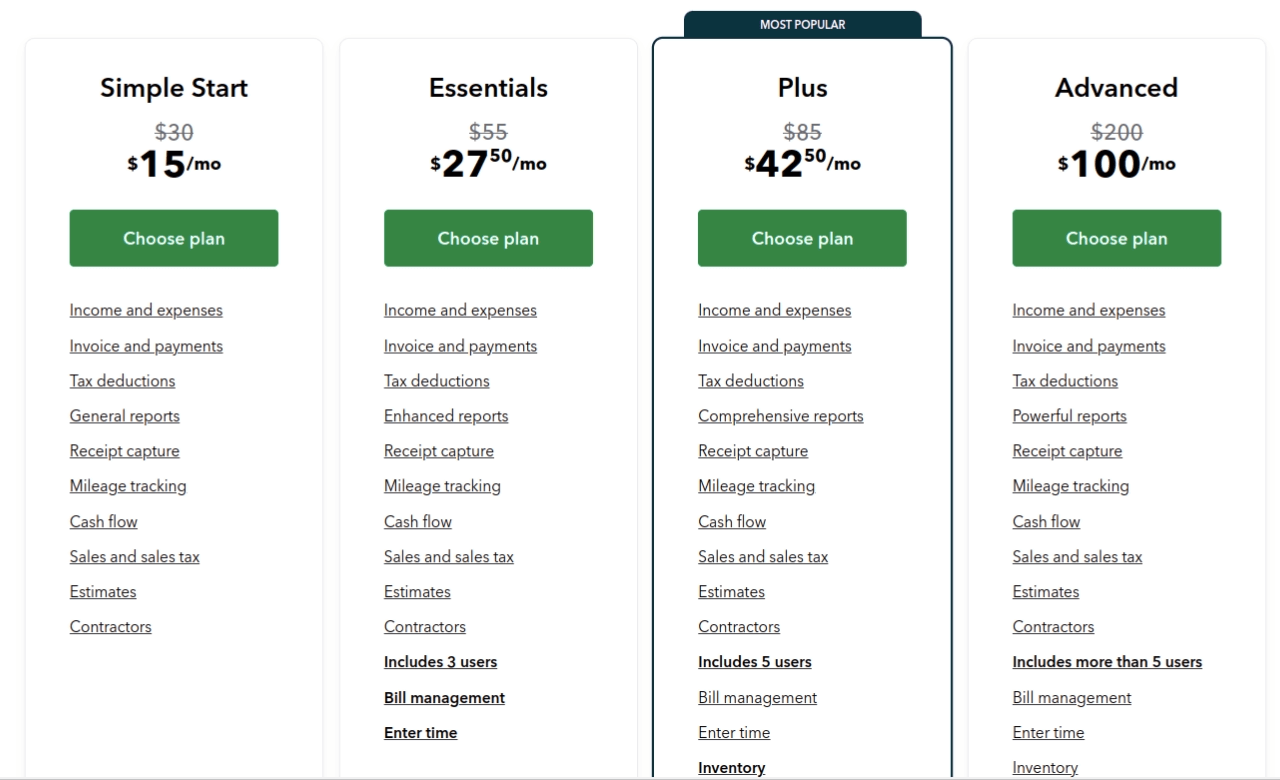 Source: QuickBooks Online
Mobile app
The mobile app performs nearly all functions that are available for the desktop version. Plus, you can track time and mileage and capture receipts.
Security
QuickBooks Online is a DigiCert® secured product and a licensee of the TRUSTe Privacy Program. It provides 128-bit SSL encryption, data backups, and security audits.
Who's it good for?
QuickBooks Online is popular among small business owners, CPAs, and bookkeepers. It suits such industries as accounting, computer software, construction, IT, and hospital & healthcare.
#2 Freshbooks
Freshbooks is a cloud-based software that delivers a well-rounded accounting experience. It is user-friendly and highly affordable.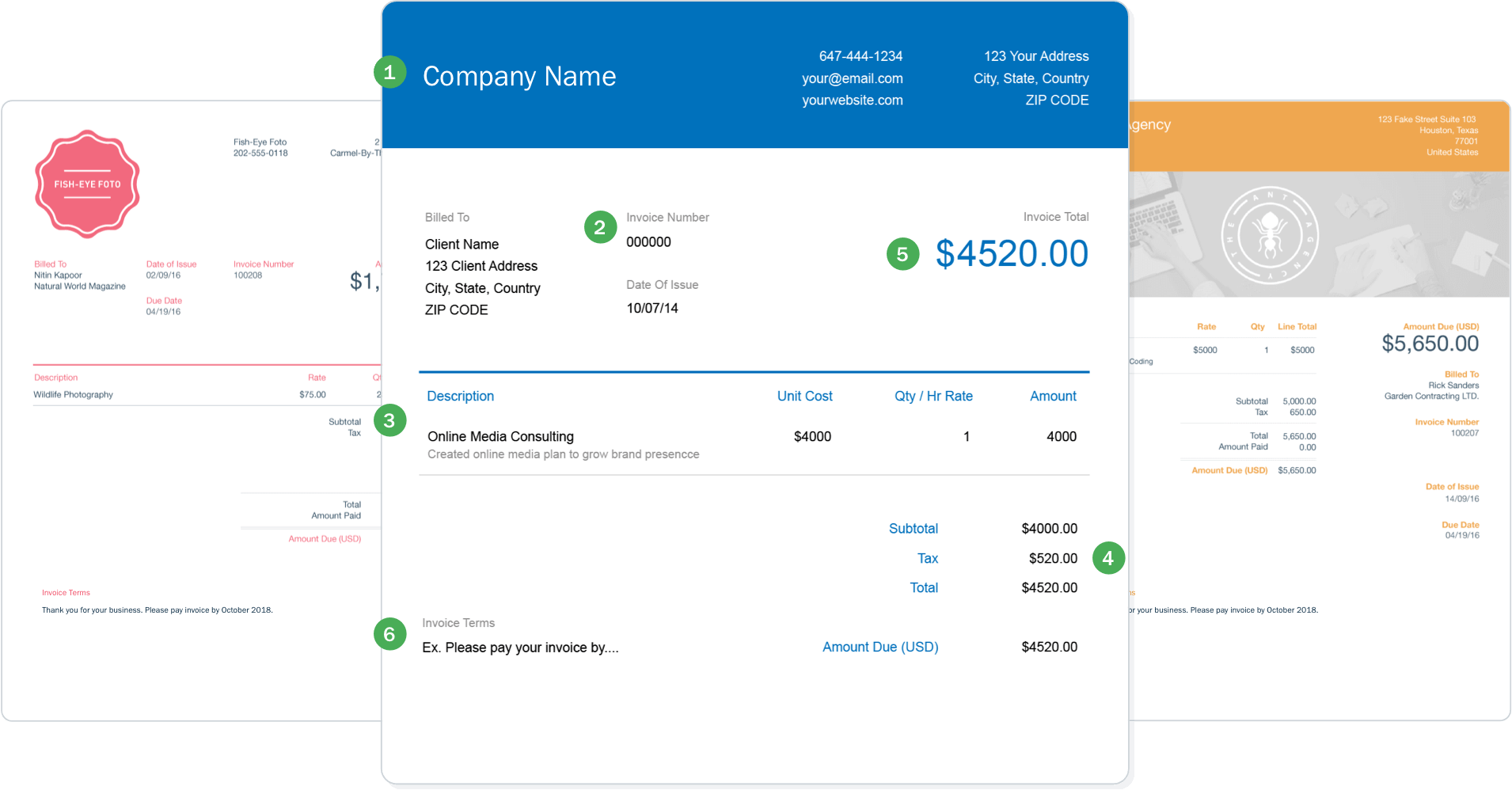 Source: Freshbooks
What can you use Freshbooks for?
Invoicing and online payments
Expense tracking
Inventory tracking
Project management and time tracking
Financial reporting
Pricing
Freshbooks offers several pricing options based on the number of your active clients. The lowest plan costs $4.50 while the most popular Plus plan is $7.50 per month. You can use a 30-day free trial for each plan.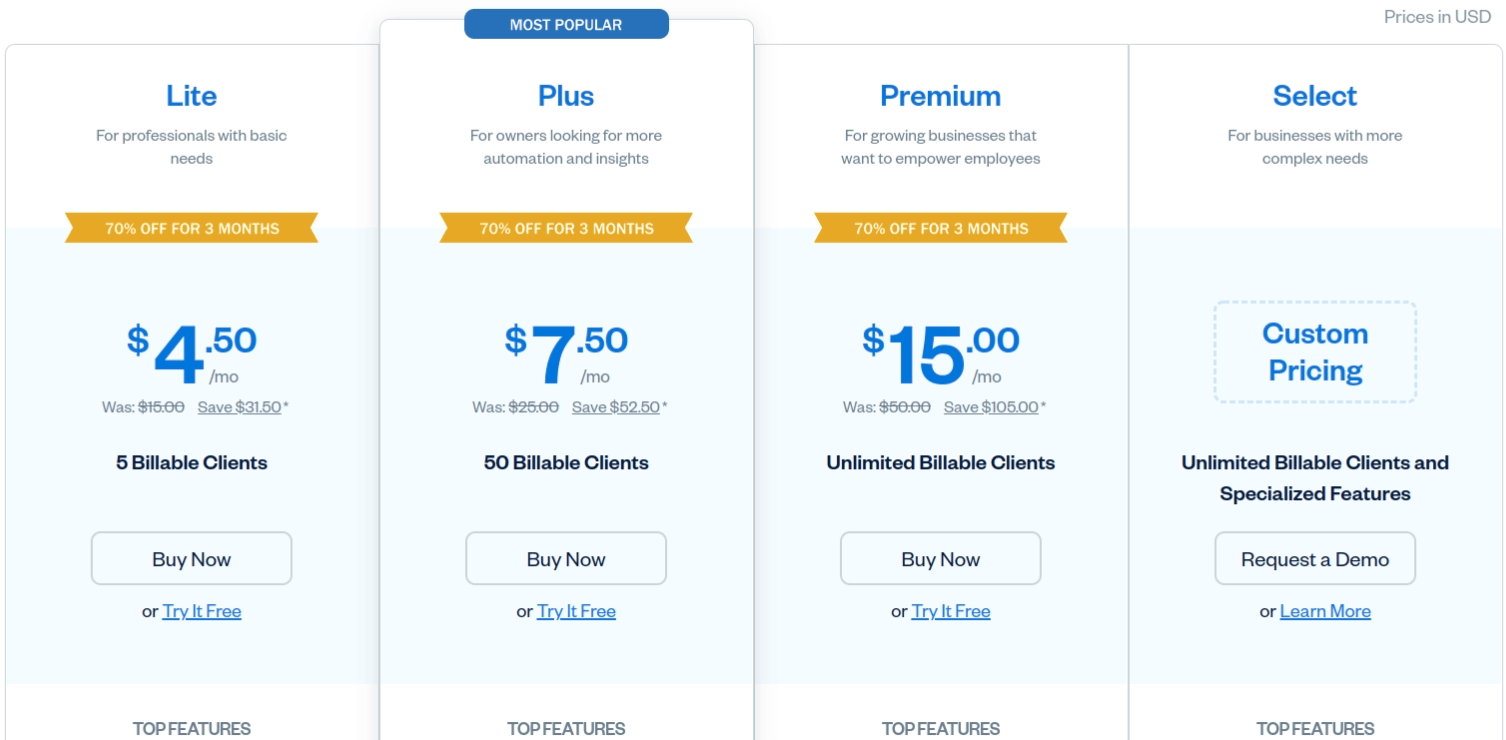 Source: Freshbooks
Mobile app
Freshbooks mobile app allows you to manage invoices, track billable hours, capture receipts, chat with customers, accept payments, and enter expenses.
Security
Freshbooks follows PCI and OWASP standards and provides 256-bit SSL encryption and data backups.
Who's it good for?
Freshbooks is most often used by freelancers and teams with up to 10 members. It covers such industries as IT, computer software, marketing & advertising, and accounting.
#3 Xero
Xero offers cloud-based accounting software that covers all the basic needs of an accountant. According to user reviews, it's intuitive but may require more time to learn if you've not been familiar with accounting software.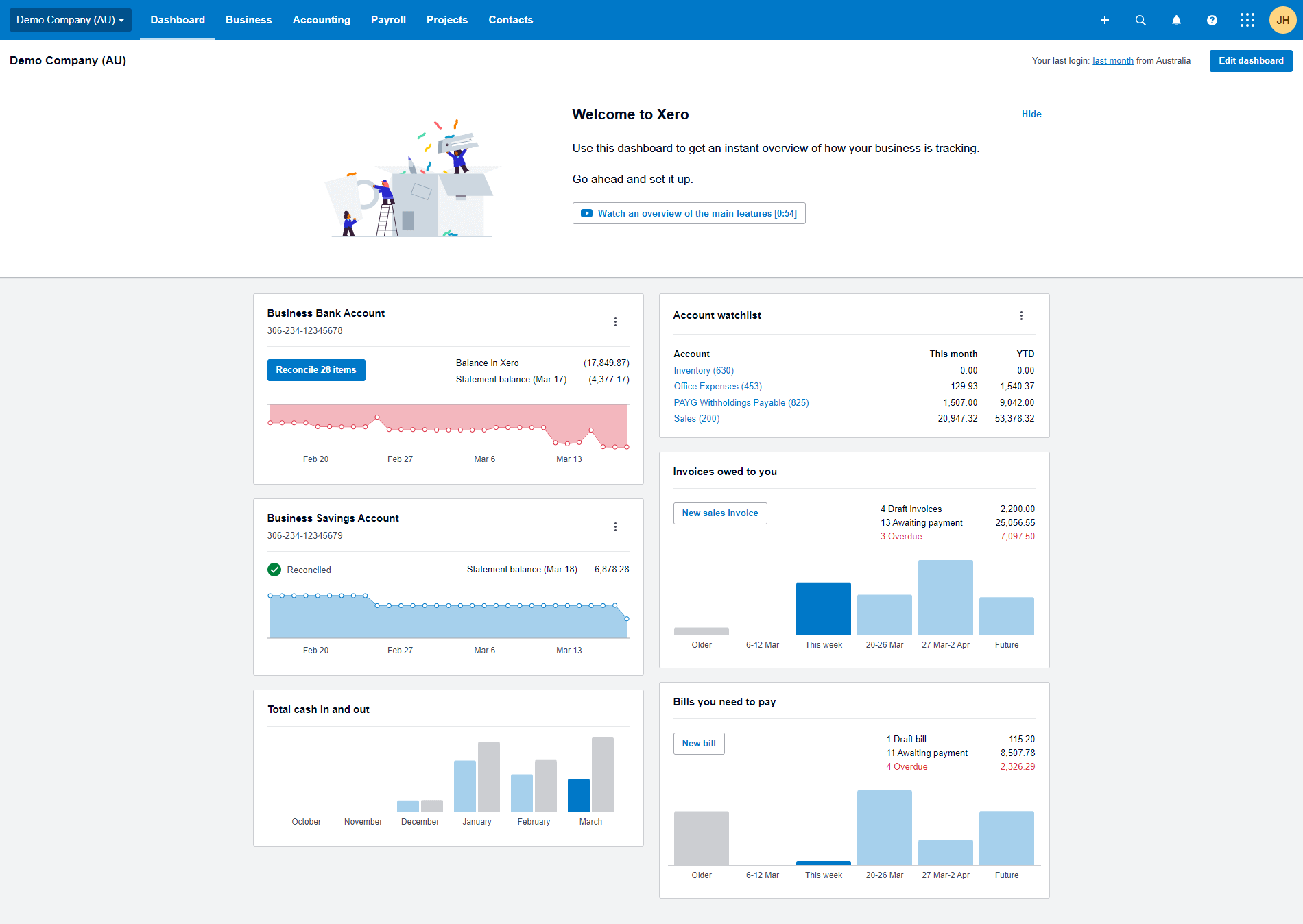 Source: Xero
What are the best features of Xero?
Invoicing
Bank feeds and reconciliation
Inventory tracking
Customizable dashboard
Custom reporting
Pricing
Xero offers three pricing packages starting from $12/month and a 30-days free trial. Growing at $35/month is the most popular and bulk bank reconciliation is the only feature that separates it from the Early plan.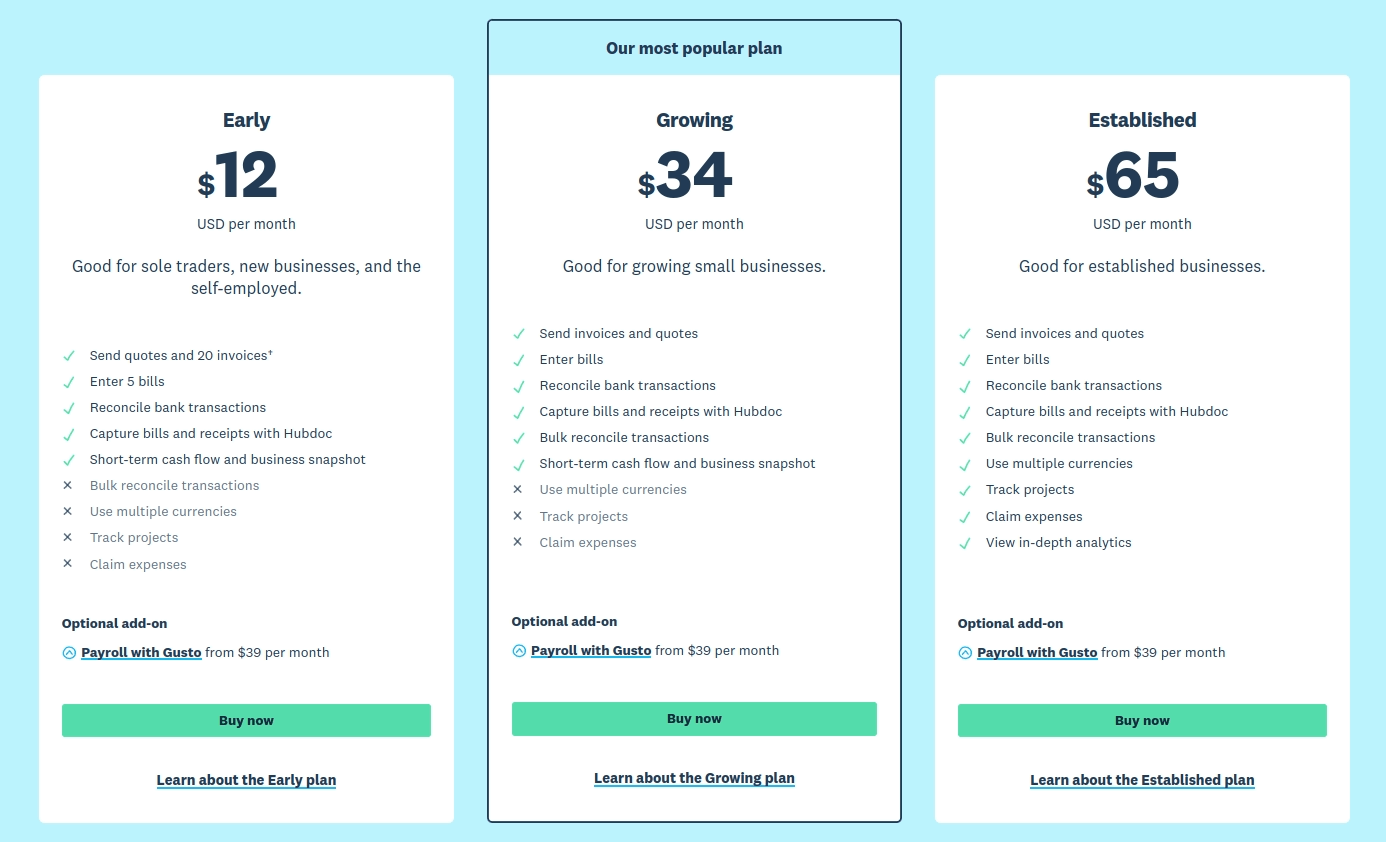 Source: Xero
Mobile app
Xero provides Accounting & Invoices app for iOS to create and send invoices and quotes, attach documents, reconcile statements, and get a snapshot of your cash flow.
Security
Xero complies with ISO/IEC 27001:2013 and provides SOC 2 reports, multi-factor authentication, and network firewalls and segregation.
Who's it good for?
The most frequent Xero customers are companies with up to 50 employees. It deals with various industries including accounting, computer software, IT, financial services, and marketing & advertising.
Bottom Line
Whether you choose a tool from this list or find one elsewhere, you'll have to move your accounting data to it somehow. If accounting software is new to you, preparing the import file by yourself seems not a very good idea. As an option, you can use an automated import tool like Migration Wizard. Your task will boil down to choosing the source and target systems and matching data records. Another plus is that you can run a Free Demo Migration and decide whether this method suits you.