Running the eCommerce store is a significant accomplishment, especially if you manage accounting for online retail businesses by yourself. And as statistics state that at least 41% of eCommerce owners don't need help handling their bookkeeping.
But here's the deal: as your company grows, accounting for eCommerce business gets more complicated. Banking fees, expenses, profits, losses, returns, and supplier payments - you need to track and categorize every money movement. So, how can you not get overwhelmed with all the accounting processes? In this article, we'll look at the following:
What is accounting for retail businesses?
How can you enhance accounting for eCommerce businesses?
What features should an online retail accounting tool have?
What is the best accounting software for online retail stores?
What Is Accounting for Online Retail Businesses?
Accounting for online retail companies is managing, recording, and organizing all the financial transactions and data related to an eCommerce company.
Think of it as an area of business accounting that handles the unique needs of a retail provider. Pretty simple, right?
There's a lot to handle, from managing supplier invoices and tracking transactions to organizing payables and receivables. Generally speaking, accounting for eCommerce businesses involves using spreadsheets or doing it manually, but that's not a scalable tool. You can use accounting software for online retail business too.
Key Components of Online Retail Accounting
So, how do you do accounting for an online retail business? First, you need to keep track of the following components:
Accounts payable and accounts receivable: The total amount of unpaid expenses and revenue still needs to be received. They can also determine outstanding bills and invoices.
Sales order includes description, client data, the quantity of sold goods, payment terms, sale amount, and delivery details.
A purchase order is a client-binding document that defines the type of items and quantity they want to purchase. In addition, it can contain payment details.
Cost of goods sold (COGS) refers to the total cost of product creation and distribution. Credit card fees, shipping, warehousing, and other product-related costs can also be included.
What Does Accounting for Online Retail Companies Include?
Like all business accounting, retail accounting includes basic bookkeeping and more sophisticated reporting functions. Generally, it covers managing invoicing, balance sheets, payroll, and preparing financial statements. Let's look at three major areas of accounting for online retail stores:
Tax management includes tracking all applicable local and state taxes, distributing 1099s to contract workers, and filling in estimated taxes.
Bookkeeping uncovers reviewing balance sheets, inventory management, and categorizing expenses and income. What's more, it involves tracking customer returns too.
Planning for growth: Accounting for online retail businesses can help you analyze opportunities to increase profit margins. Then again, you can track what products or services are more beneficial for your company. Plus, you can monitor your change in profit over time.
8 Tips to Improve Accounting for Online Retail Business
So, how to keep accounting for online retail business? You don't need to be a financial guru or use multi-step formulas to measure business profitability. Just keep your eCommerce accounting simple and to the point. Here are 8 accounting best practices to help you to improve your eCommerce bookkeeping:
Track Expenses and Transactions
First things first, you need to manage all expenses and transactions. Just review every transaction as either expense or an income. You can use a retail business accounting system to help you keep an eye on all expenses.
It helps you do it all automatically. You can add supporting documents to each transaction to improve your recordkeeping. Besides, you can snap receipts and sync them.
Monitor Cash Flow
Fact: bank account balances and sales metrics don't fully represent critical financial decisions. In this case, you need cash flow statements. They alone can truly help you understand all your financial activities.
Simply put, you'll see who pays money to the business or where your eCommerce business spends it. Plus, a cash flow statement is a key to determining whether your eCommerce sales generate enough money to pay your debts and operate the online retail business.
What's more, you can use cash flow reports to identify problems. Or you can cut expenses if needed to maintain short and long-term cash.
Automate Tax Calculations
You have a lot of rules to follow when keeping tax records for an e-commerce store. And you are likely to pay taxes to several agencies in different jurisdictions depending on what product you sell and where you do that. Sometimes you should also pay taxes wherever your eCommerce business has a physical presence.
So, how do you keep track of your tax liabilities? Implement an eCommerce platform, of course. The best retail accounting software offers you tax reporting documents to fill in with the needed parties. And they can help you:
ensure your tax rates are correct for customers
pay estimated quarterly business taxes
file sales taxes
Then again, you should preserve clear records that you've collected sales tax for every invoice. Then, you can correctly file with your local tax jurisdiction without missing the due date.
Sync all Sales Channels
Likely, your eCommerce business sells products across various channels. You have at least a few channels for better customer service, from websites and mobile apps to social media and third-party platforms. Even if your online retail business doesn't support multiple channels, you might scale up in the future.
Yet, selling through multiple channels is a pain if you don't have the right tools. In the worst-case scenario, you collect and reconcile all transactions from each channel separately. And this process leaves too much room for error.
So, you need accounting software for retail businesses to sync all transactions in one place. And you can also view sales records at once.
Practice Accurate Recordkeeping
Since you should report your taxes and finances to the authorities, your eCommerce accountants should store proof of all your claims. You need to maintain the following records for your accounting for online retail business:
bank accounts, credit card statements
receipts, invoices, and bills
previous tax returns
canceled and bounced checks
account statements from online payment wallets
And the list isn't complete yet. Plus, you should keep these records for at least 3 years. Finally, consider implementing retail accounting software with ample cloud storage to support your financial claims.
Forecast for Major Expenses
Make a weekly budget spreadsheet using Excel to track all regular account payables. As a result, you can always find a way around the remaining income to allocate a more significant expense, like extra inventory or more advertising. Plus, you can make better business-driven decisions regarding predicting revenue, budgeting, strategic planning, or hiring.
Run and Analyze Accounting Reports
While keeping organized and accurate records is a must, running financial reports is another aspect you should introduce. Primarily, eCommerce accountants create accounting reports for audit and tax purposes. For instance, you can run accounting reports like
balance sheets
profit and loss statements
sales revenue reports
cash flow statements
accounts receivable aging
budget variance report
This can help you identify your most profitable sales channels and which products generate the most revenue. Still, running reports isn't something you need to do daily. Depending on the type of report, the frequency of internal use can vary from weekly and monthly to quarterly.
Pro tip: use the online retail accounting software to generate standard reports or tailor the reporting tools based on the data you want to uncover.
Implement Accounting Software for Online Retail Businesses
Practical accounting for online retail businesses all starts with the right tools. Whether trying to improve an existing company or starting a new business from scratch, you need eCommerce accounting software. With the right tool, eCommerce accountants can easily keep track of metrics like balance sheets, gross margins, cash flow, gross profit, and profit and loss (P&L) statements.
The best part? The accounting software for eCommerce empowers your team to monitor all income and expenses and track inventory in one place. And you can automate invoicing and payroll processes too.
How to Choose the Right eCommerce Accounting Software?
Undoubtedly, benefiting from accounting software for retail businesses can be the key to success. But, like all things in life, some accounting systems are different. So, how do you pick a suitable eCommerce accounting tool? You can start by checking if an invoicing system has the following features:
Constant Updates to Stay Current
The right invoicing system can keep eCommerce accounting services up-to-date. It constantly adds new third-party integrations and improves its functionality and usability. Excellent accounting software for retail companies is designed on automation. This way, you can leave repetitive tasks to the AI tool.
Supports Multiple Users
You might need a single retail business accounting tool user if you only want one accountant to access finance processes. But, if you manage more departments that need access to the accounting tool, you require the capacity to invite multiple users. Also, consider how many billable clients you need to send invoices.
Automated Billing, Payments, and Cash Flow
Automation has been an ongoing accounting trend for years. If your company has many repeat customers and transactions, pick the eCommerce accounting software that automates multiple functions.
Either way, you can streamline billing and cash flow so your customers can purchase from your eCommerce business. And they can pay and get billed without anyone facilitating their transaction. In addition, recurring invoices come in handy if your team wants to bill and collect regularly.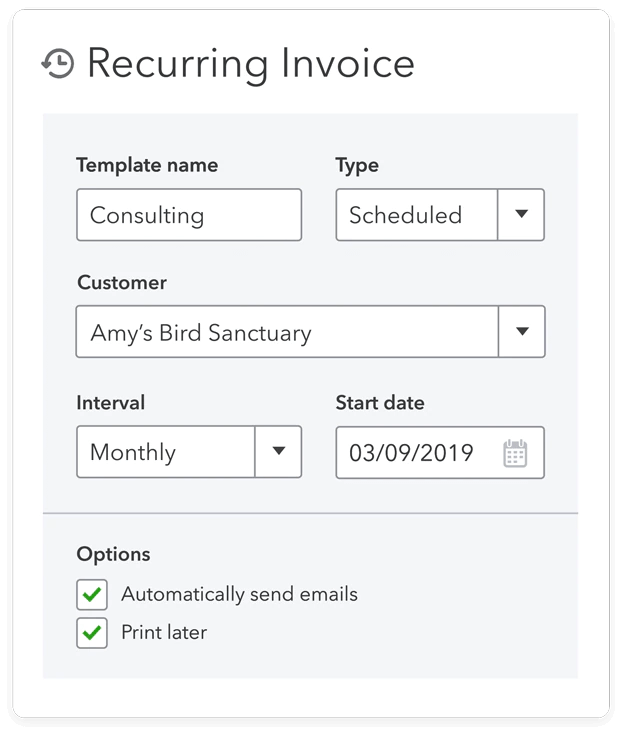 Automated invoicing with QuickBooks Online. Source: QuickBooks Online
Inventory Management
Automated inventory management is how most businesses do accounting for online retail stores. It helps them track and organize supplies, stock, and sales. Beyond that, it lets you manage accounting for retail businesses in real-time and make business-crucial decisions.
Similarly, automated inventory management enables you to minimize what you need to store. This way, you won't promise customers something your online retail company doesn't have in stock.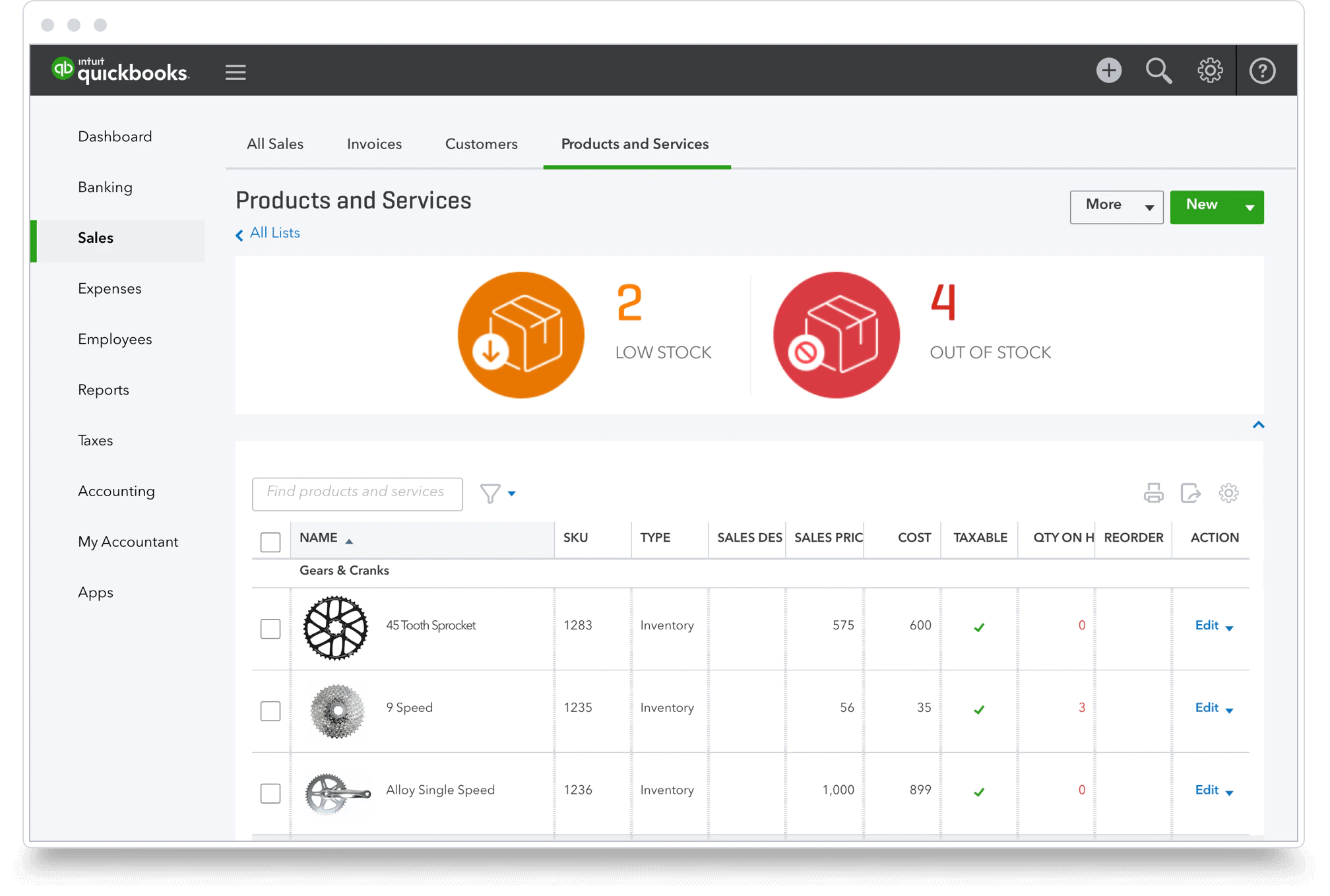 Inventory management with QuickBooks Online. Source: QuickBooks Online
Seamless Integration
If you use a cloud-based accounting system, ensure it works smoothly. You need online payroll integrations to automate bank transactions. Or you want to save and charge customer credit cards based on billing subscription.
Similarly, you can integrate Dropbox, Google Drive, and Office 365 to manage and store your documents. Or you need Slack to communicate with all departments. Moreover, you can leverage Zapier by connecting all your third-party applications.
Sales Tax Calculation
If you run accounting for online retail businesses, the sales tax calculation is one of the most aspects. Often you need to enter and file sales taxes manually. But, appropriate accounting software for retail companies can make it much more manageable.
Automated sales tax calculation can help you handle hundreds of tax jurisdictions throughout the USA. However, automated sales tax compliance is unnecessary if you run a local small business.
Sales tax calculation with FreshBooks. Source: FreshBooks
Payroll, Timesheet, and Billable Hours
Managing their cash flow and time might be exhausting, depending on the number of your employees. The eCommerce accounting tool can automate many calculations and help you sign off on billable hours and payroll. But that's not all; your personnel department can:
track productivity
reduce non-billable tasks
prioritize high-value actions
schedule resources accurately
bill accurately for your time
Top 6 Best Accounting Software for Online Retail Business
Perhaps you've been looking into accounting software for eCommerce businesses for a while. How do you determine which tool is suitable for managing retail accounting? It's all about understanding what each tool has to offer.
Ultimately, the best accounting software for eCommerce businesses can be affordable and cover your unique financial needs. With this in mind, start your search with the following retail business accounting tools:
QuickBooks Online
When you think of a tool to manage accounting for online retail businesses, QuickBooks Online might pop into your mind. It's a cloud-based invoicing system known for its features, reliability, and robust accounting tools.
In this way, QuickBooks Online is much more flexible than other retail business accounting tools, making it an excellent choice for online retailers and multi-store retail companies. In addition, you can easily integrate with platforms like WooCommerce, Shopify, and Square.
So, makes QuickBooks Online one of the best accounting software for online retail?
Inventory management: Track quantities and stock items, organize them by their nontaxable and taxable status, and update inventory quantities automatically.
Sales tax tracking: Add sales tax to the invoices, estimates, and receipts. Then QuickBooks Online tracks and calculates them for tax filing and applies the correct sales tax rate.
Extensive reporting: Create basic financial reports by location and class or custom reports by aging schedules and customers.
Accounts receivable (A/R) management: Issue credit memos to clients and check the summary of customer transactions. Modify invoices by changing colors and templates.
eCommerce accounting: Sign up for QuickBooks Commerce for an extra fee to get additional direct integrations.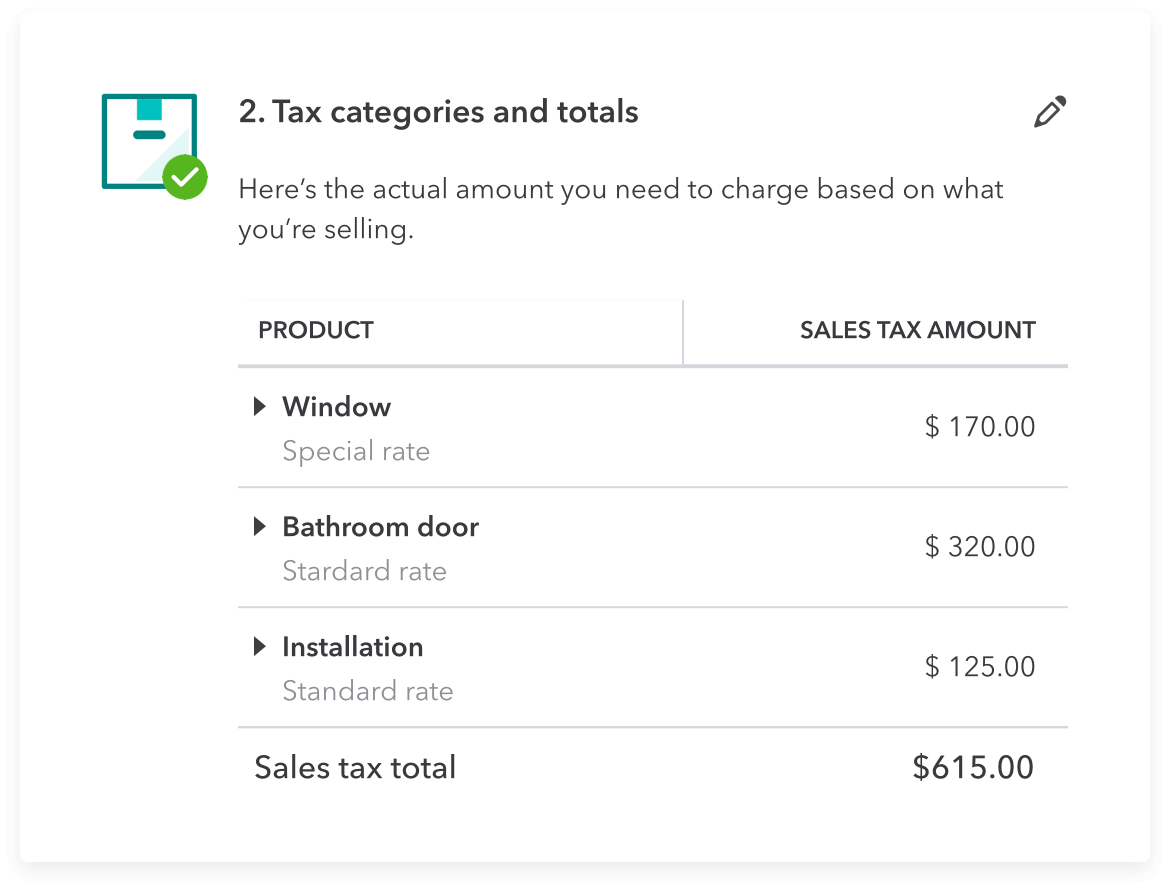 Sales tax tracking with QuickBooks Online. Source: QuickBooks Online
Price: Pricing for QuickBooks Online ranges from $17 per month to $36 per month for one subscription, and you can also try a free 30-day trial.
Zoho Books
If you are just starting retail accounting, Zoho Books is your option. This billing tool can help you bundle an eCommerce business accounting tool with other Zoho Corp systems.
Similarly, you can use Zoho Books to handle estimates, purchase orders, and expenses or send invoices. Plus, you can benefit from a vendor portal and a client portal for supplier and customer management. Zoho Books can improve eCommerce accounting with the following capabilities:
Mobile app: Capture expense receipts, view reports, send invoices, and receive payments on the go.
Customer and vendor management: Create up to 46 custom fields and timelines. Each record includes core contact details, numbers, and graphs for A/P and A/R.
Integrated management software: Supports other Zoho Corp products to automate business aspects like inventory and marketing.
Accessible customer support: Contact the support reps via a chatbot for personalized assistance: or access tutorial videos, FAQs, and articles.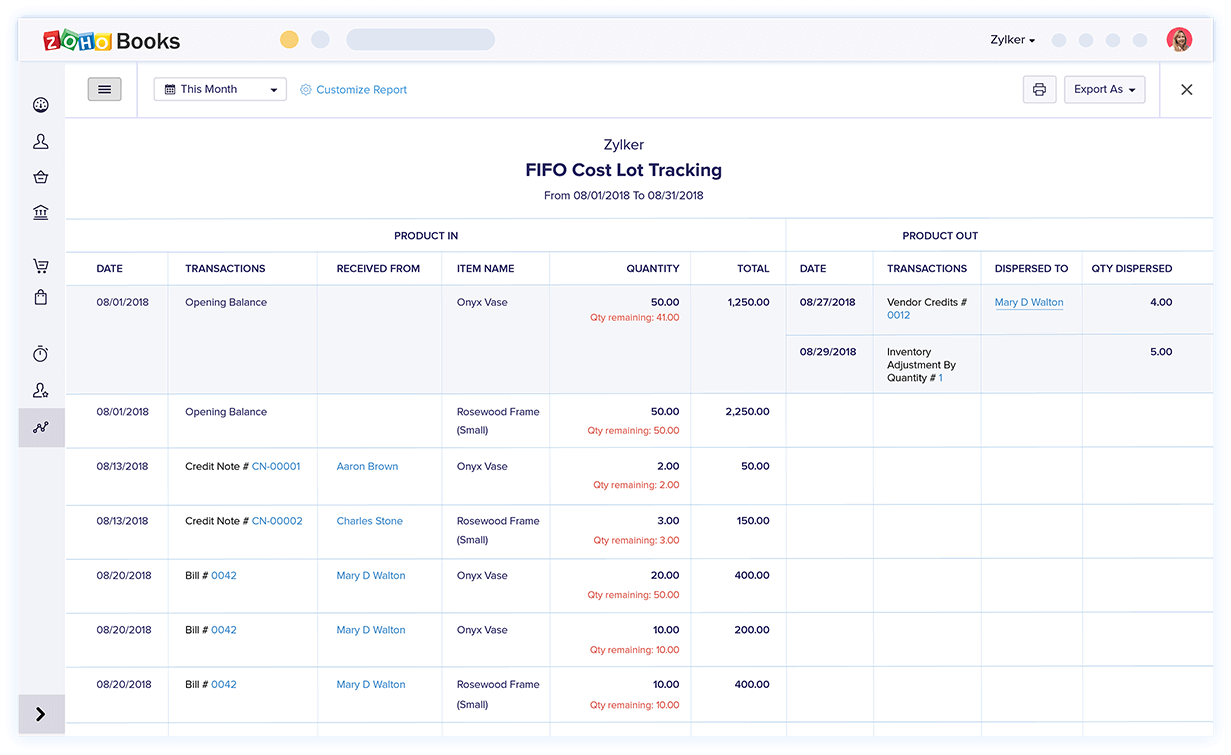 Tracking inventory with Zoho Books. Source: Zoho Books
Price: Zoho Books pricing starts from €10 per organization/month to €200 per organization/month. You can also go for a Free plan if your business has revenue of less than 50K USD per annum.
FreshBooks
If your accounting for eCommerce business heavily relies on collaboration, then consider FreshBooks. It's an easy-to-use, powerful accounting system to help you scale up and improve your business.
Among other things, FreshBooks has simple record-keeping and great mobile apps. And you can track expenses and manage clients on time. Yet, the best FreshBooks features for retail accounting are
Time tracking: View productivity from a central location by tracking the hours worked by the entire team.
Team collaboration: Share files and information, provide updates and send invites based on the specific role.
Managing expenses: Digitally store and organize expenses to review profits and cost at a glance.
Auto-bills: Create a billing schedule to charge clients using FreshBooks automatically.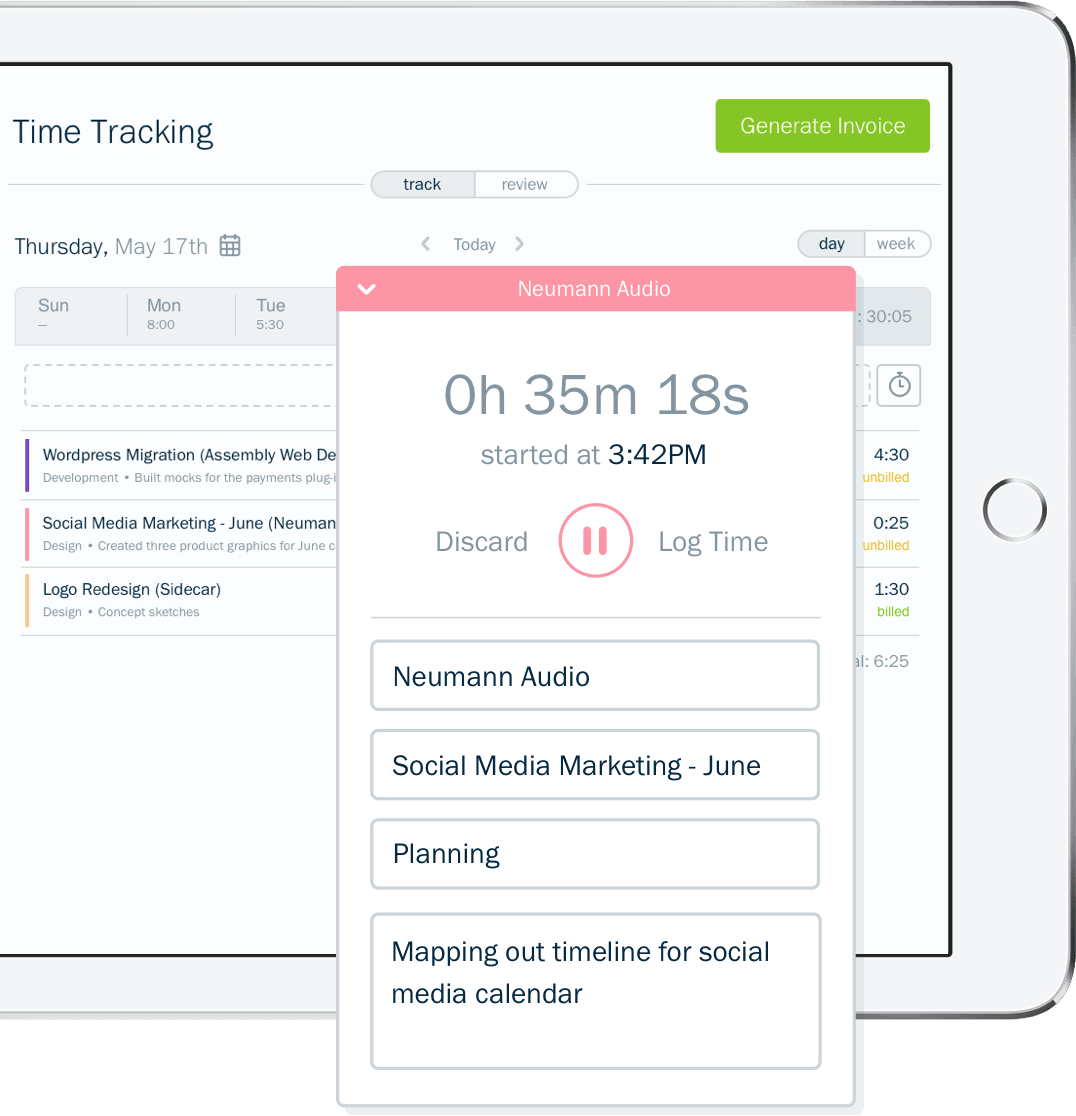 Track time with FreshBooks. Source: FreshBooks
Price: You can choose between $15 per month/ per 5 billable clients and $55 per month/ per unlimited billable clients.
Xero
Xero is one of the best accounting software for online retail businesses due to its unlimited users, inventory management, and over 700 third-party integration options. And another thing, this billing tool supports Gusto for payroll services and eCommerce platforms like Magento, Lightspeed, Shopify, Square, and BigCommerce.
Its fixed asset management is a unique capability among other best retail accounting software. Plus, Xero delivers inventory management to monitor inventory levels and track COGS. So, what can Xero have to manage accounting for eCommerce?
Robust reporting: Access various financial reports like a general ledger, a balance sheet, A/R aging, profit and loss statements.
Fixed asset management: Calculate depreciation, record fixed assets, and track their disposal.
Sales tax tracking: Set up sales tax items, adjust them due to credit memos, and charge them on sales.
Inventory tracking: Monitor customer orders and payments, determine ending inventory, and check inventory costs.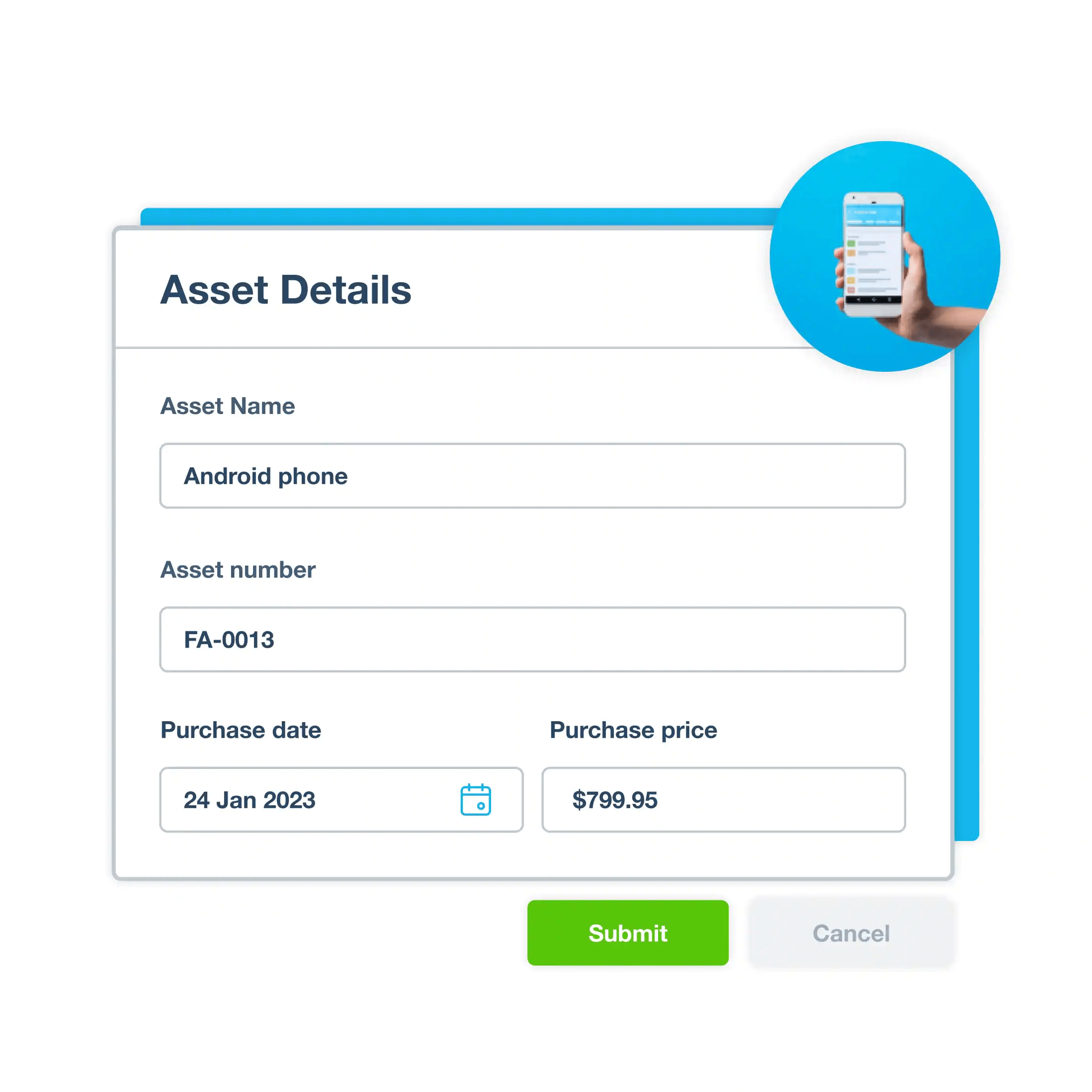 Manage fixed assets with Xero. Source: Xero
Price: Choose among three pricing plans from $13 per month to $70 per month. Or you can test out a tool with a free trial period.
FreeAgent
If accounting for an eCommerce business isn't your top priority, give FreeAgent a chance. Like other entries on this list, the invoicing tool is a cloud-based platform to access from any browser.
Moreover, it provides a mobile app to track time, bill, and manage invoicing anywhere you go. Most importantly, FreeAgent offers customizable invoices to bill out large projects. In addition, you can handle accounting for a retail business with the following functions:
Sync sales data: Receive customer payments throughout the day and upload all daily sales data directly into FreeAgent.
Manage payroll and generate payslips: Automatically generate payslips for all employees.
MTD for VAT: send submission directly to HMRC and generate MTD-compliant VAT returns.
Bank feeds: Allow customers to link invoices with payments and track incomings and outgoings.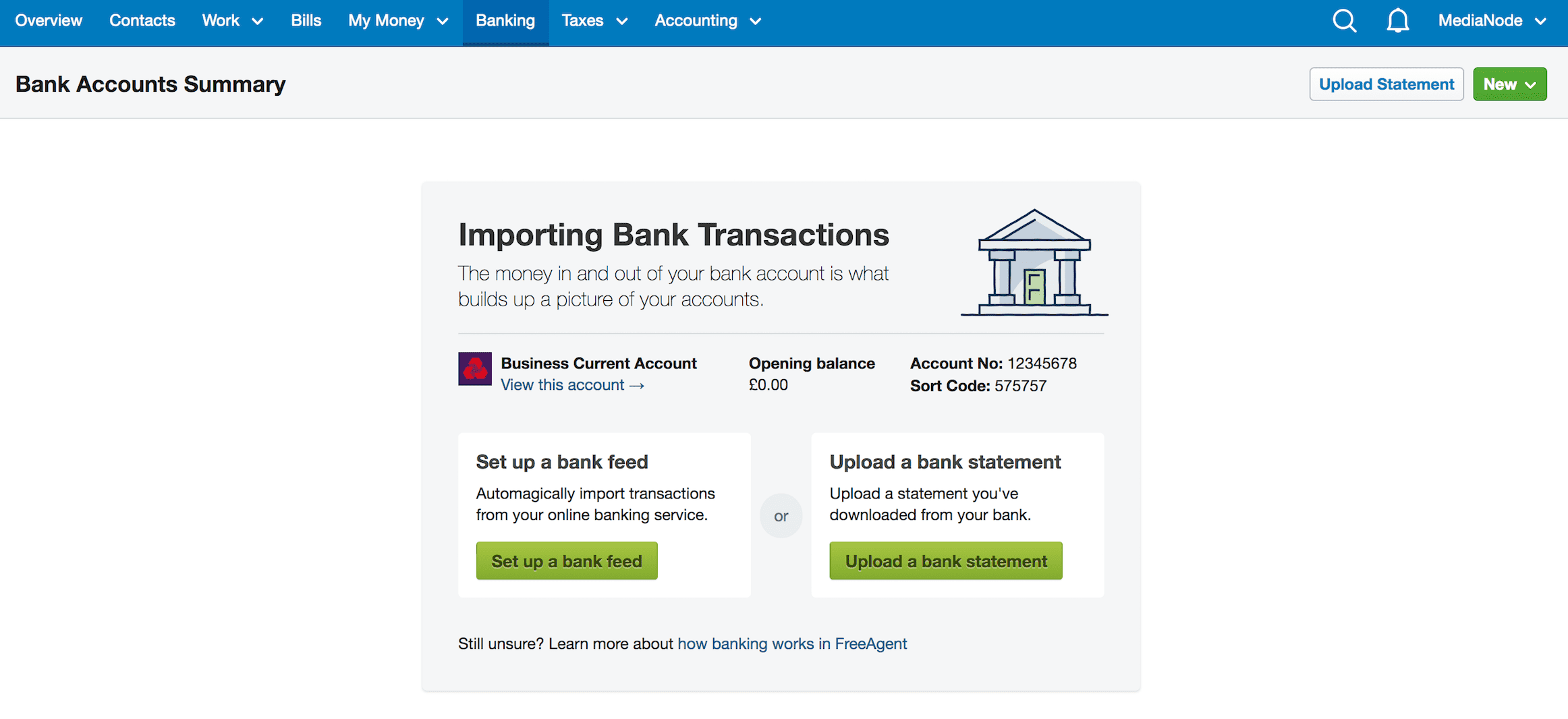 Bank feeds in FreeAgent. Source: FreeAgent
Price: FreeAgent only offers one pricing tier for $10/per month for 6 months, then $20/per month.
Kashoo
If you want to make it as simple as possible to manage your accounting for eCommerce business simply and quickly, Kashoo might be right for you. It has many great time-saving features, such as recurring invoices and automatic connections to bank and credit card accounts for easy reconciliation.
Besides, you can add multiple organizations to your Kashoo account to track all enterprises. The tool can help manage accounting for online retail businesses if you need:
Tracking expenses: Automate mundane processes and makes income and expense a breeze.
Getting ready for sales tax: Receive one-click financial reports for easy and efficient tax filing.
Separating business and personnel: Set up individual cash flow for business and personnel. This way, you won't charge a personal expense on your business card or vice versa.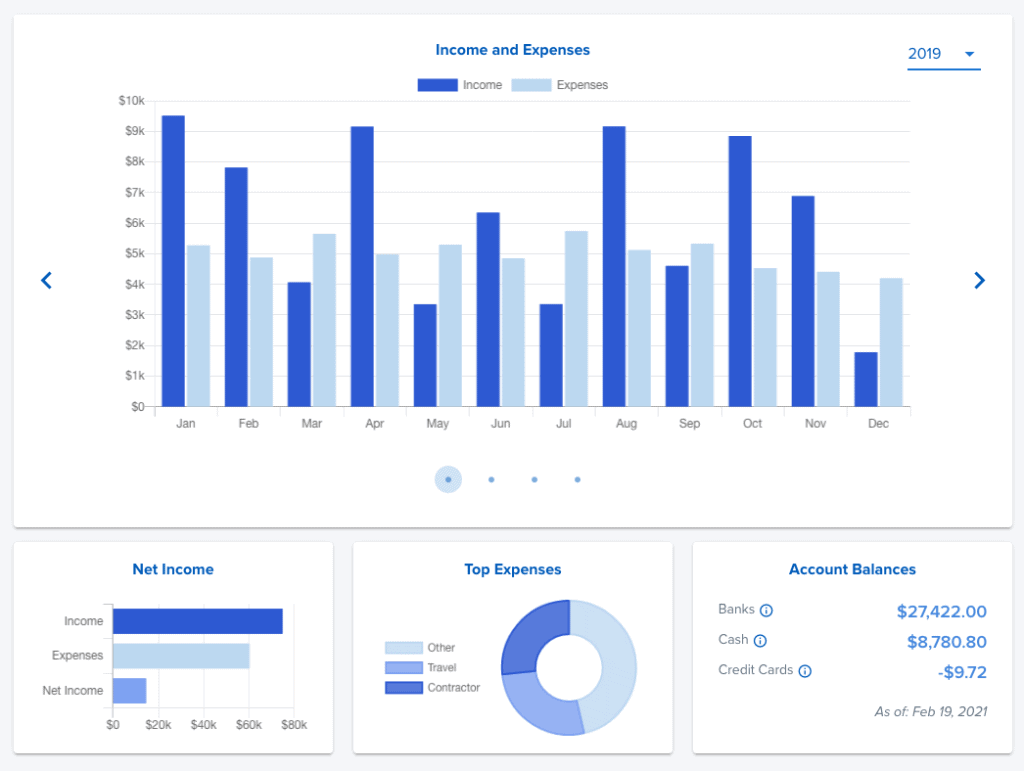 Manage expenses with Kashoo. Source: Kashoo
Price: Kashoo offers two pricing tiers, trulySmall Accounting and Kashoo.
Bottom Line
You don't have to be a certified eCommerce accountant to manage all your accounting processes if you run a small online retail business. Just apply simple tips and stay a top of your eCommerce finances. But, if you deal with large eCommerce stores, then the right invoicing system can get you a good hang of your accounting.