There's no denying that Xero is one of the leaders in cloud accounting. However, it's not the best at everything; that's why many companies consider Xero alternatives.
Whether you are an old-time Xero user in need of a change or are just looking for your first accounting solution, you've lots of options. Several accounting and invoicing systems are giving Xero a run for its money in today's market.
In this article, we've compiled a list of the best paid alternatives to Xero based on their features, pricing, pros and cons. There are options for those who are tight on a budget too. Let's start with a short review of Xero.
What Is Xero?
Xero is an online accounting system that lets small business owners manage their financial operations from any device and integrate with over 800+ apps. It had almost the feature-set as a traditional accounting solution without the limitations that come with being locally installed.
It's less expensive than its alternatives and doesn't change for additional users. In fact, Xero includes unlimited users in all pricing plans, something almost unheard of in the accounting world.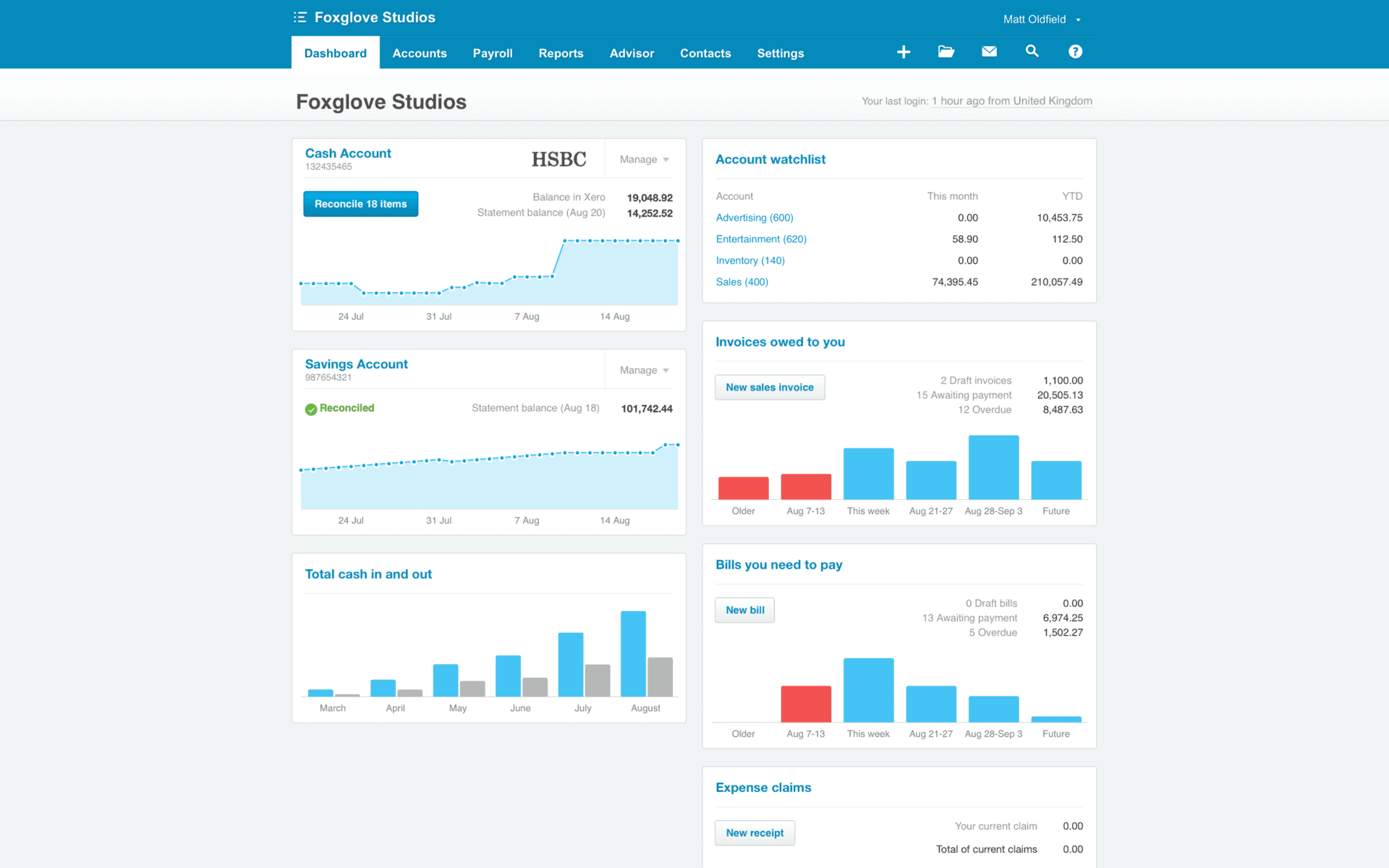 Source: Xero
What Companies Use Xero?
Small and middle-sized companies are the key Xero customers. However, it can manage multi-brach businesses with hundreds of employees and multiple bank accounts. For instance, Xero, a company with over 1000 employees, uses its accounting system to manage its financial operations.
Currently, Xero is an accounting and invoicing solution for over 3 million subscribers located across the United Kingdom, Australia, and New Zealand. The most popular industries among Xero subscribers are accounting, recruitment, computer software, and information technology. The majority of Xero users manage businesses with between 10 and 50 employees.
What to Look for in the Suitable Xero Alternatives?
While Xero has a lot going for it, it isn't the right billing system for everyone. Here are some features to consider when looking for alternatives to Xero.
Payroll: Xero doesn't offer any pre-built payroll apps. Your only option is to integrate Gusto for an extra fee. Other accounting software includes PayPal, Stripe, PayTabs, etc.
Invoicing: it includes rather simple invoicing compared to its alternatives. With advanced invoicing, you can add late charges to past-due invoices. Or include payment links.
Reporting: Freelancers can get by with limited reporting capabilities like in Xero. Others can offer more advanced reporting with multiple customizable templates.
Support: Xero offers email support but doesn't provide phone support which might be a problems for users who prefer to speak to someone.
Xero Features Overview
The cloud accounting software comes with a variety of useful features designed to help small and middle-sized companies with their accounting needs:
Accounting: Manage your bank account information. Moreover, you can enter manual journal entries or edit your chart of accounts.
1099 report: Send year-end 1099s to clients if necessary.
Budget Manager: Create an overall budget for your entire business.
Projects: Set up multiple invoices throughout the project.
Contacts: Let you manage everyone including customers, vendors, contractors, and even employees.
Reports: Inventory reports provide a good summary of product sales performance. In addition, you get aged payables and aged receivables reports too.
Bank reconciliation: Set up an additional bank account or transfer money between available accounts.
Inventory management: Set a reorder point to see the number in committed quotes and on order.
Expenses and Sales Taxes: Create an expense record, assign it to a project or customer, and upload an image.
HubDoc: it's a central hub for many of financial documents including receipts, bills, statements, and invoices.
Invoicing: Create custom invoice templates and customize them in any way you want. Send estimates and invoices as PDF attachments to customers.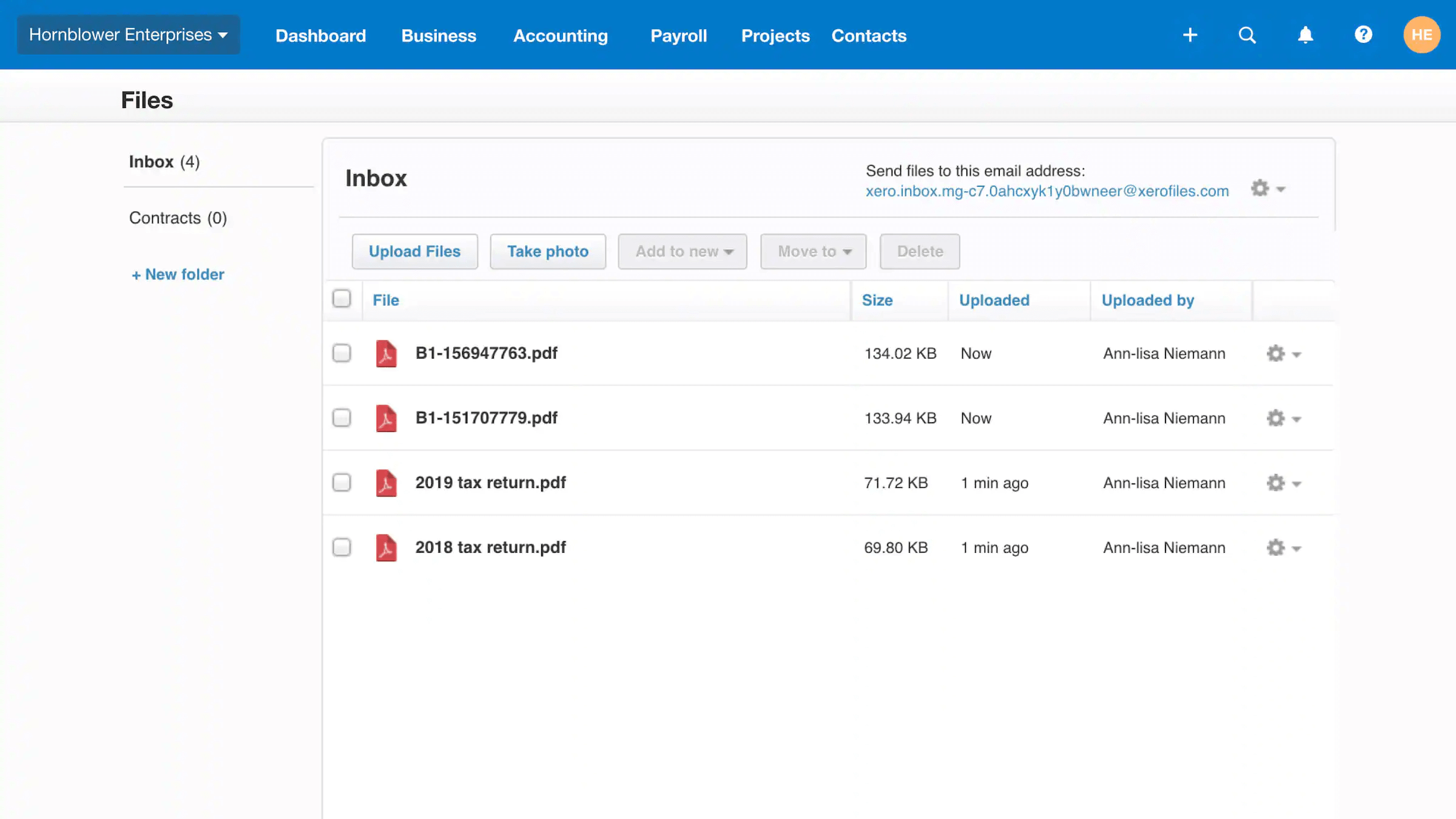 Source: Xero
How Much to Pay for Xero: Pricing Overview
Xero offers nicely scalable pricing, including three packages: Early, Growing, and Established. So, you can switch from one pricing plan to another as your business grows. Let's look at the available options:
Early plan: For a monthly fee of $12, you get unlimited users, 20 invoices, 5 bills, and receipts with Hubdoc.
Growing plan: You pay $34 per month for using unlimited quotes and invoices, bills, and transactions.
Established plan: For a monthly fee of $65, you can track projects, view in-depth analytics, and claim expenses.
While Xero doesn't include payroll, you still can integrate Gusto for $39.95 per month.
Reviewing Xero Pros & Cons
"There's an app for that" takes on new meaning for Xero users, as the billing software currently supports over 700 integrations. However, it doesn't mean Xero is flawless.
What Are the Benefits of Xero?
Unlimited users in any pricing plan
Inventory management in all plans
Strong user permissions
Incredible security
Flexible and easy-to-use mobile app.
There Are Some Drawbacks of Xero
Moderate learning curve
Poor invoicing templates
Tedious CSV imports and setup
Mobile apps could be improved
Top 6 Paid Xero Alternatives
The market is full of great accounting and invoicing systems similar to Xero. Here are the top 6 paid options to consider.
Freshbooks
If you seek excellent customer support, FreshBooks is definitely one of the best Xero alternatives. It's a fast and reliable online accounting system that makes financial management a fun activity. Suitable for freelancers and small businesses, this accounting software adds new functions regularly.
What Are the Key Features of FreshBooks?
What makes FreshBooks better than Xero is its combination of time tracking, accounting, and project management for outstanding customer support.
The accounting system contains other remarkable features as:
a retainer option to bill clients on a recurring basis
accept online credit card payments and ACH payments
create a client proposal
reports as recurring revenue and retainer summary
track and record expenses
add team members as employees, consultants, and associates to your plan
reach out to FreshBooks support via phone
track the working hours for clients and bill them later
set up unlimited customized invoices
compare your budget costs to expenses and actual time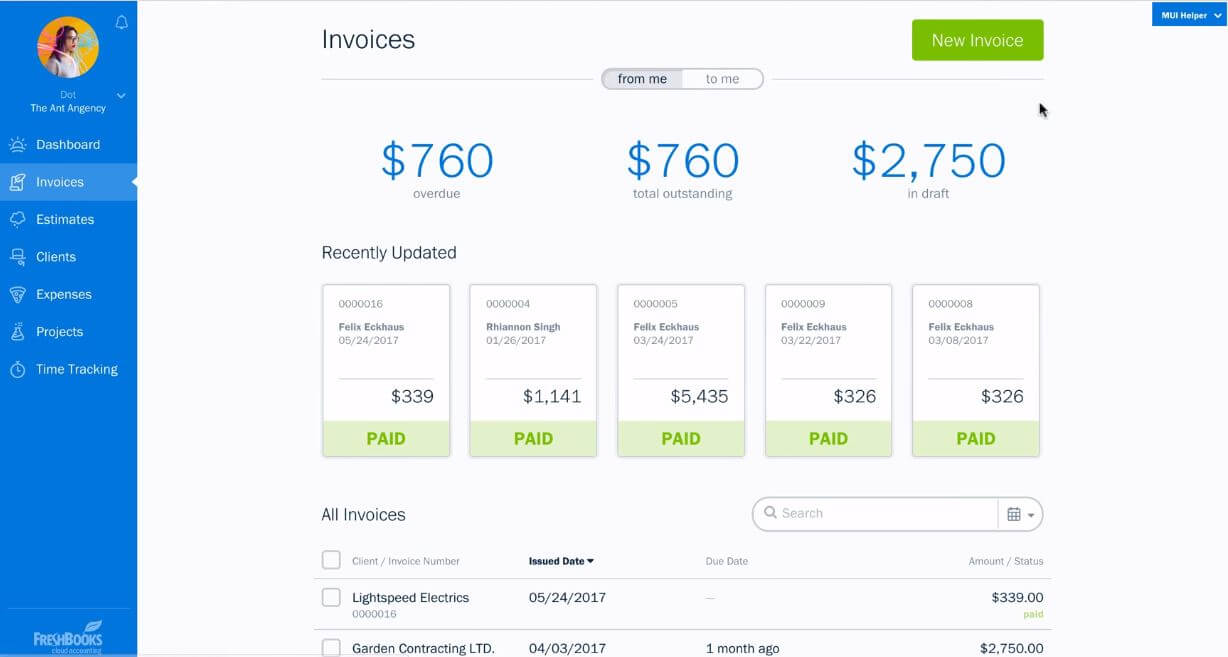 Source: FreshBooks
How Much Does FreshBooks Cost?
FreshBooks includes 4 pricing packages. Right now, you can get a 70% discount for the first three months if you choose the monthly payment plan. However, if you pick up a yearly plan, you receive an 80% discount for three months, and then a 10% discount for the rest of the year. Or you can try it for free with a 30-day trial.
Here are your options:
The Lite Plan charges $4.50 per month for up to 5 billable clients
The Plus Plan costs $7.50 for up to 50 billable clients
The Premium Plan charges $15 per month with no limit on the number of clients
There's also a Select plan for companies with complex needs. You get unlimited billable clients and specialized features
Why Is FreshBooks Better than Xero?
If you value superb customer support, then FreshBooks is your fit. On the other hand, the accounting system offers a modern and attractive interface. Recently, FreshBooks introduced a redesigned dashboard and more advanced features to facilitate effortless customization. Most importantly, FreshBooks includes secure backups to maintain your company's integrity in case of data loss.
FreeAgent
FreeAgent is a Scottish online accounting system, primarily designed for users without prior accounting experience. With this bookkeeping solution, newbies to accounting software can get hold of their financial operations rather smoothly.
Major FreeAgent Features to Check
FreeAgent has a pretty basic feature so you can keep your small business finances on the right track. Here are the most important functions:
8 invoicing templates to customize to your needs
an ability to convert timesheets into invoices
connect FreeAgent to your bank accounts to automatically import transactions
create and send estimates
get notified whenever your clients reject or accept your quotes
create online estimates in multiple languages & currencies
a full list of expense categories to build accurate accounts
snap and store the receipts from your phone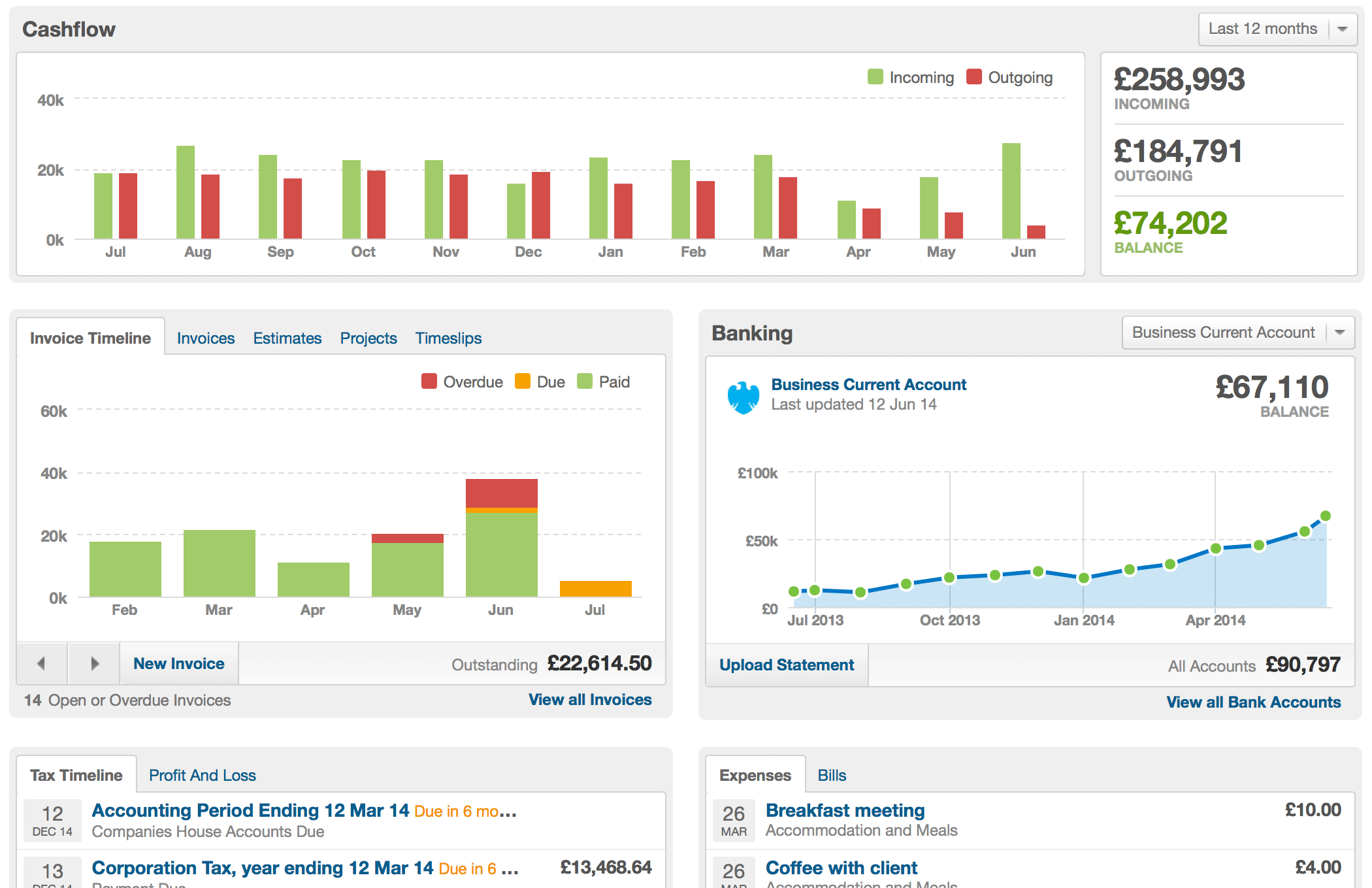 Source: FreeAgent
What Is FreeAgent Pricing?
Compared to other Xero competitors, FreeAgent has much simpler pricing. It offers a single tier with a monthly fee of $20 per month. However, new users receive a 50% discount if they pay for six months. If they subscribe to a yearly plan, they pay just for five months. You can test FreeAgent with a 30-day free trial too.
FreeAgent vs Xero: Which Is Better?
The choice between these cloud accounting software heavily depends on your business size. If you run a micro business or a limited company, FreeAgent might be the right option to satisfy all your accounting needs. Besides, it bundles in many functions as standard that cost an extra fee on Xero.
QuickBooks Online
QuickBooks Online Online is one of the most popular accounting software due to its long history of strong accounting. Ideal for small and middle-sized companies, the billing system is relatively easy to use, and includes solid customization and invoicing capabilities. Moreover, it supports over 650 integrations.
Overview of QuickBooks Online Features
When it comes to features, QuickBooks Online boasts tax support, inventory, and contact management. In addition, its functionality makes it an ideal option among all Xero project management alternatives. There's even a built-in lending service, QuickBooks Capital. Consider QuickBooks Online if you need the following functions:
accessible on multiple devices
equipped with auto-syncing options
generate customized profit and loss reports
auto-schedule invoices in advance
set up and track inventory items
perform manual reconciliation
print checks through the program
launch classes and locations for tracking profit and loss
integrate with plenty of third-party apps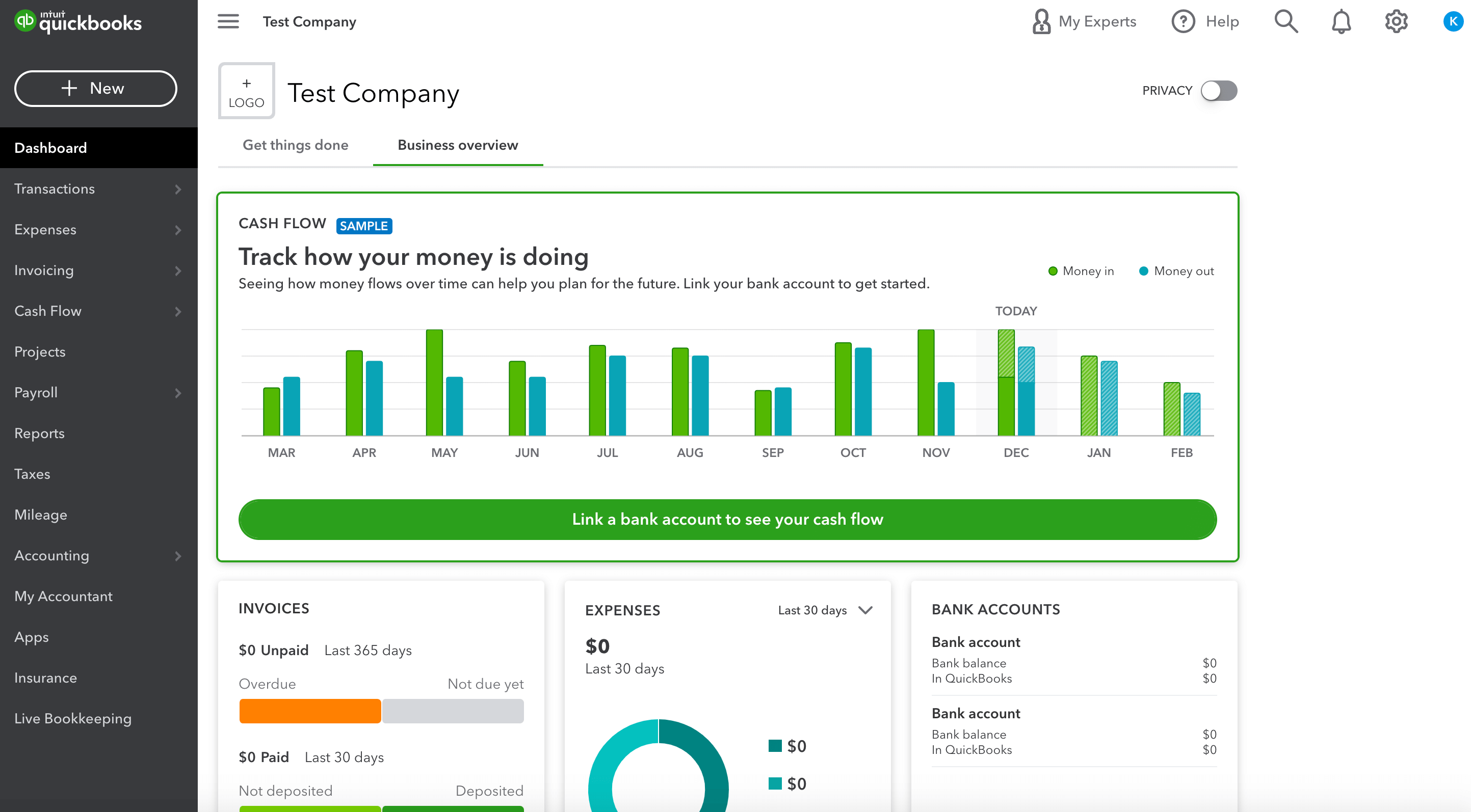 Source: QuickBooks Online
Reviewing QuickBooks Online Pricing
QuickBooks Online offers a rather typical pricing that includes three pricing plans:
The Simple Start Plan costs $16.
The Essential Plan costs $23.50 and allows three users to use the account, plus the accountant.
The Plus Plan costs $32 and allows five users to access it.
All plans are available with a 30-day free trial period. Besides, they all include free support, iPhone and Android apps, secure cloud storage, and unlimited invoices.
Why Is QuickBooks Online an Ideal Xero Alternative?
In many areas, QuickBooks Online is similar to Xero. However, this online accounting system comes with better invoice templates, mobile apps, and more invoice automations. On the other hand, it is also easier to use than Xero. QuickBooks Online feature set makes it a good fit for those who need robust accounting functionality.
Zoho Books
Launched in 2009, Zoho Books is cloud accounting software with some of the best invoicing on the market. It's suitable for businesses that seek a more affordable or easier-to-use billing solution. Zoho Books provides good customer support, international invoicing, and mobile apps.
What Are the Core Features of Zoho Books?
The accounting and invoicing system offers an impressive number of features. Last updates have propelled it to the level of more advanced accounting software. Here are some of its best functions:
reconcile bank accounts
integrate with Zoho Inventory for detailed inventory tracking
track the cost of inventory on hand
templates to create unique invoices
customer and vendor management capabilities
make payments online
a client portal to ask for feedback and share quotes with clients
simplify online sales order management
automate tedious, high-volume, and error-prone tasks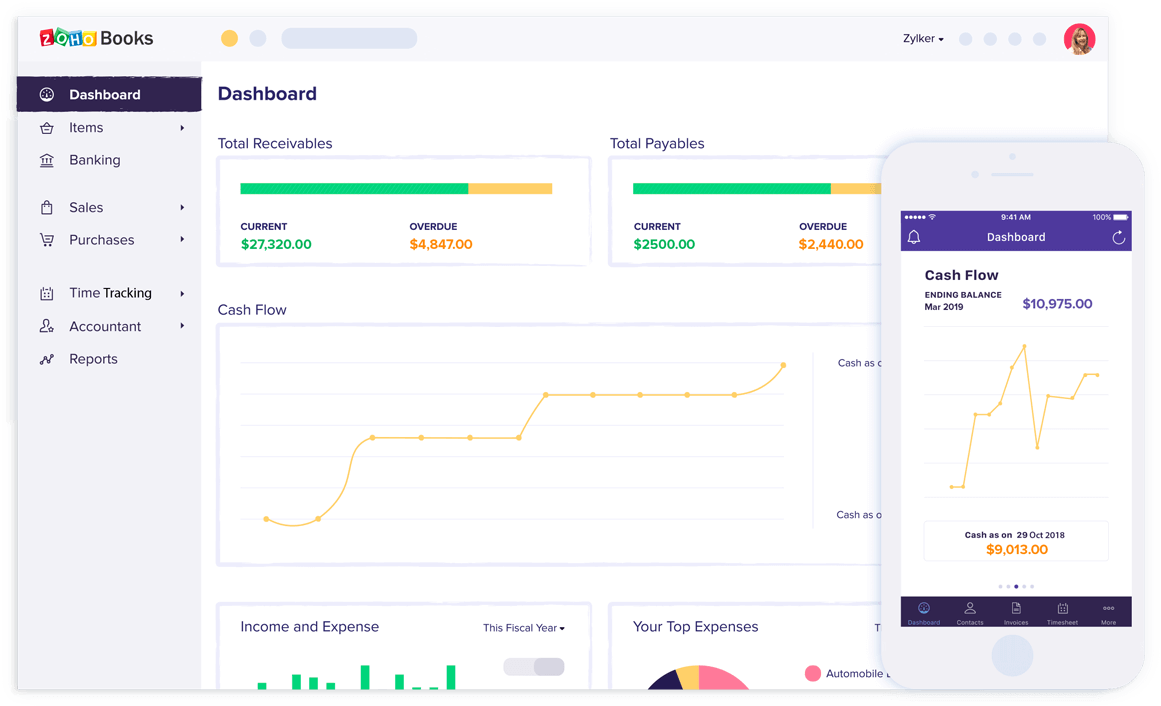 Source: Zoho Books
Zoho Books Pricing Overview
Zoho Books has the most diverse pricing among all Xero alternatives. The accounting software offers six pricing plants ranging from 0$-200$/month. The larger package, the more functions, and users you get. Here's a full list of options:
a Free Plan with all the basic features
the Standard Plan charges $10 per month per 3 users
the Professional Plan costs $20 per month per 5 users
the Premium Plan costs $30 per month per 10 users
the Elite Plan charges $100 per month per 10 users
the Ultimate Plan costs $200 per month per 15 users
Xero vs Zoho Books: Which Accounting System Is Better?
Zoho Books provides almost the same complex features, similar to Xero. That includes a chart of accounts, check printing, bank reconciliation, and invoice automations. Moreover, Zoho Books offers a client portal that you can't get in Xero. It has much better customer service too.
Kashoo
Developed specifically for sole proprietors, consultants, and freelancers, the accounting solution offers standard billing capabilities, plus a recurring biller option for clients who pay monthly. Kashoo is a suitable option if you don't want to connect your bank accounts to the accounting software.
What Kashoo Features to Consider?
The billing system offers a standard feature set, including invoicing, online payment, and payroll. Moreover, when setting up an account in Kashoo, you get:
create a recurring invoice
bill payment capabilities
vendor & customer management
track SKDUs for products as a part of inventory management
enter income and expenses
fully customizable chart of accounts
easy bank reconciliation
detailed reporting
run checks to pay vendors
a mobile app
Source: Kashoo
How Much to Pay for Kashoo?
Kashoo offers three pricing plans, including a free option. Any of the paid packages you can try out with a 14-day free trial.
A Free Plan, namely trulysmall.invoices, allows users to track payments, invoices, and expenses.
Trullysmall.accounting costs $20 per month and allows users to track sales and sales tax.
Kashoo costs $30 and offers multiple currency transactions, tracking inventory, and projects.
Why Choose Kashoo Over Xero?
Kashoo offers a full suite of features to all users, so you don't need to worry about upgrades. It's a good option for small businesses that need less complex accounting functionality. However, Kashoo is more than just a simple accounting system: you can also create new documents in different languages, work offline, and access your account through an intuitive iOS app.
Odoo Accounting
Odoo Accounting is an online accounting system with three available hosting types: self-hosting, standard cloud hosting, and Odoo.sh cloud platform. It integrates with other Odoo applications, from managing accounts and invoices to managing customer relations and tickets, making websites, etc.
What Are the Key Features of Odoo Accounting?
Odoo Accounting involves an application software that reads and manages all their accounts. However, that isn't all to its potential:
apply for automatic transfers
scan bills and receipts
create performance reports
generate pipeline reports
set up custom fields
forecast sales
schedule tasks
control supplier invoices
create and send professional invoices
receive payments online
synchronize every transaction with your stocks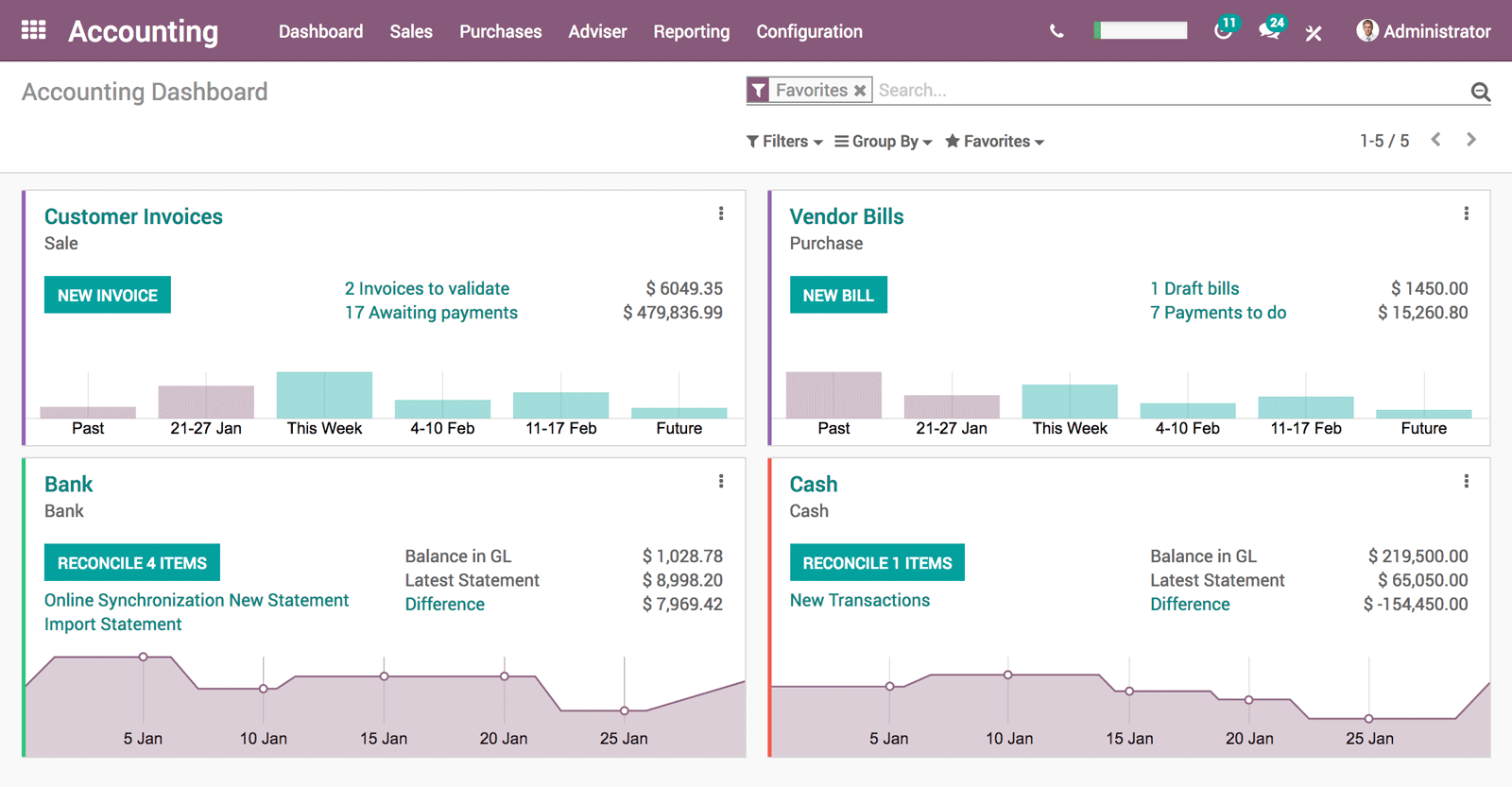 Source: Odoo Accounting
How Does Odoo Accounting Charge?
Odoo Accounting is a part of Odoo apps. The Odoo Corp. charges $10 per month for each application per user. However, new users get a discount on the initial number of users purchased.
Xero vs Odoo Accounting: Which Is Better?
Odoo Accounting works well for startup owners who are really starting small and don't have a budget for a more all-encompassing, comprehensive software provider. Besides, it offers a set of features unavailable in Xero as a customer portal, multilanguage support, alerts for contact renewals, purchase agreements, and FIFO & LIFO.
A Short List of Free Xero Alternatives
If you manage a smaller business with fewer accounting needs or are on a limited budget, free Xero alternatives are worth looking into. Here's a short list of options:
Wave: The free plan includes basic invoicing, accounting, and banking. Send automated reminders. Get access to the reports for Overdue Invoices & Bills and Profit & Loss. Deposit checks and track your income.
Kashoo: Its free plan, trulysmall.invoices, lets you accept payments, track clients and income, and send estimates.
Zoho Books: In a free pricing package, you get a client portal, online/offline payment, manual journeys, bank reconciliation, recurring invoices, and more. You can automate payment reminders, and import bank, and credit card statements.
How to Migrate Data from Xero?
Xero doesn't offer an automated option to export its data. In fact, you can do it manually by exporting data from individual areas of Xero and reports:
The user role defines the data you can export;
Various items support different file formats;
For instance, you can export accounting data CSV, XML, MYE, and TXT. As for chart of accounts, you can only transfer them in CSV or XLS. However, dealing with various file formats means lots of manual and redundant work.
On the contrary, you can find a third-party app to automate data migration from Xero. For instance, Accounting & Invoicing data migration can automatically migrate Xero data to any Xero alternatives, listed above. You get self-service and hands-free migration options addition to outstanding customer service. Contact our support team for more details.
Wrap It up
Xero is one the most widely used billing system on the market but that doesn't mean it's the right accounting software for your business. However, you can find plenty of Xero alternatives out there to suit your needs.
Take time to consider what features you require and want your accounting system to offer. You should also consider the pricing of the suitable options and how much you can spend while staying within budget.
If you're still not sure which app is suitable for you, test a free trial. And when you decide on your option, move your data to any alternatives to Xero with Migration Wizard.