Accounting is a complex system unifying multiple compounds that need individual processing. Thus, business owners cannot dispense with a cloud accounting tool to automate complex tasks and store data securely. It concerns companies from self-employed and start-ups to growing and large businesses. In this Xero vs FreshBooks review, we'll try to objectively estimate the possibilities of these accounting solutions.
What Is Xero?
As one of the top cloud-based accounting software for SMBs, Xero delivers a comprehensive feature set, flexibility, and mobile-friendliness. It offers a free trial and doesn't require additional fees for users.
Xero's services and pricing plans accommodate your company's needs throughout its growth. This accounting software offers automatic bank feeds, powerful billing, invoicing, stock management, and integration with over 1000 apps.
What Is Freshbooks?
Being a cloud-based, double-entry accounting app, FreshBooks provides expanding the scope of accounting features and tools for project and service-based businesses. What's more, it keeps adding to its quality and usefulness.
With FreshBooks, you can quickly create and manage unlimited invoices, track billable time, calculate your income and expenses, and more. You can test-drive this accounting system with its 30-day free trial.
What Features Xero Offers
Dashboard allows you to set up bank accounts and import the bank feeds to Xero. Therefore, you can monitor income and expenses and check account updates like balances and transactions that are ready to reconcile. Plus, you can track outstanding invoices and filter them by due date and amount of money owed.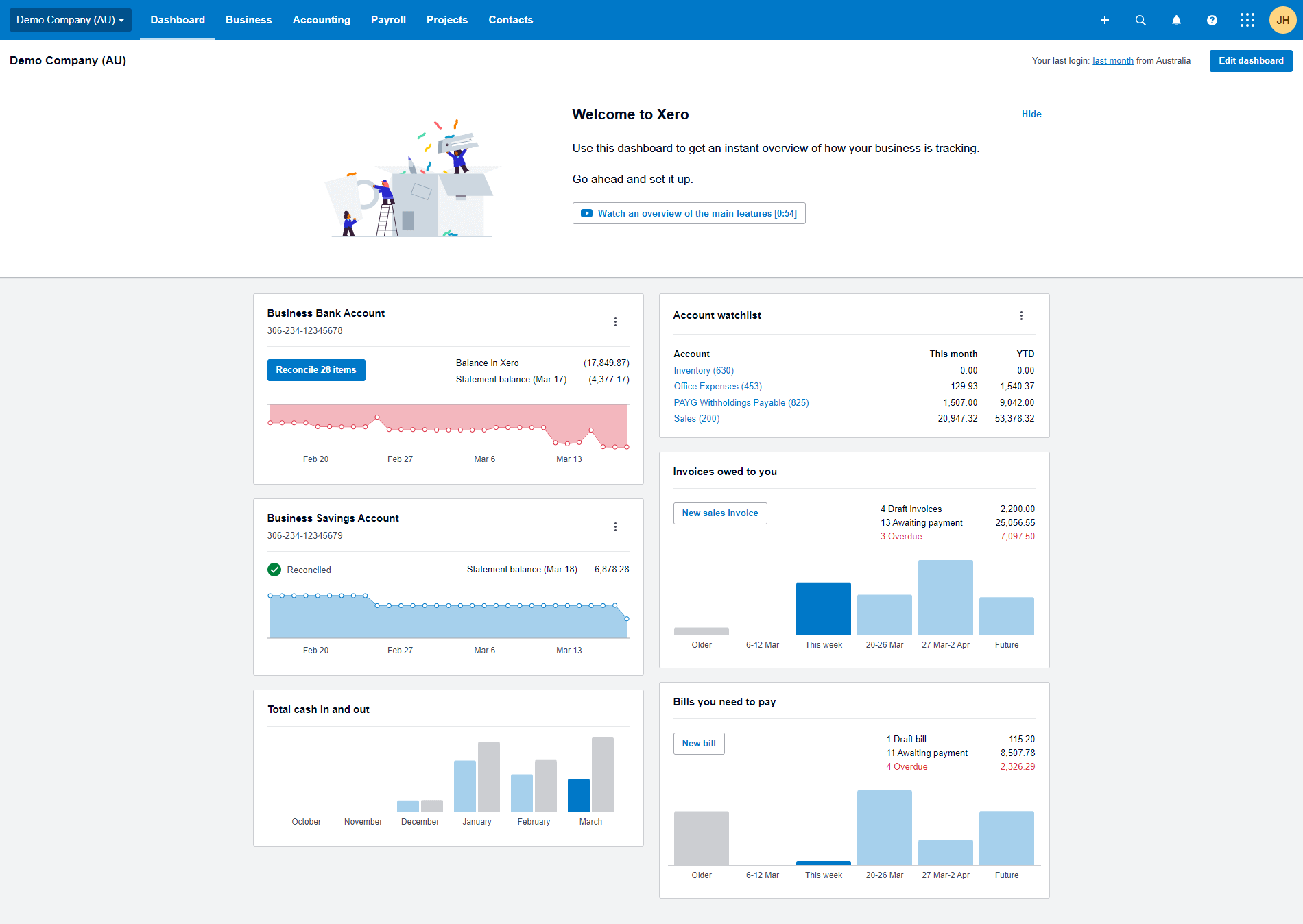 Source: Xero
Invoicing. Create, customize and send invoices online with several payment options. Customers can pay with credit and debit cards using third-party services like Stripe or GoCardless. Also, you can set invoice reminders to be emailed with preferred frequency, before or after the due date.
Bank reconciliation. Once you connect your bank account to Xero, you can match the records from your bank statements with the transactions like invoices, bills, expense claims, and cash transactions. Within the Reconcile tab, you can match statements with the existing transactions (accept transactions suggested by Xero based on pre-set bank rules), create transactions, and even add a note for your bookkeeper if you're not sure how to reconcile a statement.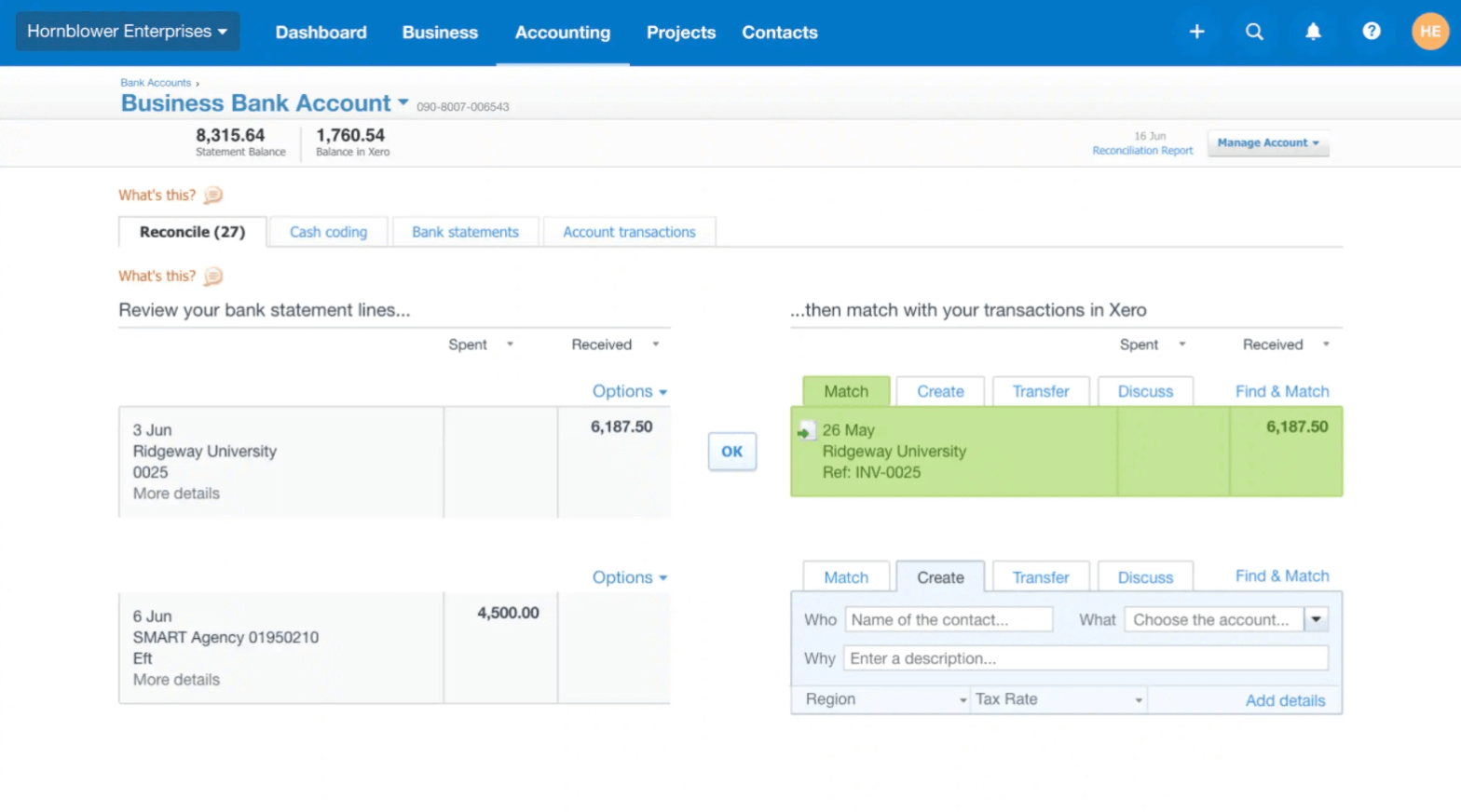 Source: Xero
Customer service. Xero offers free 24/7 online support and resources like documentation and accounting guides.
User access. When you add a new user to the accounting system, you need to assign them a user role. Each role has corresponding permissions to access such accounting items as contacts, bank transactions, inventory, sales, and take actions concerning other users. In addition to the default permissions, you can give extra permissions to user roles.
Reporting. Collect reports on your invoices, bills, and expense claims using the interactive reporting dashboard. You can add, delete, or rearrange the rows and columns, add notes and track categories to check the performance of different business areas.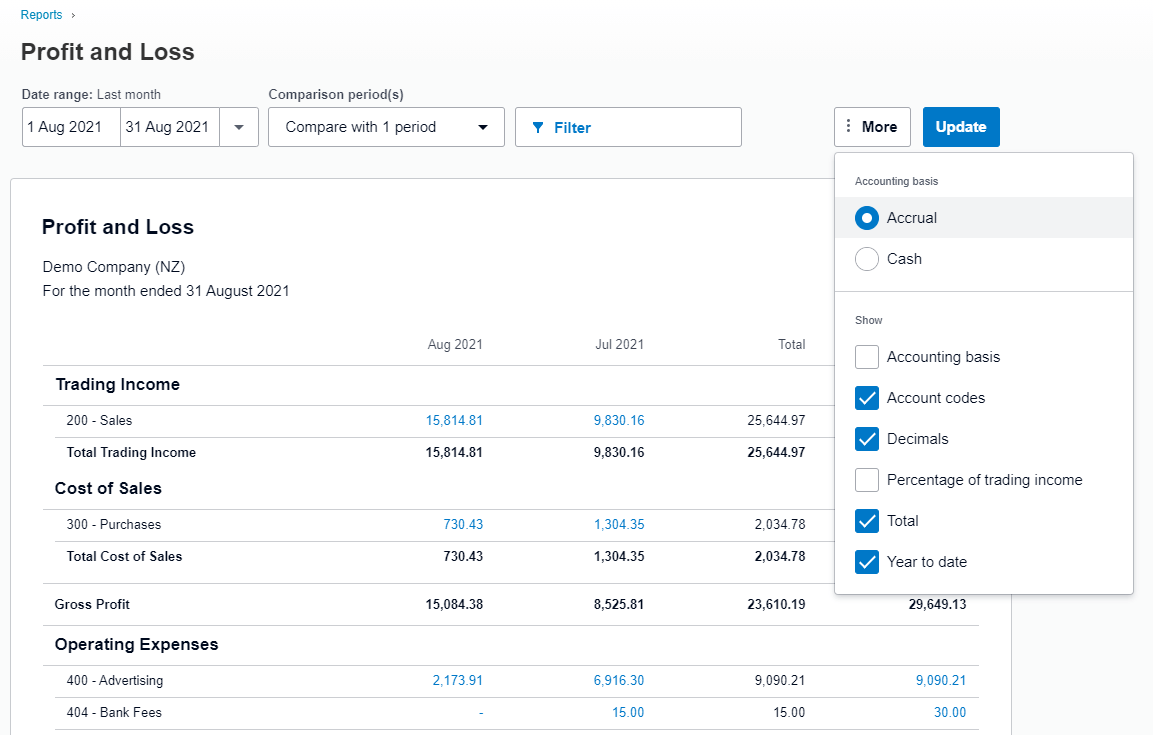 Source: Xero
Time and mileage tracking. Time tracking is integrated with Xero Projects and allows you to track time spent on specific projects using the start-stop timer. Also, you can record and send invoices for time spent on a job right away. The mileage tracker calculates the amount to reimburse using the current fee per mile. In the analytics section, you can monitor your employees' spending by expense category.
Accounts payable. Get a snapshot of your expenses, outstanding bills, and purchase orders to stay on good terms with your suppliers. You can schedule payments and pay bills in bulk in one transaction. To save time, replicate the paid bills, edit details, and send them to your suppliers.
Inventory management. When you add an item to your stock, you can specify the default price, tax rate, account, and description. Apart from using reusable snippets for quick item creation, you can generate lists with items to prefill the fields when creating invoices or bills. For example, if you want to keep track of item quantity in stock and their value, run the Item Details report.
Security. Xero is compliant with ISO/IEC 27001:2013 and Payment Card Industry Data Security Standard and produces Service Organisation Control (SOC 2) reports. It provides multi-factor authentication, encryption, and robust network and data center security control.
What Are FreshBooks Features?
Dashboard. In FreshBooks, you can invite team members, add new clients, invoices, bills, expenses, and more. Also, the dashboard shows the summary of your outstanding invoices, revenue by sources, expenses, and unbilled time in separate graphs.
Invoicing. Once you created an invoice, you can update it with payments, send by email, share with a link, duplicate, download, or delete. You can manage invoices by using Individual or Bulk actions. The Bad Dept option allows to dismiss or void an outstanding invoice that cannot be retrieved or collected.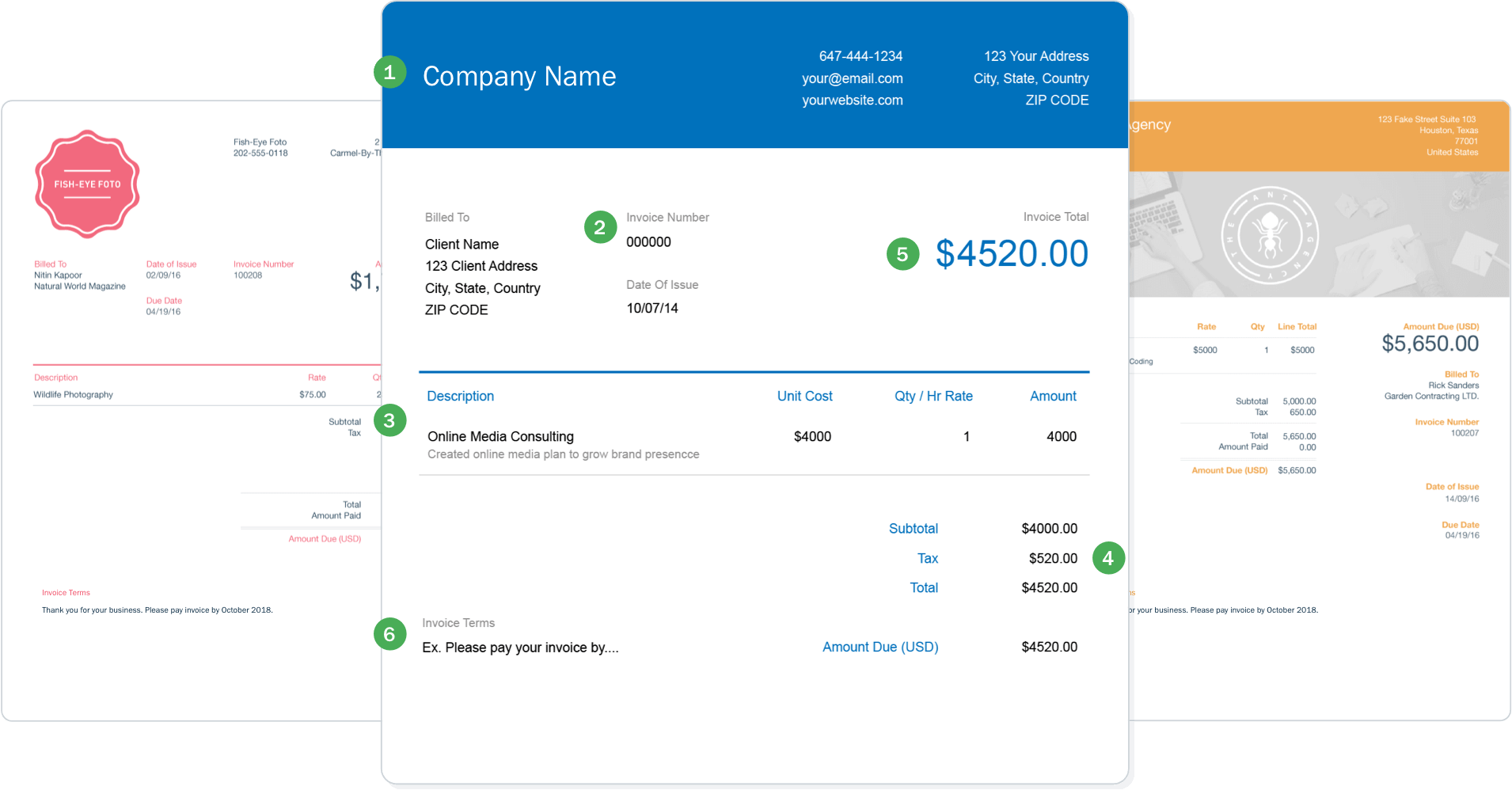 Source: FreshBooks
Bank reconciliation. The transaction entries in FreshBooks include invoices, expenses, bills, and other payments. You can match or mark them as a transfer, an owner's investment, or an expense refund. If some entries are missing from the reconciliation list because they fall outside the date range, you can change the date range or interval and match them.
Customer service. FreshBooks offers customer support via phone, email, chatbot, knowledge base, and free webinars.
User access. Invite team members to FreshBooks and assign them user roles like Admin, Employee, Contractor, or Accountant. Each role has certain permissions to access the dashboard, clients, settings, payments, etc. The user with Business Owner (Admin) role has access to all items, except Accounting, but still can manage bank reconciliations and view accounting reports.
Reporting. Track your sales taxes, invoices, and profit & loss with a range of FreshBooks reports. Among the benefits, reporting is accessible from the dashboard. You can also keep your books up to date with the automatic payment and expenses recording.
Time and mileage tracking. Track time spent on a specific client project and get daily, weekly, and monthly breakdowns. You can calculate time against customers, add notes to time entries, and automatically bill for tracked time. To track billable hours with the mobile app, use the FreshBooks Chome Timer extension or integrated apps like Asana, Trello, Basecamp, or Teamwork. The mileage tracker calculates distance and potential tax deduction for each trip.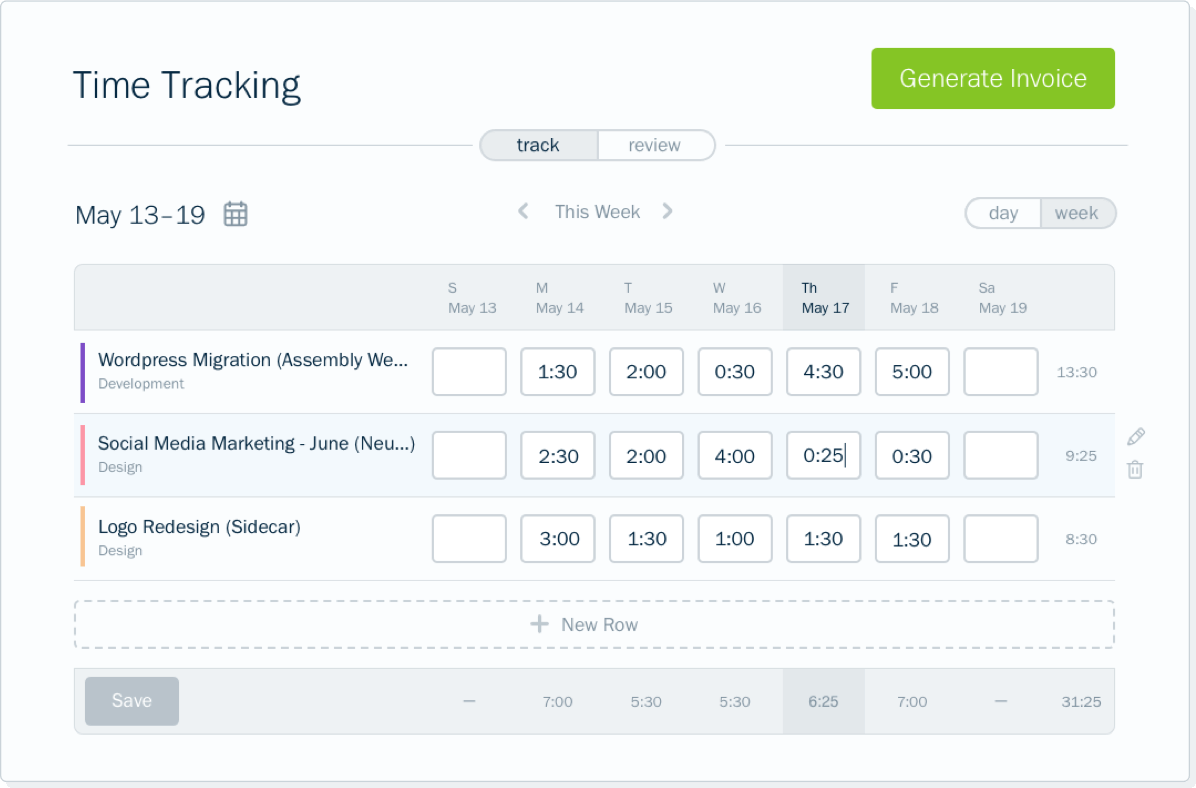 Source: FreshBooks
Accounts payable. This feature allows to manage your payments related to multiple vendors and track outstanding bills and paid taxes. Besides, you can create a bill by uploading its photo or generating it from scratch.
Inventory management. Add, edit, or delete items in your inventory. Once you send an invoice, FreshBooks automatically reduces its quantity in stock.
Security. FreshBooks provides encryption protocols, backups and runs regular server scans for vulnerabilities by Sikich LLP. It is compliant with PCI and Card Holder Data and follows OWASP development practices.
Xero vs FreshBooks: Digging into Pricing
What Are Xero Price Tags?
In Xero, pricing plans correspond to gradual company growth. So they are Early, Growing, and Established options with only a monthly subscription.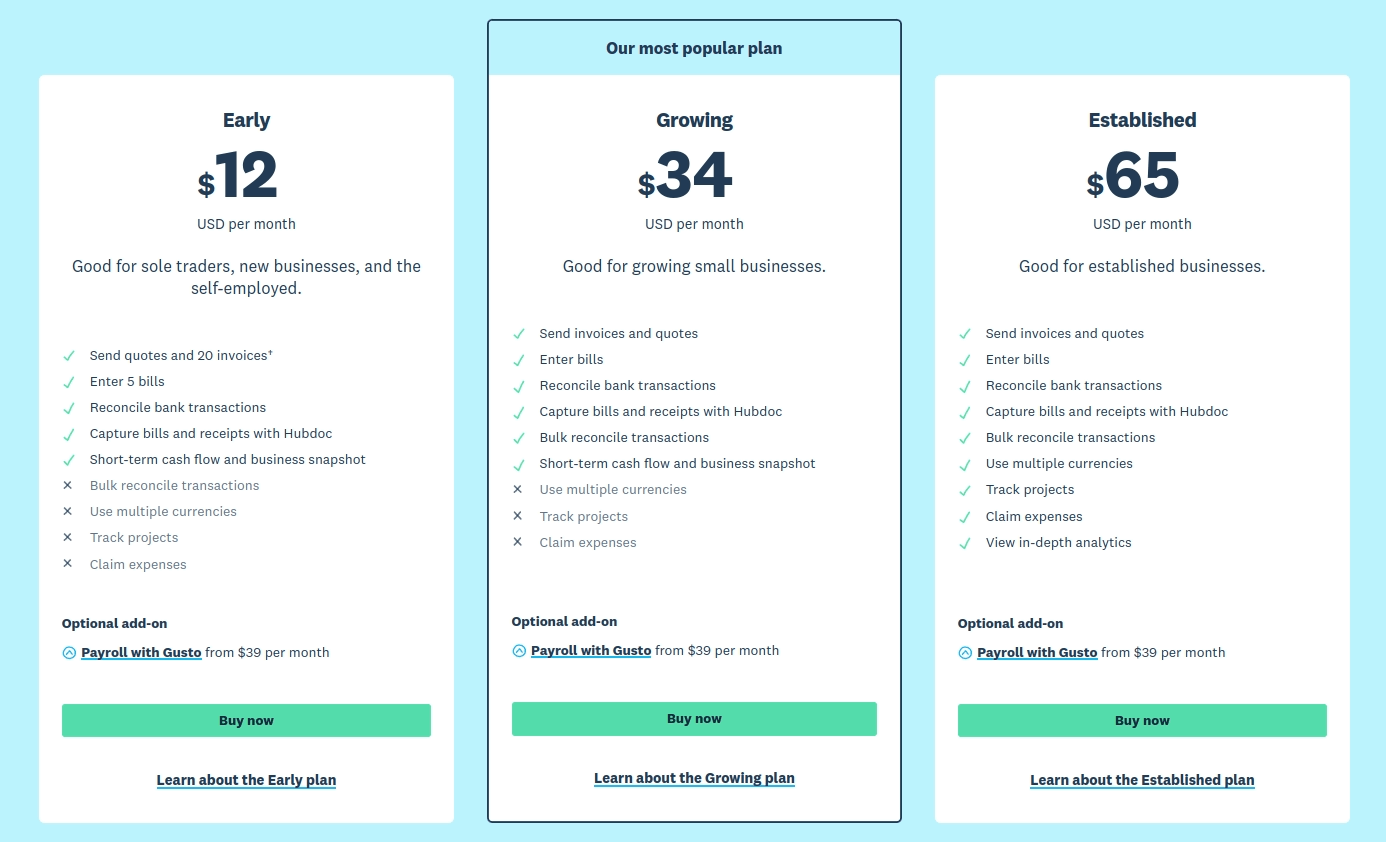 Source: Xero
Early plan meets sole traders, start-ups, and the self-employed needs and costs $12 per month. It includes sending quotes and up to 20 invoices, creating 5 bills, bank reconciliation, capturing bills and expenses with Hubdoc, and tracking short-term cash flow.
Growing costs $34 per month and focuses on meeting the requirements of an establishing business. The plan includes all features from Early plan plus bulk reconciliations and unlimited invoices.
Established plan caters to the needs of mid-sized and large businesses. In addition to Growing features, it provides multi-currency support, in-depth analytics, project tracking, and expense claiming.
How Much Does FreshBooks Cost?
FreshBooks offers four price tags: Lite, Plus, and Premium with fixed fees and Select for large companies with complex accounting needs. Accounting software provides unlimited invoices, expenses, and estimates on all plans yet limit the number of clients for the Lite and Plus. Also, you need to pay extra fees for additional team members.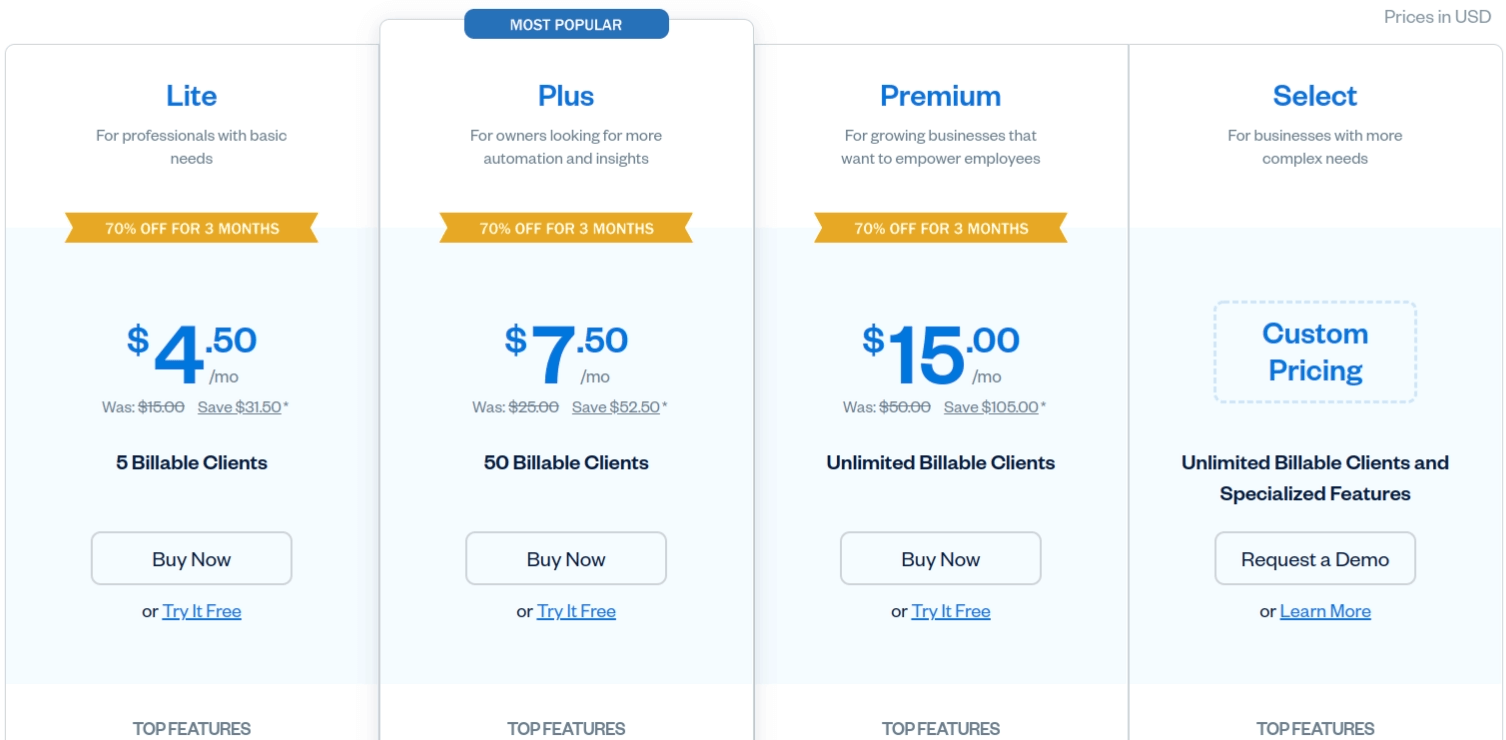 Source: FreshBooks
Lite costs $4.50 and includes 5 billable clients, payments with credit cards and bank transfers, sales tax tracking, and access from iOS and Android.
Plus costs $7.50 and offers 50 billable clients, all Lite features plus automatic expense and receipt data tracking, recurring billing, double-entry accounting reports, inviting an accountant, and mobile mileage tracking.
Premium contains all Plus features and offers unlimited clients, tracking bills and accounts payable, estimating project profitability, and customizing emails with dynamic fields and email signatures.
Comparing Pros and Cons of FreshBooks vs Xero
What Are the Benefits of Xero Accounting?
Unlimited users. This feature is included in all Xero plans, so you can connect multiple employees and accountants to your system without paying an extra fee.
Billing. Xero offers feature-rich payables. You can view bills and purchase orders on a dashboard, schedule payments, set up recurring bills, and send bills in bulk with one transaction.
Inventory management. Besides tracking items, you can import them in bulk and automatically fill in item details in accounting documents.
Asset management. Move all your fixed assets into Xero at one go or create one from a bill. You can update asset types, automatically or manually choose depreciation methods, track disposed or sold assets on a disposal schedule, and more.
What Are Cons of Xero?
No phone customer support. Xero doesn't provide customer support by phone. You can use email to fix your issue or ask a question and expect the answer within 48 hours.
No built-in recurring payments. To automate recurring payments, you need to integrate with the Stripe system and use the Auto Pay feature.
Challenging set-up. The initial app configuration may be confusing for users with no technical and accounting experience.
What Are the Benefits of FreshBooks?
Mobile app. You can manage key accounting processes on the go: send invoices, track time and mileage, and communicate with clients.
Easy to use. The app is designed with users in mind, especially those users who have no or small experience in accounting. You can access documents and reports, or work from the main dashboard.
Recurring payments. You can set up them using templates with custom invoice styles and online payment options. Plus, you can allow your clients to enable recurring payments as an option in your invoices.
Country-specific tax calculation. Adjust your accounting software to the tax systems of multiple countries. Just choose the country while signing up or filling in your basic information.
What Are the Cons of FreshBooks?
Limited feature access. Some accounting features are available as add-ons, such as inviting new team members.
No built-in inventory management.
No purchase orders.
Limited multi-currency support. You can perform bank reconciliation only in a single currency.
Who Uses FreshBooks Accounting?
FreshBooks is used across diverse industries with the dominant computer software, IT services, advertising, and accounting. It makes a great fit for agencies who look for bookkeeping tools, field contractors who need mobile apps, and start-ups to manage their receivables. A common FreshBooks customer is a small business with up to 10 team members.
Who Are Xero Users?
Xero accounting has over 2 million subscribers and boasts awards from various accounting organizations. It provides services for such industries as accounting, retail, computer software, IT, and others. 69% of Xero customers are SMBs with up to 50 employees.
How to Migrate Data to Xero or FreshBooks?
Adoption of accounting software or moving to another one is going through the accounting data migration step. Business data matters a lot and especially accounting records. That creates the set of security and process requirements for data import.
Some accounting software vendors offer pre-built importing tools; that's not a secret. You can manually export and import a CSV filer. That's a long process depending on how you set up your CSV and how the importing tool handles the process. This way of data migration takes your time, effort and raises the security aspect too.
Alternatively, you can turn to the automated SaaS service – Accounting and Invoicing Data Migration. The process is simple: you connect your source and destination accounting platforms, match the records, and run a free Demo Migration before paying for the service.
Who Can Cater to Your Business Growth: Xero vs FreshBooks?
FreshBooks and Xero are among the small businesses' favorite options and not in vain. These invoicing solutions provide rich toolkits for managing basic and specific bookkeeping processes. Xero delivers inventory management and powerful billing options, while FreshBooks is praised for its ease of use and time tracking.
Thus, if you're a growing or established business, Xero will better meet your requirements. If you're a start-up and your accounting is not too needy, consider FreshBooks.
Frequently Asked Questions
Xero is designed for SMBs, while Freshbooks is more for startups and individuals. Also, Xero is more than two times more expensive than Freshbooks.
Among the best alternatives to Xero are QuickBooks Online and Zoho Books.
QuickBooks is more popular in the US, while Xero is widely used in Europe and New Zealand.
QuickBooks is designed for selling companies that require scalable accounting software. FreshBooks suits the best for service-based businesses to track income & expenses.
Xero and Sage are both cloud-based accounting tools that are user-friendly and have a mobile app. Xero is focused on catering to small and medium business needs, while Sage is designed for more complex businesses.
Xero provides a timer to track billable hours and a mileage tracker to calculate fees to reimburse per mile.
FreshBooks offers a moderate learning curve and is easy to use for users with little or no accounting experience.
FreshBooks offers a 30-days free trial.
Cheaper alternatives to Xero are Zoho Books, FreshBooks, QuickBooks Online and FreeAgent.
Want to migrate to Xero or FreshBooks?
Let's migrate your data automatedly
Setup a free Demo