You might have noticed that Xero vs Odoo is a frequent pair to consider. It's hard to define the best accounting software for a small business, indeed. It must provide the right selection of accounting features and be accessible for tight budgets at the same time.
Anyway, you can't come up with a decision without investigation. So let's compare Xero vs Odoo features and check which cloud accounting tool offers a better user interface and meets your needs in a full scale.
What Is Xero?
Xero is cloud-based accounting software for small and growing companies. You can connect it to your bank account to track business profitability and manage bills and invoices. Xero dashboard shows the updates on your business health and notifies you of what actions need to be done. Automatic invoice reminders and the Pay Now option ensure you send timely invoices and make payments, while batch billing saves time.
Users praise Xero accounting for its straightforward features and intuitive user interface. If you still need assistance in using Xero, a knowledge base with articles and instructions will help you out.
What Is Odoo Accounting?
Odoo Accounting is one of the Odoo modules that helps you track and improve the performance. The app syncs with multiple bank accounts, imports and reconciles transactions, and lets you monitor overall accounting via financial statements and reports. You can set up users, manage customers, and stay on top of your payables & receivables by checking the dashboard.
Odoo Accounting automates tasks like turning quotes into invoices, auto-filling invoice details, and synchronization with your bank statements. Integration with other Odoo apps can make your business management a piece of cake.
How to Use Odoo Accounting Features?
Dashboard displays updates on customer invoices, vendor bills, assets, bank balances, cash flow, and expenses. You can create new invoices, upload bills, or reconcile bank statements from here.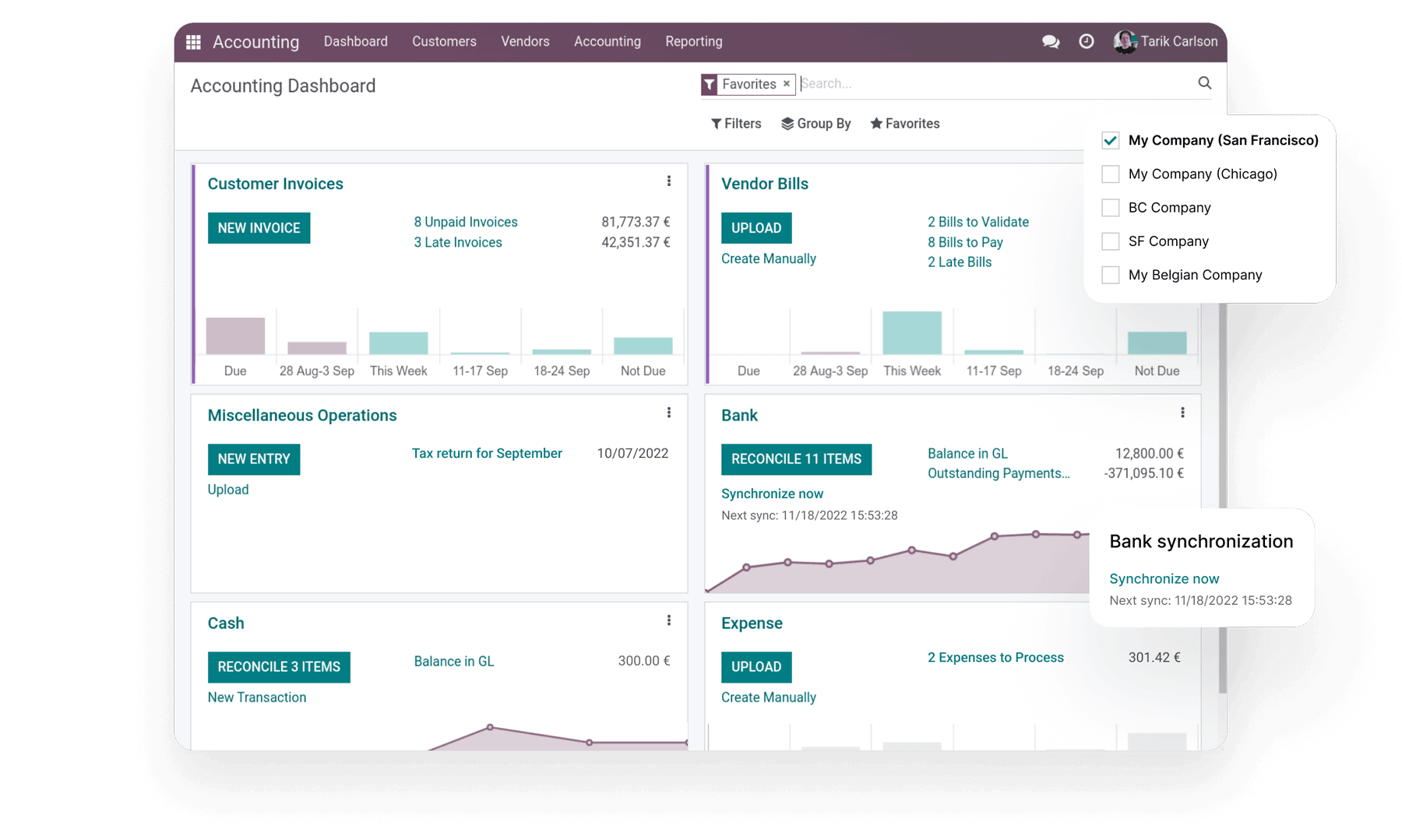 Source: Odoo
Accounts Receivable. You can accept online payments via PayPal, Stripe, Ingenico, Buckaroo, and other platforms and track invoice status. To handle late or outstanding payments, you can send automated follow-ups. Also, you can issue credit notes and refunds.
Invoicing. Create invoices based on quotes and send them by email or attach them as PDFs. You can set invoicing rules for multiple companies and manage supplier invoices. Odoo Invoicing auto-completes addresses after you enter the VAT number and lets you set recurring invoices.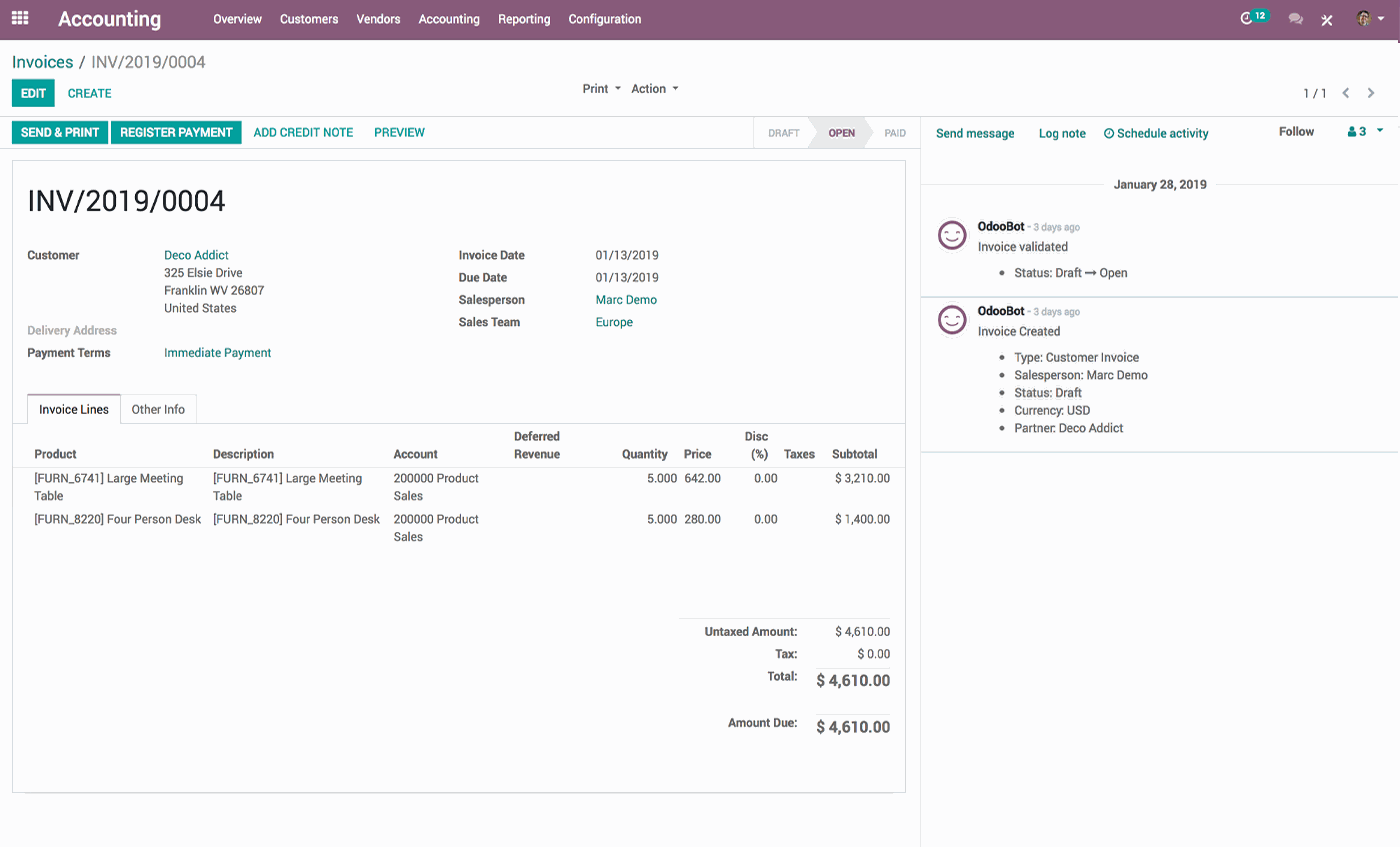 Source: Odoo
Bank reconciliation. Once connected to your bank account, Odoo pulls all transactions to your database. It offers reconciliation by manual write-off, confirming suggested items, or matching existing invoices or bills. You can pre-set the reconciliation model and conditions on the bank statement line.

Source: Odoo
Customer service provides support by email, live chat, and phone. The self-service options include documentation, a forum, FAQs, and training videos.
User access. You can add unlimited users to Odoo, select their type, like Internal or Public, and apply rules to restrict access to specific data. The access rights relate to reading, writing, creating, and deleting values of an object.
Reporting includes Balance Sheet, Profit & Loss, General Ledger, Aged Payables, Aged Receivables, Cash Flow Statement, Tax Report, Bank Reconciliation, and more. You can add notes to reports and compare values to up to 12 other periods. Also, Odoo Accounting allows you to create reports with customized formulas, check data inalterability, and carry taxes from one period to another.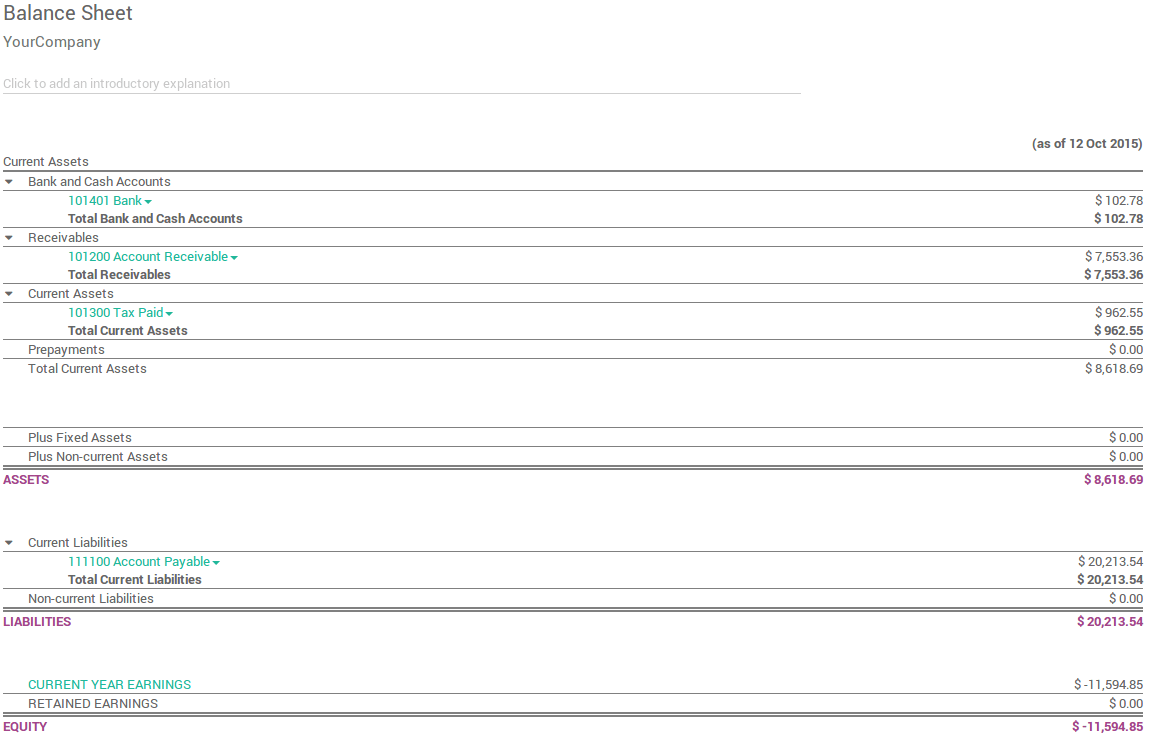 Source: Odoo
Time and mileage tracking. The Timesheet module allows you to track time online or offline and add timesheets to the grid view. The timesheets show the project's profitability and statistics on billable hours, uninvoiced amounts, and more. With the Odoo Fleet app, you can set up your vehicle and insurance policies and track money spent for each vehicle.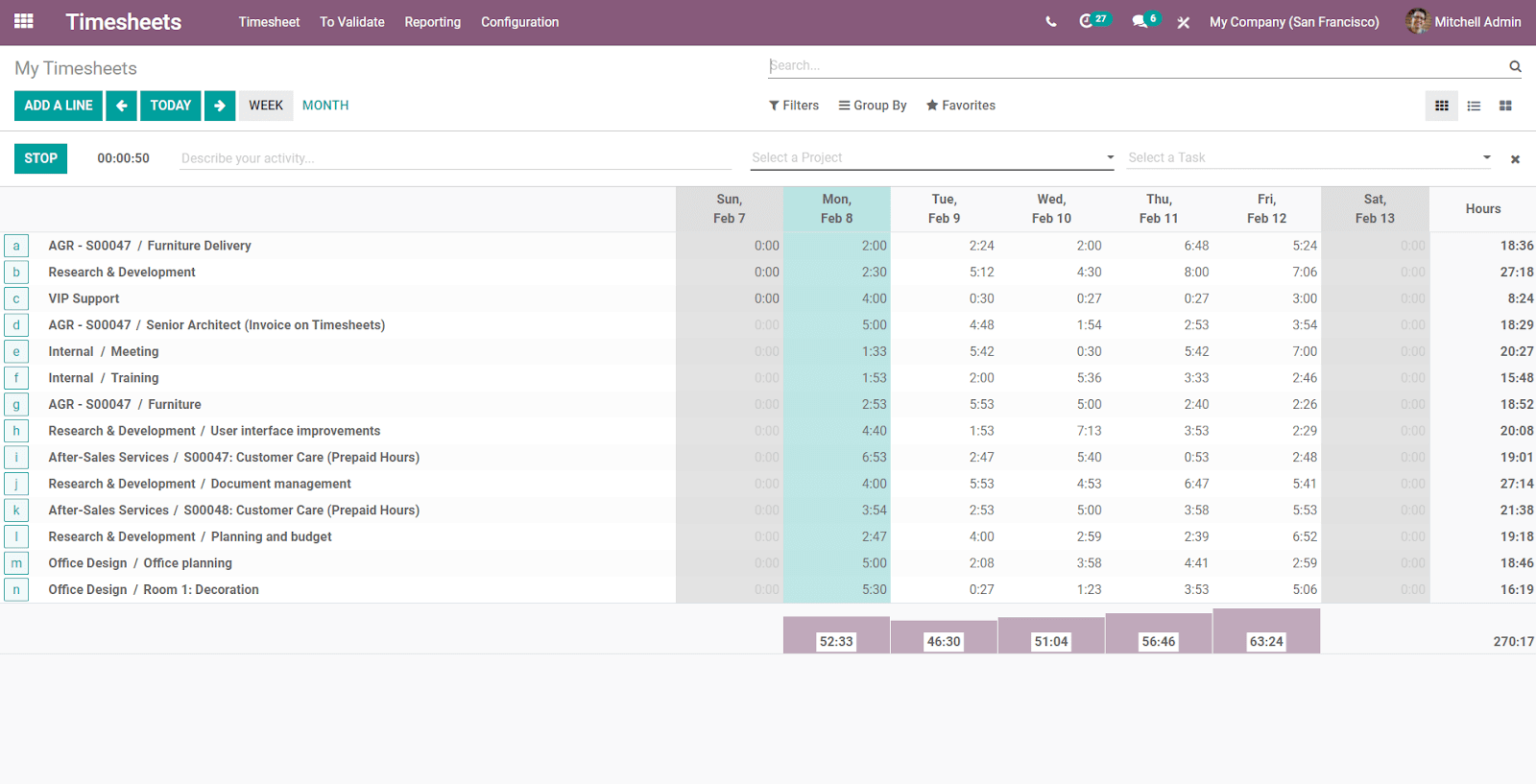 Source: Odoo
Accounts payable cover managing vendor bills, purchase orders, and assets. You can match vendor bills with purchase orders, record receipts, add entries with your fixed or non-current assets, and perform depreciation.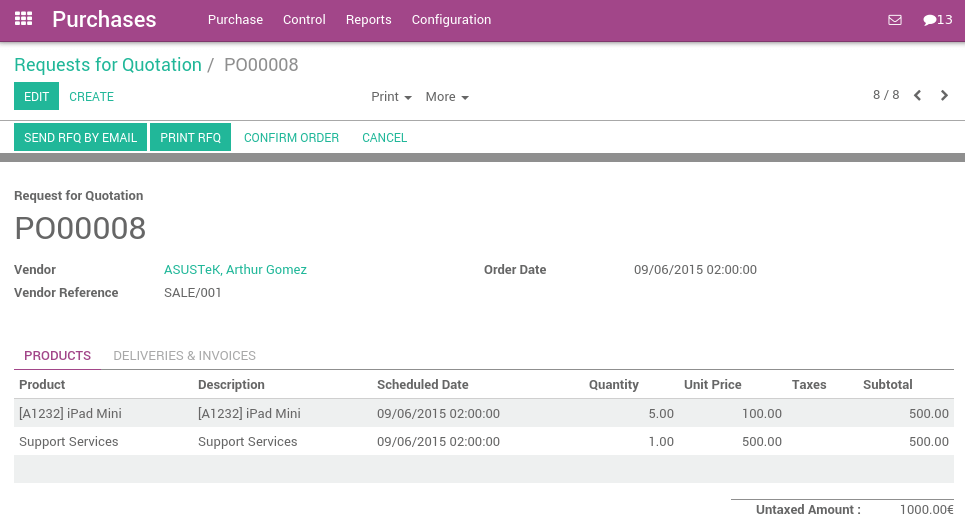 Source: Odoo
Security includes 14 full backups per 3 months, a dedicated database for customer data, password encryption, PCI compliance, vulnerability reports, and more. Odoo follows OWASP standards and is regularly audited by independent companies.
Integrations. Odoo offers 10,000 integrated apps to optimize your business processes. You can use the vendor's apps or apps made by other users or create your own solutions with Odoo Studio.

What Are the Key Features of Xero?

Dashboard updates account balances, cash flow, and invoicing and shows summaries of unpaid bills and owed invoices. Once you set up your accounting data, you can customize the Xero dashboard to show you specific updates.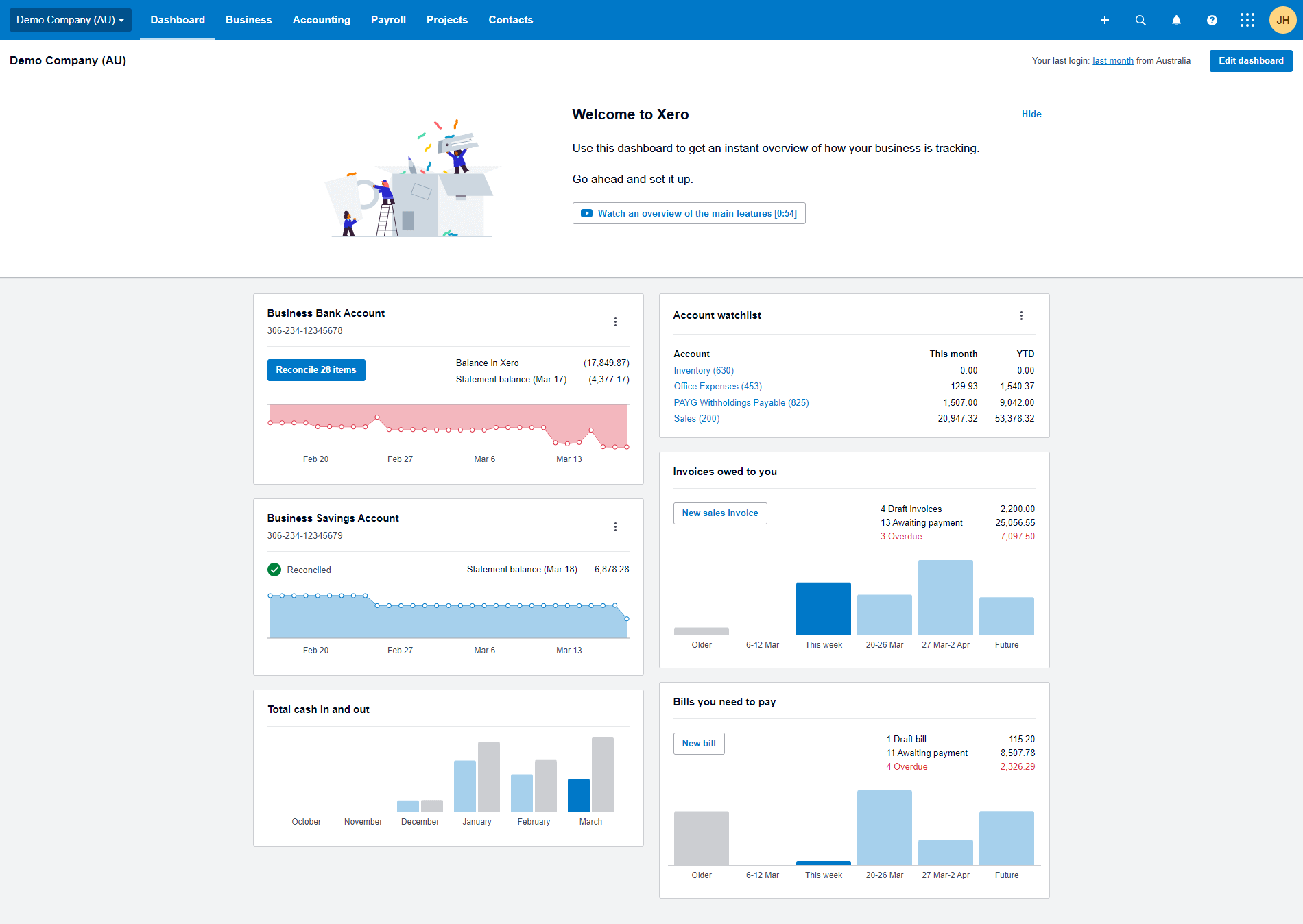 Source: Xero
Accounts Receivable. Streamline payments by adding a Pay Now button to your invoices and accepting payments via Stripe and GoCardless. To ensure you get paid on time, track invoice status and set up automatic reminders. You can issue refunds and credit notes in Xero.
Invoicing. Create invoice layouts with your logo and a standard message, or turn quotes into invoices. Xero supports sending and importing bulk invoices and allows you to set up recurring invoices.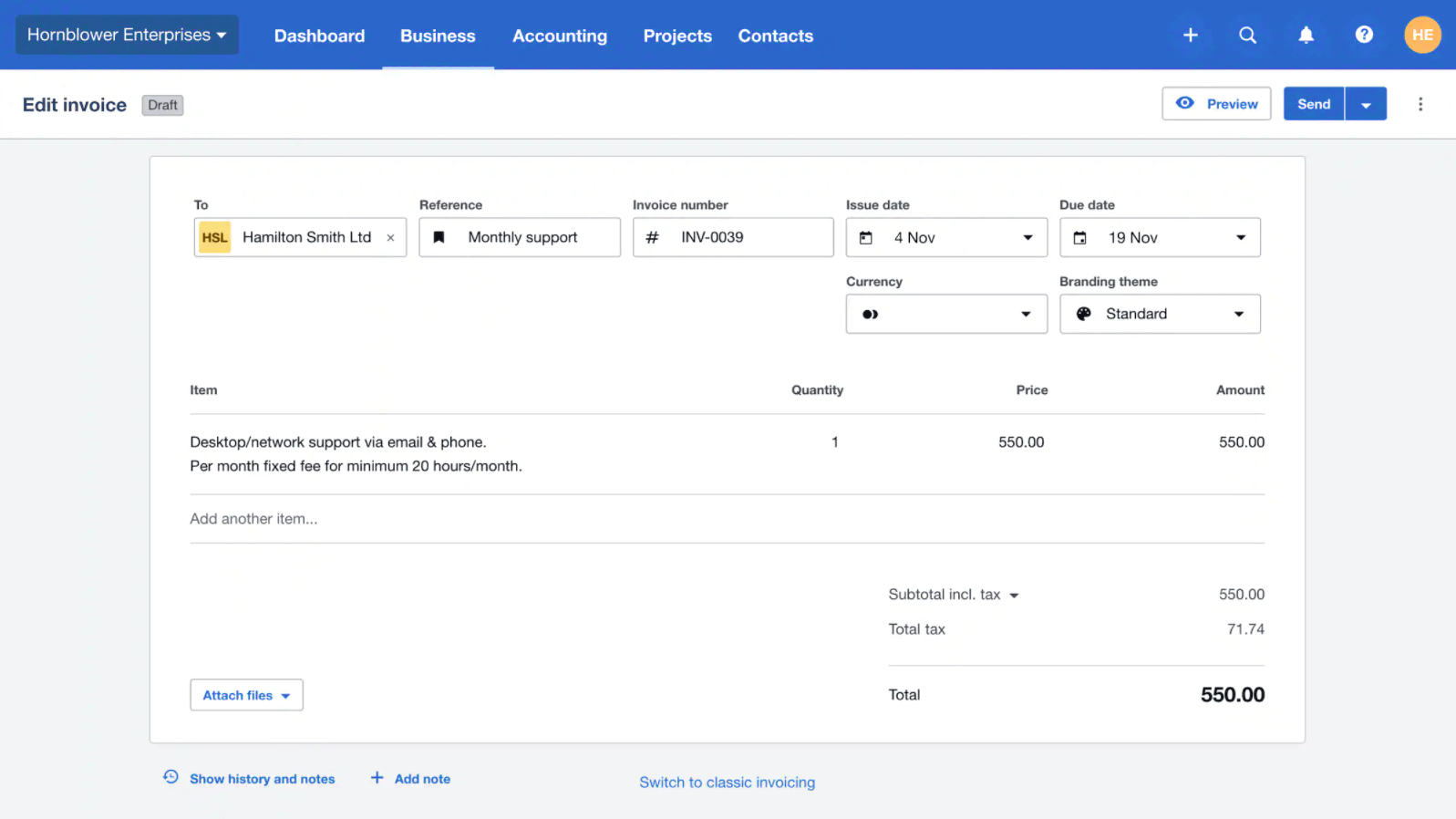 Source: Xero
Bank reconciliation. Xero informs you on unreconciled statements and when bank feeds are available for import. You can execute reconciliation by matching statements with existing transactions, accepting Xero's suggestions, or creating missing transactions.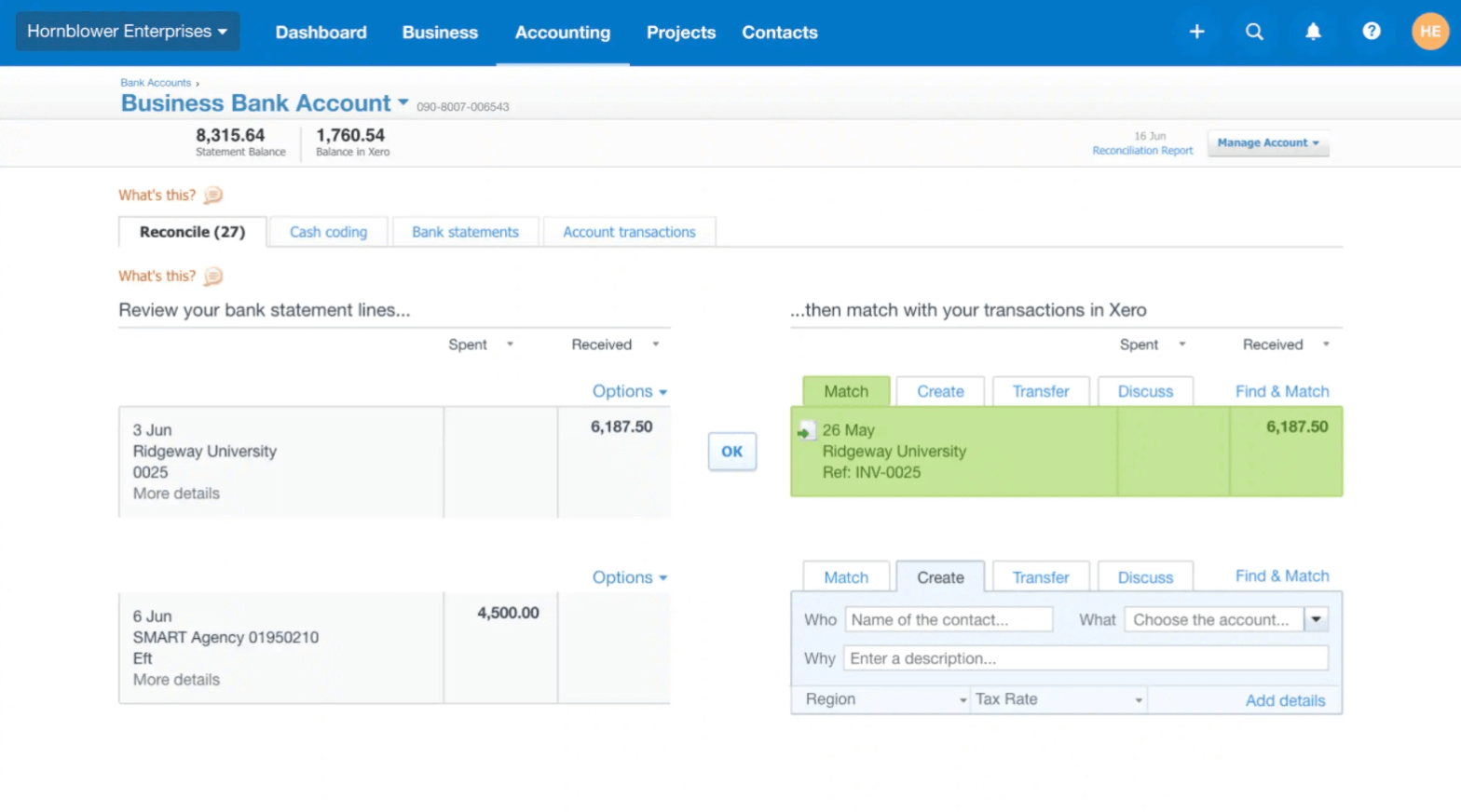 Source: Xero
Customer service includes 24/7 online support and the Xero Central site with documentation, courses, and webinars. You can't call Xero support by phone, but they can call you at your request.
User access. Xero has several user roles which can get additional permissions to access specific Xero functions, such as editing bank account details, viewing reports, or managing projects.
Reporting covers Executive Summary, Cash Summary, Profit & Loss, Balance Sheet, and summaries on aged payables and receivables. You can customize reports by reordering rows and columns and adding tracking categories and formulas. To find a report, enter its name, date, or author.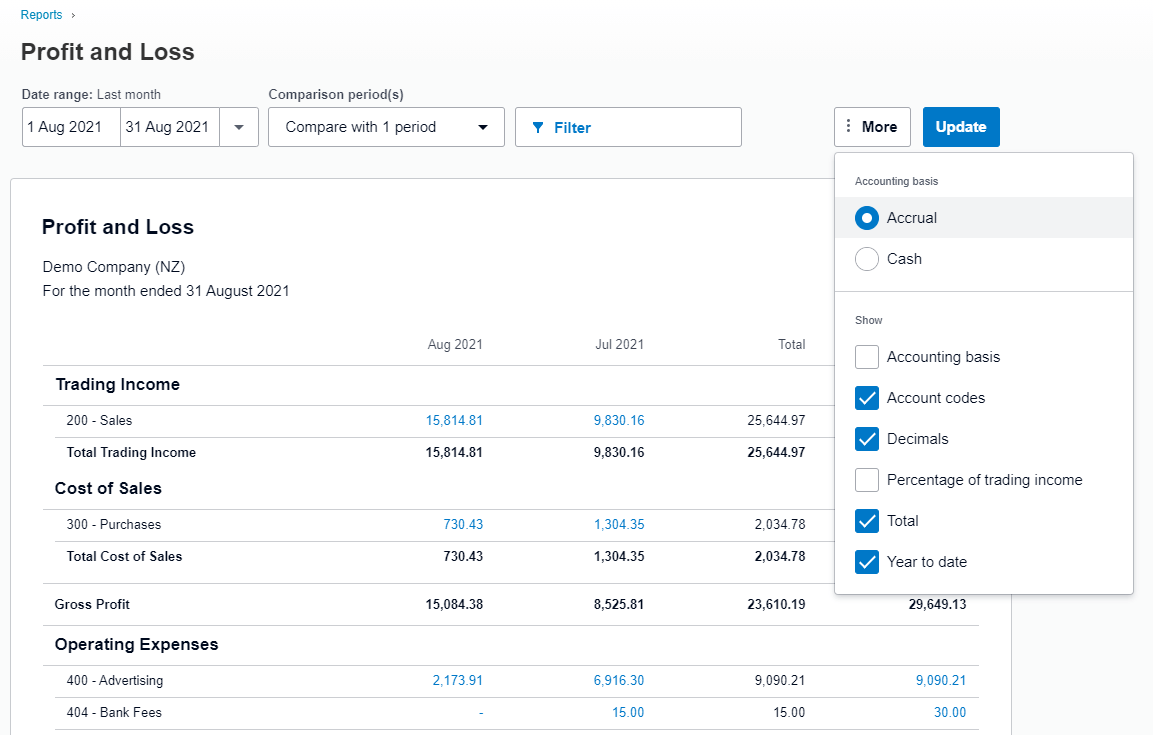 Source: Xero
Time and mileage tracking. With Xero Projects, you can track time per task or project with a timer and create invoices for logged costs and time. Plus, you track time spent at a certain location. Mileage Tracker calculates the distance and sends notifications on employees' expenses so that you can approve or decline them.
Accounts payable. Xero lets you organize bills in folders, create draft bills, and copy bills. To pay on time, you can schedule payments and pay multiple bills in a single transaction.
Security. Xero is ISO/IEC 27001:2013, SOC 2, and PCI DSS v3.2 compliant. It offers multi-factor authentication, network security controls, data replication in different locations, encryption, and a security noticeboard.
Integrations include apps covering various business needs, such as HubSpot, Shopify, Hubdoc, Stripe, and others. Plus, Xero integrates with over 5,000 Zapier apps.
Who Offers a Better Price: Xero vs Odoo Accounting?Can I Get Xero for Free?
Xero doesn't provide a forever-free plan, but you can try all of its features for 30 days for no fee. What do the paid Xero packages include?
Early costs $13/month and allows you to send 20 quotes and invoices, enter 5 bills, reconcile bank statements, capture bills and receipts with Hubdoc and check business snapshots.
Growing costs $37/month and provides unlimited invoicing and bulk reconciliation.
Established costs $70/month and includes multiple currencies, project tracking, in-depth analytics, and allows to claim expenses.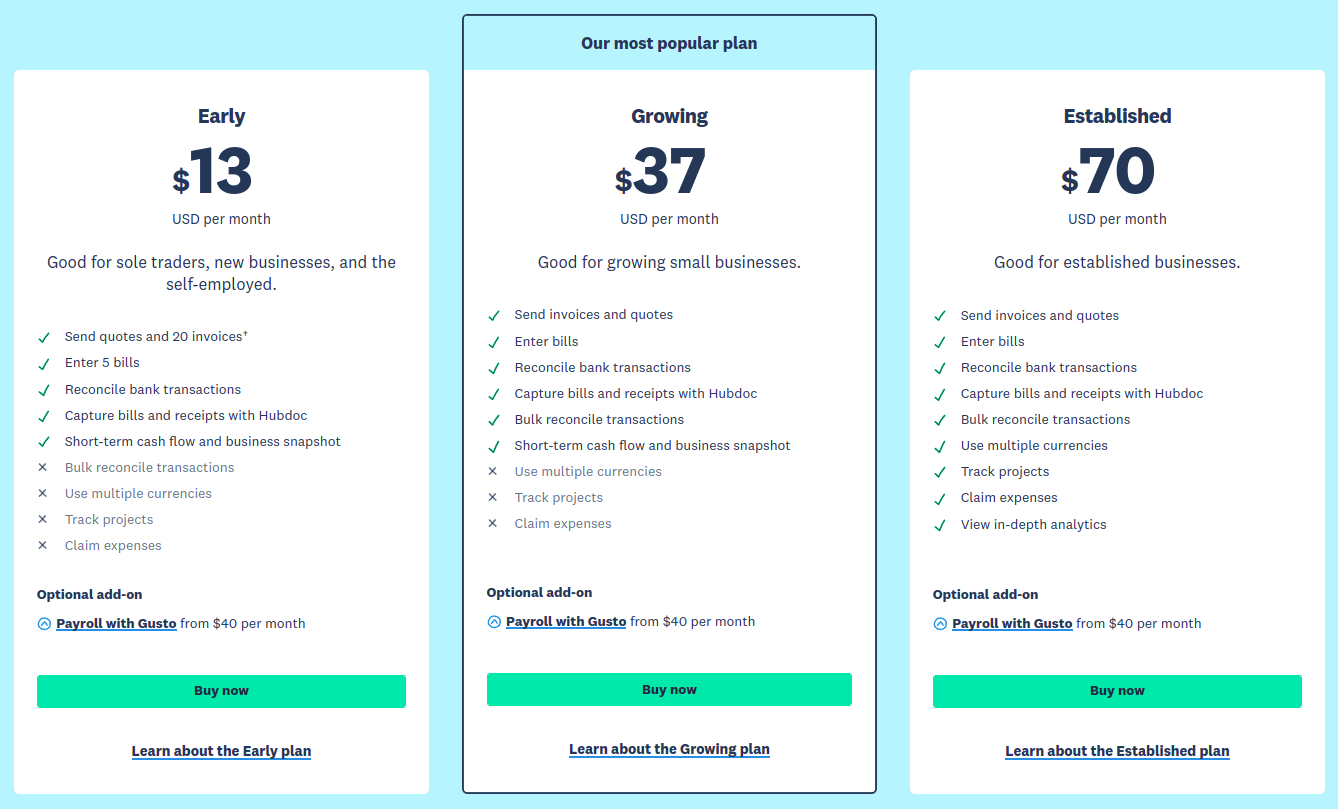 Source: Xero
Is Odoo Accounting Module Free?
Yes, you can use Odoo Accounting for free if you use only one Odoo app. To use more Odoo modules at once, you need to choose a paid subscription. Let's check Odoo's pricing plans and figure this out.
Free includes one Odoo app and allows unlimited users.
Standard costs €14.90/user/month and allows to use all apps for a single fee.
Custom costs €22.40/user/month and includes all apps + multi-company support, hosting options, and external API.
Odoo assures to provide unlimited support, maintenance and hosting for all plans.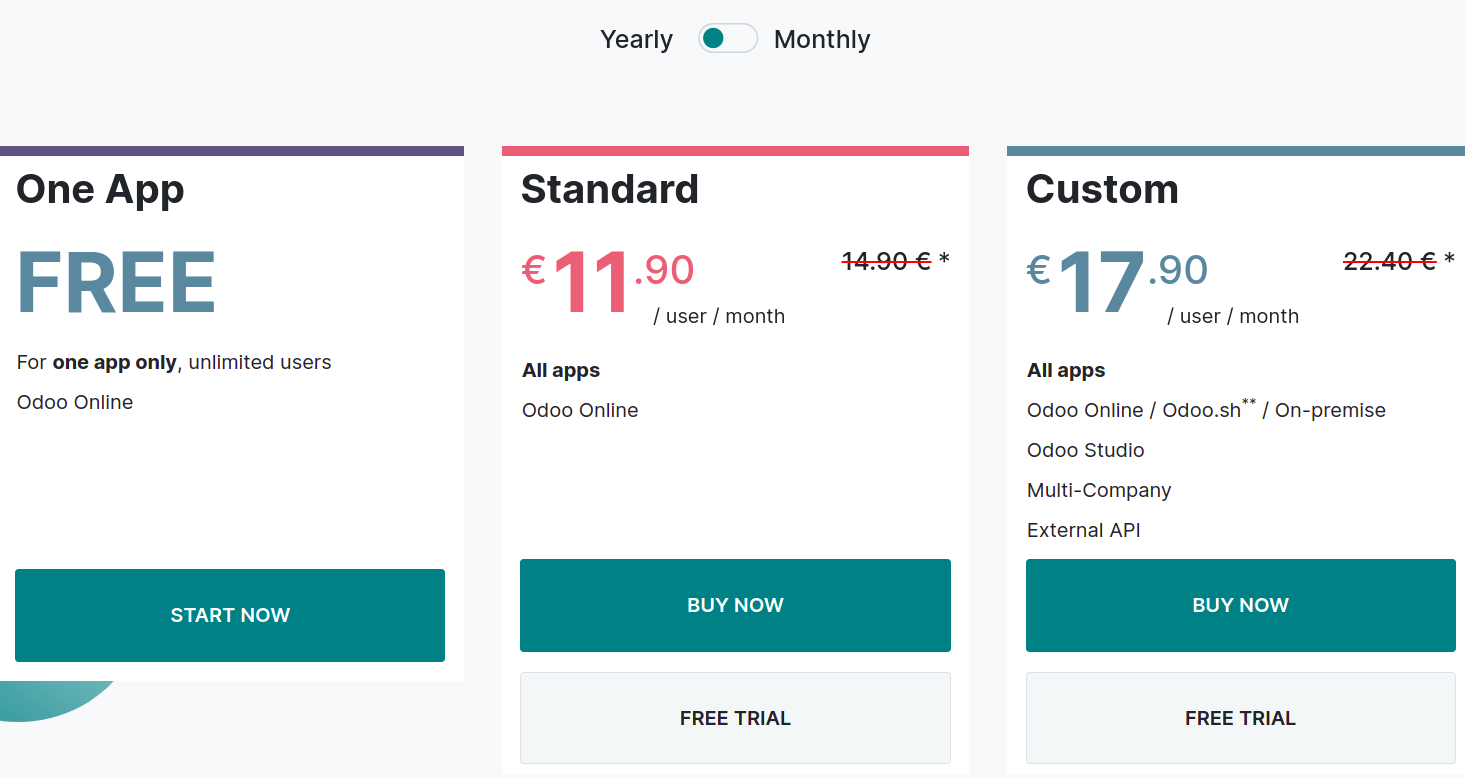 Source: Odoo
Xero vs Odoo Accounting: Weighing Up Strong & Weak Spots
Once we're done with Xero vs Odoo feature comparison, it's time to dig into a more detailed analysis. The best way to choose software is to consider its benefits and drawbacks and see if they match your requirements, right? So, let's do it!
What Are the Benefits of Using Xero?
It offers an easy-to-navigate user interface.
Billing management includes bulk payments and recurring bills.
You can get paid faster with the Pay Now option.
Reports are customizable down to details.
Xero tracks items and auto-fills product details in accounting documents.
You can track and claim expenses.
The feature set includes a functional mobile app.
What Are the Cons of Xero?
The lowest plan has a limited feature set.
You can make up to 2,000 transactions per month.
You can't request Xero's customer service by phone.
Is Odoo Accounting Good?
It is an open-source platform that covers various business needs.
It offers an intuitive user interface.
You can build custom applications with Odoo Studio.
Invoices and bills are unlimited.
You can manage fixed and non-current assets.
What Are the Disadvantages of Odoo Accounting?
It offers a few built-in features.
You can't manage inventory without additional modules.
The pricing structure is confusing.
What Businesses Use Xero?
Xero is primarily designed with small businesses in mind, but still, growing companies can consider it a viable option. The basic set of accounting features makes it compatible with various industries, including
Construction
Accounting
IT services
Computer software
Trade
Manufacturing
Ecommerce
Real estate
Retail
Health & social care
Can Xero benefit your business type? Check the list of supported business types from Xero's Case Study page:
Landlords
Non-profits
Self-employed
Startups
Regardless of the focus on small businesses, Xero users include large corporations with up to 2 billion revenue, such as NetSuite Inc and CoreLogic.
Who Is Odoo Accounting Good for?
Since Odoo Accounting is just one of Odoo's modules, it's an excellent option for businesses that want to tackle various business tasks.
The customers of Odoo Accounting are mostly companies with up to 50 employees with up to 10 million in revenue. The industries using Odoo Accounting include
IT services
Computer software
Accounting
Textiles
Real estate
Internet
HR
How to Migrate Data to Xero or Odoo Accounting?
Data migration can cause much confusion if you don't know the best way to carry it out. Business accounting contains sensitive data, so how to migrate it securely and accurately? While Odoo doesn't have a native migration tool, Xero offers a CSV import that involves a range of manual actions. Yet, manual data import is prone to errors, that's a fact.
To feel safe about your data, you can choose the automated Accounting and Invoicing Data Migration service. It keeps all data interrelations and supports various text formats. You can start with a Free Demo Migration to check how it works.
Xero vs Odoo Accounting: the Verdict
So, which accounting system is better for your business? Both Xero and Odoo are good accounting tools for monitoring the financial health of small businesses. Much depends on your business needs and expectations. Odoo Accounting can be especially advantageous for those who need a suite of tools to manage their business flexibly. If you don't need that, look closely at Odoo Accounting alternatives, including Xero.
Frequently Asked Questions
Odoo Accounting is an easy-to-use accounting tool for small businesses. QuickBooks offers more features but requires basic bookkeeping and technical skills.
Odoo's competitors are NetSuite, SAP ERP, Acumatica, Kinetic, SYSPRO, and others.
Odoo Accounting provides solutions to manage basic accounting operations like bank reconciliation and payment tracking.
Xero helps accounting teams to handle accounts payable & receivable, reconcile transactions, and optimize financial health with customizable reporting.
No. Xero is cloud-based accounting software for small and growing companies.
Want to migrate to Xero or FreshBooks?
Let's migrate your data automatedly
Setup a free Demo