Are you struggling to decide between FreshBooks and Kashoon for your small business accounting needs? Making a decision can be overwhelming, especially when it comes to something as important as accounting software. That's why we've put together this blog post to help you better understand each of these two solutions so that you can make an informed decision. In this post, we'll compare FreshBooks and Kashoon, highlighting their unique features, functionality, and pricing so that you can make the best decision for your business. So let's focus on the following criteria:
Definition of FreshBooks vs Kashoo
Features of Kashoo vs FreshBooks
Pricing options of Kashoo vs FreshBooks
The pros and cons of FreshBooks vs Kashoo
Which companies use FreshBooks vs Kashoo and the benefits of each for small and medium-sized businesses
The packages of FreshBooks vs Kashoo for personal use
What Is FreshBooks?
FreshBooks is an online invoicing and accounting solution that makes it easy for entrepreneurs and small businesses to manage their finances. It includes tools such as automated invoicing, expense tracking, and time tracking features to manage your finances. The more expensive plans offer special features for large companies and enterprises.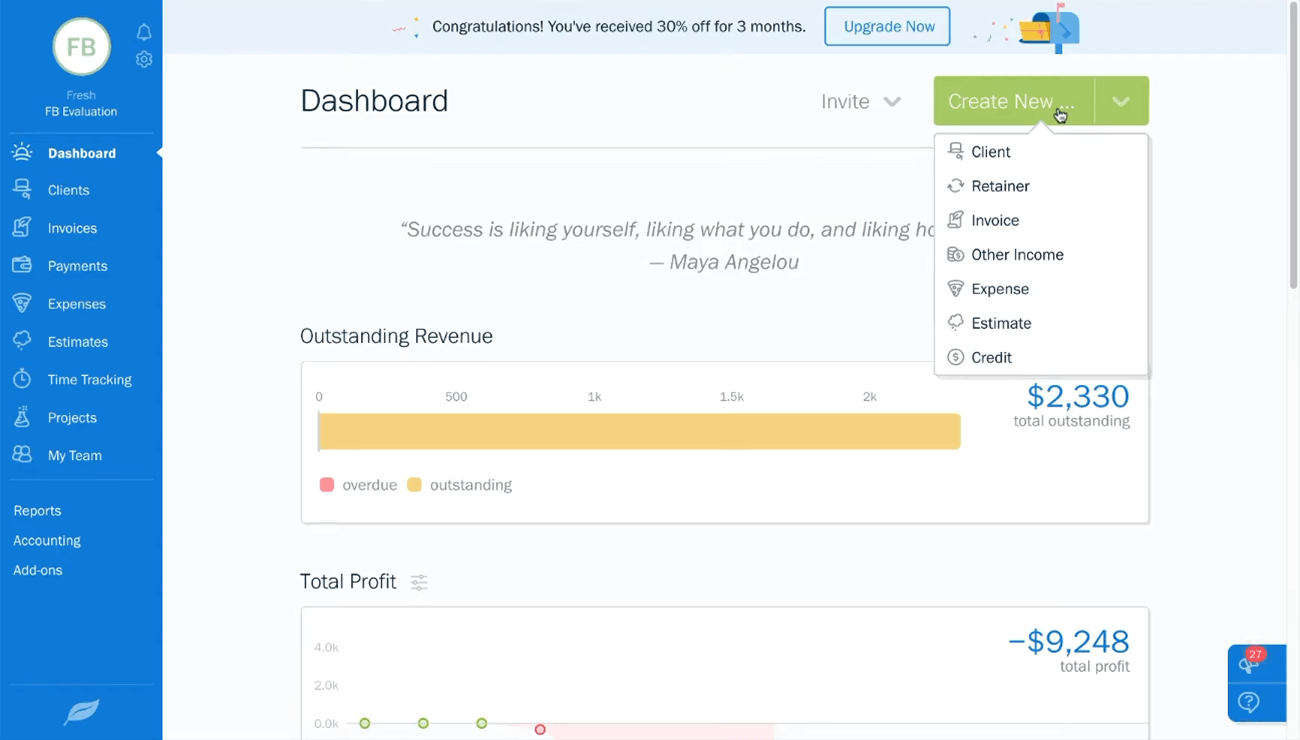 FreshBooks Dashboard. Source: FreshBooks Dashboard Walkthrough - Gentle Frog Bookkeeping and Custom Training
What Is Kashoo?
Kashoo is an online accounting and bookkeeping platform designed to help small businesses and entrepreneurs manage their finances more efficiently. It is packed with features such as automated invoices, time tracking, expense tracking, and bank integration. It's also a good choice for freelancers because it's straightforward and affordable.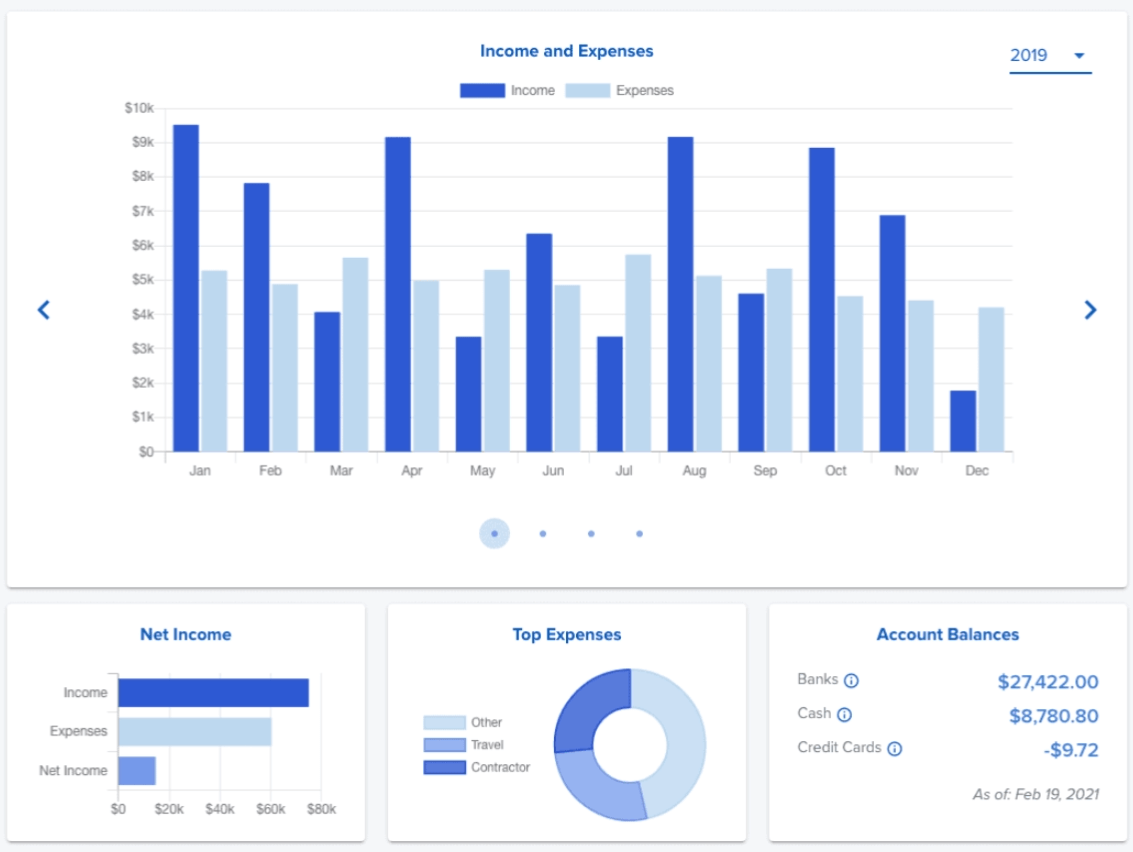 Kashoo Dashboard. Source: Kashoo
What Should You Consider When Choosing BetweenKashoo vs FreshBooks?
Managing your finances can be difficult and time-consuming as a small business owner. One way to make the task easier is to use an online accounting software program. Let's look at the various features of FreshBooks and Kashoo and weigh the pros and cons of each, so you can make an informed decision.
Invoicing
This is the first Kashoo vs FreshBooks feature to consider when using accounting software. FreshBooks import invoices make this platform a winner.
If you need straightforward but customizable invoicing, the Kashoo invoice feature is for you. With it, you can change the invoice layout and detect your late payers.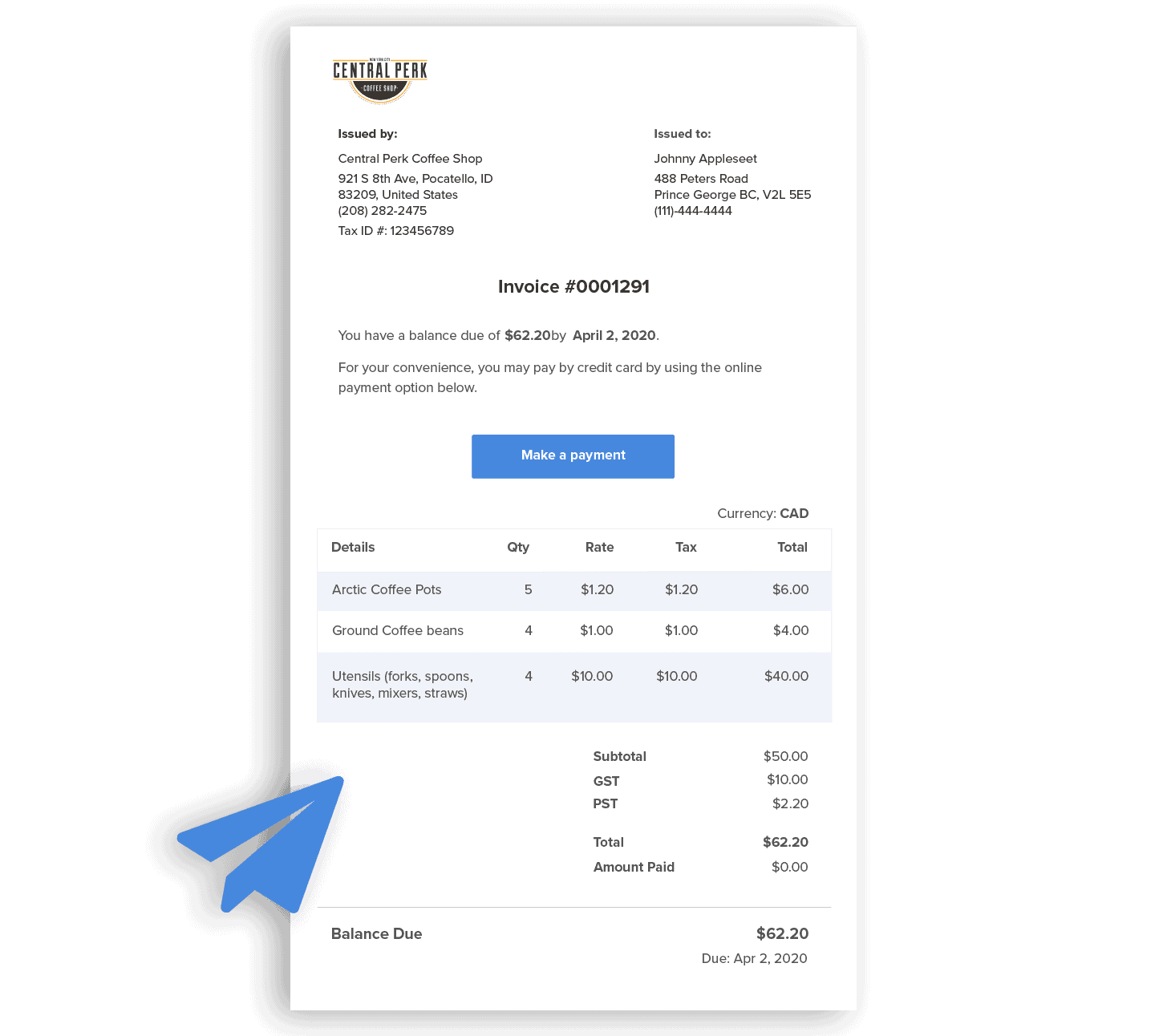 Invoicing in Kashoo. Source: Kashoo
FreshBooks offers more comprehensive and professional invoicing than Kashoo. It's more suitable for business owners dealing with dozens of invoices daily. Use FreshBooks automation to set recurring invoices and payment reminders and convert estimates and proposals into a FreshBooks invoice.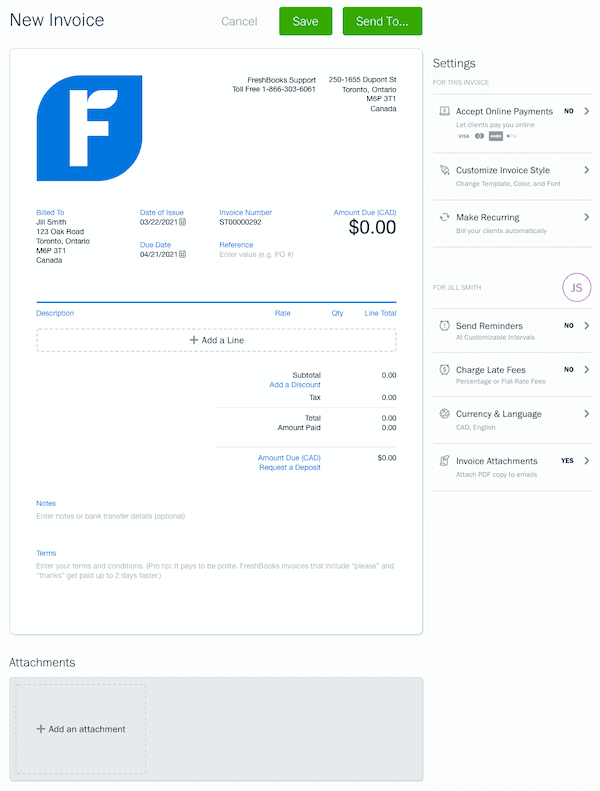 Invoicing in FreshBooks. Source: FreshBooks
Financial Statements
Kashoo vs FreshBooks financial statements are different. FreshBooks offers balance sheets, cash flow, expense, and income statements to track your assets and liabilities. All your money inflows and outflows are recorded for easy and fast tracking using FreshBooks bank transfer features.
Kashoo offers several simplified financial reports to track paid and unpaid bills. You have several simple and automated financial report formats, and you can quickly sort them out.
Expense Management
This is another difference in our FreshBooks vs Kashoo comparison. Kashoo's expense feature allows you to track every payment you make, while FreshBooks' expense feature is more advanced and covers the needs of medium-sized businesses. For example, it offers mobile mileage tracking for an accurate estimate of transportation expenses while creating a FreshBooks invoice.
Time Tracking
Although Kashoo and FreshBooks offer time tracking features, FreshBooks allows you convert billable hours into cash.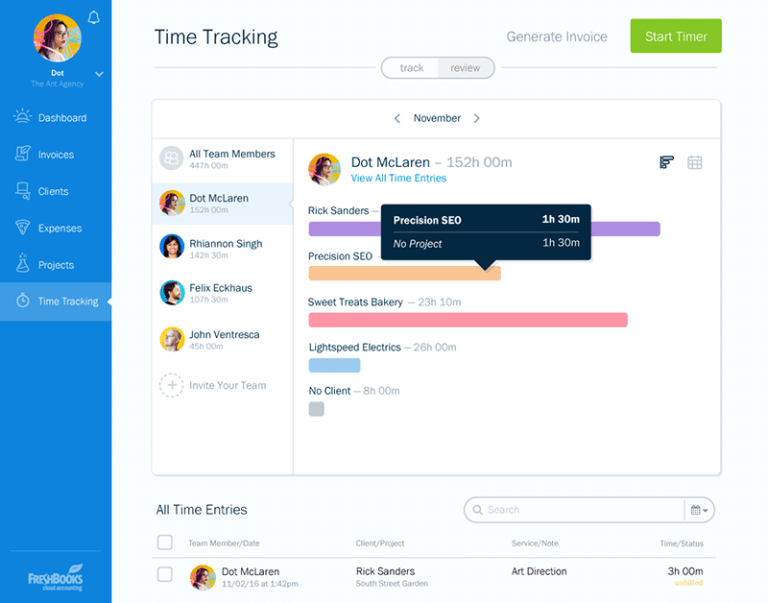 FreshBook's Time Tracking. Source: New: Team Time Tracking on FreshBooks | FreshBooks Blog
Project Management
FreshBooks project management feature allows you to track project costs, income, and profitability. Plus, you can turn estimates into proposals. With Kashoo, you can name your project and assign income & expenses to track its profitability.
Estimates
Kashoo converts estimates and quotes to customizable Kashoo invoice documents to help you determine project profitability. With FreshBooks, you can create customizable proposals and outline the project's scope to impress your clients.
Accounting
FreshBooks excels when it comes to extensive accounting features. For example, you can send details of previous payments to clients. Automated recurring payments and expenses facilitate accounting management.
Kashoo is scalable with simple accounting solutions for small businesses, but you can integrate it with another bookkeeping tool for more complicated accounting transactions.
Reports
Kashoo provides real-time reports to share with clients and track payments and expenses. These include Profit & Loss statements, Balance Sheets, Payables & Receivables, and more.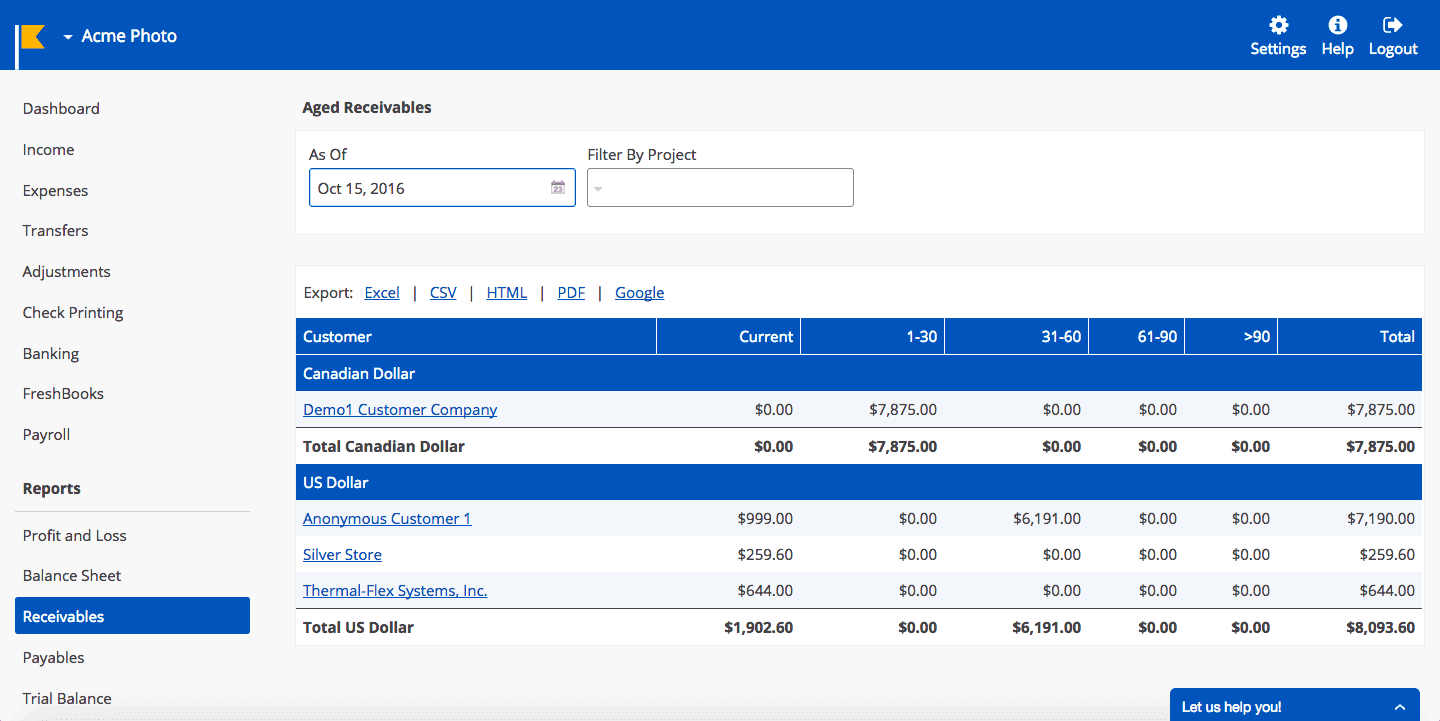 Tracking Aged Receivables in Kashoo. Source: Kashoo
FreshBooks offers ready-made financial reports with color codes for easy tracking. You can filter data by a client, team member, or date. There are also several report options that Kashoo needs to include, like the sales tax summary, accounts aging, project profitability, and recent activity reports.
Payments
In FreshBooks, you can accept payments faster by allowing clients to pay directly through invoices in a single click. You can accept payments through Stripe and PayPal and add checkout links to your website or socials.
Bill Management in FreshBooks. Source: FreshBooks
Kashoo has a simple click-to-pay option that helps you collect payments from clients. Once a customer pays you, Kashoo automatically deposits it to your bank account. Yet, if you need more payment options, FreshBooks will be the right one.
Bank Reconciliation
You can match your bank statements with your FreshBooks bank transfer entries to update your balance and facilitate audit work. In Kashoo, you can import statements as a file or set up bank feeds and reconcile those by accepting the suggested matches.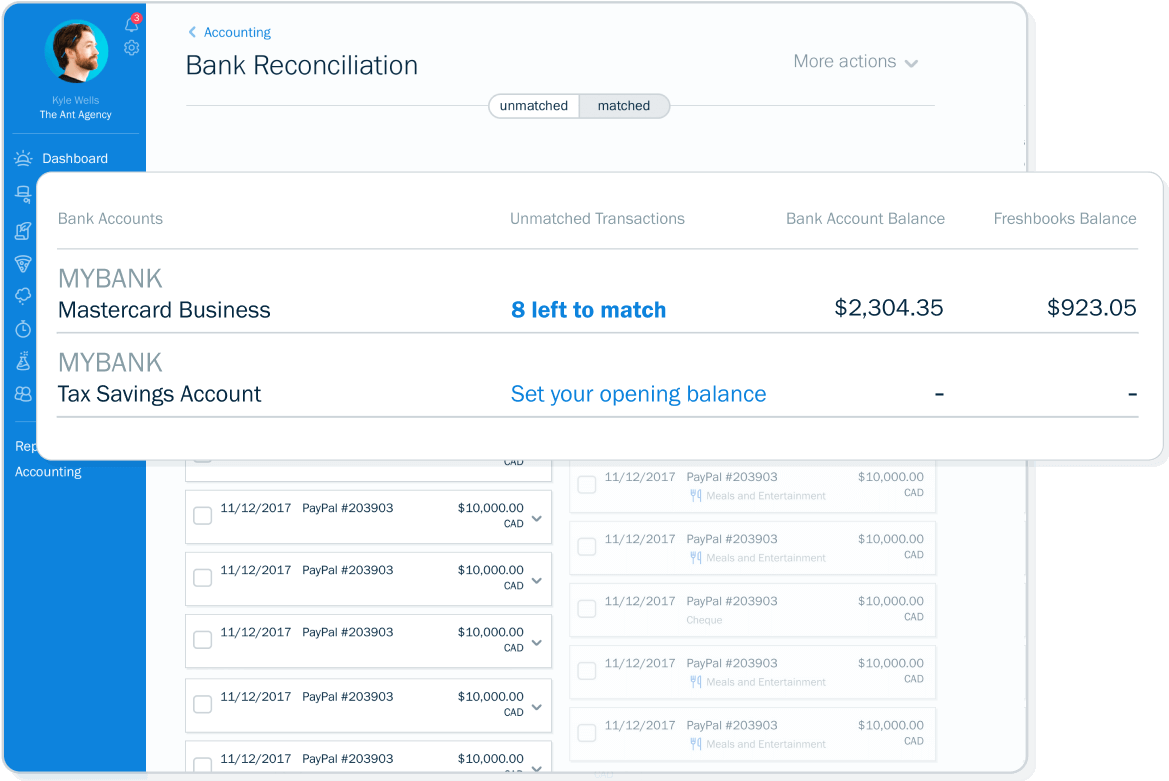 Bank Reconciliation in FreshBooks. Source: FreshBooks
Multi-Currency
Kashoo supports 160 currencies, and once you activate the multi-currency feature, you can send and receive payments from your clients in their money. FreshBooks supports transactions in 25 currencies, and you can use them to create FreshBooks invoices and reports and manage all your financial transactions.
So although Kashoo can accept more payments, FreshBooks does that without any fees and in a seamless setup.
Inventory Management
In Kashoo, you can associate items with income and expense accounts and track the value of your inventory. FreshBooks automatically updates stock based on invoicing and allows you to add, delete, and edit billable items.
Taxation Management
FreshBooks caters the needs of medium-sized and small businesses, it offers better taxation management features. The double-entry accounting system is suitable for tax compliance and keeps your records ready for taxation. You can also file tax reports and calculate sales tax.
Kashoo helps you categorize personal and business expenses for tax calculation. Also, you can identify tax deductions, but it's less comprehensive than in FreshBooks.
Spend Management
FreshBooks automatically imports expenses from your bank and sorts them into tax-friendly categories. Also, you can use it to set recurring fees and store your receipts across devices.
Kashoo tracks and automatically categorizes your expenses. If you deal with a new vendor, Kashoo automatically creates a contact from your transactions.
Payroll
According to our Kashoo review, you can manually enter payroll information, and the app complies with US and Canadian deductions to help you calculate payroll for your staff. You might want to link it to a special payroll and billing software solution to get more payroll features.
FreshBooks doesn't have a built-in payroll tool and offers Gusto integration instead. This app calculates your taxes and files them to government agencies every time you run payroll.
Navigation
Both FreshBooks and Kashoo are pretty easy to navigate. Kashoo is suitable for freelancers and less experienced users. Although FreshBooks is more advanced, it has an intuitive dashboard allowing you to quickly access all its features.
Deployment
FreshBooks can be directly installed on your devices or operated as a SaaS, cloud-based, and web-based system. You can install it on PCs and mobile phones, using Windows, Mac, iOS, and Android systems.
Kashoo is available in SaaS, cloud-based, and web-based versions. It has no mobile app and won't be installed directly on your devices.
Security
FreshBooks is a secure solution for SMBs, following the Google Cloud Platform security features with OWASP security practices. The software has firewalls and runs security scans using 256-bit SSL encryption to protect your valuable data.
Kashoo software review states that it secures your data by saving it to multiple locations. It offers daily backups with unlimited data and offers 256-bit SSL encryption.
Kashoo vs FreshBooks: Which Is More Affordable?
FreshBooks pricing includes four plans and a 30-day free trial. The Lite Plan costs $17 per month and supports 5 clients. The Plus Plan costs $30/per month and supports up to 50 clients. In contrast, the Premium Plan costs $55 per month with unlimited clients and additional features like payment checkout links, mobile mileage tracking, access to your accountant, and mobile applications. The Select Plan is designed for enterprises and offers custom pricing. By the way, FreshBooks' discounts are not a rare thing.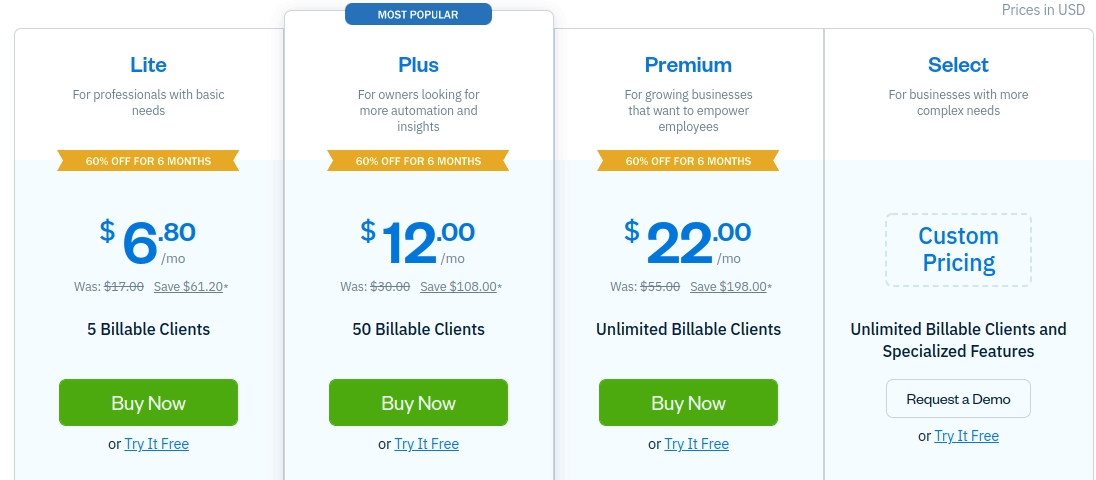 Source: FreshBooks
Kashoo pricing plans are billed annually and include a 14-day free trial. The Truly Small plan for growing small businesses costs $216 per year, with a current offer of $1 for the first year. The Standard Kashoo Plan costs $324 per year, with a current offer of $2 for the first year.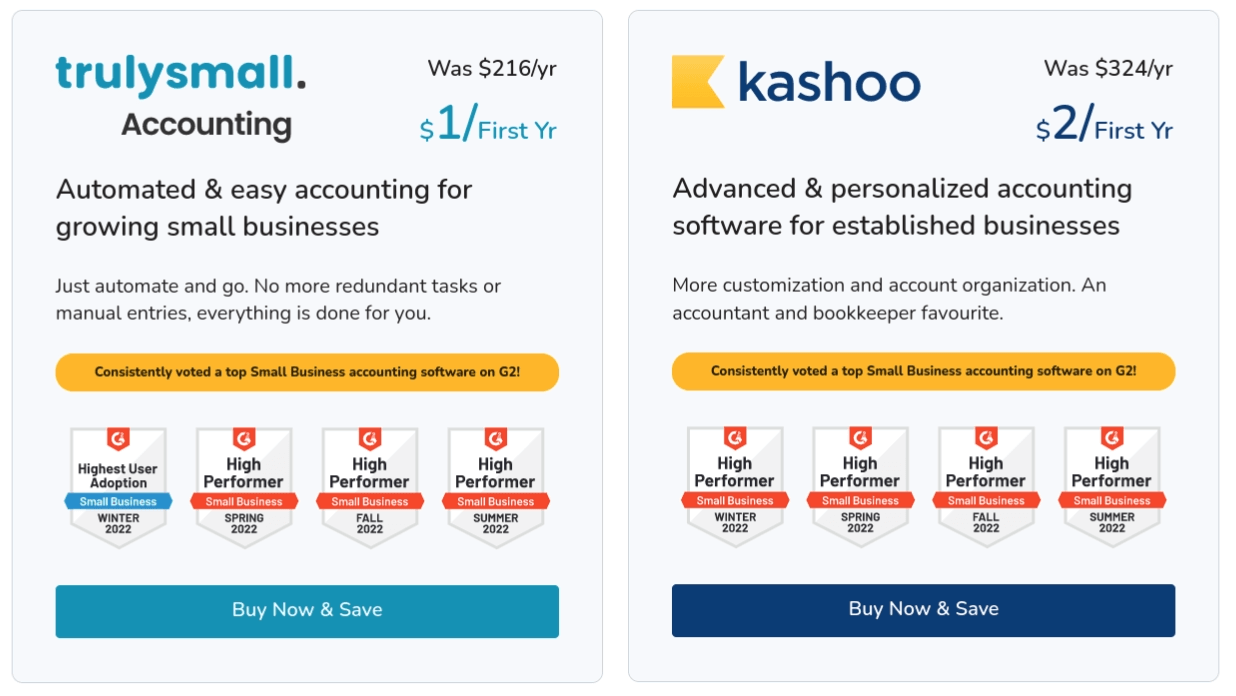 Source: Kashoo
Kashoo pricing is more suitable for small and medium-sized businesses as it offers extra features like tracking invoices, printing checks, integrating a payroll solution, and more advanced reports.
Alternatives to Kashoo and FreshBooks
If you're unsatisfied with these FreshBooks and Kashoo pricing options or their functionality, you can consider alternatives to FreshBooks and Kashoo. If you want better invoice tracking, time tracking, and expense tracking features, you can transfer your data to FreeAgent, Zoho Books, Xero, and QuickBooks. You can also switch to Odoo for more CRM and project management features.
FreshBooks vs Kashoo: Compare the Pros & Cons
Here are the pros and cons of each accounting and billing tool to help you pick the right one for your company.
What Is the Advantage of FreshBooks?
Excellent support on all plans
Customized FreshBooks invoicing and FreshBooks automation templates for reports
Collaboration features like data sharing and comments
Mobile app to manage expenses and payments on the go
Client management features
Checkout links
What Are the Cons of Using FreshBooks?
No built-in payroll
All plans are priced for a single user
You can invite an accountant only after an upgrade
What Are the Benefits of Kashoo?
Supports more currencies and languages
Unlimited users and contacts on all plans
Good cost per value
What Are Kashoo's Shortcomings?
Kashoo invoice and payroll features are limited
Lacks tracking features
Once you've decided about your favorite accounting software, migrate your data automatedly with Accounting and Invoicing Data Migration service. It ensures your data stays safe and unchanged during the migration so you can resume your business operations quickly. To make an informed decision, run a Free Demo first.
Companies that Use FreshBooks vs Kashoo: What Are the Benefits?
FreshBooks is a scalable solution that works for small and growing companies. It offers many accounting and financial management features and plans to help you pick the right one for your company. FreshBooks states that over 30 million people used their software for accounting. FreshBooks users include GitLab, Forbes, and CNN.
Kashoo is more suitable for freelancers and small businesses. Although it offers tiers to address a growing business, you'll still find its features limited.
Which Usage Suite Kashoo/FreshBooks Better?
You're probably asking yourself: "Who is FreshBooks best for?" and "Why should I use Kashoo?" If you're a freelancer or sole proprietor, Kashoo is the right one for you. Yet, as your company grows, you'll need a more comprehensive tool like FreshBooks. It's a good choice for a small business; its premium plans can scale your growing needs.
Conclusion: Kashoo vs FreshBooks
Although both FreshBooks and Kashoo are practical accounting solutions, each works for a specific purpose. Kashoo's review shows it is a good billing and invoicing solution for freelancers and startups. If Kashoo features aren't enough, you can integrate it with other solutions or consider Kashoo alternatives. FreshBooks is a more scalable solution with customizable invoices and reports to meet the needs of small businesses.