In the dynamic realm of business finance, the quest for the perfect small business accounting software becomes paramount. Brace yourself as we delve into a comprehensive examination of two highly sought-after contenders: FreeAgent vs Odoo Accounting.
Renowned for its user-friendly interface and cutting-edge expense management, FreeAgent stands tall in accounting software. On the other side of the spectrum lies Odoo Accounting, an open-source platform characterized by its remarkable adaptability and formidable accounting automation capabilities.
Remember, choosing an accounting system directly influences the precision and efficiency of your financial operations. This accounting software comparison will thoroughly scrutinize features, customization options, pricing, support, and overall value for money in the FreeAgent vs. Odoo Accounting showdown to ensure a well-informed decision for your esteemed business. Prepare to embark on a journey that will empower you to make the best choice for your financial pursuits.
A Battle of Titans: Unveiling the Prowess of FreeAgent vs Odoo
What Are the Odoo Accounting Core Functions?
Double-entry bookkeeping. Following the double-entry bookkeeping rules, Odoo Accounting automatically keeps your accounts balances so that your debit sum equals your credit sum. This accounting software allows you to create and manage charts of accounts, record journal entries, reconcile accounts, generate financial reports, and perform various financial analyses. These features let you maintain proper books of accounts.
Chart of accounts. Odoo lists all accounts used to record financial transactions in your general ledger, such as assets, liabilities, equity, income, and expenses. When creating an account, you can configure its category and type, which will help you check its purpose and behavior effectively. To save time and ensure accuracy, you can automate the creation of asset entries and run reconciliations of the journal entries.
Bank reconciliation. After you import or create bank statements in Odoo Accounting, you can reconcile the items in two ways: ask Odoo to specify the payment in a corresponding invoice or reconcile open invoices with statements. To make the process even more flexible, this accounting software offers three reconciliation models: manual writing-off, approving suggested matches, and matching existing bills and invoices.

Source: Odoo
Invoicing. Odoo provides a separate module for invoicing which lets you create professional invoices based on drafts from sales orders, quotes, and contracts. You can send invoices directly to clients, print them or automatically send invoices by email. The insightful tracking system and automated follow-ups help you stay on top of your invoices.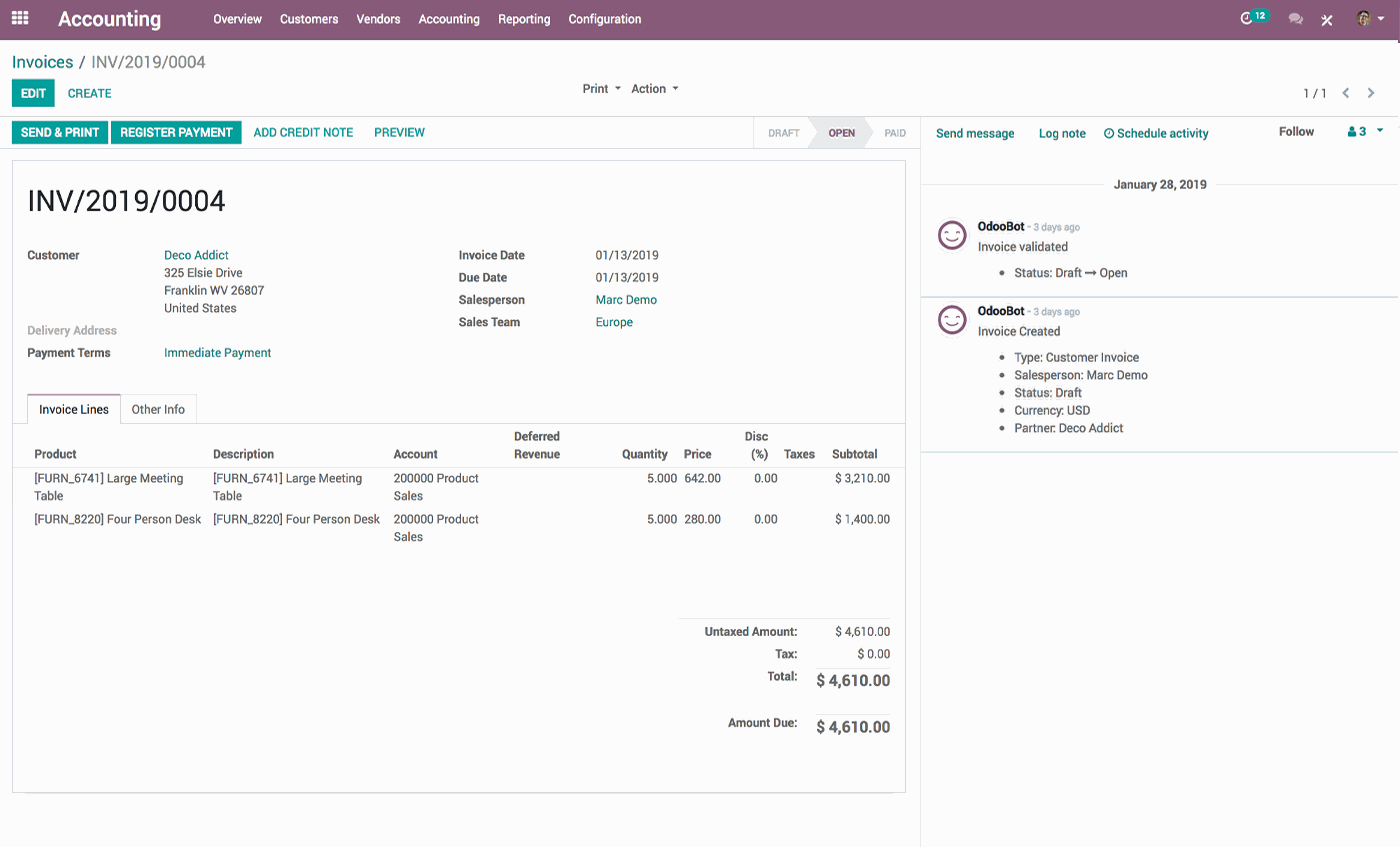 Source: Odoo
Payments. Odoo Invoicing supports payments via PayPal, Stripe, Ingenico, Buckaroo, Adyen, and other systems and syncs with 24000 banks in the USA, New Zealand, and Australia. Your customers can pay in multiple currencies and use an automatic currency converter to check how much they gain or lose on the spot. This module lets you make batch payments and automate your bank wire transfers through the SEPA system.
Expense tracking. The Oddo Expense module delivers an Expense dashboard to create, approve or discard receipts and expense submissions. Your employees can add receipts to expense records, create draft expenses, add notes, and take receipt snapshots with the mobile app. These features keep your expense records transparent and comprehensive.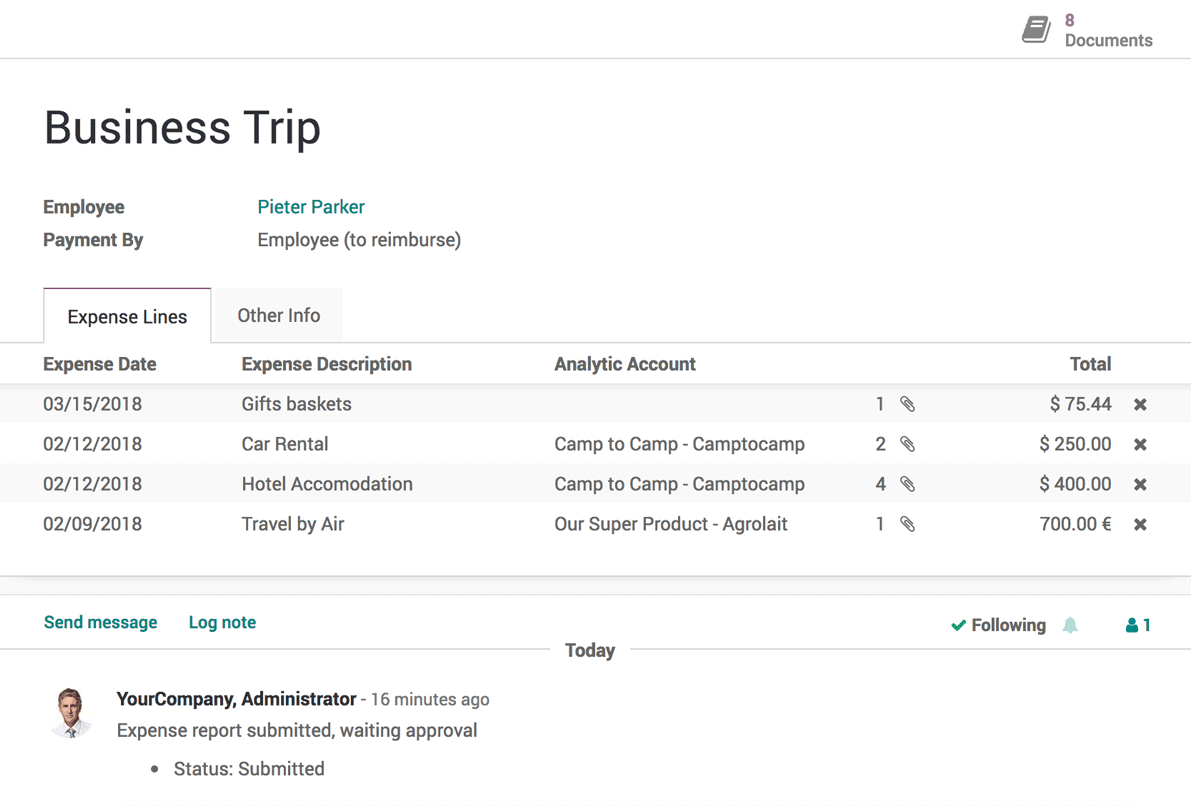 Source: Odoo
What Are the Key Features of FreeAgent?
Bank feeds. You can seamlessly connect your bank accounts to FreeAgent and automatically import your transactions to FreeAgent. The tool categorizes transactions and matches them with existing records, making reconciliation a breeze.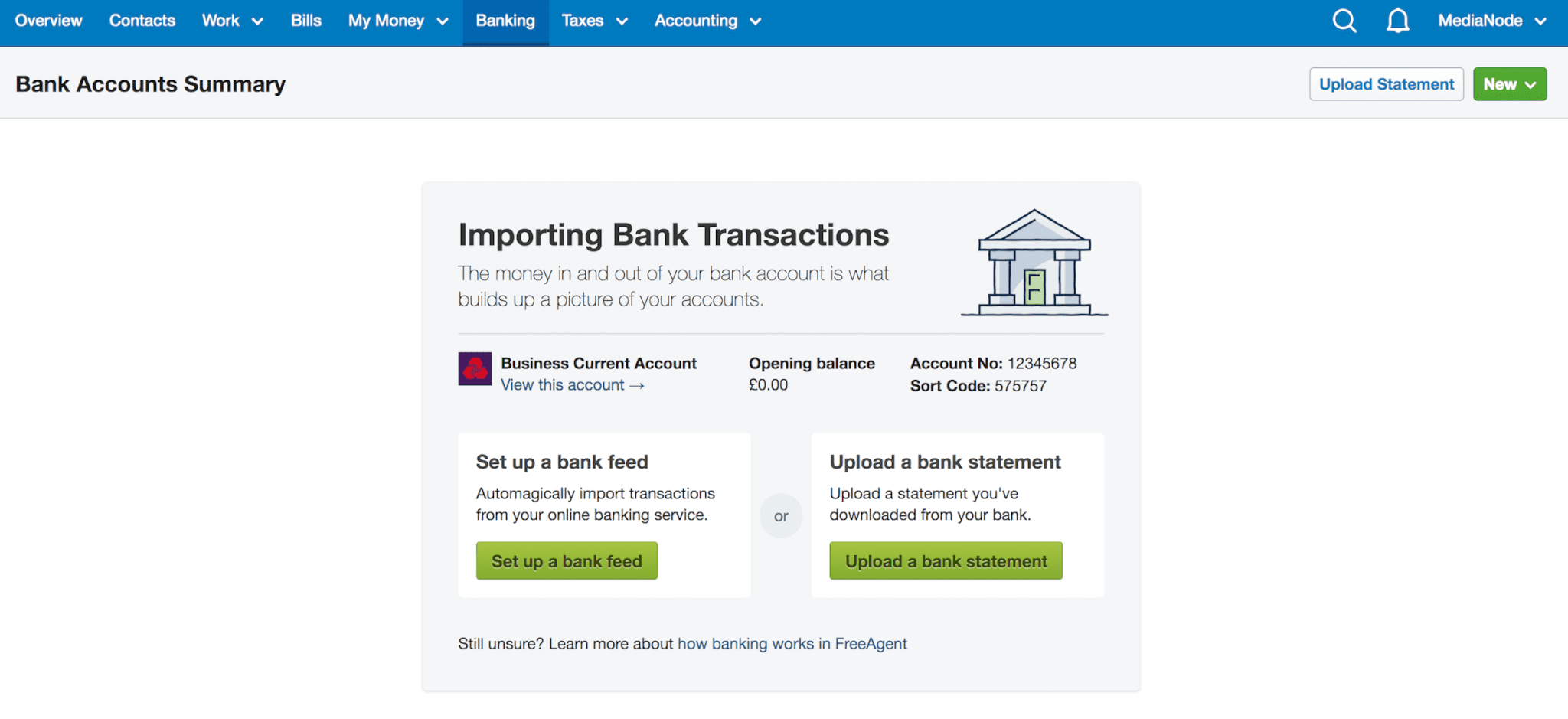 Source: FreeAgent
Invoicing. FreeAgent provides a gallery with customizable templates to help you create invoices reflecting your company identity. You can send recurring invoices and chase late payers with automated reminders. FreeAgent's multi-currency and multi-lingual support ensure you provide a top-notch customer experience, while different payment options help you get paid faster.
Expenses and receipts. With FreeAgent, you track business expenses in real time and generate reports by date and employee. You can set automatic recurring expenses to save time and monitor supplier invoices to know how much you owe. FreeAgent helps you record each expense, whether a bank payment or an out-of-pocket expense. Your employees can snap receipts and upload them to the system while FreeAgent extracts the date and amount for you automatically.
Estimates and proposals. In FreeAgent, you can create and send your customers estimates, quotes, and proposals. Either use 8 templates to make estimates or generate them from scratch. Write the estimate in one of the 25 supported languages and choose the right currency to adapt the document to your client's needs. Once done, send the estimate to a client and track whether it's approved or rejected. FreeAgent allows you to convert estimates into invoices, projects, and tasks and combine several estimates into a single invoice. Duplicating the current estimates will save even more time.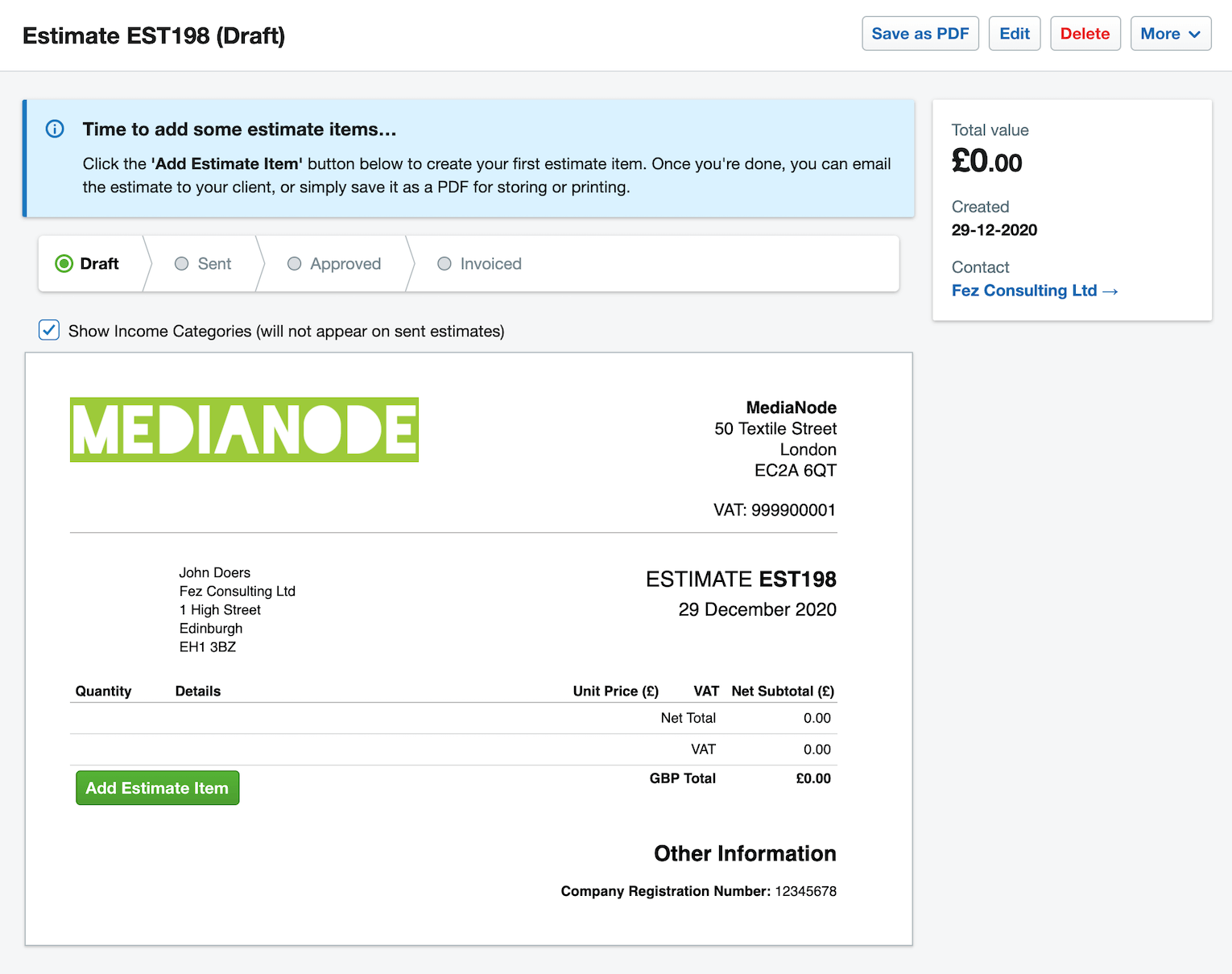 Source: FreeAgent
Time tracking. Knowing where your work time goes is crucial, and FreeAgent understands that. Whether you work from a desktop or mobile, you can keep track of your billable and unbillable hours and generate invoices from the tracked time. Log time manually or use a built-in stopwatch and generate timesheets to drill down into your time management.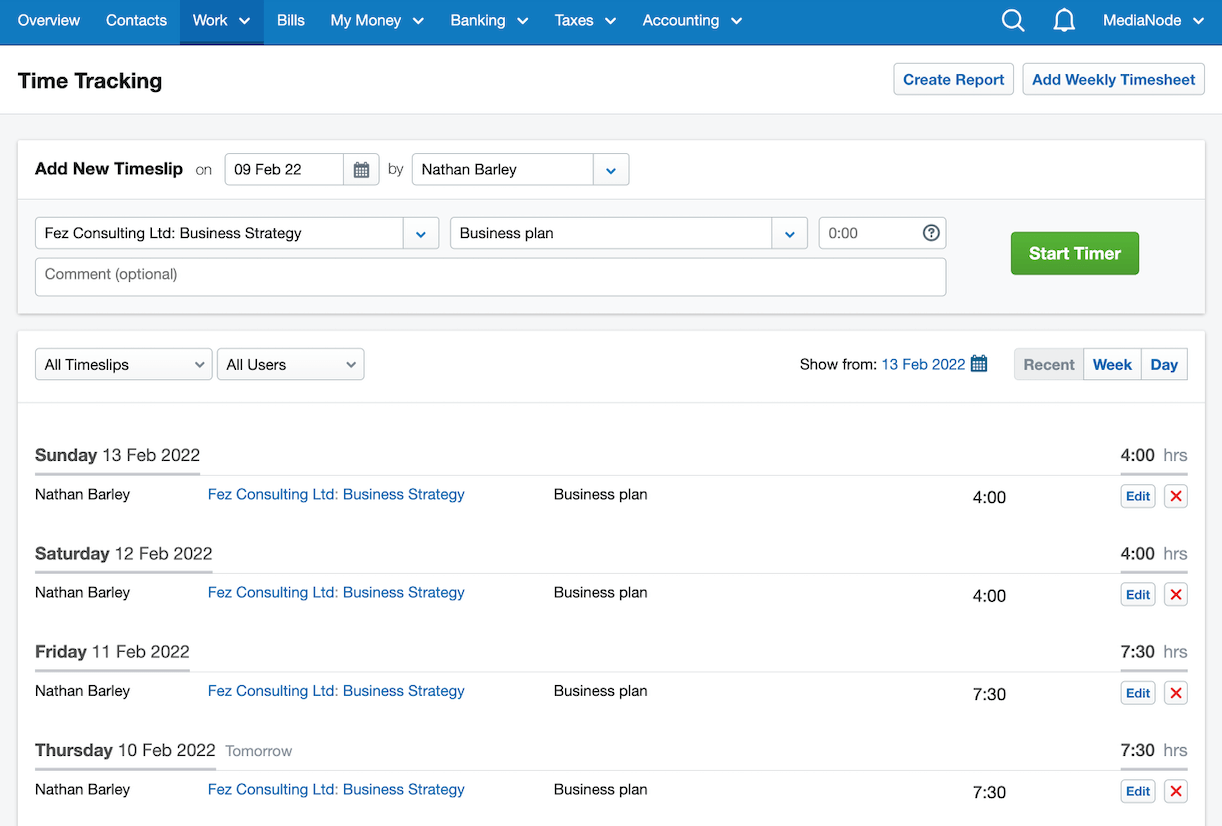 Source: FreeAgent
Project management. What is a project in FreeAgent? Every invoice, estimate, expense, task, and time is tracked. The tool consolidates those projects in one place, so you don't need to switch between different tabs. Here, you can track your project profitability, including invoiced money, expenses, unbilled time, and income. FreeAgent provides all crucial project management and collaboration features—create to-do lists, track time against each task, and mark tasks as complete.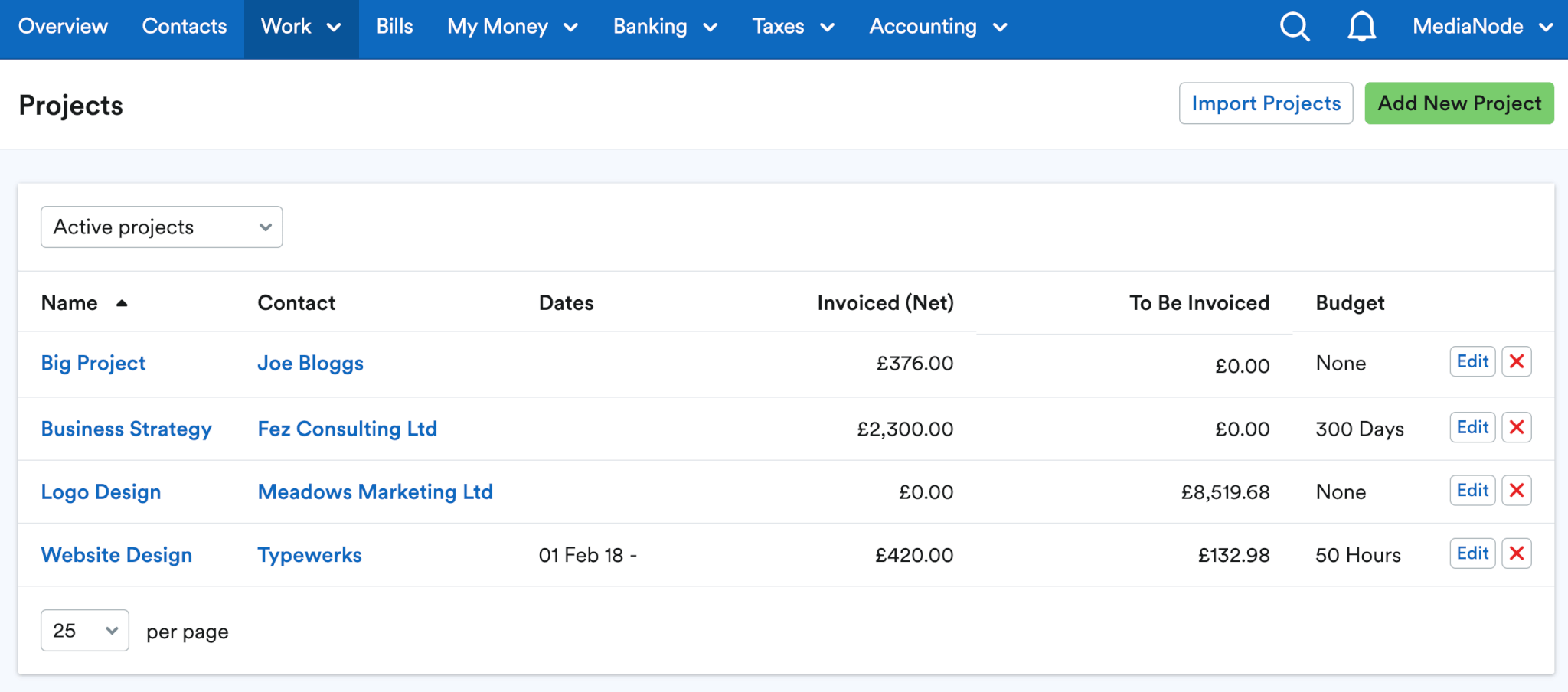 Source: FreeAgent
What Can Odoo Accounting Amaze You With?
Multi-currency support. With Odoo, you can manage multi-currency invoicing, billing, and bank accounts. Currency configuration is straightforward - simply toggle on necessary currencies and update the rates automatically or manually. Odoo uses a separate journal to record exchange differences entries on bank accounts. For instance, exchange rates can change while your customer pays an invoice, but Odoo records this change and helps you understand whether you win or lose from it.

Source: Odoo
Automatic journal entries. Odoo automatically records each transaction, including customer invoices, inventory changes, orders, and expenses. You can set up recurring entries for repetitive transactions and define their frequency. Besides, Odoo automatically calculates tax amounts on each transaction and creates appropriate journal entries to account for the tax liability or tax receivable.
Customizable financial reports. With Odoo Accounting, you can generate balance sheets, tax reports, and income statements with custom layouts, structure, and groupings. You can add or remove sections, rearrange the order of accounts, include or exclude specific accounts, apply filters, add custom formulas, and choose different display options.
Sales and purchase orders. When a customer orders, you can generate a sales order in Odoo Accounting. Specify the customer, ordered items or services, quantities, prices, and applicable discounts or promotions. Odoo allows you to set delivery dates, track order status, and manage customer-specific requirements. Also, the app supports purchase orders: you can select the vendor and specify the items or services required, quantities, prices, and any applicable discounts or terms. You can set delivery dates, track order status, and manage vendor-specific requirements to stay on top of your orders.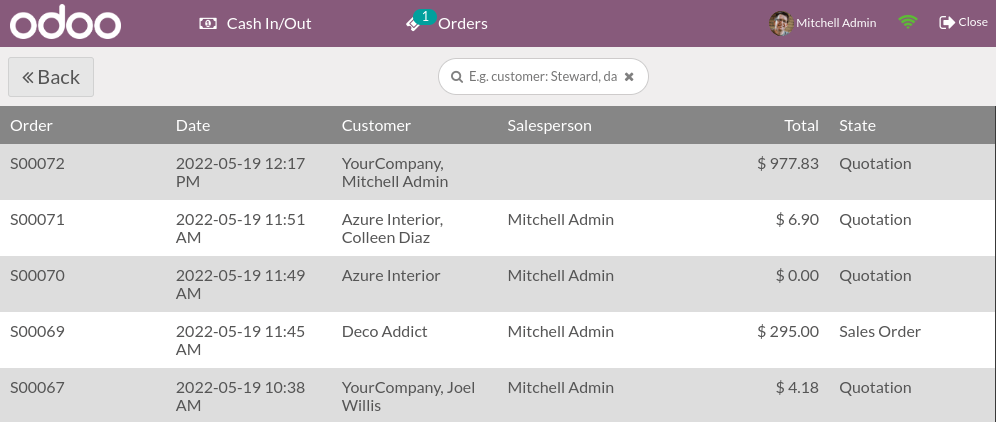 Source: Odoo
Budget management.The Odoo Budget Management module allows you to create budgets and define budget lines. The app tracks transactions posted to the assigned accounts and compares them to the budgeted amounts. You can view budget variances and track progress in real-time.
What Are FreeAgent's Fancy Features?
VAT and sales tax support. FreeAgent puts you on top of your taxes. It calculates and tracks your VAT tax and automatically generates MTD-compliant VAT returns. The app supports VAT Flat Rate Scheme, EC Goods and Services, invoice and cash basis returns, and tackles the reverse charge for EU services. You can set sales taxes for your country and add multiple sales tax rates, while sales tax reports let you check the taxes you've charged and paid.
CIS support for contractors and subcontractors. Suppose you're a sole trader or a limited company subcontractor. In that case, you can configure your CIS in FreeAgent by setting your initial CIS balance and choosing CIS deduction rates to align with HMRC.
Multi-currency support. FreeAgent provides multi-currency invoices and estimates to help you build good relationships with clients. Also, you can manage your banking in multiple currencies: if you run foreign currency bank transactions, FreeAgent changes the currency to your account currency using the latest exchange rate.
Automated reminders and follow-ups. FreeAgent saves time and effort by automatically sending reminders to clients for overdue invoices, allowing you to focus on more critical tasks. Not only that, but it also encourages prompt payment, improving cash flow and strengthening client relationships without compromising on professionalism.
Integration with payment gateways. FreeAgent provides several payment ways to help you get paid on time, including integration with PayPal, Stripe, and GoCardless. This will let you accept debit and credit payments using these gateways in your FreeAgent.
FreeAgent vs Odoo Accounting: Which One Makes Accounting a Breeze?
User Interface and Navigation
FreeAgent boasts a clean and intuitive user interface that simplifies navigation and provides easy access to crucial accounting features. In contrast, Odoo Accounting offers a customizable and comprehensive interface, allowing users to tailor their experience based on specific accounting needs with various modules and options.
User Permissions and Access Controls
Odoo Accounting empowers you to define access rights at a granular level and finely tune access rights for different user roles or departments, ensuring strict control over data and system functionality. In FreeAgent, you can grant specific access levels to various team members and control who can view, edit, or delete financial data, create or send invoices, and manage other accounting functions.
Mobile App
With the Odoo Accounting mobile app, you can do more than just basic accounting tasks. You can view and manage bank statements, reconcile transactions, track expenses, create and send quotes, manage customer payments, and generate detailed financial reports.
FreeAgent's mobile app is not far behind – besides creating and sending invoices, tracking expenses, and accessing financial reports, you can manage time and track billable hours, enhance team collaboration by assigning tasks and tracking project progress.
Who Is the Common User of Odoo Accouting vs FreeAgent?
A typical user of Odoo Accounting could be a small, mid-sized, or enterprise business that requires a robust and customizable accounting system. They might have complex accounting needs, multiple subsidiaries, or a need for extensive integrations with other business systems. Odoo Accounting caters to these requirements with its versatility and the ability to adapt to specific workflows.
On the other hand, a typical user of FreeAgent could be a small or freelance business owner who values simplicity and ease of use. They might require user-friendly cloud accounting software covering invoicing, expense tracking, and financial reporting. FreeAgent offers a streamlined and intuitive experience tailored to their needs, allowing them to manage their finances efficiently without the complexity of advanced accounting functionalities.
Pricing and Value for Money
What Is the Pricing Model for Odoo Accounting?
If you use a single Odoo app, you can use Odoo Accounting for free. However, to access multiple Odoo modules concurrently, you will need to select a paid subscription. To determine the most suitable option for you, let's explore Odoo's pricing plans.
Free plan includes one Odoo app and grants unlimited user access.
For broader functionality across all apps, the Standard plan is available at €14.90 per user per month, offering a comprehensive package at a fixed rate.
For additional features such as multi-company support, hosting options, and external API integration, the Custom plan is priced at €22.40 per user per month, encompassing all apps.

Source: Odoo
Irrespective of the plan you choose, Odoo assures unlimited support, maintenance, and hosting services.
How Does FreeAgent Pricing Work?
FreeAgent provides a single pricing plan—Universal- initially priced at $12 per month for the first six months. Afterward, the price rises to $24 per month. With this plan, you can access all features without setup fees. You can start with a 30-day free trial to test drive FreeAgent's accounting capabilities.

Source: FreeAgent
FreeAgent vs Odoo: Which Accounting System Provides Better Value for Money?
Both platforms offer value by providing the necessary tools to simplify your business accounting while keeping costs in check. Yet, let's try to compare which small business accounting software delivers a better cost per value for your business.
| | |
| --- | --- |
| Platform | Value for Money |
| FreeAgent | FreeAgent provides good value for money by offering a cost-effective solution that meets the needs of small businesses and freelancers. Its competitive pricing and unlimited access to features enable you to manage finances efficiently without incurring excessive costs. |
| Odoo Accounting | Odoo Accounting delivers flexible pricing plans that cater to businesses of various sizes and complexities. It lets you choose the plan that aligns with your specific requirements, ensuring you maximize your investment. |
Which Has More Integrations and Add-ons: FreeAgent vs Odoo?
What Are the Additional Capabilities of Odoo Accounting?
Odoo Accounting smoothly integrates with other Odoo apps like Inventory Management, Sales, and Project Management, streamlining operations and providing a comprehensive business management solution. These integrations automate accounting entries, track inventory, facilitate smooth invoicing and payment tracking, and enable accurate cost tracking and project accounting.
How Does FreeAgent Integration Work?
FreeAgent's seamless integrations help you enhance your financial management. You can effortlessly process online payments and reconcile transactions by integrating with payment gateways. Synchronizing sales and customer data with e-commerce platforms simplify order management and invoicing. You can sync FreeAgent with CRM software to gain a centralized view of customer interactions. Integration with project management tools also improves expense tracking, efficient time management, and streamlined team collaboration.
Odoo Accounting vs FreeAgent: Which Can Be Better Tailored to Your Business?
What Are the Customization Capabilities of Odoo Accounting?
Odoo Accounting enhances various aspects of your accounting system with comprehensive customization options:
You can customize invoices with your branding elements and layout preferences.
The chart of accounts can be tailored to match your business structure and reporting requirements.
Expense categories can be created and modified to track and categorize expenses accurately.
Financial reports can be customized by selecting specific accounts, defining date ranges, and incorporating custom formulas, providing valuable insights into your business's financial health.
Is FreeAgent Customizable Enough to Suit Your Business Needs?
FreeAgent provides a range of customization options to tailor your accounting experience:
Personalize invoices with your branding and layout preferences to create professional-looking documents.
Rearrange the chart of accounts and add sub-accounts.
Add or edit expense categories in FreeAgent to precisely track and easily classify your expenses.
Choose custom date ranges and specific accounts to generate financial reports.
FreeAgent vs Odoo A Close Look at Security and Data Privacy
How Does Odoo Accounting Protect Your Data?
Odoo runs 14 full automatic backups of each database for up to 3 months. It protects your passwords with industry-standard PBKDF2+SHA512 encryption and allows you to set up two-factor authentication. Odoo uses SSL encryption to protect all data communications to client instances. In case of a disaster, it applies the recovery measures in 24h.
What Are FreeAgent's Security Measures?
FreeAgent provides multi-layered security, including physical and operational security measures. DDoS mitigation, two-step verification, and Cyber Essentials Plus certification ensure your data is protected correctly. FreeAgent data centers in Ireland meet ISO 27001, 27017 and 27018 certifications and GDPR. The tool encrypts information via TSL v 1.2 and applies 256-bit AES encryption as standard.
Let's recap how Odoo vs FreeAgent security measures differ in a structured way.
| | | |
| --- | --- | --- |
| Platform | Security Measures | Benefits |
| Odoo Accounting | Data backups, password protection, two-factor authentication, SSL encryption, and disaster recovery measures. No specific ISO compliance was mentioned. | Enhanced data security, protection against unauthorized access, secure data transmission, and reliable disaster recovery measures. |
| FreeAgent | Password protection, two-factor authentication, data encryption, and holds ISO certifications and GDPR compliance. | Robust data security, protection of sensitive information, regulatory compliance, and industry-standard security practices. |
Odoo vs FreeAgent: Who Provides Exceptional Customer Support and Service?
What Are FreeAgent Support Options?
You can access FreeAgent support through various channels, including email, phone, live chat, and an extensive knowledge base. The support team at FreeAgent is known for being responsive and helpful, providing timely assistance to resolve any issues or answer user queries.
Does Odoo Accounting Provide a Good Customer Support?
Odoo Accounting offers comprehensive customer support to assist you with your accounting needs. The platform provides various channels for support, including email support, phone, community forums, and a knowledge base. You can submit queries or issues to the support team via email and receive timely responses with solutions and guidance.
How Does Odoo Accounting vs FreeAgent Support Compare?
Odoo Accounting and FreeAgent offer customer support through email, providing a direct channel to seek assistance. FreeAgent additionally offers live chat as an instant support option. Both platforms have extensive knowledge bases that serve as valuable resources, providing documentation, tutorials, and FAQs to help users navigate the tools effectively. Odoo Accounting also features community forums, allowing users to engage with a community of fellow users and experts.
FreeAgent vs Odoo: Which Accounting Software Offers the Best Balance of Pros and Cons?
What Is Odoo Accounting Good At?
Odoo Accounting is robust online accounting software that brings forth a multitude of benefits:
Versatility: As an open-source platform, Odoo Accounting caters to diverse business requirements, encompassing a wide range of needs.
Intuitive Interface: With its user-friendly interface, Odoo Accounting ensures a seamless and effortless user experience, making navigation and interaction a breeze.
Customizability: Utilizing Odoo Studio, you can create custom applications tailored to your business and personalize your accounting processes.
Unlimited Invoices and Bills: Odoo Accounting enables you to generate unlimited invoices and bills as needed for your business operations.
Comprehensive Asset Management: Odoo Accounting empowers you to manage fixed and non-current assets efficiently, ensuring accurate tracking, organization, and reporting of your valuable resources.
What Are the Odoo Accounting Weak Sides?
While exploring Odoo Accounting, it's essential to consider some of its drawbacks:
Limited Built-in Features: Odoo Accounting may need to catch up with its pre-built functionalities, requiring additional customization or modules to fulfill specific business needs.
Inventory Management Requires Additional Modules: If you rely on inventory management as an integral part of your business, it's worth noting that Odoo Accounting necessitates additional modules to handle inventory-related tasks effectively.
Resource Intensive: Odoo Accounting is a comprehensive enterprise resource planning (ERP) system. Operating efficiently may require more system resources and hardware, especially for smaller businesses with limited IT infrastructure.
How Can FreeAgent Improve Your Financial Management?
Being handy cloud accounting software FreeAgent offers a host of advantages to the table:
Limitless Collaboration: With FreeAgent, you can enjoy the freedom of having unlimited team members, clients, and projects, enabling seamless collaboration and growth.
Advanced Expense Management: FreeAgent offers robust expense management capabilities, empowering you to efficiently track, categorize, and manage expenses, ensuring accurate financial records.
Intuitively Simple Navigation: FreeAgent boasts an exceptionally intuitive user interface, allowing you to navigate its features and functionalities effortlessly, enhancing user experience and productivity.
Diverse Support Options: FreeAgent provides multiple support avenues, including calls, email, and video tutorials, ensuring you have access to the assistance you need in a way that suits your preferences.
Purchase Order Support: FreeAgent streamlines purchasing processes and supplier management by offering support for purchase orders
What Does FreeAgent Need to Work On?
Yet, FreeAgent has some shortcomings you should be aware of before choosing it to be your accounting software:
Limited Inventory Tracking: FreeAgent's inventory tracking capabilities are restricted, potentially limiting its suitability for businesses heavily reliant on detailed inventory management.
Lack of Tiered Pricing: FreeAgent follows a single pricing plan without offering tiered options, which may not cater to businesses with varying needs or budgets seeking more flexibility in pricing structures.
Potential Slow Bank Feeds: Users have reported instances where bank feeds in FreeAgent, can be sluggish, potentially resulting in delays or frustrations while reconciling transactions.
Take a closer look at the strengths and weaknesses of FreeAgent vs Odoo Accounting in the table below.
Platform
Pros
Cons
Odoo Accounting

Versatile open-source platform
Intuitive user interface
Customizable with Odoo Studio
Unlimited invoices and bills
Comprehensive asset management

Limited built-in features
Additional modules required for inventory management
Resource intensiveness

FreeAgent

Unlimited team members, clients, and projects
Advanced expense management
Extremely intuitive navigation
Multiple support options
Purchase order support

Limited inventory tracking
No tiered pricing options
Potential slow bank feeds
How to Migrate Accounting Data to and from Odoo Accounting and FreeAgent Automatedly and Securely?
Embarking on a journey to a new system involves exciting possibilities for data migration, which can be accomplished through manual entry, CSV import, or automated services. Let's dig into the automated migration with Accounting Data Migration Service from Relokia since it makes the transition to a new system smooth and hassle-free. How do you migrate accounting data automatedly?
Sign up with Migration Wizard and connect your source and target accounting systems.
Configure the migration: select accounting objects to migrate and map fields.
Start the Free Demo to transfer a batch of data and estimate the results.
This algorithm is as easy to accomplish as it seems to be—you make several clicks and check if the outcomes suit you. Afterward, you can proceed to the Full Data Migration and use your new accounting system.
What are the benefits of automated migration with Relokia?
All data relations are preserved during migration
The Migration Wizard is straightforward and doesn't require technical skills
You can migrate data from or to a CSV file
You can tailor migration to your business needs with customizations
Free Demo can be run an unlimited number of times
The process is highly secure and consistent
FreeAgent vs Odoo Accounting: Which Is Worth Investing?
Choosing between Odoo Accounting and FreeAgent is like choosing two paths to manage your small business finances. You might have noticed that both platforms are robust from our accounting software comparison. Odoo Accounting empowers you with an array of accounting tools and customizable options. On the other hand, FreeAgent entices you with user-friendly accounting, streamlining your invoicing and expense tracking with ease. Here's what we can advise - whether you lean towards Odoo Accounting or FreeAgent, choose your small business accounting software wisely and let the journey begin with Relokia's Migration Wizard.